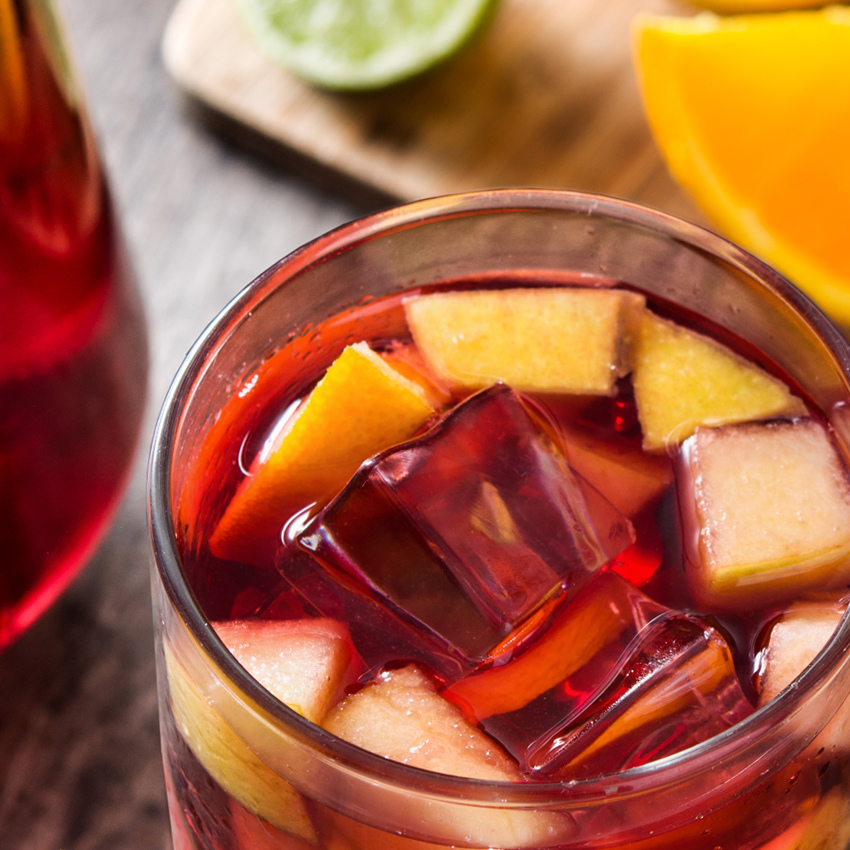 Ready to Order?
6+ 5lb Jugs
$84.84
$1.06 /oz
12+ 5lb Jugs
$76.36
$0.95 /oz
Safer Scents For The Home
CandleScience Clean Scents™ are free from carcinogens, reproductive toxins, and other potentially hazardous chemicals often found in fragrance. Choose Clean Scents and create safer home fragrance products you and your customers can enjoy with confidence.
Read More >
Details
Red Sangria fragrance oil is a fresh take on a classic sangria scent, with a medley of muddled fruit. Kick back and unwind with the refreshing aroma of this summertime favorite. Top notes of bright lemon and lime blend with a medley of apple, orange, pineapple, and raspberry. Middle notes of red wine with a splash of chardonnay turns this juice into a cocktail. A woody oak base note adds a lovely depth that balances the wine and fruit aromas in this realistic scent.
Red Sangria is a shoo-in for any candle or wax melt line on the hunt for the perfect cocktail or beverage scent. In handmade soap and other personal care products, it adds a delightfully surprising twist that will keep you coming back for more.
This fragrance is infused with natural essential oils, including orange peel.
Note Profile:
Top: Lemon, Lime
Middle: Red Wine, White Wine, Orange, Pineapple, Raspberry, Apple
Base: Oak

Suggested Colors: Red, Merlot, Burgundy
See our complete list of candle making dyes and soap colorants.
Note: Bottles filled by weight, levels may vary.
Properties
Candle Safe

Yes

Usage: 3-10%
Soap Safe

Yes

Usage: 3-6%
Vanillin Content
0.01% - 2%
Soy Performance
Flashpoint
189 °F
Phthalate Free
Yes
Prop 65 Warning Required
No
Diffuser Base Compatible
No
*Usage amounts are recommendations only. Individual usage amounts can vary based on your desired fragrance strength, wax type, soap base, or lotion base. See IFRA certificate for max usage levels.
Documents


Cold Process Soap Performance
| Acceleration | Discoloration | Separation |
| --- | --- | --- |
| Moderate | Light Tan | None |
Lye Water Temperature 96ºF
Oil temperature 106ºF
We experienced a moderate amount of acceleration but no separation. During our initial stick blending, the area directly under the blender became very thick before the remainder of the oils and water had emulsified. We alternated between hand stirring and quick pulses of the stick blender until the entire pot came to trace. This caused the batter to reach a medium trace by the time all the oils and water came together. The batter remained workable and did not stiffen while pouring into the mold. After 24 hours, we did not observe any signs of the soap going into a gel phase. The soap had a very light yellow discoloration and the scent was strong with a sophisticated red wine and berry character. After 30 days, the soap had discolored to a light tan shade and the scent remained strong and true. We recommend hand stirring in the fragrance after any color is fully mixed.
Reviews
Fruity and sweet in 444 soy good HT & CT
Smells good, rised on me on CP
Just used this FO for my CP soap and it did some rising. Since it was a small batch with a few colors, couldn't stick blend it and had to mix by hand. Don't know how the soap turned, its still on the mold. Since it says the FO also accelerates (it does, moderately) and needs good mixing cause of the rising, design needs to be simple. Does smells really good, kind of a fruity smells, but in a mature kind of way. We'll see how the bars turn out...
I used CD 26 wicks, 7% FO with a 3" diameter jar and this smelled beautiful and strong. What's awesome is that I only cured for 24 hours! I used GW 444 wax.
Delicious Scent and Hot Throw
I used 444 wax, wick CD 26, and 7% FO and it smells beautifully!
Needs more of a fruit smell added. Has a bit of a plastic fake smell
smells good but not my type
this red sangria would be great if the hot throw was a lot stronger. to me it could be a little stronger, im fighting with trying to smell this fragrance
Highly recommend! Used in Soy 444 wax and it is great, both CT and HT. HT could be better but I think I didn't use enough. Will be buying again
This fragrance is amazing! I recently added it to my collection and everyone goes in about how good it smells :)
I wanted so badly to like this but it's so fake smelling to me. It smells like Luden's cherry cough drops smell. I'm grateful that it's part of the clean scents collection but this didn't work for my testers or myself.
On it's own it is crisp and subtle, however when I paired this with a floral fragrance it turned out amazing! Thank you CS!
Oh... My... Gosh!! This fragrance smells divine! I put this in a whipped soap sugar scrub and I know it's going to sell out quick. I recommend this scent hands down!
Sweet without being too sweet. I'm thinking of putting this in red jars.
This is the remake of raspberry sangria and there is no noticeable difference to me. So those who like me ordered a sample to see if it smelled the same yes it does.