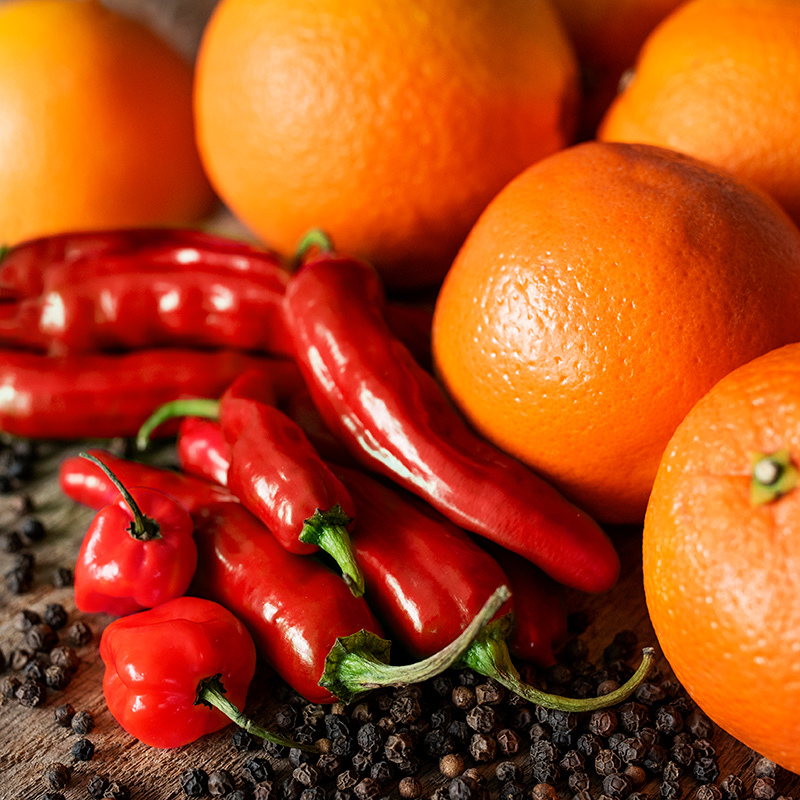 Ready to Order?
Ships from East Coast. Expected: West Coast 4/12
6+ 5lb Jugs
$84.84
$1.06 /oz
12+ 5lb Jugs
$76.36
$0.95 /oz
Safer Scents For The Home
CandleScience Clean Scents™ are free from carcinogens, reproductive toxins, and other potentially hazardous chemicals often found in fragrance. Choose Clean Scents and create safer home fragrance products you and your customers can enjoy with confidence.
Read More >
Details
Spice up your scent collection with our Sweet Orange and Sriracha fragrance oil. This unique scent marries the citrusy sweetness of ripe oranges with the distinct kick of sriracha chilis for a result that's anything but ordinary. Top notes of ozone and spicy chili peppers blend with a citrus heart of orange and mandarin. Hints of coconut and black pepper in the base add complexity to the sweet spiciness of this scent. Add some zing to candles, melts, and reed diffusers with Sweet Orange and Sriracha. This surprising scent is also approved for use in bath and body care products, so you can add that kick of something "extra" to your handmade soaps, lotions, and scrubs.
This fragrance is infused with natural essential oils, including orange, black pepper, coriander, elemi, and nutmeg.
Alternative name ideas: Citrus and Chili, Rooster Sauce, Sweet and Spicy
Note Profile:
Top: Ozone, Chili Pepper
Middle: Orange, Mandarin, Guava
Base: Peppercorn, Coconut

Suggested Colors: Orange, Red
See our complete list of candle making dyes and soap colorants.
Note: Bottles filled by weight, levels may vary.
Properties
Candle Safe

Yes

Usage: 3-10%
Soap Safe

Yes

Usage: 3-6%
Vanillin Content
0%
Soy Performance
Flashpoint
205 °F
Phthalate Free
Yes
Prop 65 Warning Required
No
Diffuser Base Compatible
No
*Usage amounts are recommendations only. Individual usage amounts can vary based on your desired fragrance strength, wax type, soap base, or lotion base. See IFRA certificate for max usage levels.
Documents


Cold Process Soap Performance
| Acceleration | Discoloration | Separation |
| --- | --- | --- |
| None | Light Tan | None |
Lye Water Temperature 114ºF
Oil temperature 110ºF
We did not experience any acceleration or separation. We brought this to a light trace and it poured smoothly into the mold. After 24 hours there was no discoloration and we observed the soap had almost reached a full gel with no insulation. The fragrance was quite strong with lots of citrus notes and a pleasant amount of sriracha. After 30 days the soap had a slight discoloration that was very light tan. The fragrance remained strong and true. This fragrance would be ideal for a variety of design techniques that require a light trace.
Reviews
This is a favorite of mine personally I love the scent.
I just bought a 4 oz bottle of this to try. I'm assuming it is the replacement for Orange Chili Pepper, but it doesn't come close. Right out of the bottle you can't smell any chili pepper, so I poured a test candle using GB464. Upon curing, it has very little CT or HT. This is a real disappointment because I had quite a few customers who loved the Orange and Chili Pepper scent. I'm glad I didn't buy a 16 oz bottle.
This is a surprise favorite!! I was mostly just curious so I ordered a sample but it is so sweet, spicy and slightly smoky! I made some wax melts and people felt it was even too spicy so I started blending it with a mango FO to sweeten it up. Surprisingly refreshing, I would love this as a soap too.
I don't know how or why this fragrance is getting the bad reviews but I think it is fabulous! I never used the old one so I have nothing to compare it do as far as the negative reviews on this site. But it is a strong scent and fills the room. I like it a lot!
Im not sure why there's negative reviews on the scent! It's amazing and so unique! My customers love it. It sounds like an odd blend but somehow it works! What a pleasant surprise!! Yes! Yes! Yes!
I don't get this scent at all but what ever floats your boat...... It does smell a little like leather.
Nope nope nope nope nope Nope nope nope nope nope Nope nope nope nope nope Nope nope nope nope nope Nope nope nope nope nope Nope nope nope nope nope Nope nope nope nope nope. Just no.
To be honest I don't like the smell of this by itself. It smells like a vomit jelly bean from beanboozled... That being said it smells absolutely amazing mixed with spiced honey and tonka. To me it makes a chocolate orange smell and it is very popular with everyone who has smelled it minus my husband lol.
Smells Exactly How You Hope It Will
Smells exactly like sriracha and sweet orange...The sriracha is more subtle than the orange, but its such a unique and well-balanced combo. One of my new favorites!
Liked the chili pepper & orange way better
I wasn't impressed with the change up on this scent. It's really gives off a totally different burn smell. I won't buy again. If they pull back the original one chili pepper & Orange ..... it's a much prettier fragrance
I bought this out of curiosity, smells great! Orange and slight peppery in a pleasant way.
The scent out of the bottle scent is delightful. I definitely prefer it to the old Orange and Chilli pepper which was overwhelmingly strong. It was one of my bestsellers for years but I am happy to offer this new scent as a replacement. It is a more classy and upscale scent. The sweet orange and sriracha has the right amount of pepper and the orange is absolutely sweet. I love love. I am about to buy the 5lb jug. Though If you bring back the old one, I will buy because of my customers :-)).
awesome awesome product...
Bring back the original please :(
I used to make candles and always got the original orange chili pepper, my friend, that makes candles, purchase this new one and let me smell it and I am sad to say it's not the same. Please bring back the original sweet orange chili pepper. :(
Thank you
This one took a while to grow on me because OOTB, the only thing I could smell is the top note chili pepper. I used a blotter strip to test this at first and set the strip aside. Hours later, I was still only smelling the chili pepper and my roommates even commented on how strange it is. However, I wanted to give this a second chance so I blended this with another fragrance and it actually smells super good. Don't get me wrong, its still a strange fragrance because of the spice component but the hot throw is very pleasant. The only problem is that the hot throw isn't as strong as I would like it. Maybe I need to let this cure for longer next time... but I will definitely be making more of this.
(On a positive note, thank you for always filling orders so quickly...my last 2 were filled and shipped in less than 2 hours, that's incredible! Thank you!)
This new scent is supposed to be the same/replacement as the "Orange & Chili Pepper" . NOTHING about it smells the same, primarily the severe lack of chili pepper. I had several people who wanted to re-order this candle and now they don't want it--all said the same thing as I did, absolutely no chili pepper scent. Every time I go to order something it has been changed...I love that you're taking out cancer-known carcinogens, but please, please, please warn us (your customers) a little bit more in advance, and maybe give us the option to ask our customers what they'd like....
Really love this fragrance oil! The spicy note is less predominate than other spiced orange fo's I've smelled. However in this case, that's a plus for me. The lovely orange scent hits you first with a spicy bottom note following after. I definitely recommend this one!
I reall like this FO. Got a 4oz bottle and it's strong OOB. Yet to put it in wax. The scent is clean and sweet and barely spicy. I thought the pepper would jump right out at first sniff but you get the sweet orange first, followed by the other notes and the hot sauce scent is somewhere in the background.
While I think the name "sweet orange and sriracha" is a misnomer (I can't detect sriracha), I still love this FO and can't get enough of it. I initially got it as a free sample and ended up ordering the 16 oz ASAP. I used 10% in 464 and the HT fills the whole front portion of my house. CT was also great. It isn't a necessarily a SPICY scent but the sweet orange is quirky and clean at the same time. Love it.
I got this fragrance as a sample , and my brother said he loved the smell. The reason I'm giving it 5 stars is because it smells just like the bio it was given and has a strong HT and CT. OTHER THAN THAT TO MEEE .. this fragrance is horrible smelling lol
I originally picked this scent as my free sample, I immediately ordered the 16oz bottle. It smells sooo good!! This has become one of my favorite scents from candle science. I will continue to buy it as long as they sell it!!! I receive raved reviews from my customers as well. I made soap and bath bombs .
No Comparison to Orange and Chili Pepper
Interesting Scent, but absolutely does not compete with the now discontinued Orange and Chili Pepper! I cannot replace with this one! I smell 'Tomato Leaf' mixed in, or something similarly earthy...it's different and quirky, which I'm not opposed to...but man, how I miss Orange and Chili Pepper! My customers do too!!!
No Comparison to Orange and Chili Pepper
Interesting Scent, but absolutely does not compete with the now discontinued Orange and Chili Pepper! I cannot replace with this one! I smell 'Tomato Leaf' mixed in, or something similarly earthy...it's different and quirky, which I'm not opposed to...but man, how I miss Orange and Chili Pepper! My customers do too!!!
I wish I could get a refund. This scent literally made me sick to my stomach. It's just not a good small at all. The quality of the oil is amazing but the smell I just cannot tolerate
Hi! We are so sorry to hear that you are not enjoying this scent, we know that can be disappointing. We do allow returns of any product within 60 days of the original purchase date! Simply notify us through the automated reimbursement request system which items you are sending back, so we can expect your package.
Please visit our self-service returns page for more instructions on completing your return if you would like to do so. https://www.candlescience.com/refund
Used in 464 soy wax with a 10% fragrance load.
I loved this one! The CT and HR throw are plenty strong, and it's a perfect citrusy scent with a kick.
Perfect sweet and spicy blend
I love this FO. As mentioned above in the header it's the perfect blend of both sweet and spicy. I can smell both the sweet orange and the sriracha, one doesn't overpower the other. A unique and very uplifting mood enhancing fragrance.
I can't believe anybody would have anything negative to say about this! It's my new favorite. It's so unique and bold. Everyone loves it.
Owner/Candle Maker Lavender Apothecary
This fragrance is AMAZING! So very unique with the combination of sweet orange and chili. It's an aroma that fills the room beautifully! Definitely a staple in our line.
Please bring back the orange and chili pepper! This is not good.
Lovely Beautiful Scent With a Kick!
This is an EXCELLENT fragrance by Candle Science. Great job, those of Candle Science who created this fragrance. I'm diffusing it today throughout my home and it's absolutely lovely. And the spiciness of the chili pepper note is very mellow and fresh. Not too sharp or spicy or anything. It balances out very well with the sweet orange. Just smells like a nice exotic fragrance that anyone would enjoy. Will definitely buy again!
I was prepared to HATE this scent just because I haven't found an Orange FO that I love and it is one of my favorite fragrances. This totally shocked and surprised me! I love it!!!!! It has a hint of the Sriracha and great Orange fragrance throughout. I immediately ordered a 16 ounce size. LOVE IT, KEEP IT!
Super fun and exotic, I knew this was going to be an amazing fragrance once I read the description. Will be ordering more very soon!
***Used for my soy candles***
I had mixed feelings about this scent? So I left it for a while. ( just like peppercorn pommander)
I am surprised by the kick of the scent! I think its wonderful..!
Am trying a few tester soaps so some of my customers can give it a "sniff".
I personally like it... it doesnt "stink".. but it isnt your average lavender type scent!
It wont appeal to everyone, but I think it will do fine in my line of products! Thanks Candlescience!!!
I absolutely dislike this scent but I will say it's of good quality.
i cannot believe the good reviews of this scent so far(since it is new) since they discontinued the sweet orange chili pepper, i decided to order 1 lb. of the orange siracha scent and when i opened the bottle there was no orange smell to it or peppery but just a strange STINK.
i mean horrible smell so i thought FOR SURE the bottle was labled wrong and they sent me the wrong item so it was returned and they said no, there was not mistake and that i had received the correct fragrance and they were still kind enough to refund me. Sorry i have to leave such a bad review since CS has so many great scents but this one is nothing like the sw. or chili pepper.
This FO is really unique and interesting. The longer it cures, the harder it "punches" me with its CT. Hopefully the HT won't disappoint. It smells just like the sauce but sweeter, I really love how surprising the spice is. It's a nice, clean spiciness, and the chili and pepper definitely take the center stage while the orange helps subdue them just a bit. I'm not sure if this will appeal to everyone, but it's definitely a fun one I'd like to try again. Not a fragrance you see every day!
I wasn't too sure what to expect when I saw this scent available. I made it into a candle anyway and I love it! It's not spicy like like burn your nose spicy, but make the scent of orange smell really sexy! I can't wait to make this available for my customers!
I havent had a chance to make anything with this yet, but they nailed it straight out of the bottle. Smells exactly how I thought it would
Overall, I was pleased with this scent. CT & HT it smells pleasant; you get your fill of the citrus with an undertone of chili pepper and peppercorn. It smells clean & refreshing.
If you're into quirky and amazing things, this is your scent. It's not typical and it NAILS its intent. This scent is spicy, citrusy, refreshing, and CLEAN all at the same time. I'm super impressed, CS! You've done it again. Thank you!