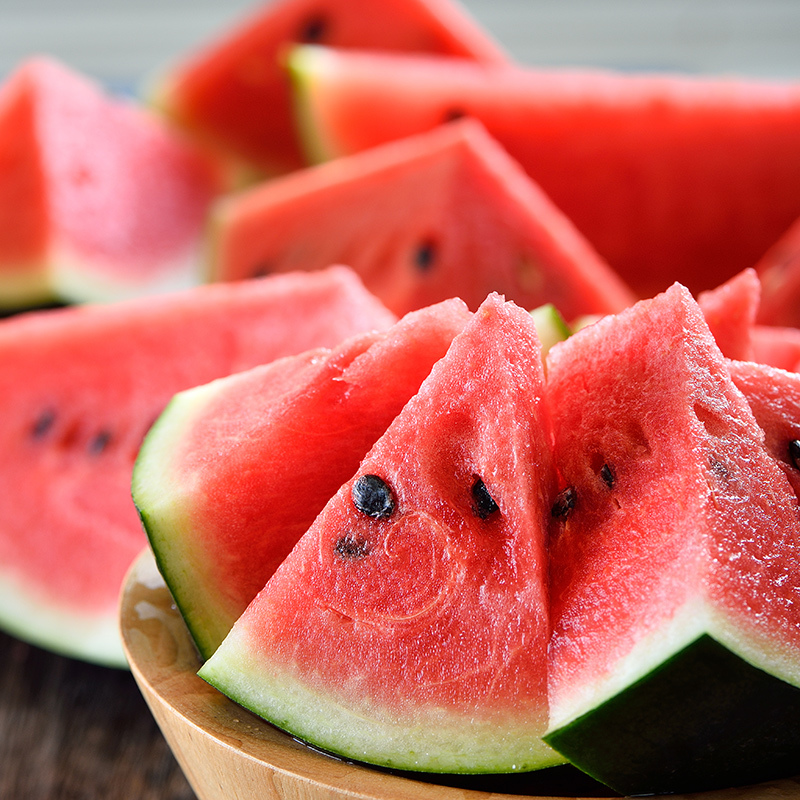 Ready to Order?
6+ 5lb Jugs
$79.94
$1.00 /oz
12+ 5lb Jugs
$71.94
$0.90 /oz
Safer Scents For The Home
CandleScience Clean Scents™ are free from carcinogens, reproductive toxins, and other potentially hazardous chemicals often found in fragrance. Choose Clean Scents and create safer home fragrance products you and your customers can enjoy with confidence.
Read More >
Details
Summer is in full swing when the aroma of freshly sliced watermelon wafts through the air. Bring out your inner child with the ripe sweetness of our Watermelon fragrance oil, and recall the first bite of juicy, dripping melon after a long summer day spent playing outside. A top note of honeydew melon adds a bright fruity punch to this classic scent, while a strong middle note of watermelon adds to its authenticity. A base note of sugar emphasizes the sweetness to round out this realistic fragrance.
Our Watermelon fragrance makes strong, sweet-smelling candles and soaps that add a burst of summertime to any space. Watermelon is a fun scent that looks great with a pop of color in your finished handmade creations.
Blends well with: Watermint and Clementine, Strawberry Guava, Margarita, Garden Mint
Alternative branding ideas: Melon Madness, Slice of Summer
Note Profile:
Top: Honeydew Melon
Middle: Watermelon
Base: Sugar


Suggested Colors: Pink, Red
See our complete list of candle making dyes and soap colorants.
Note: Bottles filled by weight, levels may vary.
Properties
Candle Safe

Yes

Usage: 3-10%
Soap Safe

Yes

Usage: 3-6%
Vanillin Content
0.01% - 2%
Soy Performance
Flashpoint
144 °F
Phthalate Free
Yes
Prop 65 Warning Required
No
Diffuser Base Compatible
No
*Usage amounts are recommendations only. Individual usage amounts can vary based on your desired fragrance strength, wax type, soap base, or lotion base. See IFRA certificate for max usage levels.
Documents


Cold Process Soap Performance
| Acceleration | Discoloration | Separation |
| --- | --- | --- |
| None | None | Slight |
Lye Water Temperature 107ºF
Oil temperature 115ºF
We did not experience any acceleration. Just as the batter came to a light trace we saw some signs of ricing. After a few quick pulses of the stick blender the batter smoothed out and stayed at a light trace while pouring into the mold. After 24 hours, there was no sign of discoloration or the soap going through gel phase. The scent was strong and true. After 30 days there was no discoloration. The scent faded slightly but still had a true juicy watermelon quality. Because this fragrance showed some signs of separation, it may be best to mix in colors before adding in the fragrance until you know how it will affect your specific recipe.
Reviews
This FO is amazing! So fresh and crisp! A must buy! My candles smell edible honey!
Okay so I paired this with citrus agave and it smells amazing, my first time burning in the 12 oz apo jar double wicked it smelled so good in my bedroom… A day later I relit it and there was no scent, how is that possible? These candles are for my company so I'm going to have dissatisfied customers pretty much as I've already sold some
Hi there! Thanks so much for leaving your review. We're sorry to hear you're having some trouble with your candles. A member of our Support team has reached out via email to better assist and troubleshoot alongside you!
This one reminds me of a chewy watermelon candy. I burned it after allowing it to cure for 3 days with my coconut soy wax and it filled my bedroom. I would definitely recommend this one for a summer line!
After reading the reviews and looking for new spring/summer scents I decided to try this scent. The scent itself smells great, but there is no hot throw. Used with soy 415 wax.
Great for anything but a burning candle.
We used the previous version of watermelon. It had a great hot throw and went well in our other products as well. Now we have had all of our candles made with the new formula returned because they don't smell like watermelon when burned. All we smell is the ashen wick in the room. Weve tried double FO, half FO, and of course our normal blend. Still no hot throw. Were using 464, but also tried out pillar wax for it. Still nada.
If you plan to get it for anything but candles, do it! It smells great! But for a hot throw, its a solid 0.
Hi! A member of our team will be reaching out shortly!
This scent is popular among my customers.
It really hold its name and its refreshing.
Almost wanna drink it from the bottle
I wish it had a HT. I think it would be good but I can't smell it when it's burning.
Hi there! We're sorry to hear that you're having some trouble with your candles. A member of our Support Team will be reaching out shortly to assist with troubleshooting tips!
I like it but I think ill need to pair it with another fragrance like lemon or mint. I added the watermelon to my melon FO and it was amazing!
Smells less of Watermelon and more like bubble gum. Good CT/HT in 464.
This is a wonderful fragrance but watermelon is a hard sell. Online I list it as an option along with other fragrances available for custom made candles, customers never choose watermelon. As a vendor, I have a hard time getting customers to even smell it at all because people say that they hate watermelon. I don't really understand the watermelon hate but it is a real thing.
So I took a chance on this fragrance oil considering so many watermelon scents have let me down.... But not this one OMG!!! The smell is AWESOME in bath bombs and delicious in melt and pour soaps, I can honestly say that my customers said they wanted to take a bite out of it LOL.. and I sold out the same day, I then turned around and made a watermelon soap for my grandkids and NOW that's all that they want to bath in, I now have a whole watermelon bath line that's very popular i will continue to buy this scent and recommend it to all my soap making friends, I am So Satisfied Thank you!!!!!
I am in love with this scent it has a strong cold throw and a strong hot throw you can smell it really good thru my house better then bath and body works candle. I bought the 1o.z sampler but I will buy the bigger one it's a keeper. Thanks candle science😊😊
Really good and strong fragance, no discoloring, using at 4% in CP soap , behave well . I make 5 batches and every single batch was perfect
I am obssess with this scent
I hesitated at first what a Watermelon would smell like, but ohh boy its the best I ever smelled , it think I bought twice so far and looking into buy the 5lb.
I was blown away by this FO! It smells incredible and has a great throw. This one will be a keeper in my candle and wax melt line.
This fragrance brings a lot of freshness in the environment, I bought 8 oz it was incredible I will buy a bigger one
Ok so this one is freaking AMAZING. It's so sweet it smells like watermelon baby bottle pops or like hubba bubba gum or something! I have used it in a coconut soy wax blend & the throw is incredible (7% frag load) Idk how anyone couldn't get this to have a hot throw??? Its one of the strongest in my candle collection! 5 stars!! Can CS plz make this a flavor oil?? This would be such a good lip scrub scent!
Love this! Can this scent be used for Lip Blams?
this watermelon scent smells great in my soaps
I mainly make melt and pour soaps and love this fragrance.
This fragrance cured in CP well. Still strong and still smells like watermelon.
No problems, no A or D no ricing. Have tested a lot of watermelon fragrances.
This one is great
Ordered a 16oz!!! I think I'll sell out of this super quick for the summer. It's 110% watermelon
Cold throw smells so good
I haven't put my melts in yet but omg it smells so good it in clams
The cold throw is amazing. It reminds me a lot of a candy type of watermelon scent which isn't a bad thing. Very sweet and potent when blending and inside the candle prior to lighting - not sure about hot throw as i haven't tested it yet.
The scent itself smells great, but there is no hot throw. You have to stand over the candle if you want to smell anything. Using soy 464.
very weak fragrance. can only smell it if youre with in 5 feet of the candle. other fragrances can be smelled throughout the house. Not with this one. Pass.
Wow! This watermelon is the best I've ever had! Tons of throw, no waiting, I make candles and melts. I use two different oil companies. This is hands down the best!
Smells amazingly like summer! Unfortunately the hot throw wasn't as strong as the cold. I wish I could smell it more in through my house
Smells kinda fake on its own, but smells nice with mixed with another scent in candles.
Mouthwatering Watermelon!
This scent is hands down one of my favorite scents! Great cold and hot throw. This will be a popular scent for my shop this summer for sure!
I haven't burned it yet but I mixed this with garden mint and it smells so fresh! I cant wait to test.
AMAZING this scent smells like candy so yummy!
This smells so good. I mixed it with lemon and made soap, watermelon lemonade! Smells so strong after cure! You want to eat it but don't.
I love - love- love this scent. Made it in the straight small jars, no color using the 464 at 10% FL...it is so nice. This is my go to for my own use. Smells like summer.
To me it smells exactly like bubbalicious bubblegum. Its super strong! Remember this when using Gel. I added 10% and it was WAY to strong. but 10% in my 6006 wax was perfect. Highly recommend this scent and in soap it was a beautiful nice scent at 5% cant wait to make lotion with it as well!
Smells really good, I love it.
I'll definitely be purchasing again, it smells good and have a good heat throw.
Smells sweet and tasty... my testers and I agree this is not a TRUE watermelon scent, however I love that I can rename it and play with it to better represent in our opinion it's true identity. It's really delightful! Truthfully buy it!
Love - Love - Love this scent. Smells fruity and fresh. Will buy again. Perfect for summer !
Smells like watermelon candy!