How to make large batches of candles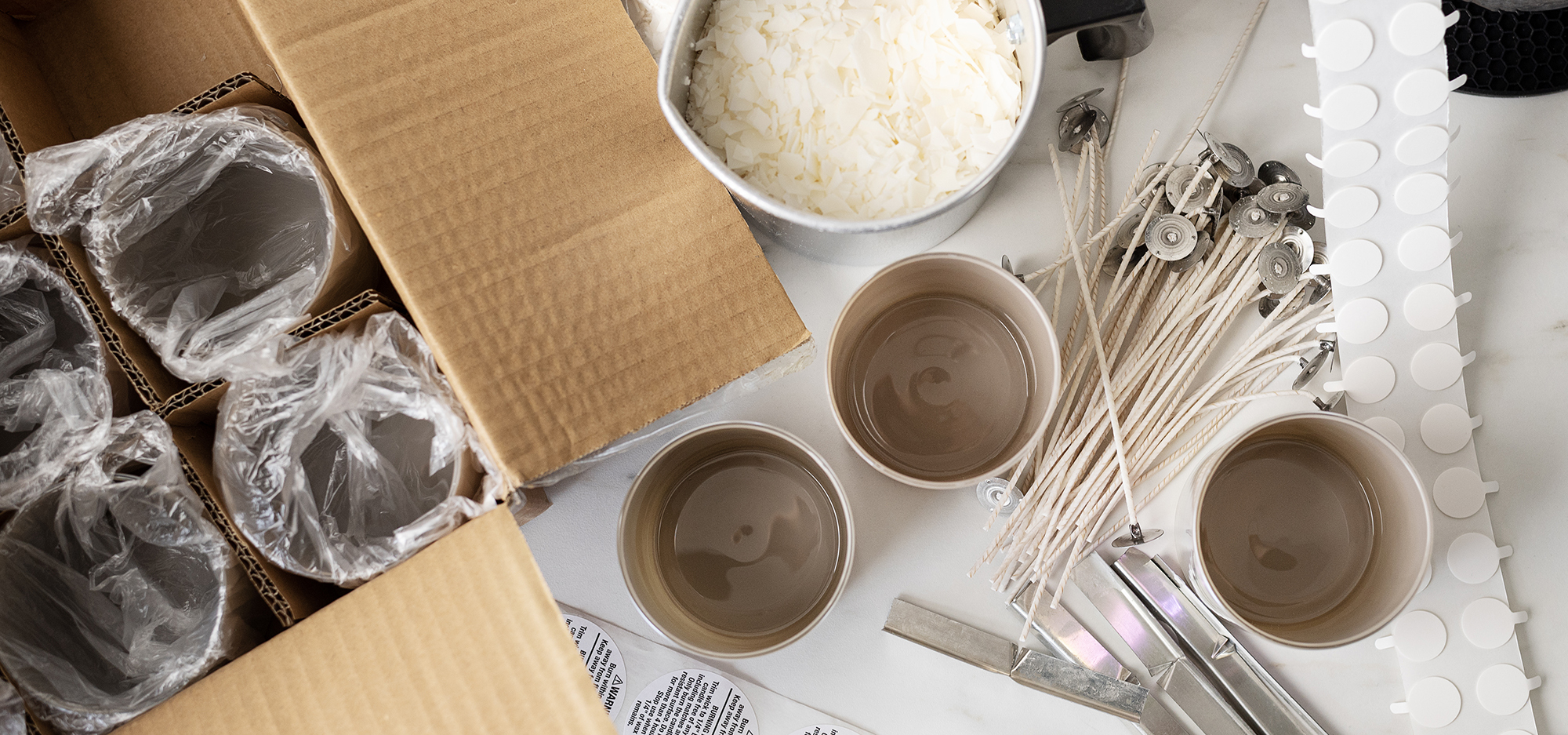 Graduating to making candles in large batches is a major milestone for your candle business!
You put in the hours to hone your skills as a candle maker. You thoroughly tested the many combinations of waxes, wicks, jars, and fragrances to find what works for your candle ideas. And you developed a product line that resonates with customers. In other words, you've done the necessary work to effectively set up your business to grow and scale.  
And because of all this effort and creativity, your candle sales are picking up steam! In fact, making a few candles at a time isn't enough to keep up with the demand. Congratulations!
If you're wondering how to make large batches of candles, you're in the right place. In this article, we'll help save you time and flatten the learning curve as you navigate this exciting phase of your candle making journey.
What is large batch candle making?
Large batch candle making involves pouring anywhere from a few dozen to hundreds of candles in one session.
Because your candles are handmade, making this quantity requires pouring several times within the session.
Often, making candles in large batches also means you're working with multiple fragrance oils.
There are several reasons why you might need to increase your candle making volume:
Shops are interested in carrying your candles and want to purchase them in wholesale quantities.
You're prepping for a high-traffic market or show.
Orders from your website are flowing in and you need to fulfill them in a more timely manner.
You supply candles for fundraisers or in bulk quantities to corporate clients.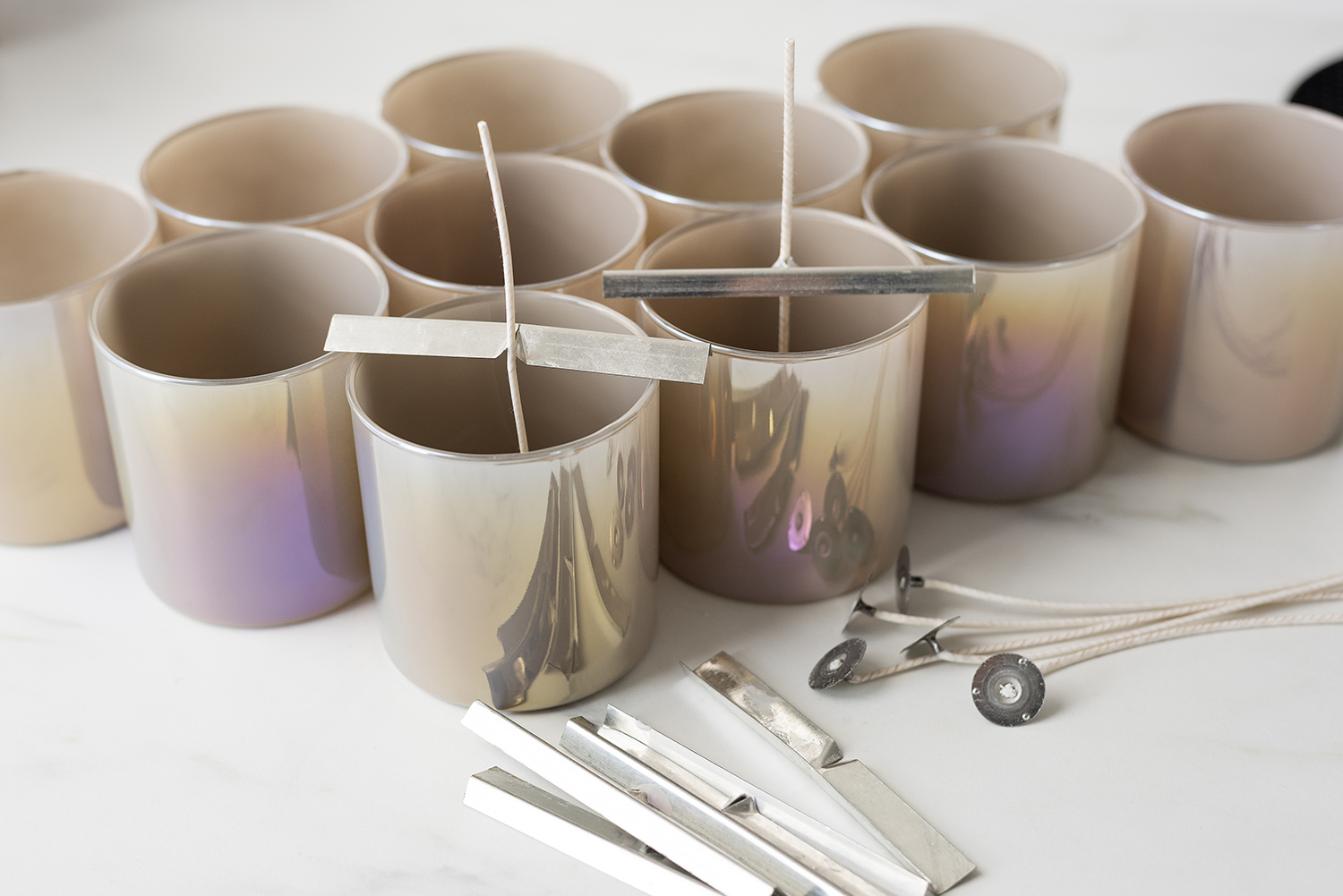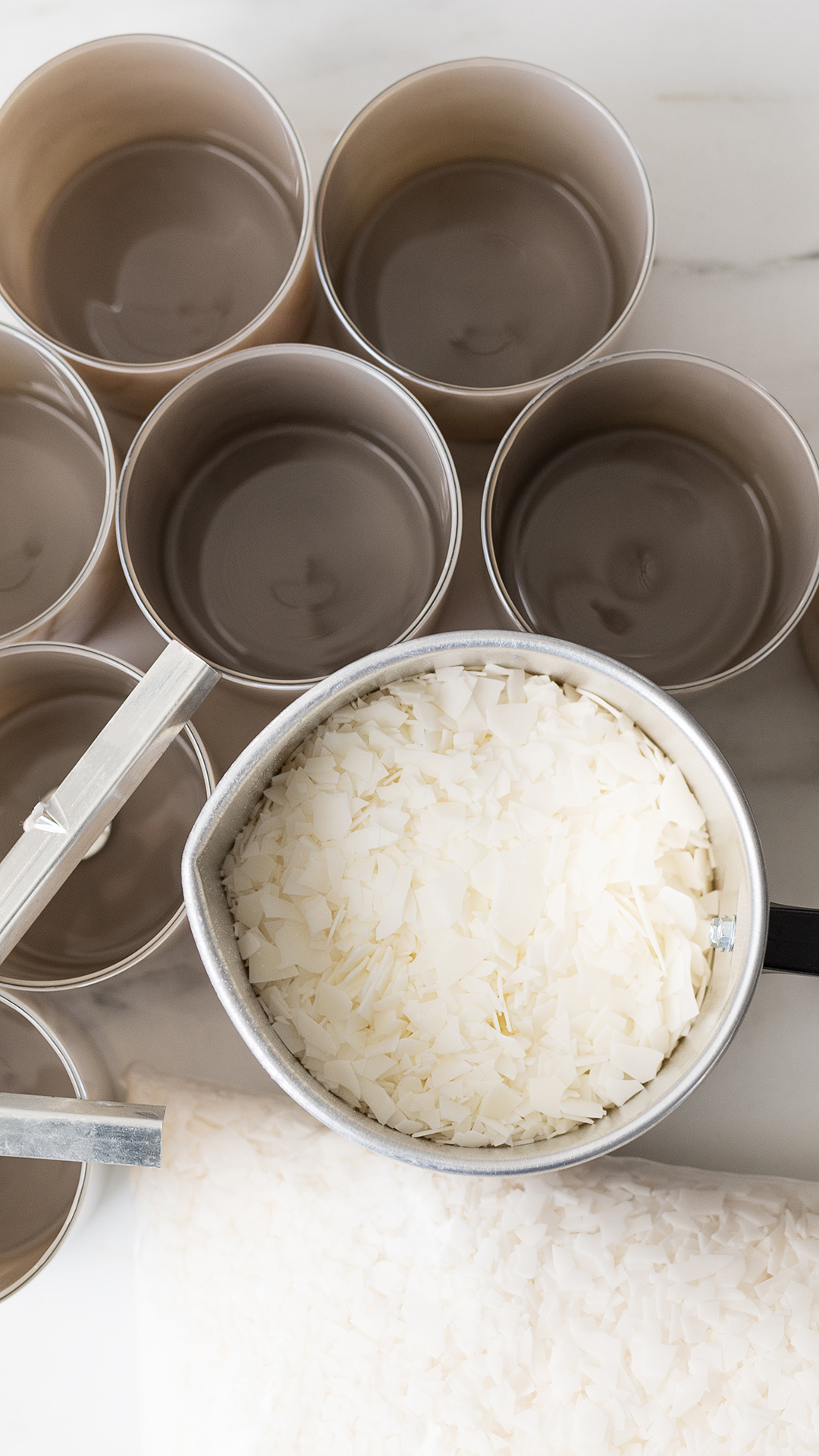 How to get started making larger batches of candles
When transitioning from making a few candles at a time to many, you'll be able to best meet the moment with preparation, organization, and intentional choices. 
Let's take a closer look at what to consider when scaling up your candle production.
Is your current workspace able to accommodate the number of candles you'll make? If not, how can you arrange it to make the space more user friendly?
Extra tables may be necessary, whether set up permanently or temporarily, for this new way of working.
Pro Tip
If horizontal surfaces are limited in your workspace, go vertical!

Try a rolling bakers rack for curing candles. These racks can fit several trays of candles in a small footprint. Or invest in shelving for storing and organizing finished candles.

For these ideas, buying new isn't necessary. Check out thrift stores or online marketplaces to find perfectly usable second-hand options.
Candle making equipment needs
When making large orders of candles, you will likely need to add more equipment to your candle making arsenal.
If you've been using smaller pouring pitchers, now's the time to consider sizing up.
Having additional stirrers, pouring pitchers, and containers to measure fragrance oils will support increasing your production capacity.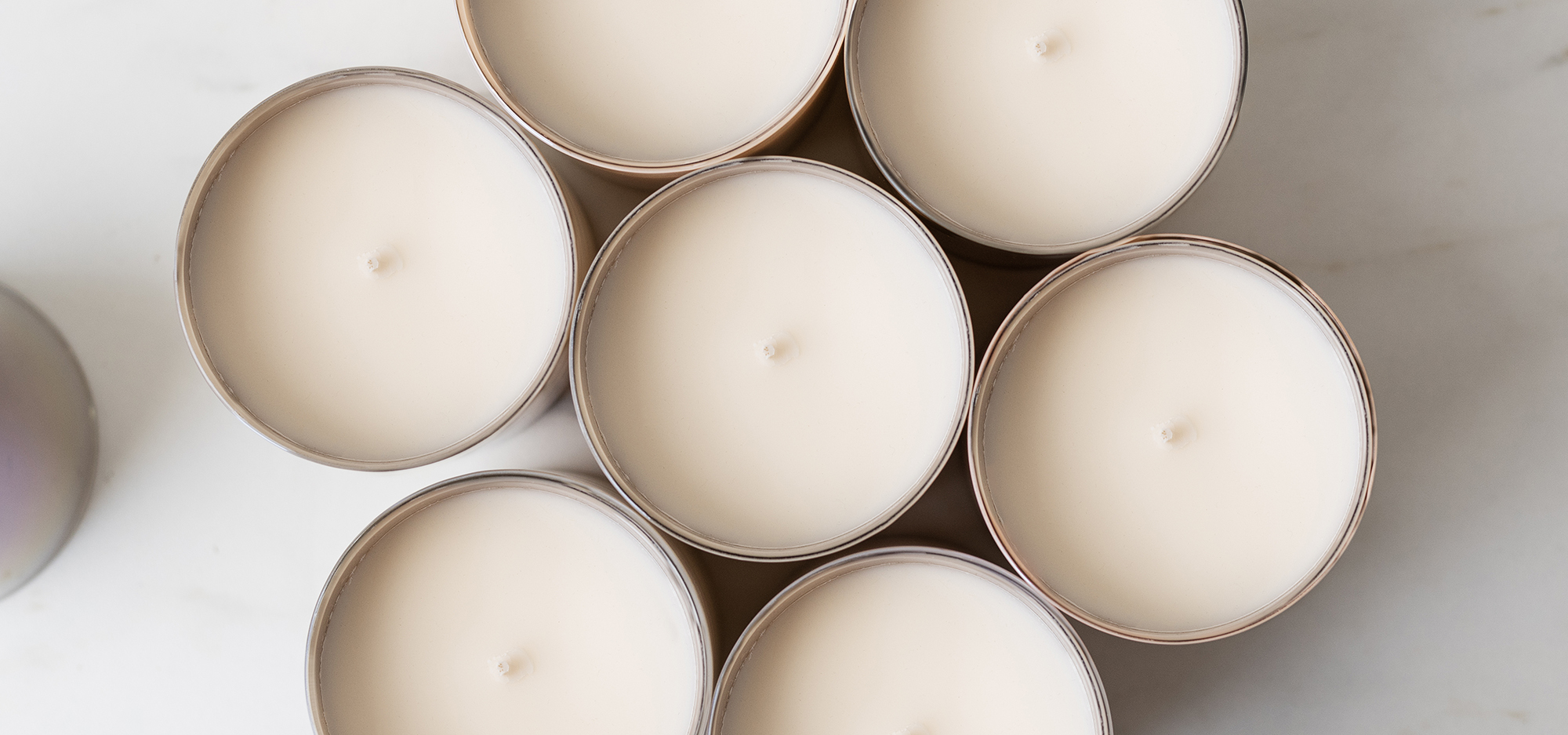 Melting larger quantities of wax
Related to the question of equipment, how will you heat the wax to make more candles at once?
There's no one right answer. Candle makers work with a variety of devices ranging from Presto pots and pancake griddles, to microwaves and wax melters.
If you've been using the double boiler method, look at what options make sense for your current budget and workspace.
Ordering supplies in bulk
Making large batches of candles opens up the opportunity to order more supplies and increase your profit margins.
Buying supplies in bulk, or wholesale, typically saves you money. Higher order quantities result in lower per-piece and per-ounce pricing on containers, wicks, wax, and fragrance. 
Pro Tip
Placing larger orders can also save you money on shipping!

At CandleScience, orders of at least 300 lbs. qualify for freight shipping, often the most cost-effective shipping option available.

Not ready for freight? Orders weighing at least 200 lbs. are eligible for UPS Hundredweight shipping, which offers rates 20-30% less than UPS Ground. Order five 45-lb. cases of wax to hit the Hundredweight shipping threshold with ease!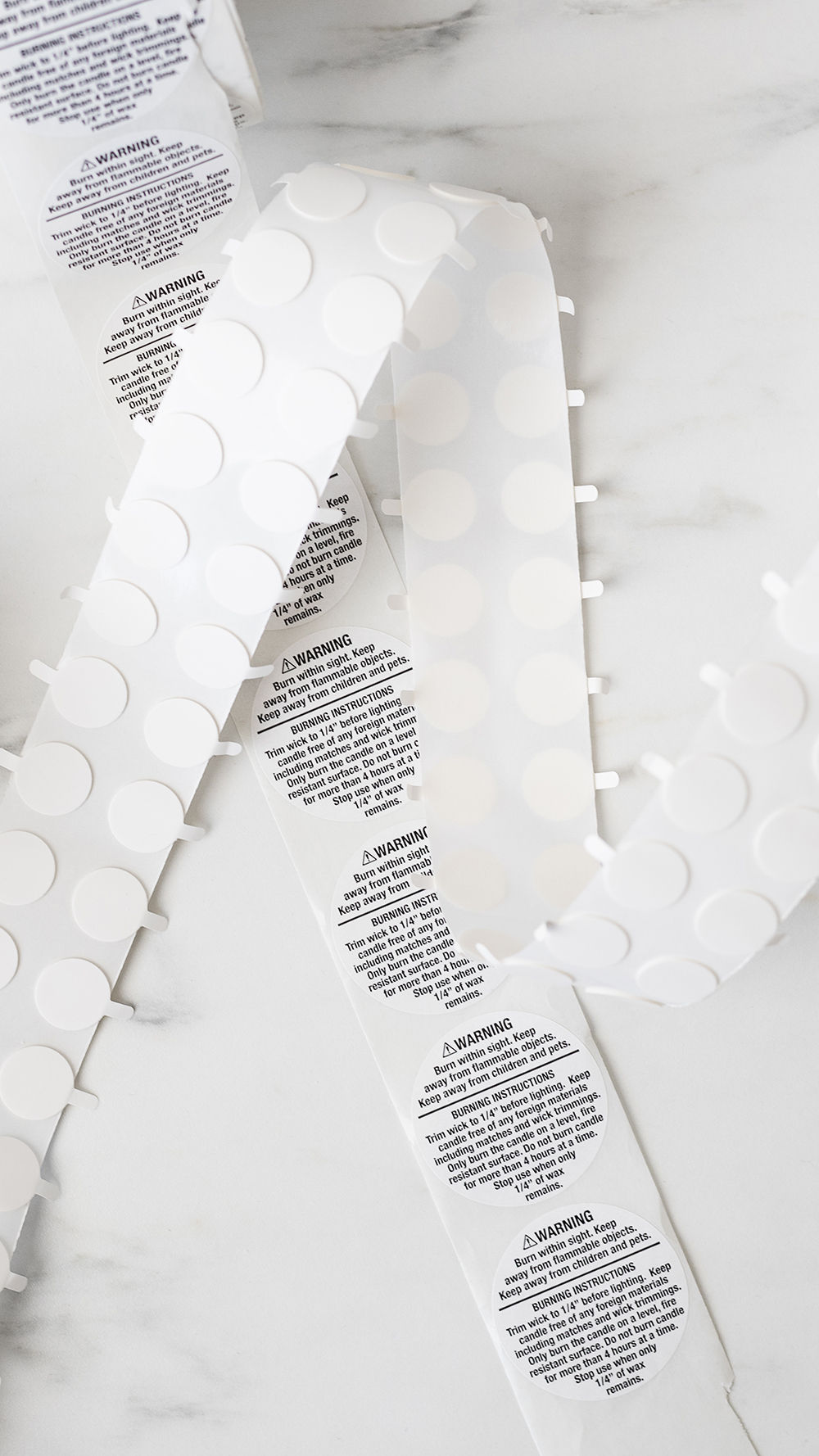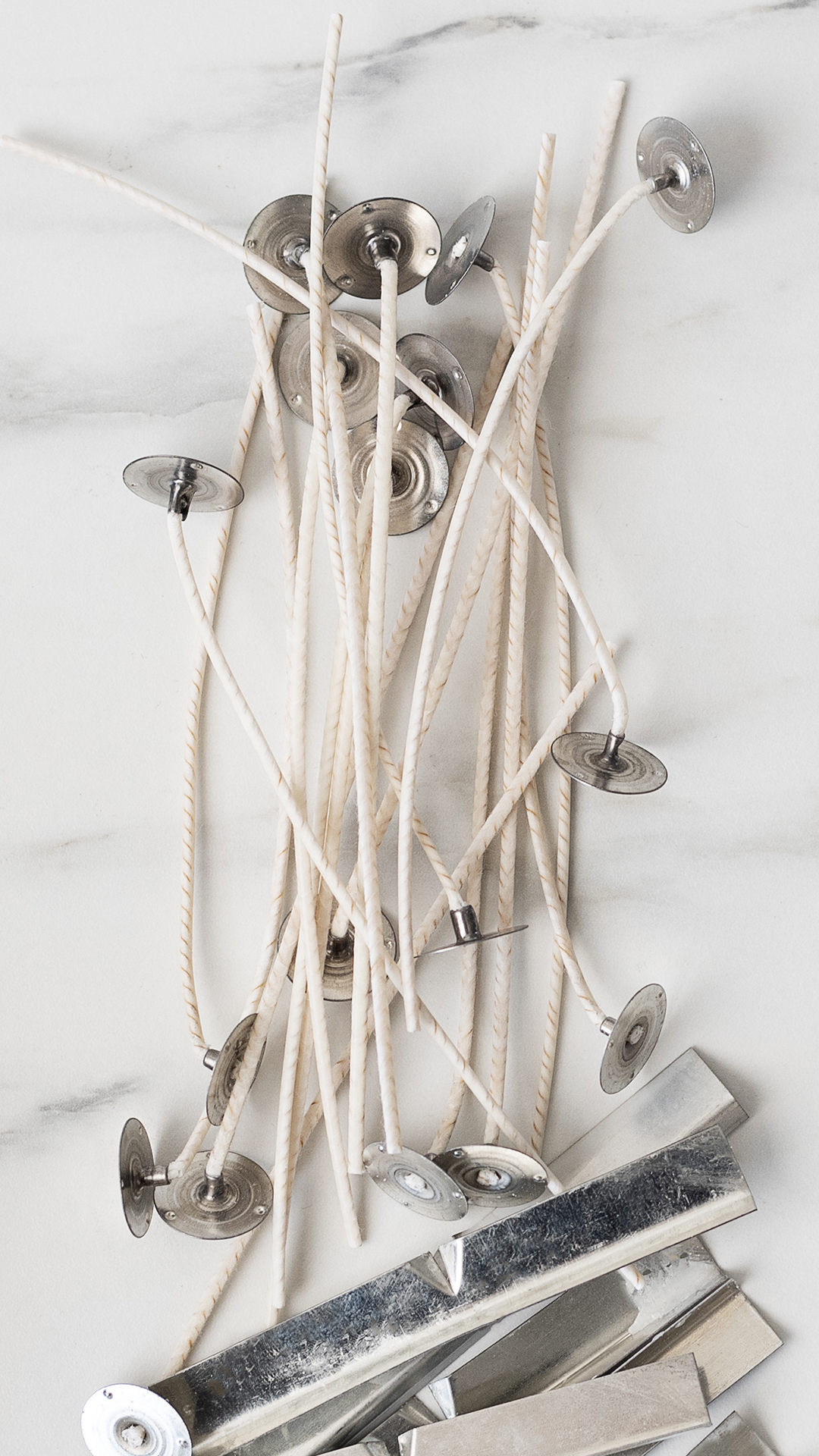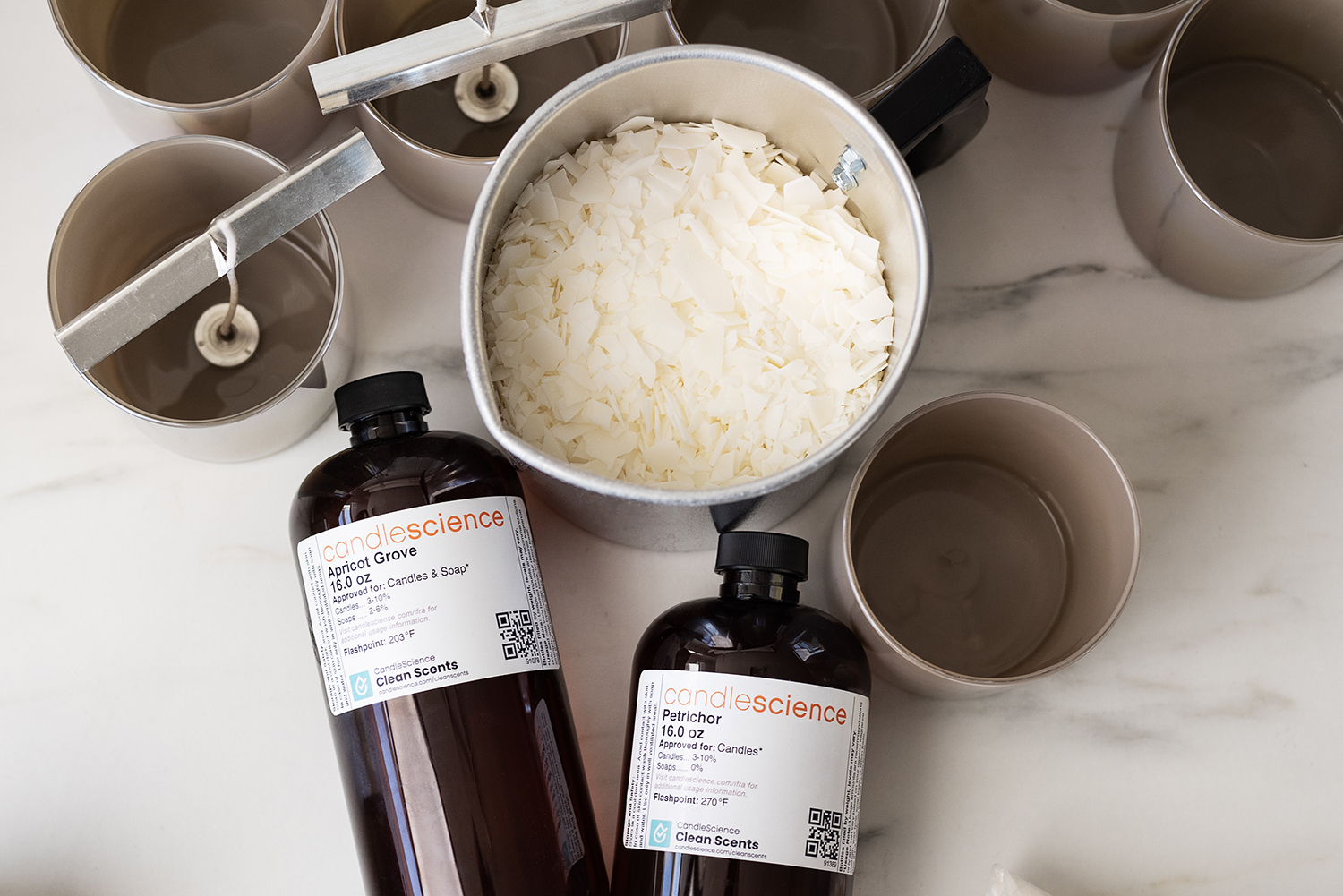 Adjusting your candle formula
Time to get out the calculator! Scaling up productions means you need to adapt wax and fragrance quantities to meet the new batch size.
For example, let's say you make one candle with 6 oz of soy wax and .5 oz of fragrance oil. To make 6 candles in a single pour, multiply the wax and fragrance amount by 6. Your new batch size is 36 oz of wax and 3 oz of fragrance.
Pro Tip
Be sure you're able to comfortably lift and pour the quantity of wax and fragrance in each batch. Wrist and hand strain can become an issue with the repetitive movements of pouring many candles.
Finding efficiencies in your workflow
Making a lot of candles at once is an undertaking and all the steps add up to a fairly complex process!
Grouping tasks can allow you to work in a focused way that minimizes errors and increases your productivity.
For instance, when using a wax melter, there is down time while the machine melts the wax. Consider wicking all of the containers while the wax is heating up. Once the wax is ready, you'll have completed the prep work and can move on to the next step of mixing the fragrance and wax.
It's incredible that your small business is reaching new levels of success. Be sure to take time to soak in all you've achieved so far!
Also think about documenting and sharing your journey online through social media or your website. Your customers and supporters are cheering you on and want to see you succeed. Marking your victories publicly can strengthen brand loyalty–and it's personally fulfilling to see your progress over time.
We hope the ideas shared here help you get clearer on the next steps in your candle making venture, and offer some actionable steps to take. 
If you have other questions about large-batch candle making, let us know!  And if you're a chandler with a background in making large batches of candles, please share your tips and experiences in the comments below.
Looking for help to grow and improve your candle business? Our Candle Making Business Guides dive into topics like product photography, how to ship orders, getting started on social media, and more!