How to sell candles wholesale
benefits of offering wholesale and tips for beginners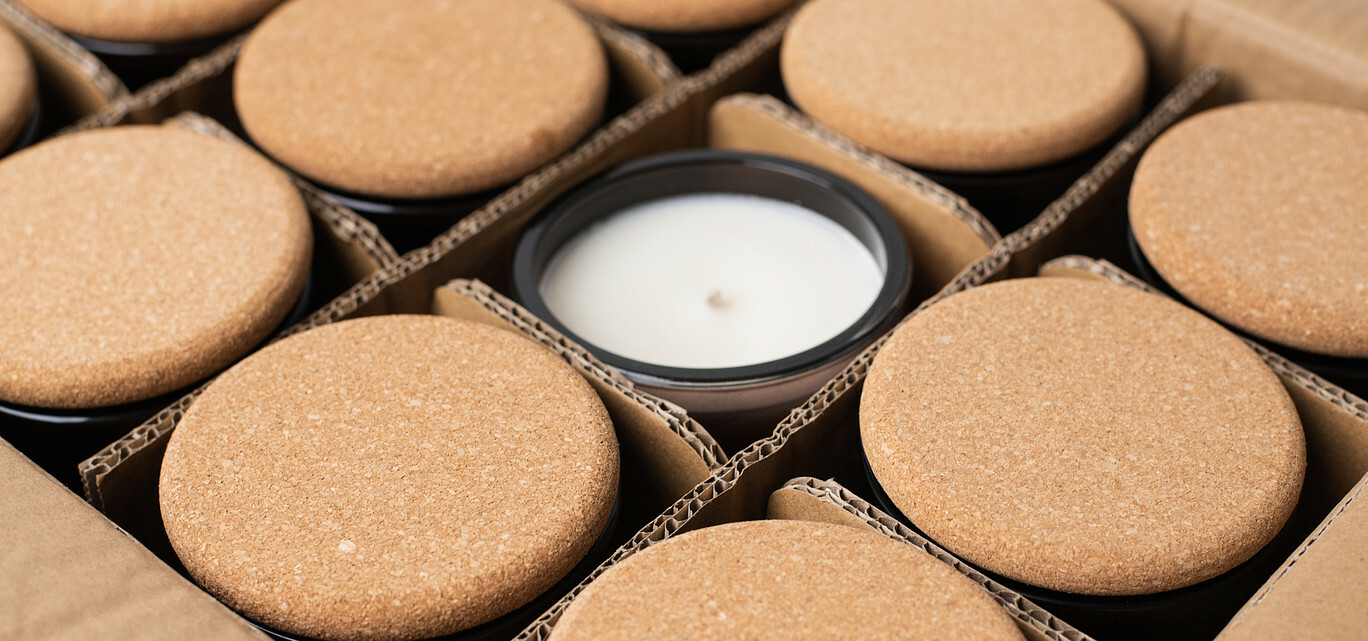 Have you ever thought about selling your candles wholesale? Whether working with other small and indie businesses, or venturing into partnerships with national retailers, wholesale is a lucrative and consistent revenue source for candle businesses to consider. 
Read on for a comprehensive look at what wholesale entails, the benefits of having a wholesale business, and tips on wholesale logistics!
Wholesale is the selling of goods by a maker or manufacturer to a retailer. The retailer purchases the goods in large quantities to resell to consumers.
Retailers usually purchase wholesale items for 50% of the retail price. 
Why candles are ideal for wholesale
Candles and home fragrance products sell strongly for many retailers and are popular with shoppers; this alone could be reason enough to offer your candles wholesale!
But candles are also excellent candidates for wholesale because they're consumables. Consumable products are used up and replaced, which sets up a perpetual buying cycle to support all sorts of sales—including wholesale orders.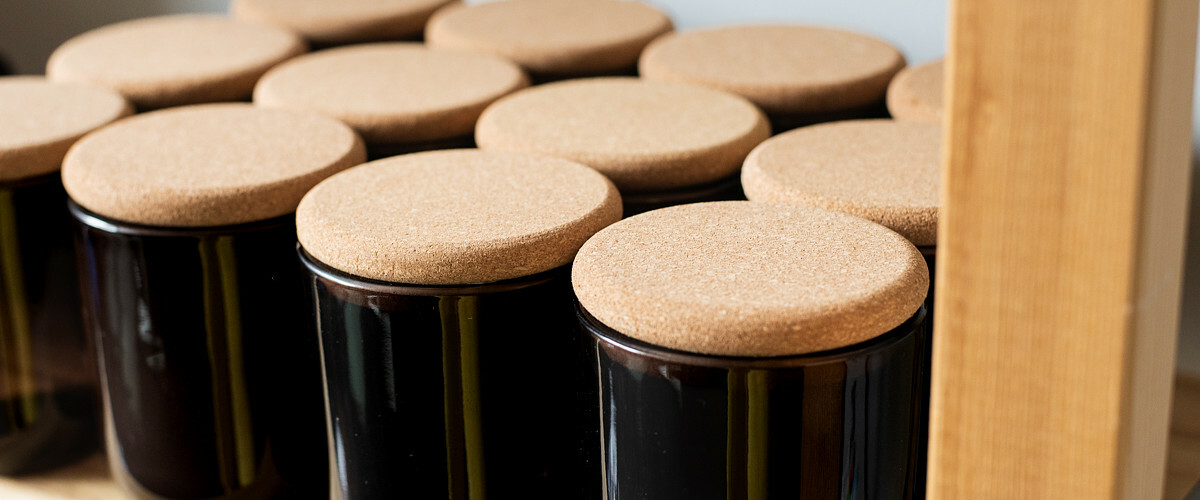 Offering candles wholesale opens up a host of benefits to your business, like:
Consistent orders
While every wholesale situation is different, it's not uncommon for shops to purchase wholesale candles monthly. But even bimonthly or quarterly re-orders mean predictable income for your business!


Lower customer acquisition costs
It's becoming increasingly expensive to reach consumers through ads and paid marketing, but you can connect with wholesale customers without these upfront costs.


A return to making
Most candle makers find great joy in being creative and working with their hands. Because you need fewer customers to reach your revenue goals with wholesale, you can spend less time on activities like marketing and social media, and more time actually pouring candles—while still making money.


An additional revenue stream
Having more than one revenue stream is wise because it diversifies your business and can be a protection if sales dip in another area.


Increased brand awareness
More people see your candles when shops carry them than you might otherwise reach. Your candle may end up at a dinner party where the attendees fall in love with it and decide to purchase their own from your website. And while there's always the possibility of a viral social media post for online sellers, people who visit shops can fully experience your candles right away.


Reduction in time-intensive logistics
Have you focused on selling your candles directly to consumers online and at markets or craft shows? Then you know how time-consuming it is to pack lots of individual orders and prepare for, and attend, in-person events!

Wholesale can be a more efficient and sustainable way to sell candles. For instance, packing a single $300 wholesale order takes less time than packing the equivalent value of individual retail orders. 
Is wholesale right for your business?
Are you enticed by the idea of selling your candles wholesale? Before committing, we recommend thinking through the following to make sure wholesale is good fit for you.
Check in with yourself to gauge your bandwidth to take on wholesale.
If you're adding wholesale to your existing retail candle business, it's like having two businesses. Wholesale requires you to make seasonal products on an earlier schedule than retail, and working with retailers is another customer audience to nurture.
Wholesale also necessitates scaling up your candle production. Do you have the space and equipment to make more candles? How will you adapt your processes to meet the demands of large orders? Our large batch candle making article helps with this part of evaluating your readiness for wholesale. 
Pro Tip!
Think about how you'll fulfill orders ahead of time. Will you make candles as orders come in? Or will you pre-make inventory to have on-hand?

Making orders once they're placed is less speculative and means having less cash tied up in supplies and inventory. But, making candles in advance allows you to ship orders more quickly, which is always a plus to your wholesale customers.
Are your candles priced for profit? To determine profitable wholesale pricing, you want to fully account for the following costs of making your products:
Supplies
This includes all raw materials and packaging, and their related shipping costs.


Labor
Whether you or employees make the goods, be sure this cost is part of the pricing equation from the outset.


Commissions
Even if you're not yet using wholesale platforms or sales reps, factor in this expense—which ranges from 15% to 25% of a wholesale order—now. Working commission fees into your pricing up front means you won't have to steeply increase your prices down the road.
Our how to price your candles article covers these number-crunching details in depth.
Once you're clear on your cost per candle, double—or even triple—that figure to arrive at your wholesale price. While the conventional advice is to double your costs, increasing the wholesale markup to 2.5x or 3x gives you room to offer periodic discounts or promotions to your retail partners.
The shop's retail price is then at least twice the wholesale price. This markup reflects the overhead costs that retailers carry like rent, wages, and marketing. Remember, packaging, presentation, and strength of branding support a candle's perceived value—and therefore how much shops and shoppers are willing to pay for it.
Pro Tip!
Supplies often make up the largest share of candle production costs. Purchasing wholesale materials and supplies means you can create larger profit margins for your business. Buying fragrances and containers in bulk can often make an especially big difference in your profit margins.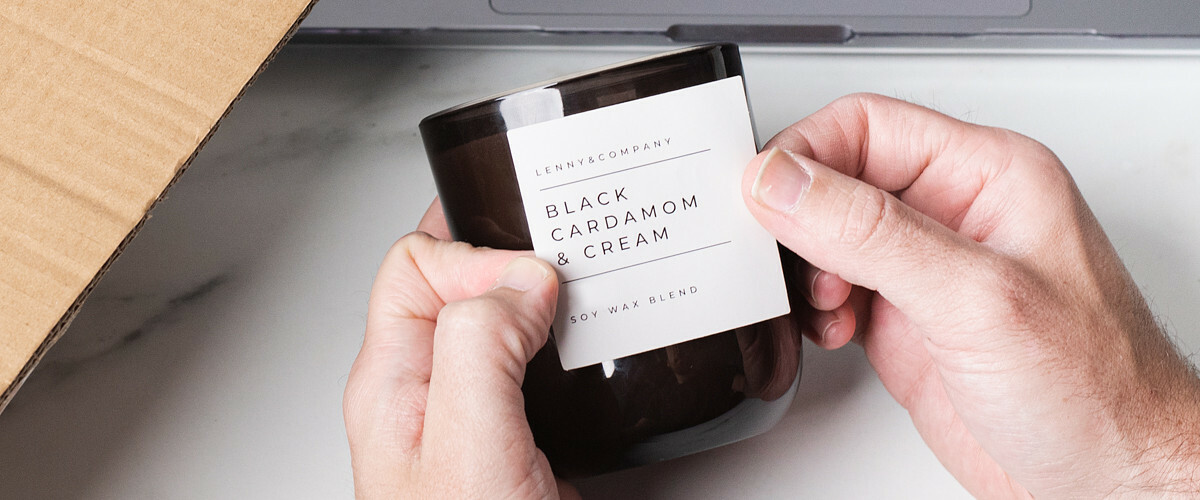 If you already sell candles directly to customers, you'll want to evaluate the products. Not all items are ideal candidates for wholesale! 
Reasons for this could be because the:
profit margin isn't compatible with wholesale pricing
packaging is a challenge to ship in bulk
product is somehow inconsistent with the majority of the items you plan to wholesale.
However, if you're at the stage of exploring starting a candle line and want to offer wholesale from the outset, here are some tips for designing the line with an eye toward wholesale:
Fragrance options
Offer between four and 10 fragrance options. The key here is to have variety, but not an overwhelming amount, for stores (and their customers), to select from. We can all experience decision paralysis when faced with too many choices! 


Price points
Create a range of different price points. This can be accomplished through different candle sizes, or by offering wax melts or reed diffusers. Shops appreciate having choice among product prices, and being able to offer candles and scented products under thresholds like $15, $20, and $30. 


Seasonal and year-round products
Making year-round staples provides consistency to stores, while rolling out seasonal products creates excitement—and order opportunities. Launching a new seasonal collection is also the perfect excuse to touch base with your wholesale partners, especially ones that haven't ordered in awhile.
Pro Tip!
When creating your line, know the candle labeling requirements. This ensures transparency about the materials used in your candles—which is reassuring to customers—and that the labels contain all legally required information.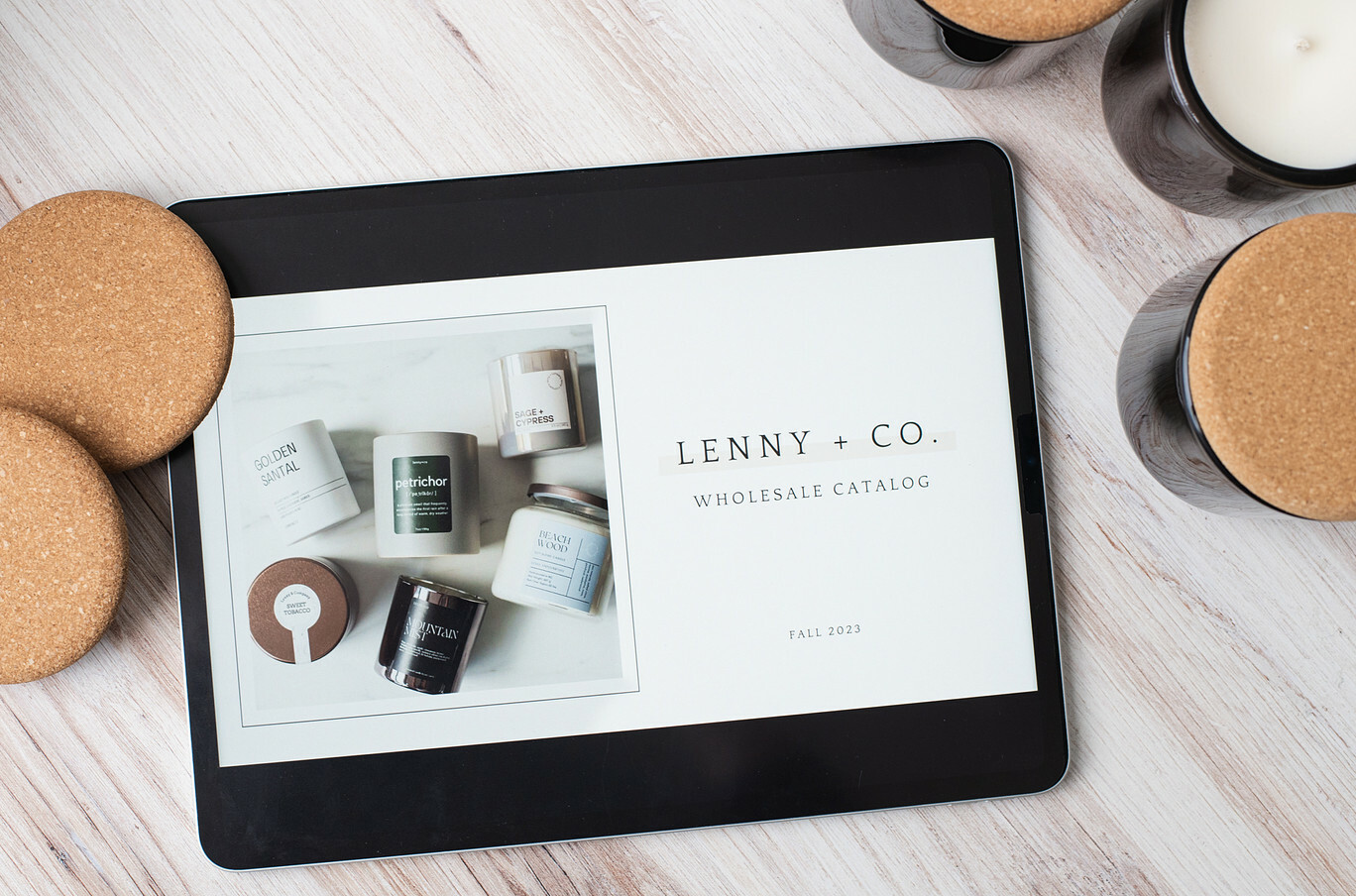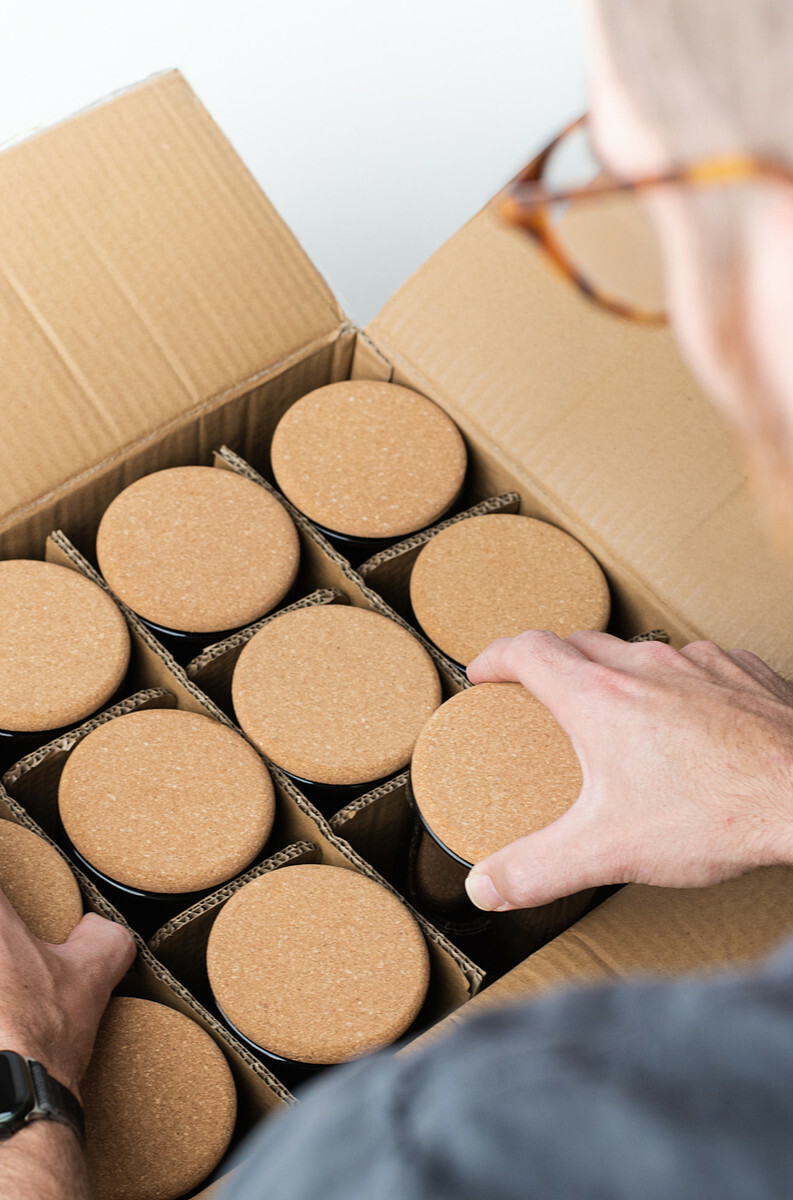 Once you've settled on the candles and products you'll wholesale, and you're clear on a profitable pricing strategy for them, now's the time to decide how you'll share them publicly!
This involves producing a line sheet or wholesale catalog, selecting the platforms you'll sell on, and figuring out the details for fulfilling and shipping orders.
Line sheet or wholesale catalog
Having a line sheet or wholesale catalog is a must to share with retailers and shops. It's a tool to:
use when introducing your brand to shops
showcase your wholesale program
support your preferred ordering methods
Line sheets are typically PDFs that are shared digitally. However, they can also be printed. Programs like Photoshop, Canva, and even Google Slides, allow you to create visually appealing presentations of your products.
Easily share your digital wholesale catalog with prospective retail partners by uploading it to Dropbox, Google Drive, sending a PDF attachment by email, or linking it on your website. 
The contents of a wholesale line sheet or catalog usually include:
Policies

Terms and payment
Processing/lead times
Cancellations
Shipping and delivery options
Damages and returns/exchanges
Exclusivity
Minimums

Opening/initial order minimum
Re-order minimum
Any other minimums by product type



Product images, descriptions, and pricing


Order form and/or ordering information
Unless you're working with a large chain retailer or big box store, it's not industry standard to use a formal contract to sell candles wholesale.
Clear terms and conditions—in your line sheet and online—will typically provide the needed guidelines for wholesale transactions.
Requiring a formal contract can actually be a hindrance to working with independent shops and boutiques who need ordering flexibility and don't have the cash flow to commit to long-term obligations.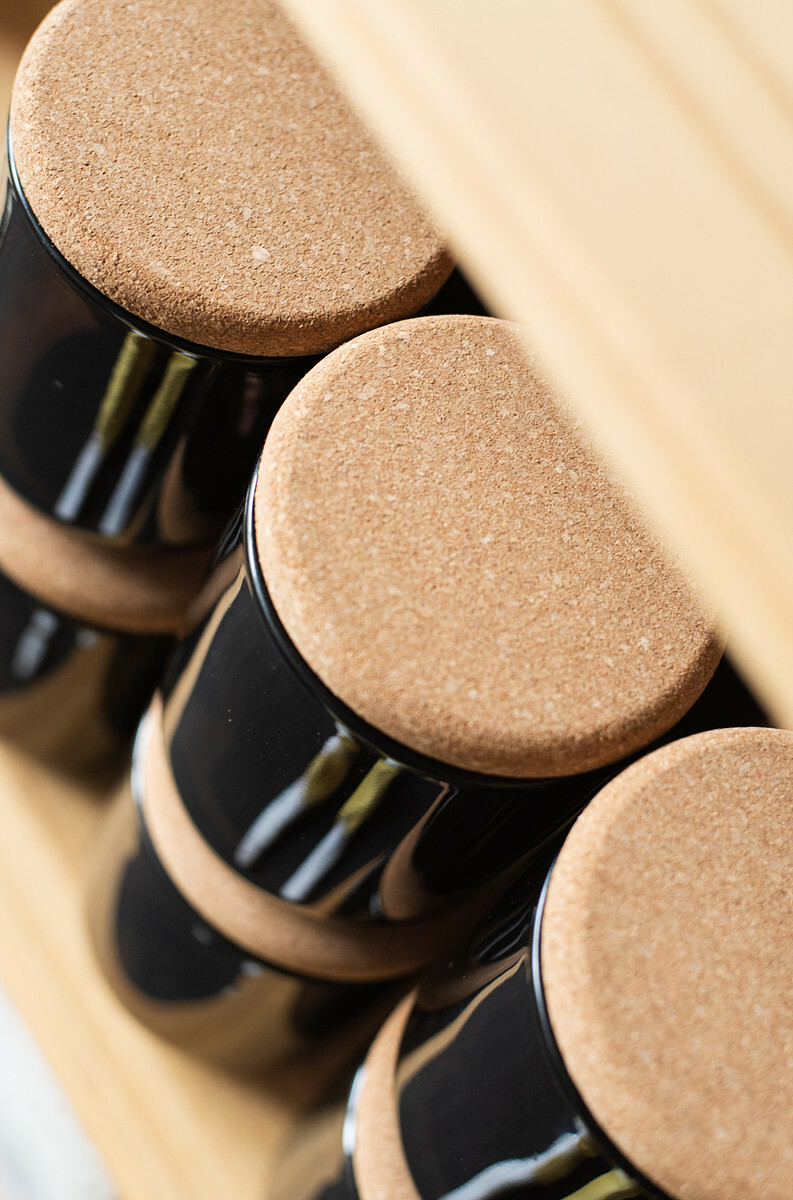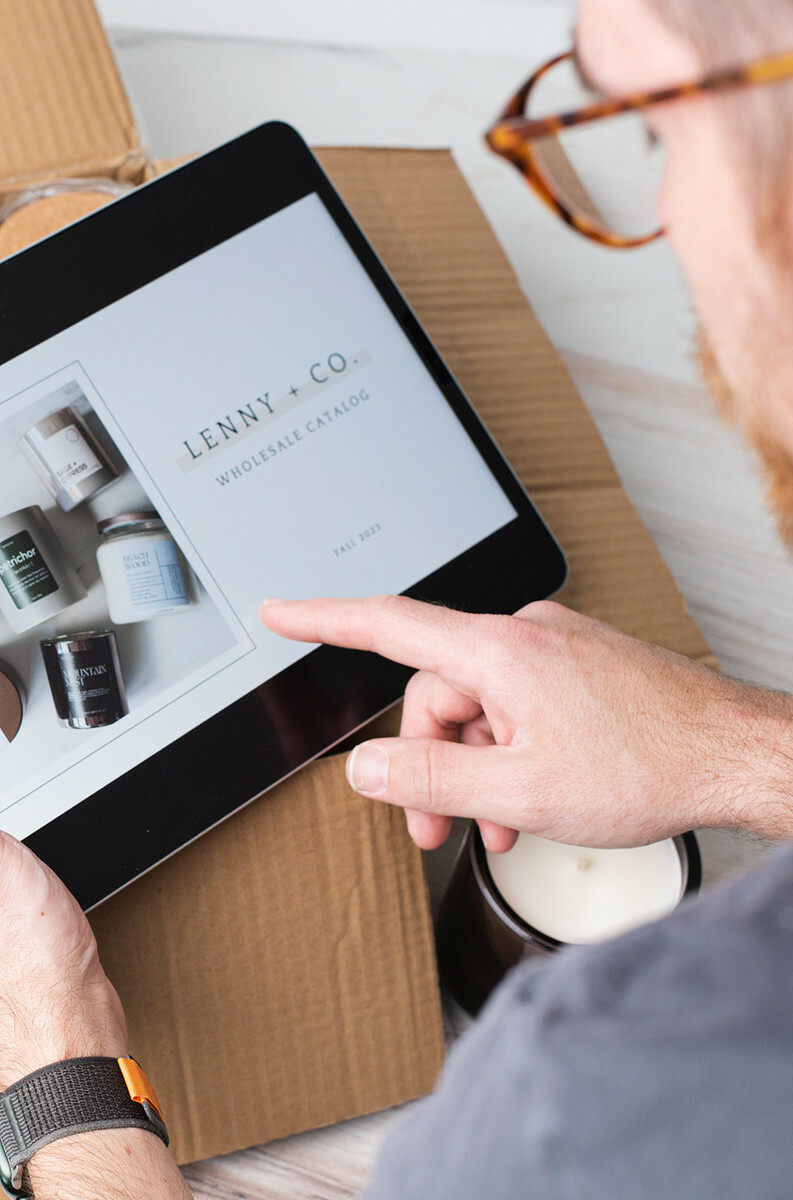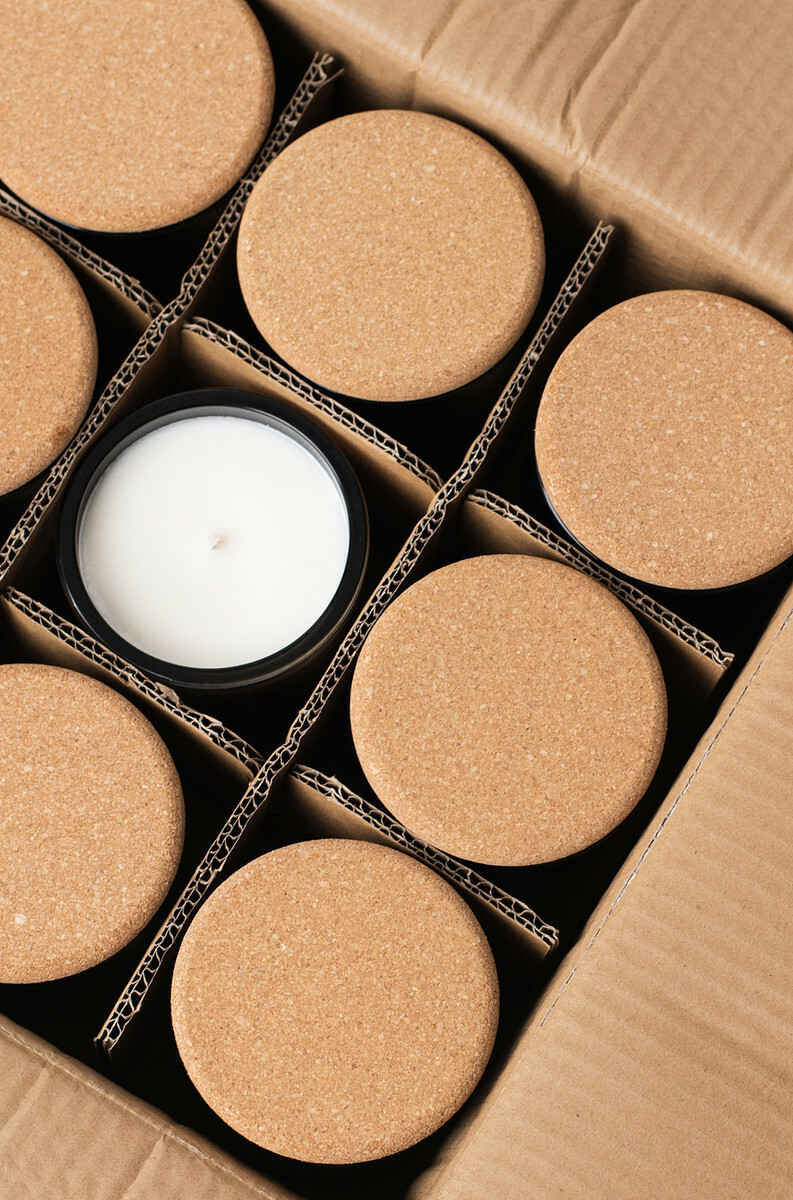 Wholesale ordering options
There are many ways to accept wholesale orders these days! You may elect to use one, some, or all of these options:
Website
Online ordering is very convenient for shop owners and buyers. These are some of the popular ways to offer your candles wholesale on a website that you own:

a dedicated wholesale site that's separate from your retail site
a wholesale collection that's password protected on your retail site
using an app like Wholesale Gorilla that creates a wholesale portal on your Shopify site



Email
It may be simple, but this is an entirely effective way to receive orders. Customers can fill out an order form you provide and email it back to you. Or they can submit their order details in the body of the email.


Invoicing
Related to email orders, you can process those orders by invoicing wholesale customers through payment processing services like Square, PayPal, or Venmo. Shopify sites also have the ability for you to create orders and send invoices.


Online wholesale platforms
At the writing of this article, Faire is easily the best known wholesale platform and marketplace. Once accepted into Faire, it's free to create a shop front. You can link your Faire shop on your own website; orders placed through the link don't require a commission. Otherwise, Faire takes a commission ranging from 15% to 25% on orders originating through the site.

Tundra and Abound are other wholesale marketplace platforms with varying commission rates.
Pro Tip!
Retailers generally expect to not pay sales tax on their wholesale purchases. This is because they are reselling them and will collect sales tax on the purchase with their customer.
Collect the retailer's resale certificate number or reseller's license information before their first order so that you can safely omit charging sales tax. And keep these records in case you're audited! Always consult an accountant with any questions about sales tax.
Another key to successfully selling candles wholesale is to set up systems and processes for when the orders roll in.
Think through how you will:
Respond to wholesale inquiries

It's useful to have pre-written templates for email or DM inquiries.

This ensures you share all of the pertinent information consistently with each shop that contacts you—and it saves you time!



Produce the candles and track inventory

Will you make candles as you receive wholesale orders or maintain an inventory of ready-to-ship candles?

Either approach is valid and if you choose the latter option, determine how you'll track the candle inventory. 



Pack and ship orders

Know which destinations you'll ship orders to.

If you're U.S.-based, do you want to stick to working with other U.S. businesses only? Or are you interested in expanding to all of North America, or even overseas?

Research the carrier options available to you and determine which ones you'd like to work with.

Examples in the U.S. are USPS, UPS, and FedEx.

Understand that shipping dozens to hundreds of candles is very different from shipping retail candle orders. To ensure minimal damage, you may need to look at sourcing shipping boxes and packing materials to accommodate wholesale orders.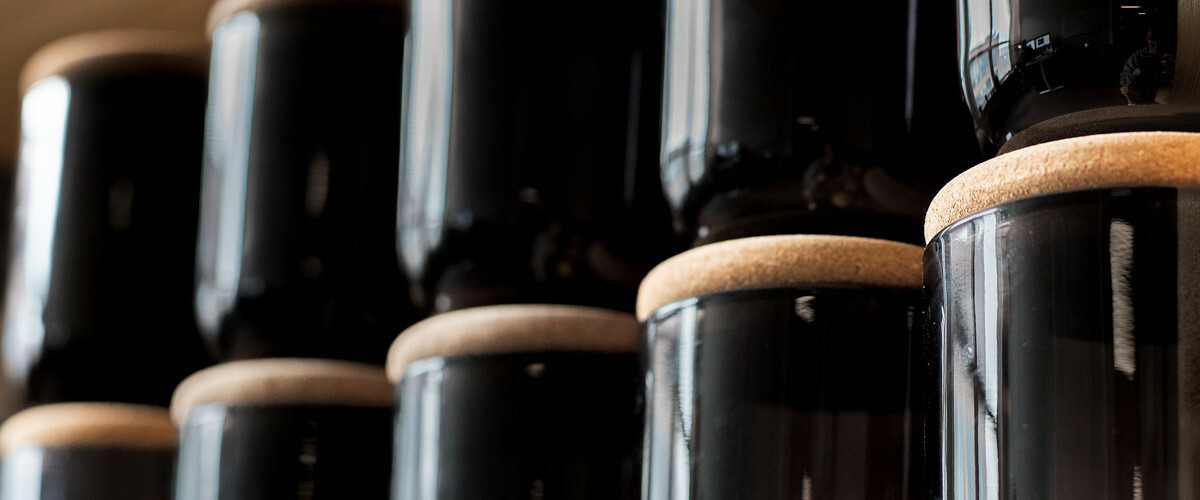 Once you've made it through all these steps, you're ready to officially launch your wholesale candle business! Let's look at what comes next.
Share the good news!
Incorporate regular mentions of your wholesale offerings in your social media posts and email marketing. 
Ask your customers for recommendations of shops that they think are a good match for your candles.
Let your friends, family, and community know! You never know what connections might come of sharing through word of mouth.
Finding potential retailers to work with is necessary to cultivate wholesale connections. Pitching directly to shops and using online wholesale platforms are cost-effective ways for new candle makers to connect with shops. Once your wholesale program is more established, working with sales representatives and participating in wholesale trade shows become viable options.  
Pitching
Reaching out to shops and stores directly works well to establish partnerships with retailers. Pitching is as straightforward as emailing an introduction of your brand. An effective pitch involves researching the business, understanding their target market, and crafting a message that demonstrates why your candles would appeal to their customers.

Depending on your brand focus and overall price point, consider working with these types of businesses: 


Clothing boutiques
Home decor shops
Gift shops
Hair and aesthetic service salons
Spas
Bakeries
Coffee shops
Retailers (of any size)
Bottle shops
Specialty grocers



Online wholesale platforms
Not only do online platforms allow you to receive wholesale orders, they're where many retail shops look to connect with makers. Shops can discover your brand on the platform's marketplace and through searching product categories. Platforms like Faire charge commission on sales that originate through the marketplace. 


Sales Representatives
Also commission-based, sales reps work on your behalf to introduce your products to shops. Reps usually work in a particular region and have developed relationships with shop owners and buyers. Individual reps are often associated with larger rep groups who specialize in product categories.


Wholesale Trade Shows
Lastly, another way to meet potential retailer partners is to participate in wholesale trade shows. These are usually multi-day events where makers and businesses set up booths to display their goods.

The shoppers at wholesale trade shows are store owners and buyers looking to add new products to their shelves. Wholesale trade shows require a significant investment of money, time, and infrastructure and are typically better leveraged for candle makers who have a few years of wholesale experience under their belts.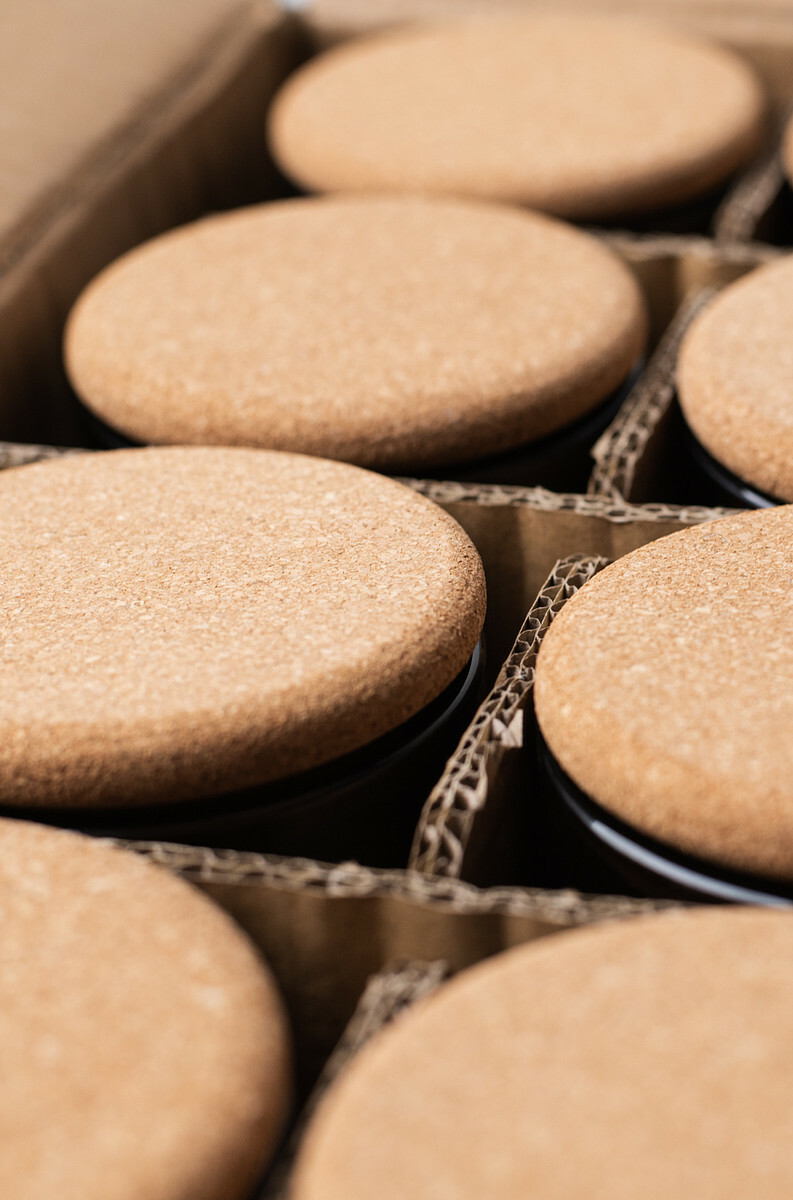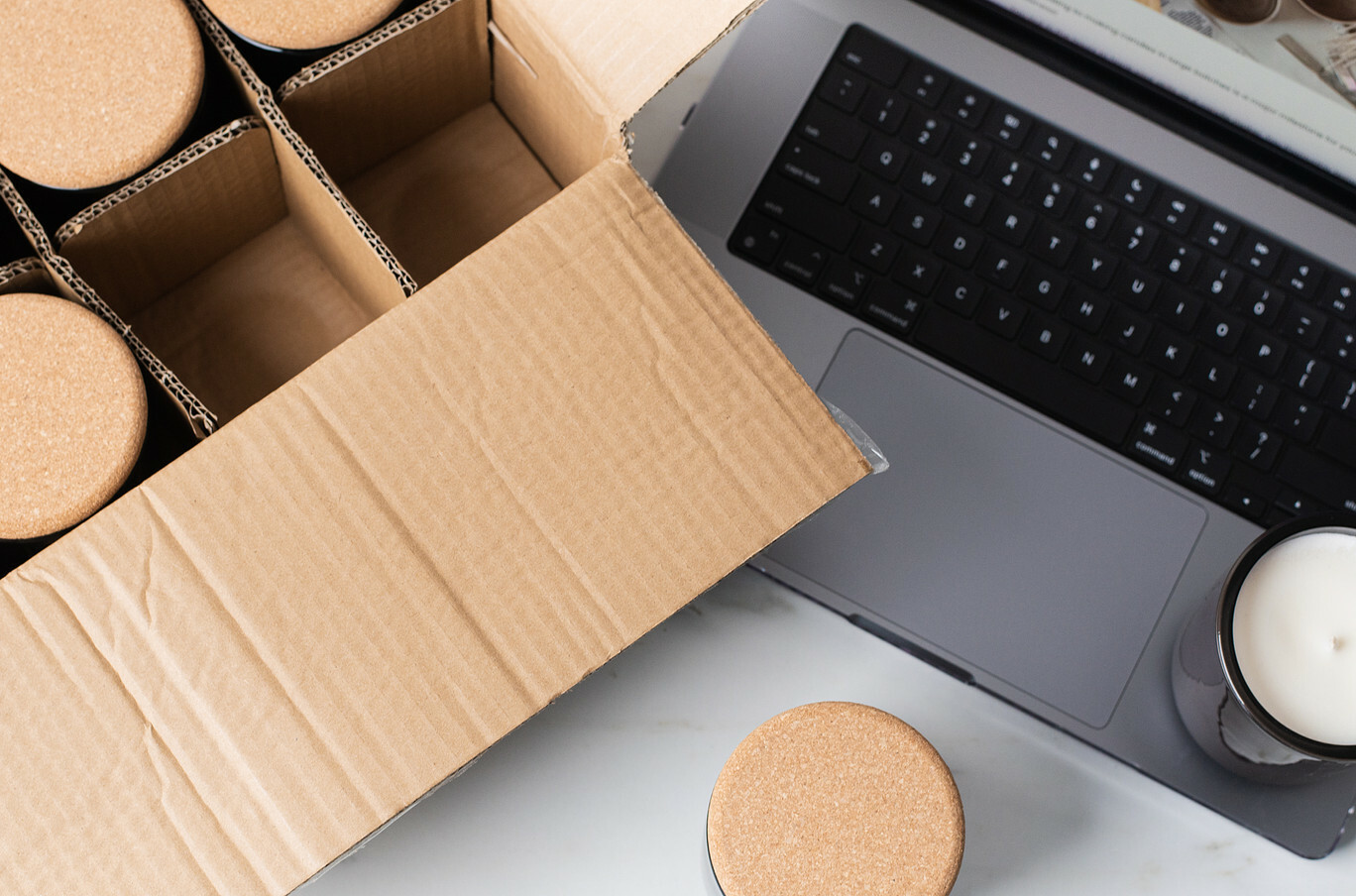 Final thoughts on succeeding at wholesale
Success in selling wholesale candles is not only predicated on the quality of the products you make, but also the service you offer and the relationships you build with people.
Taking the time to develop a thoughtful wholesale line that's supported by professional packaging, policies, and products makes it easy for shops to want to work with you.
Being reliable and communicative creates assurances that you're a dependable partner for shops to work with. Meeting—or better yet, beating—deadlines and expectations will wow them and make you a favorite supplier.
Asking retailers for feedback and learning more about their business and needs shows good will and an earnest desire to be real partners. While you may not be able to act on all of their suggestions, they'll appreciate that you want to know more about their perspective.
Selling candles wholesale can be a great way to expand your business and reach a wider audience. With careful planning and execution, wholesale is a profitable and exciting opportunity for candle makers looking to take their business to the next level.