Creating your first candle product line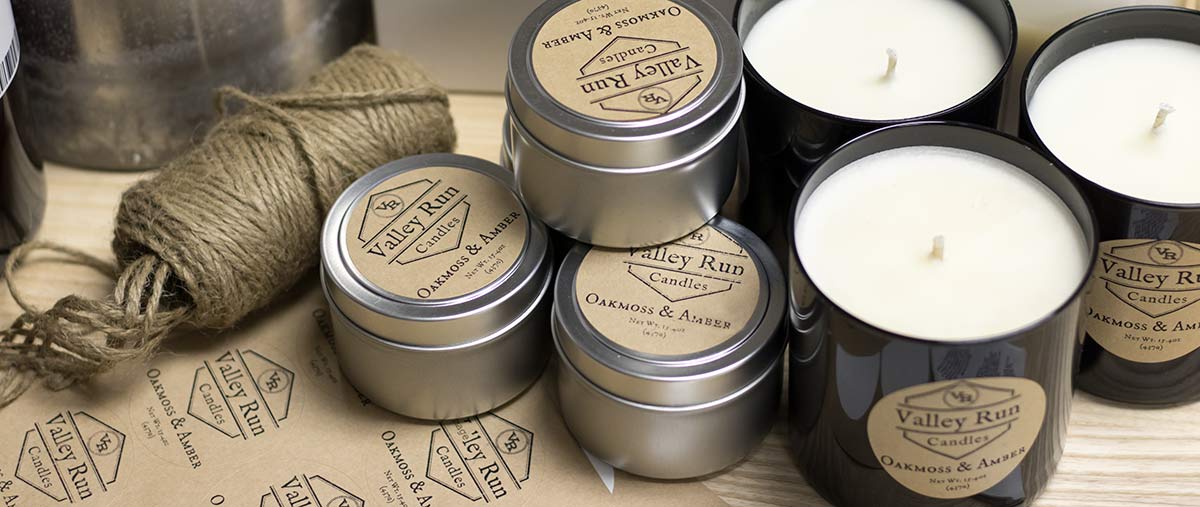 Great businesses are built on great products, and candle making is no exception. Creating a strong product line can seem intimidating when you're just starting out. There's a lot to keep in mind, but don't worry. We're here to help guide you through the process.
Getting started: creating your product line
Your product line is dependent on the materials you use. Here are some strategies for creating great products that appeal to your market.
Wax is the foundation of your candle, so selecting the right type is crucial. The wax you use should be in line with your target market and brand. Here's an overview of the benefits and positioning of the three most common wax types:
Benefits: A 100% natural and renewable material that's grown and produced in the U.S., soy wax is the fastest-growing segment of the candle industry. Its ease of use makes it ideal for beginners.
Positioning: A good choice if your product line is all about natural materials and being eco-friendly. Soy wax provides a great marketing opportunity: You can tell customers your candles are made from renewable and sustainable materials grown by American farmers.
Benefits: Compared to natural waxes, paraffin is a petroleum-based product that takes dye better and generally exhibits exceptional scent throw. Paraffin wax is less prone to surface imperfections, won't frost, and has a long shelf life. It's easy to work with and is an excellent option for mass-producing candles. Also, the numerous paraffin wax varieties mean you can make a wide range of candles with them.
Positioning: Want to make candles similar to brands like Yankee Candle? Then paraffin is the right choice. In your marketing, you can highlight your candles' exceptional scent throw and aesthetic.
Benefits: A paraffin-soy blend offers the look of a soy candle and the scent throw of paraffin. In comparison to 100% soy wax, a paraffin-soy blend minimizes surface imperfections and avoids potential frosting issues.
Positioning: A blend gives you an opportunity to market your product as a highly fragrant candle that contains natural soy wax.
Pro Tip!
In our experience, beeswax isn't a great choice for beginners because the pollen and nectar foraged by honey bees to make the wax can differ by region and season. As a result beeswax will have varying consistencies between batches which can be a challenge to work with. Some crafters do use beeswax to supplement other waxes in their candles. If you choose to mix beeswax with another wax, be ready for lots of testing to find the right combination with each batch of candles.
Ultimately scent is what sells candles. The right fragrance has the power to evoke your customers' memories and emotions, creating a lasting connection with your products. Here's the really exciting part—with over 150 quality scents to choose from, you're sure to find the right fragrances for your line.
Some pointers to help keep you on track:
Select fragrances in line with your target market: If you're producing candles with mass-market appeal, you can select traditional scents like vanilla, pine, or strawberry. For mid-market scents, think about expanding into more nuanced fragrances that still have mass appeal. Many times, these scents combine two notes to create a distinctive aroma, like Green Tea and Lemongrass or Grapefruit and Mangosteen. Finally, for high-end or "prestige" markets, you can venture into luxurious and complex scents like Amber Noir or Black Sea.
Create unique names for your fragrances: Create unique names for your fragrances: Fragrance names are an excellent opportunity to let your creativity shine. To start, you can explore the notes profile for each scent and the general description, then create a unique name that reflects your brand story. Remember to avoid using copyrighted names. Companies like SC Johnson and Yankee candles will have trademarks on most if not all of their products. Be sure to use www.uspto.gov to check the availability of your fragrance names. Great fragrance names will transcend an individual product and create a lasting impression in your customers' minds.
Use creative descriptions: Whether you're selling online or locally, vivid descriptions help bring your products to life. Be short and concise, appeal to your customers' imaginations, and always match your tone to your brand: Are you lighthearted and fun-loving? Luxurious and sophisticated? Eco-conscious and earthy? Read more from Shopify 〉
Think broadly about the types of containers that best fit your market, and then consider what variances could make your product line more original. Here are two things to consider:
Style of container: Some container types, like jelly jars, have a more mass-market appeal because of their rustic appearance, while a traditional clear-glass tumbler is often a good fit for a mid-market offering. On the flipside, the same tumbler in black or white creates a more modern, luxurious aesthetic better suited to a high-end market. Remember that a small variance in your container—like color—can make a big difference in how customers perceive your candle.
Container lids: Pairing your containers with the right lid can also set your product line apart in the market. Gold jelly lids, for instance, can go well with a mass-market candle compared to black or white jelly lids which can create a more refined, high-end look.
Labeling and packaging is the final aspect of building your product line. Getting creative here is the best way to visually differentiate your products:
Labeling: Start by getting the legal requirements right: Include your business name and address, the product net weight, and warning and usage labels. For promotion, create a product label that's visually appealing, pleasing to the touch, and consistent with your brand. Remember that some container types (like candle tins) are easier to label than others.
For help with designing and printing custom product labels, we recommend using Avery WePrint™. There you can upload your existing artwork, or use one of their many pre-made templates to create eye-catching labels that showcase your brand. They offer a wide variety of sizes, materials, finishes, and adhesives. Order as little as a few sheets or thousands of labels depending on your needs. Custom sizes are also available at no extra cost. Check them out at Avery.com to get started.
Packaging: You can use individual boxes, paper, ribbons, or other decorative elements to wrap your product and to express your brand. Include information for reordering (like a business card). And here's an extra tip: If you're shipping candles directly to customers, add a personal touch by including a branded thank you note.
Get inspired! Take a peek at our packaging and labeling pinterest board below:
Pinterest Gallery
Wrapping up: get feedback and grow
It's OK to make changes to your products over time, but always keep your core value the same. Be open to feedback from your family, friends, and co-workers. Ask customers to leave product reviews. Build on your successes, learn from your mistakes, and continue to grow. Remember to always have fun!
Here's a quick recap:
To build a strong foundation for your product line, stay in line with your target market and differentiate your products.
Choose the type of wax that reflects your product line. Soy wax, paraffin wax, and a paraffin-soy wax blend are the three most common types.
Remember that scent sells. Select fragrances in line with your target market, create original names for your scents, and make them come alive with creative descriptions.
Containers, labels, and packaging are the first thing your customers will notice about your candles, so make them count. Add creative touches that appeal to your target market.
Early on, keep your product line simple and order supplies in line with your business goals. Continually improve your products, get feedback, learn and grow, and have fun.
Got a product idea? We'd love to help!
We've shared a lot of advice about creating your first product line. Now we'd love to hear from you … what product ideas are you working on? Get in touch with us directly through the green, Help button on the bottom right of the screen, email [email protected], or connect on Facebook or Twitter.