DIY bleeding heart wax melts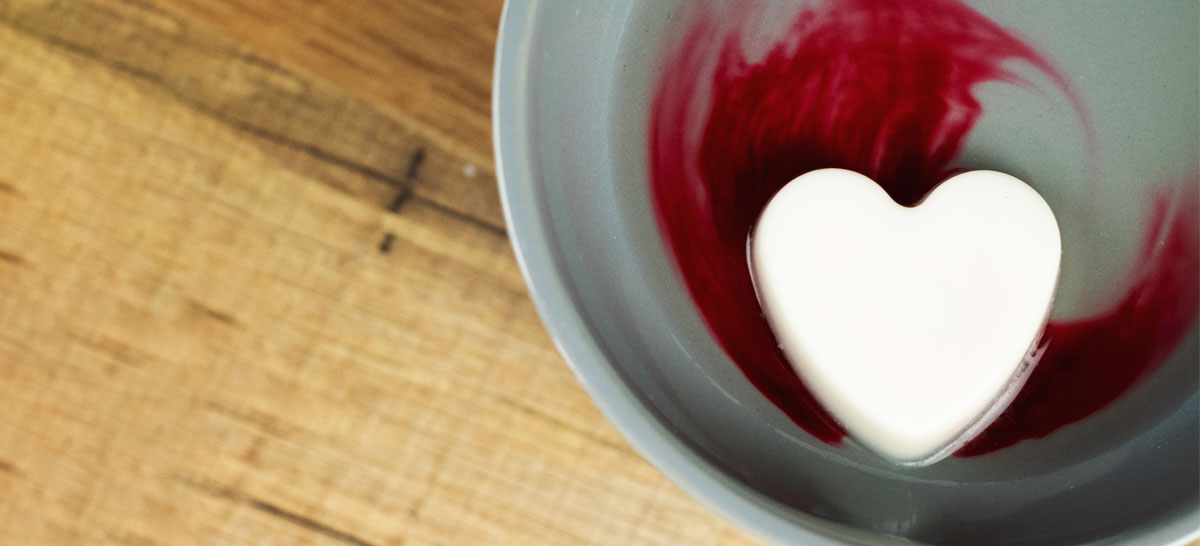 Beneath their smooth, white surface, these little wax melts hide a bloody secret. If your tastes align more with the sanguine than the saccharine, this is the Valentine's Day project for you.
In this tutorial, you'll learn how to create wax melt hearts that "bleed" as they melt. Crimson embeds are hidden inside uncolored wax, only to reveal themselves when popped into a wax melter. These bleeding hearts would be a cheeky Valentine's Day gift or an irreverent addition to an anti-Valentine's party.
EO Notes: You can also use candle-approved essential oils for this project. Check the recommended usage percentage on the essential oil product page and start with low percentages. How to Make Soy Candles with Essential Oils
Additional Items Needed:
Stirring Utensil
9 oz. wax-lined paper cups for pouring wax
Paper Towels
1 Silicone Heart Shaped Mold (available at most craft stores)
Optional:
Unscented tealights  
Decorative takeout containers
Wax melter or tealight warmer
PART 1: Create the "blood" embeds
Place a clean pouring pitcher on the scale and tare the weight to zero. Add 4 oz. (113 g) of EcoSoya PB wax to the pitcher. Heat in a double boiler until the wax reaches 185ºF (85°C).

Add ¼ of the red dye block. Stir gently to help it dissolve, then remove from the heat. We wanted to achieve a deep, crimson red for the "blood," but you can adjust the amount of dye to your color preference.

Once the dye has completely dissolved, pour the melted wax into a paper cup. The paper cup will give you more control while pouring the small amount of wax needed for this part of the project. Begin pouring from the paper cup into the clamshell molds. Fill each cavity with ¼ - ½" (0.6-1.3 cm)of wax. The embeds should be about half the height of your heart mold.

Allow the "blood" embeds to cool to room temperature. Remove from the clamshell and set aside for step 3. If they break, that's ok! No one will see these except you.

PART 2: Prepare the wax hearts
Place a clean pouring pitcher on the scale and tare it to zero. Weigh 16 oz. (454 g) of EcoSoya PB Pillar Blend Wax in the container. Melt in a double boiler until the wax reaches 185ºF (85°C).

Add the 1 oz (28 g) bottle of fragrance oil, then remove the wax from the heat and stir gently for 2 minutes.

Pour a layer of wax into the bottom of the heart mold. This layer should be thick enough to cover the entire bottom of the mold, but allow for enough room to add and conceal the "blood" embed. Like with the "blood" embeds, we found the pouring pitcher did not give us the control we needed for pouring such small amounts, so we used a clean paper cup.
Allow the wax to cool slightly; depending on the thickness of the layer it should take about 10 minutes. Be cautious not to let this layer cool completely.

PART 3: Embed and hide the "blood"
Place one red embed into the center of each heart. Depending on the size of your heart molds, you may need to cut the embed in half. Press it in slightly so that it does not shift when pouring the next layer.

The pitcher of uncolored wax should have cooled slightly but still be liquid enough to pour. If the wax has solidified too much, return the pitcher to the double boiler and allow the wax to liquify. Make sure the wax does not get hotter than 130ºF (54.4°C).
Working slowly, pour the wax over and around the "blood." If you see the embed begin to melt, don't panic! Stop pouring and allow the wax to cool 1-2 minutes, and then continue filling each cavity.
Allow to cool completely.

STEP 4: Remove melts from mold and enjoy!
When your hearts are cool, turn the mold over and remove them carefully.
You can toss one in your favorite melter to enjoy the "bleeding" effect right away. For optimal scent throw, we recommend letting the wax melts cure at least 24 hours.
If you want to package your wax melts as gifts, steal this idea! Fill decorative takeout containers with the wax melts and add a fun bow or ribbon for extra flair. Add a wax melter and some tea lights to complete your gift package.
Note: Be sure to follow all candle burning safety rules.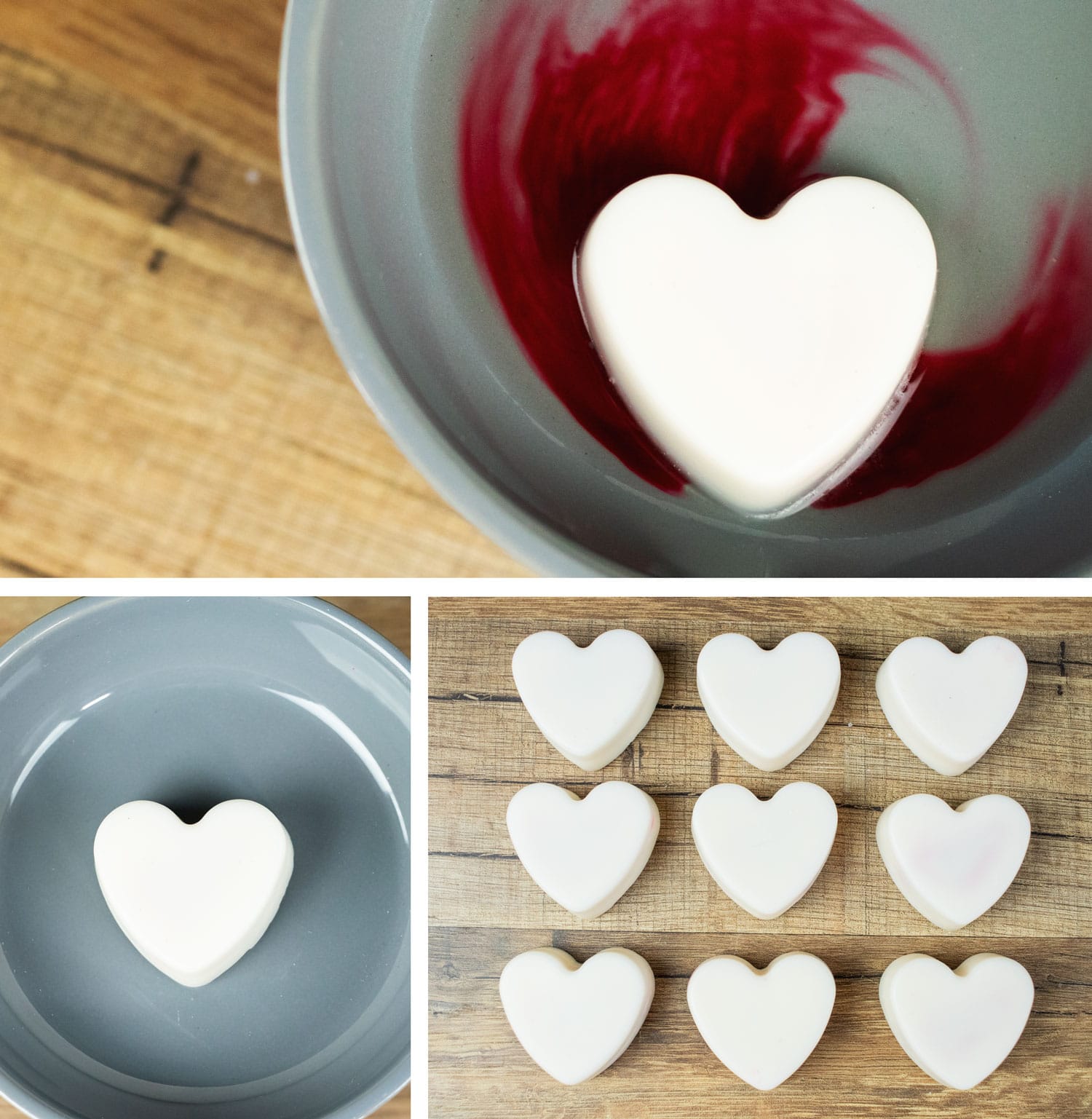 Switch it up
One of the things we love most about this project is it's easy to make it your own. With different molds and color combinations, the possibilities are endless! We recommend simple molds about 1.5"-2" (4-5 cm) in diameter for best results. Here are a few ideas:
Hearts of Darkness: Use a black dye block instead of red for the embeds. Your inner goth will be living their best life.
An Eggs-cellent Surprise: With an Easter egg mold and some fun spring colors and fragrances, you have a wax melt fit for the Easter bunny!
A Star Is Born: Remember that star mold you snagged to make beeswax Christmas tree ornaments? Break it out again just in time for your awards show viewing party! Make your embeds sparkle with gold or silver mica (make sure your mica is safe for melts!) and watch them shine.
---