Why wear your heart on your sleeve when you can embed it in a candle? Celebrate Valentine's Day and practice with embed techniques at the same time with this swoon-worthy container candle project. As makers, we pour our hearts into our craft. And in this project, literally! 
Estimated time: 1½ - 2 hours
Experience level: Intermediate+
In this tutorial, you'll learn how to make container candles with an embedded heart shape perfect for Valentine's Day or other romantic occasions. We experimented with a few different waxes and found that IGI 6006 paraffin-soy blend works beautifully for this application, so if you're considering trying out this wax this is a fun project to begin with.
We recommend having some familiarity with the process for pouring container candles when tackling this project.
IGI 6006 Paraffin/Soy Blend Wax 10 lb Slab (Qty: 1)
White Straight Sided Tumbler Jar 12 pc Case (Qty: 1)
ECO 8 6" Pretabbed Wick 100 pc Bag (Qty: 1)
Red Liquid Dye 1 oz Bottle (Qty: 1)
Wild Rose 4 oz Bottle (Qty: 1)
Candle and Soap Scale 1 pc Scale (Qty: 1)
Pouring Pitcher 1 pc Pitcher (Qty: 1)
Wick Bar 12 pc Bag (Qty: 1)
8 Inch Glass Thermometer 1 pc Thermometer (Qty: 1)
Wick Stickers (large) 100 pc Roll (Qty: 1)
Warning Labels 2 Inch 100 pc Roll (Qty: 1)
Additional Items Needed:
Small heart shaped cookie cutter (we got ours at Walmart)

Double boiler

or hot plate

8 or 9 inch metal pie plate (should not be re-used for food preparation)
Spatula for stirring wax
Rubbing alcohol
Latex gloves
Paper towels
Step 1: Melt the candle wax
Weigh out 1lb of IGI 6006 wax. In a clean pitcher, begin melting the wax with a double boiler or hot plate.

STEP 2: Prepare the containers
While the wax melts, prepare the jars. Wipe the inside of 2 tumblers with a little alcohol and paper towel to make sure they're free of any dust or debris. Center and secure one Eco 8 pre-tabbed wick to the bottom of each container with a wick sticker.

STEP 3: Measure and add fragrance oil
Weigh out 1oz of Wild Rose fragrance oil and set to the side while you wait for the wax to melt. Once the wax reaches 185ºF, add the fragrance and remove the pitcher from the heat. Stir gently until the wax cools to 165ºF.

STEP 4: Pour wax into the container 
Slowly pour the wax into the tumblers. Leave about one inch of space from the top so you have enough room to place the red heart.
You should have some remaining wax in your pitcher; make sure to save it, as you'll use it later in this tutorial.

STEP 5: Set wick and cool
Use a wick bar to center and hold the wicks in place. Set aside to cool completely.

PART 2
STEP 1: Melt wax for embed
Prepare the wax hearts by weighing out 8oz of IGI 6006 and melting it in a clean pitcher with your preferred heating method.
While you wait for the wax to melt, weigh 0.5 oz of Wild Rose fragrance oil. When the wax reaches 185ºF add 3-6 drops of Red Liquid Dye, depending on the color intensity you want to achieve (we used 3 drops). Add the fragrance and stir gently.

STEP 2: Pour wax into pan
Remove the pitcher from the heat and pour the wax into a metal pie plate lined with parchment paper. Allow the wax to cool until it is solid throughout, but not totally hardened. It should take about 45-60 minutes.

STEP 3: Cut embeds
Wearing gloves, remove the parchment paper and wax from the pan, peel the parchment from the wax so that the paper lies flat. Slowly press the heart-shaped cookie cutter into the wax. Remove the heart shape and set aside on a clean sheet of parchment paper. Use the wick pin to poke a hole roughly in the center of the heart. The wick pin should poke through the wax hearts easily.
You will have enough red wax to make about 6 hearts, with enough left over to melt down and cut out 6 more. *See note at end of instructions.

PART 3
STEP 1: Place heart embed
Remove the wick bars from the cooled candles. Insert the wick through the hole you created in the red heart and allow it to rest on top of the cooled candle.

STEP 2: Fill in gaps with wax
Reheat the leftover white wax you saved from Part 1 to 160ºF and carefully pour it around the edge of the candle, being very careful not to cover the red heart. This will make your red heart look "embedded" in the white wax. Let cool and trim the wick to 1/4 inch. Don't forget to attach a warning label to the bottom of the candle and always follow all candle burning safety rules.

Add a personal touch to your embedded heart candles with your own custom label from Avery WePrint. We created these labels with their simple-to-use design software--if you liked our design, download it here! In the WePrint editor, select Template 22853 and upload the design file. Print yourself, or take take advantage of the professional-quality printing offered by Avery. All CandleScience customers get 10% off all their WePrint orders, so head on over to get started.
*Note: You can use the extra wax to make more embedded heart candles, or use the additional wax for melts.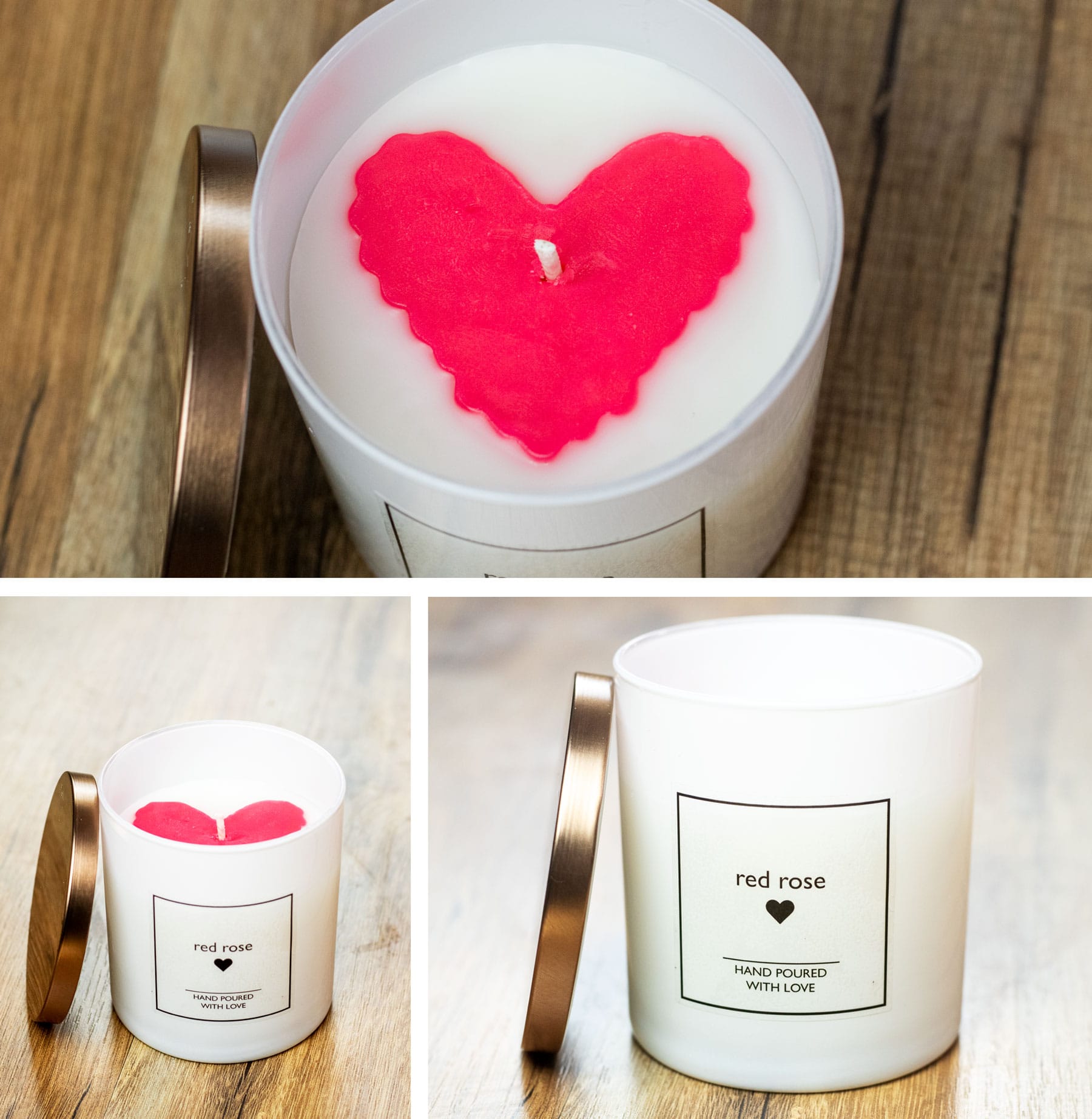 We'd love to see your own embedded heart candles or any of your Valentine's Day creations. Tag us @CandleScience with the hashtag #CandleScientist and we may feature you and your products on our social channels and website!
This tutorial was updated with new materials and instructions on January 16, 2019. Responses in the comments section dated before the update may not accurately reflect current materials and instructions.