LAB NOTES: EcoSoya PB Pillar Soy Wax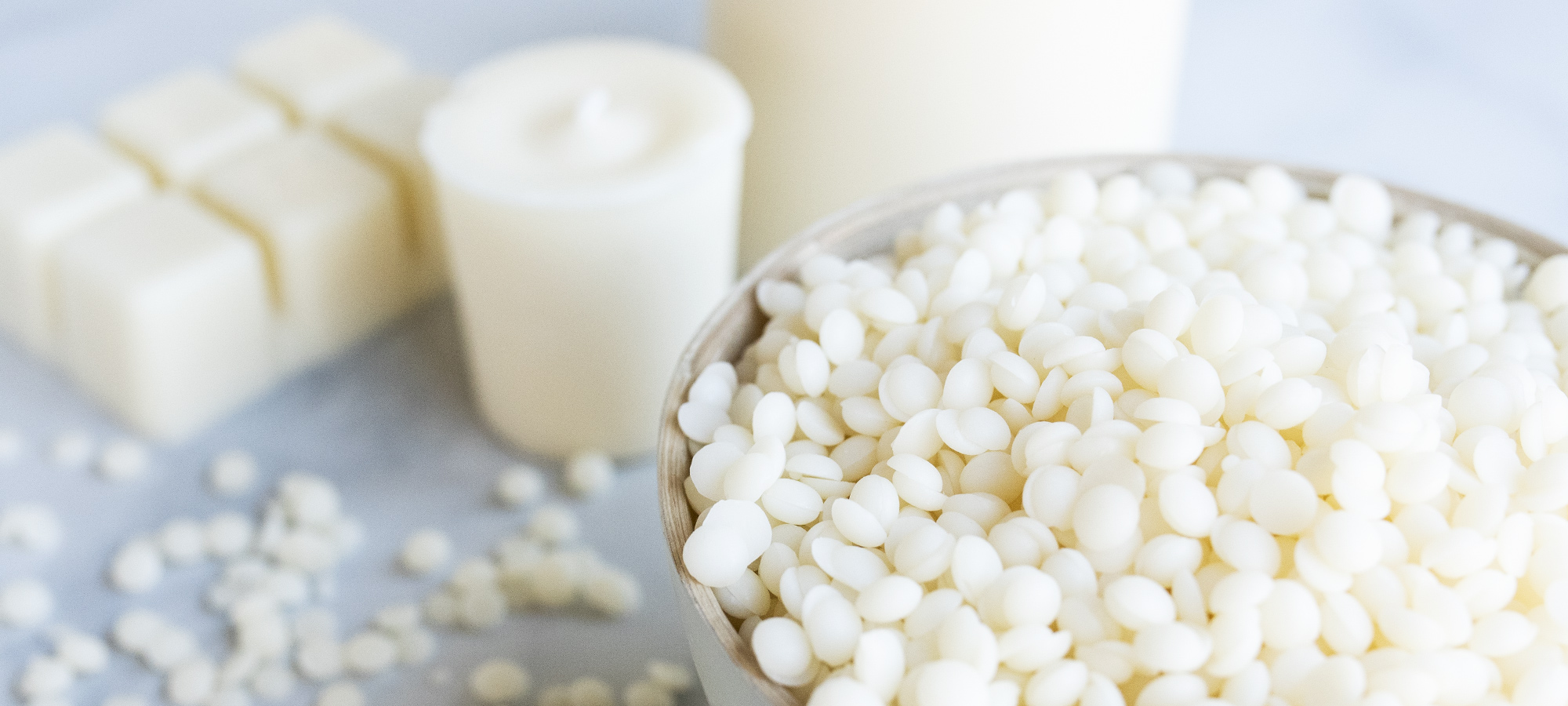 We divided our testing into three parts:
Aesthetics: We tested for shrinkage, mottling, and color retention
Fragrance Performance: We looked at solubility, retention, and cold and hot throw performance.
Burn Performance: We tested various LX wick sizes to find the best burn.
For the fragrance testing segments, we used White Tea, Cranberry Apple Marmalade, and Very Vanilla fragrance oils. They have very different densities, viscosities, and ingredients. We hoped the variation would reveal potential solubility and burn issues.
Application:  Pillars, votives, and wax melts
Recommended Fragrance Loads: 
Pillars and Votives: 6% or less
Wax melts: up to 12%
This Pillar Blend made by NGI was one of the few 100% soy wax for pillars and had been a staff favorite for wax melts. When NGI shut down there was a huge gap left in the handcrafted market for pillars and wax melts. While we have since found some additional great options, we think this wax will become a top contender for the best soy wax for pillars and wax melts. This wax also comes in pastilles, which makes it easy to handle and measure. It takes longer to melt pastilles than wax flakes, so expect longer melt times.
Note: These are sold in metric units of 5kg bags, which is roughly 11lbs, and 20kg cases, which is roughly 44lbs.
For Pillars
We tested this wax in pillar candle molds with wick pins and pre-wicked setups. We poured test candles at temperatures ranging between 140°F and 170°F (60°C and 76.7°C), and let them sit overnight. Candles poured at 160 - 170ºF (71.1-76.7°C) had some shrinkage and cracking around the wick pin or cotton wick. They required a second pour to get a level bottom on the candle. Pillars poured below 160°F (71.1°C) had less shrinkage around the wick and minimal cracking, a second pour could be done but may not be necessary.
All the candles unmolded with little effort, regardless of pour temperature, as long as the molds were clean. Molds with residue from previous candles were significantly more challenging to unmold. Wick pins were easy to remove also. While we didn't purposefully try to pull on wicks of the pre-wicked molds they seemed to hold well in the set candles and didn't easily slip however it is not recommended to pull on the wick to remove the candle.
Votives and Clamshells
We poured our votives and clamshells at 160°F (71.1°C). After allowing the wax to cool overnight, they set with smooth surfaces. Both votives and clamshells removed from their molds with little effort. Our clamshells also broke cleanly without crumbling.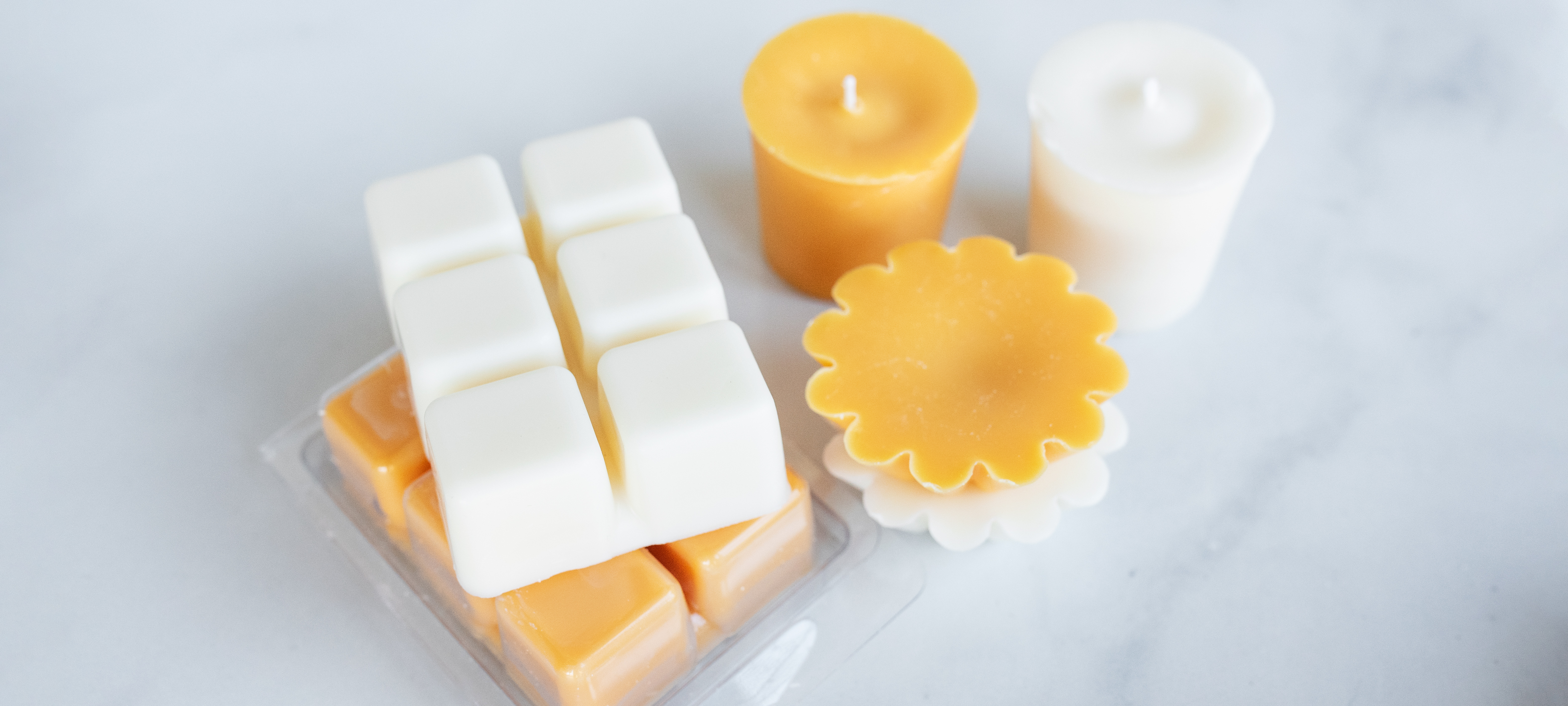 Frosting
We did see some frosting 24 hours after pouring our pillars. The clamshells and votives showed signs of frosting after 1 week. After burning the candles, there was some additional frosting, however the wax set back with a smooth finish.
Coloring
We tested our red and orange liquid dyes at 6 drops per pound (454 g) of wax. The dye mixed in easily at 185ºF (85°C). The red produced a typical dark pink shade while the orange produced a deeper brownish orange color. Even though this wax takes color well, you may find it better to not use color to minimize the appearance of the frosting.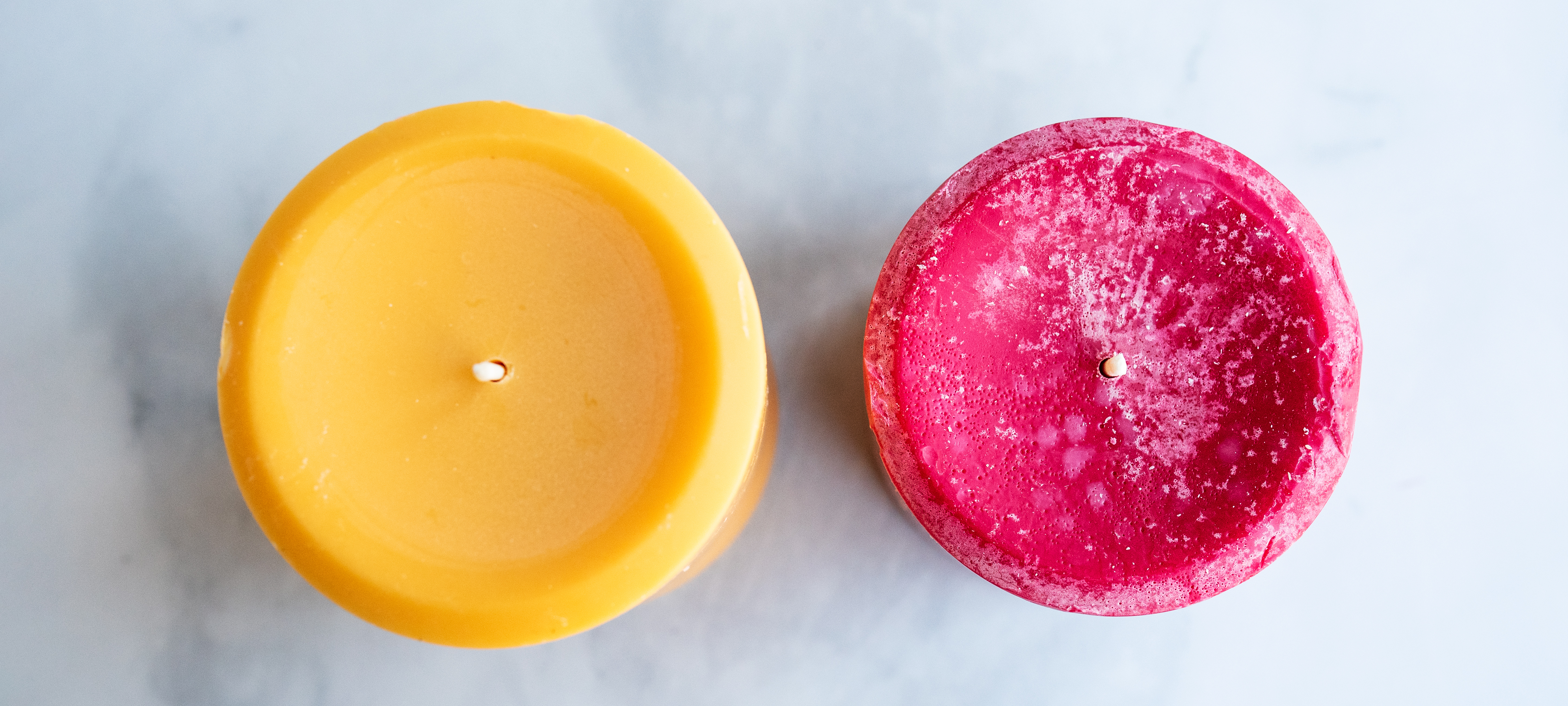 Note: The fragrance oil and dye can greatly affect the amount of frosting.
Solubility
We added fragrance to the melted wax at 190ºF (87.8°C). The fragrance incorporated easily, and we didn't see signs of separation. We tested Cranberry Apple Marmalade from 6% to 12% in all applications and we also tested White Tea at 12% in a metal tart mold with the same results. There were no signs of sweating in our finished candles. For safety reasons, we do not recommend using more than 6% fragrance in pillars, even though the wax can hold 12% fragrance.
Hot and Cold Throw
We tested with Cranberry Apple Marmalade at 6% and 12%. We also created clamshells with a 12% fragrance load. We checked for cold throw performance at 24 hours, 3 days, and one week. Initially, the cold throw was good for all our test candles. After 3 days, the cold throw improved and the cold throw was quite strong. After 1 week the cold throw did not seem any stronger than what we experienced after 3 days.
At the one-week point, we began burn and melt tests. We burned the pillar candles for two hours before examining the hot throw. The pillars rated a strong 2 out of 3 in hot throw performance. We allowed our melts to heat for one hour before examining the hot throw. The hot throw was extremely strong. We recommend using a 9% fragrance load for an optimal throw with wax melts.
Wicking
We tested with our LX wick series for our pillars and votives. They burned well with the LX series and we found that our previous recommendations for the wax made by NGI held true for this wax. As always, you'll want to conduct your own wick tests to ensure optimal performance in your candles.