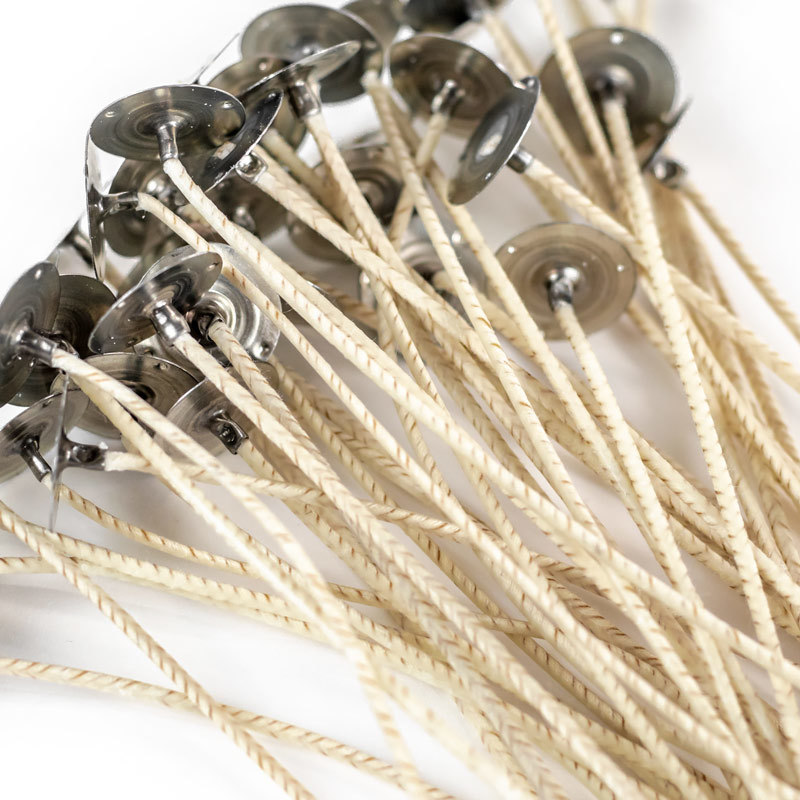 Ready to Order?
Ships from West Coast. Expected: East Coast 8/13
Details
Product Update:
You may see some variation in the wax coating on the wick due to different coating processes. Varying amounts of wax coating on the wick has no impact on the burn of the candle.
About the CD Series
CD (Stabilo) wick is a flat braided cotton wick with paper threads woven into the cotton. The reinforced construction of the wick is designed to ensure a consistent burn with higher fragrance loads, especially with softer, more viscous natural waxes. The superior rigidity of CD wick allows the wick to stand up straighter for easier pours and keeps the wick upright in a deep melt pool. Note: Any carbon buildup should be removed once the wick is extinguished. CD wicks are lead and zinc free.
For help choosing the right wick for your candle, visit our wick guide.
Properties
| | |
| --- | --- |
| Length | 6" |
| Tab Size | 20 x 6 mm |
| Wax Coating | Natural |
| Prop 65 Warning Required | No |
Reviews
So I just received my wicks and they are folded/bent all up. I received a 100pc bag in a smaller bag folded up. Now all my wicks are bent and breaking. I am not happy.
I love these wicks, but there is black soot getting on my jars. I have never had this happen. Also it is mushrooming. Any suggestions?
I have been using these wicks for a long time, ordering from you and same wicks prior from another company. The big difference I am noticing is how much wax is still in the bottom of my jars after flame extinguishes for good. A good 3/4"-1". That seems a huge waste to me and I do not remember this at all with same wick from different company. Could it be the crimping at bottom is higher? I use 464 soy and straight-sided 9 oz jars. I also have a lot of mushrooming, as most have said. I typically use around a 10% fragrance load. I do trim very short before lighting each time. I tell others to do the same. I want to keep ordering but I feel a bit discouraged, as I do not want to go through the whole "find a new wick" phase.
I'm using the CD12 with 464 soy wax in a 4 oz jelly jar. It has a good melt pool, but there is a couple centimeters of wax on the jar. I'm not sure if that due to my own error of the wick not being completely straight when it cooled or if I need to go up a size.
I typically use either two CD 4's or a single CD 12 in my candles, depending on the container, but that's how I wick the large salsa jars, and I prefer the first method of doubling up, because those jars are a tad bit wider at the top. I often use a single 12 in a 12 ounce or larger regular mason style jar, and it works quite well. The only reason I'm giving it a 4 star rating, is that there's still some soot that develops around the top of the jar, and it mushrooms up pretty bad. I have yet to have the gut to try any other kind of wick though, because it's like learning a whole new trade, trying another series of wicks. It can become a very costly thing to switch out jars and wicks, so for now...I'm sticking with what works...just wish they wouldn't mushroom as bad.
Help! I love the melting pool/ burn time. But even when I trim the wick constantly the wick starts to produce soot within an hour after burning. Are there any other wicks that can produce the same melting pool without the soot?
Hi! A member of our team will be reaching out to help troubleshoot!
This is my go to wick and it produced a good melt pool. It does mushroom, but I trim the wick before lighting the candle. Also, I have used these wicks with different waxes and FOs and never experienced soot.
This is my go to wick. I've used them in the mason jars and the medium straight sided threaded jar (both with GB 464 and a 6-10% fragrance load) and I never run into issues. Unfortunately this one does mushroom quite a bit with these jars but I regularly trim my wick fairly short and remind my customers to do the same.
I love these wicks but I'm having a problem with soot how can I resolve this? I'm using the 6046 wax blend.
I love these wicks but I'm having a problem with soot how can I resolve this? I'm using the 6046 wax blend.
I love these wicks! Great hot throw! And my customers love them! Clean even burn!
Beautiful even burn! This is the wick that finally did it for me in my 8oz straight jar. I use 464 with 8% FL and it had my whole bedroom smelling amazing. I also tried ECO10 just to make sure I found the correct wick, and this wick did not burn even the first burn. Sticking w/CD wicks.
Works great with the right jar!
Initially, I was afraid to purchase because of the low ratings. I find people tend to rate things dramatically low when they have other problems They don't consider I.e (type of wax, jar size, FL etc) that all contributes to how the wick burns. They blame it all on the wick. CD 12 wicks work great for my 9oz straight sided jars. I fill them up to 8 oz with 444 gb wax 10% FL.
Great HT. Does well with a 2.75 dia. vessel. Steady burn all the way through.I use these with both my 4 and 8 oz jars with perfect results every time.
I do not remember my wicks ever not burning completely to the bottom of my jar with just a scant amount of wax left in jar until I bought these wicks from candlescience. I had bought same cd12 from another company but got a lot closer burn to the bottom of the jar Than I am now. I feel like I am wasting wax and fragrance. I just hate seeing that about 1/2" to 3/4" was still left and wick done! Help please.
This is is a great wick to use with any vessel with a burn diameter of around 2.8". Both my 4 and 8oz jars work VERY nicely with this wick size. Great product. Great company. Shipped fast as always.
I wanted to love this wick as it burns well with my 464 soy wax container candles but i just couldn't. It would burn well for about 2 hours then it would start to mushroom and give off smoke and soot would fill the container. I first thought it might have been the fragrance or the fragrance load but i tried it with two different fragrances and two different fragrance loads and got the same results. Won't be purchasing this one again. I'll stick with the ECO series
They Mushroom after the first hour
I dont like this wick. It started to mushroom after the first hour. Too much carbon is being created. So the wick is being swallowed up by the wax. I was hoping that it would not do that because it burns so steady.
75 candles down the drain.
I have to explain to my friends and family, who I am giving my candles away for free to now, because I have no idea how I would sell these, how to use my candles. Light them first, watch the puny wick curl into itself like a limp finger, get extinguished by the wax pool, then pour out the wax thats pooled up, what a waste, so that you can relight it and hope it doesn't happen again. I've wasted so many candles using these wicks. I'm massively disappointed, and I'm switching the eco 4 now, I guess.
Hi there! Thank you for taking the time to provide us with your feedback, we really appreciate it. To better assist you, we have reached out to you via email!
I recently discovered these wicks and love them. I use IGI 6006 wax, 3 inch container, and 10% fragrance. There is a full melt pool, great HT, and steady flame, much better then the Eco 8.
New to candle making, tried many different wicks and this is the one that I find works best. Will continue to use only this one.
I spent a lot of time using the Eco series , and had nothing but trouble and inconsistency after nearly a year of testing. I switched to these and absolutely love them, the flame stays a consistent size throughout the entire burn of the candle , and the scent throw is great. I just could not get the eco series to work for me, I use the 464 wax and a 10% fragrance load and these wicks seem to do the trick. I think I'll be permanently switching over .