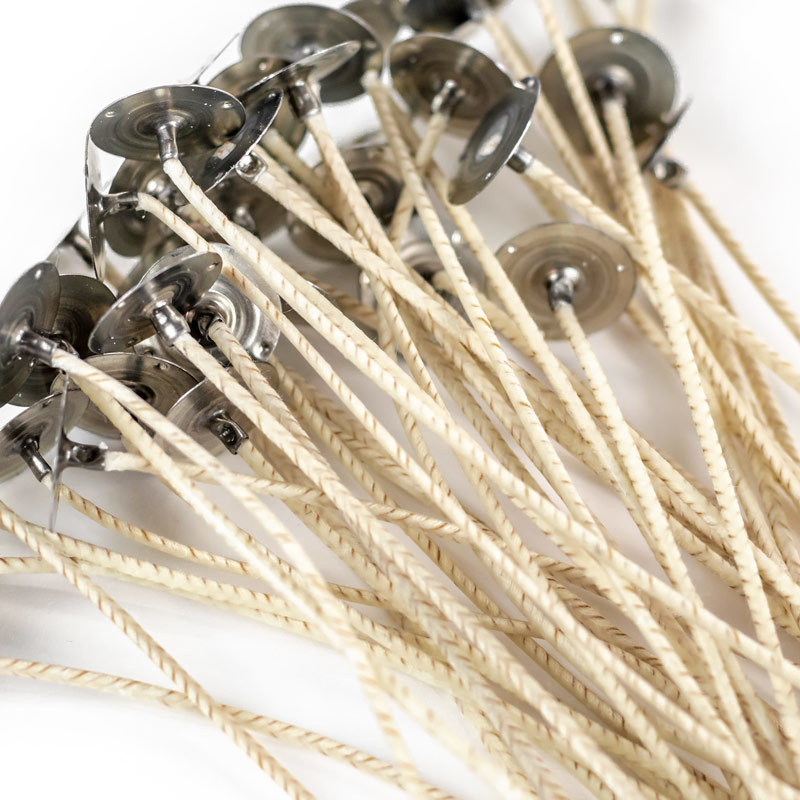 Ready to Order?
Out of stock. Expected: East Coast 7/23, West Coast 7/30
Ships from East Coast. Expected: West Coast 7/9
Ships from East Coast. Expected: West Coast 7/9
Details
Product Update:
You may see some variation in the wax coating on the wick due to different coating processes. The variance of the wax coating on the wick has no impact on the burn of the candle.
About the CD Series
CD (Stabilo) wick is a flat braided cotton wick with paper threads woven into the cotton. The reinforced construction of the wick is designed to ensure a consistent burn with higher fragrance loads, especially with softer, more viscous natural waxes. The superior rigidity of CD wick allows the wick to stand up straighter for easier pours and keeps the wick upright in a deep melt pool. Note: Any carbon buildup should be removed once the wick is extinguished. CD wicks are lead and zinc free.
For help choosing the right wick for your candle, visit our wick guide.
Properties
| | |
| --- | --- |
| Length | 6" |
| Tab Size | 20 x 6 mm |
| Wax Coating | Natural |
| Prop 65 Warning Required | No |
Reviews
I use these with 444GW and 8oz & 16oz apothecary jars and the HT and CT are just amazing.
I am by no means an expert, just having some fun BUT like other commenters have mentioned, the flame with these wicks are insanely large and throws off a ton of soot.
I use old bath and body works jars (about 3.8 inch diameter) to make candles for myself and family - i use 464 soy wax and the fragrances from this site.
The wick guide is deceiving at best in terms of using this wick for this candle jar size. I have yet to order and test C22, but I would suspect that those are more appropriate for this particular jar and wax combo.
This being said - the burn pool will reach the edges of the jar and burn the entire candle.
I used CD 18 wicks my last batch. They burned but left a lot of wax around the sides, leaving it unappealing. I sized up and my wick is just burning a hole straight down and barely staying lit. Like an idiot a made a bunch yesterday because I have an event this weekend and am trying to stock up and in god conscience cannot sell these. So much wax, scent, and wicks gone to waste! So much money! So much time!! I truly believe it is the CD collection.
Hi there! Thank you so much for reaching out to us so that we can help!
Use these for 10 oz candles in 8 oz apothecary jars with 444 soy wax everything melts even and am happy with burn times!
Even wax pool, but extremely big flame
I use 8 0z jelly jars with 464 soy wax. I got a very even melted wax pool, but the flame was so large I had to put it out and trim it.... and continue to trim it down as small as possible before burning. I felt like my candle burned much faster with these large wicks (CD 26) I think I will try 22 next time.
Great wick for 8oz apothecary jars!
I was having issues with the ECO series with these jars. They would tunnel and not burn well. I decided to change to the one your wick guide recommended. Which was the CD 26. They work great. I have a nice melting pool and my candles burn clean. Just make sure you always trim your wick before each use.
CD 22" is perfect for 8 oz-Apothecary Jars-
I use 464 soy wax and 10% FO with my 8 oz-Apothecary Jars and wick with the CD 22", it burns evenly with a slow and steady burn.
I also have seen large amounts of black smoke when using this wick, even with my largest containers.
I have to agree with below comment. I did a batch with recommendation of the wick guide for the 8 oz Aphothecary jar it states to use CD 26. I have a huge flame with black smoke, huge craters on the surface after first burn test and second burn test was worse. I had to immediately turn off the candle because of massive the flame and I had pre trim the wick prior to lighting the candle.
CS please change the wick guide because its not accurate. I was hesitant to buy the recommended wick size because of the previous review on the jars it self wick discussion and on here. I spoke with CS customer service and they advised to follow the wick guide that they have done many testings on this so I went ahead with confidence and I ordered 100 of the CD26 wicks. Oh my gosh, this wick is awful to say the least.I have a huge flame with black smoke on my 3rd burn test, worsen huge craters on the surface.
CS please do more testings and change the wick guide for this jar because I have no idea if to use CD 22 or CD 20.
Can anyone please provide guidance of what DC size has worked for this jar?
I used these wicks with the 8oz Apothecary Jars and GB 464 Soy Wax as recommended by the wick guide. They created an even burn but they threw black smoke and produced a huge flame no matter how short the wick was trimmed before burning. Will be trying a different wick for my next batch.