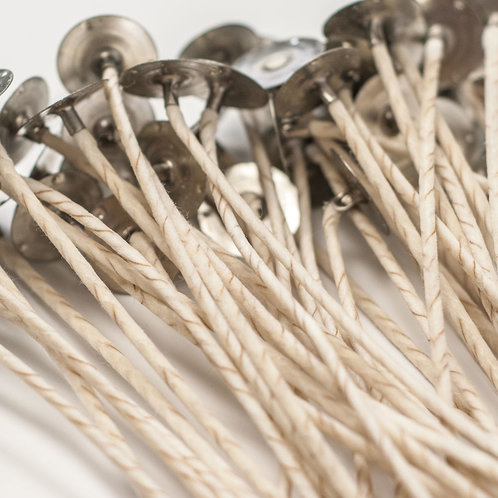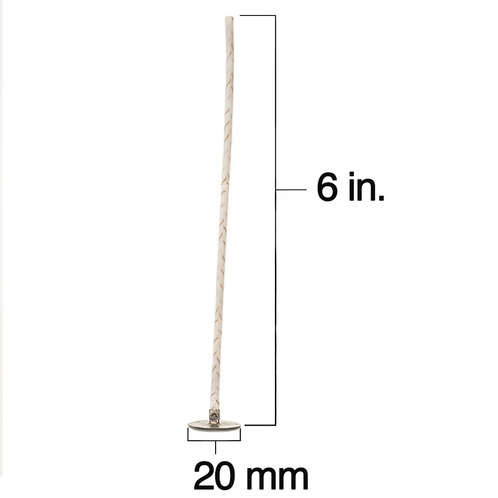 Ready to Order?
Ships from East Coast. Expected: West Coast 9/25
Details
About the ECO Series
ECO wick is constructed from natural flat cotton threads interwoven with paper threads that produce a rigid structure for easy pouring. The consistent flame and slight curl of ECO wicks work well with natural waxes and ensures an even burn.
ECO wicks are free from lead and zinc.
For help choosing the right wick for your candle, visit our
wick guide
.
Reviews
I've been using these for years with no problems.
People who are complaining. You should stop making candles. You clearly don't know what you're doing!!! Quit leaving bad reviews for your mistakes. I've used Eco 10 wicks for 4 years, with 464 wax and all I get are 5 star reviews for my candles and make lots of money 😉
If you're are not getting a hot throw, you are probably using to small of a wick. Do you have a full melt pool after an hour ? If not size up. You might also not be combining the fragrance to wax at the right temperature or not letting the candles cure long enough. Candle making is trial an error. There is no one sure fire way to make a soy candle. Test test test. Quit complaining. This wicks are fantastic and burn clean!!
Hi! Check out this FAQ for more information of what our wicks are made of! https://support.candlescience.com/hc/en-us/articles/201668814-What-are-your-candle-wicks-made-from-
I used 2lbs of wax 2 ounces of fragrance and I can smell the candles wonderfully when their not burning but when I burn them I smell bother the wick is shrooming and I have cut the wicks shorter and longer to no resolve. I'm highly disappointed I wasted a 10lb bag of wan and 56 4oz jars and I'm quite pissed about that.
I have used these for my 8 ounce apothecary jars with 464 and they've had a really great burn! Very good melt pool, slow burn, very little mushrooming.
I just don't understand why the wicks are working out all wrong! I have used so much wax trying to figure it out, so now I'm stuck with plenty of wicks of many different sizes that I can't use!!!
I use these all the time in my 12.oz jars with soy wax and they work perfect!
I bought these and used with my 444 soy wax. Used 1.6oz of fragrance. The wick burns so high it burnt the oil right up. This is a fire hazard , even burnt with the black soot in the flame. Very disappointed. Ny customers now have to wait until this issue is resolved...lost of profits SUCKS‼ This was the eco friendly version but it totally ruined 8 candles. I sent an email still no response. VERY DISAPPOINTED
Hi! Our support team will be responding to your email shortly.
I bought these to use in my medium sized containers (2.9" diameter) based on the wick guide but the burn pool was so poor and the fragrance hot throw wasn't great. I, however used them to double wick my large containers and they worked great. I switched to the ECO 14 for the medium containers and those work great
This is probably my most commonly used wick that suits jelly jars really well in my opinion. In an 8 oz quilted jelly jar, as well as 12 oz these work great.
10'6 wicks... Tunneling issues
Did candle science modify this wick? I have been having tunneling issues with my candles. My formula has not changed. I reordered my wicks thinking I might have accidentally mixed them up with my smaller wicks. I used my newly ordered wicks and I'm still having issues.
I have been using ECO since I have started making candles over five years ago. These have not disappointed me one bit. I have used them with the tumbler jars from this site along with others from else where as with a 4" diameter and they work wonderfully. No tunneling whatsoever. I use Golden Brand 444 wax and every candle I make burns perfectly.
Eco 10 wicks work perfect in 16 oz mason jars. C3 Wax with 8% oil. no dye or additives. Hopefully they will work in my new jars, inside dia. is 2.65 inch. 3.5 inch tall. Feedback would be greatly appreciated on the new jars. I am testing one now with Eco 10.
This was the recommended size for my 3" wide salsa jar, 12 oz. It doesn't burn well and is tunneling in my test jar, with 464, no FO or color. Very disappointed.
Hi! Thank you for your feedback, we're sorry to hear you had experienced some burn issues! For a container with a 3" diameter, we would typically recommend either a CD 18 or an ECO 14 wick. Our Wick Guide can be a great resource for a complete list of wick suggestions for different combinations of containers and waxes and we're also always happy to help troubleshoot any issues at support@candlescience.com.
Love these wicks! We use these wicks for our 6oz tin soy candles and we use Golden brands 464 wax with a 8-9% fragrance load in all of our candles. We have sold over 500 candles in the last 9 months and have never had a problem. Specifically leaving a review because of all the negative reviews I am reading. There are SO many factors to a successful candle to include the wax, fragrance load, wick type, container and pour temperature. Candlescience has the best customer service out of all the 40+ vendors we use. I would contact them before you leave a negative review as they are very quick to respond. I am on their text line once a week just asking questions to educate myself. I have had two shipping problems with damaged product and they rectified the issue same day. They are the best!
I have never had any issues with them and they burn perfectly every time. Love them!
I'm new to making candles and have had some frustrating experiences with trying to find the right size wicks. After careful research, I learned that the choice of wick you use depends on the size of your candle jar. I use 1 ECO 10 wick for a 3" status jar and they work perfectly. In the past, I used 16" wicks which was creating too much soot and a large flame. They were too big for a 3" jar. Now, I humbly say that people love my candles so much thaat I've been asked to be a vendor for a women's conference. Thank you CandlesScience! My advice is to do your research and test, test, test your candles. Good Luck!
I used these for my candles as well and had the same issue. Smoking, smoot and high flames. My jar is 3" in diameter (status jars). I also double wick them using 464 Soy, could the double wicking be the issue? Do I need to do two smaller wicks?
Hi! Typically, smoking, soot, and high flames are an indication of too large of a wick. We generally do not recommend double wicking any container that is under 4" in diameter as it can be difficult to get a wick small enough to fit for using two wicks. However, if you are still wanting to use two wicks, you would need to decrease wick size to something closer to the ECO 2. Be sure to test as you may need to adjust, however, that should help alleviate the smoke and soot issues that you are experiencing.
Have these wicks been modified?
Suddenly experiencing tunneling! We've not changed our formulation and have been making our candles the same way for over 3 yrs.
Hi! We are sorry to hear that you are having some trouble with tunneling. The wicks have not been revised and are still the same ECO 10 wicks you are used to purchasing. However, there are a lot of other factors that affect how a wick performs in your candles. Feel free to email us at support@candlescience.com or call us at 888-266-3916 so we can help troubleshoot.
Perfect burning every time
I've used these wicks exclusively, since I started my candle business. I have never had any issues with them and they burn perfectly every time. Love them! :)
I love this wick! I've been using it for years in my 4 oz and 8 oz jelly jars and now 12 oz canning jars. Never had a problem with it, always burns good for me.
Very disappointed with this purchase. Used eco 10 6" pretabbed wicks for a 4oz mason jar with golden 464 wax and there is barley a flame, and tunneling present. We used the generator on this website for the size of mason jars we sell and it gave us this specific wick as the result. This wick looks like it's about to go out any second, barley melting the wax. Very disappointed for all the money/buisness we gave to candle science.
Hi! The wick guide is a great place to start with selecting a wick, however, adjustments do have to be made at times. There are a lot of variables that affect how a wick burns, including the specific fragrance, how much fragrance, and even your environment. We would love to help you troubleshoot and figure out which wick is going to work best for your candles. It sounds like you may need to go up to the ECO 12 or ECO 14 next. Feel free to call or email us so we can help!
This is the wick I was recommended. They burn too inconsistently. One minute they are burning big and wild with a lot of soot, the next minute it burns perfectly. Then the minute the flame is too small and the candle is tunneling.
I bought 2 packs of them last year and the candles I made were burning with high flames and too much smoke.
A very large flame accompanies this wick
finally found the right wick thanks cs
i used the eco 10 wick with gb 464 soy wax/ i use 1.5 to 2oz per pound of wax (20oz) on scale when melted/ i also use the straight side jelly jars 8oz; finally i have the perfect burn and melt pool/ burns completely to the edges my jar has burned perfect all the way down clean sides / now for this test burn i didnt use any dye; only wax /and fragrance i am soo happy; also the scent throw is amazing; i let it cure for 3days before my testing and still got a really nice scent throw in 8x10 or 8x12 room size
tried the eco 12oz but it burned really fast and flickered way to much for my liking; scent throw was awesome; but i will stick with the eco 10 for the 8oz mason jar straight side
also thanks cs for helping me with all my questions each and every time you guys have been most helpful in this adventure
I've been using ECO 10 6" pretabbed wicks for a few years with GB444. I always get a nice melting pool in a 16oz mason jar candle but after 4 hours I do start to get some carbon build up & there is always a carbon bloom when I go to relight. I tried the next size down and it tunneled so bad....keeping my wicks at 1/4" seems to be the best way to deal with this and I have to educated customers to keep their wicks trimmed, just wish there was a "perfect wick"
I bought these wicks along with ECO 14 6" & Golden Brands 464 Soy Wax & ever since then my candles have not been working. No smell at all even when I added more fragrance. They were working perfectly before until I switched to candlescience. I figured why not switch if I get my fragrances from here plus I thought since they were a popular candle making site that everything would work just fine but just the complete opposite. A bunch of money wasted.
This does not burn correctly for this size. It is not strong enough;(
I feel like this wick has been modified.
I have been using these wicks for nearly five years now, never having a problem. I order these in bulk (about 3,000-5,000 wicks in a clip) and I have recently had numerous customers complain of terrible tunneling. We have done many tests, finding the exact same results. We haven't changed our jar size, wax type, or fragrance recipes in any way, so the only thing I can think of is that this wick has been updated/modified within the last six months, FOR THE WORSE. This inconsistency is a major problem and I will not be reordering because of it.
It has taken me about a year or more , so much money testing every wick under the sun because I would go on forums , and everyone has different opinions on what wick works best with that's type of wax , jars and so on now this is my experience you still must test test test , but I finally decided to go with the wick size the chart said would be a starting point , finally i have a perfect burning candle with great scent throw .
Very upset with this purchase. These wicks were the ones chosen to be good with containers 4"+ in diameter. These wicks are NOT working well in the larger containers. Very very disappointed.
I've been buying this type of wick since it's the one recommended and I haven't had any problems other than some of the wicks come apart so I'm not really getting to use 100 of them.
the wicks I used to use (with gb444) disappeared from the Internet, eco 10 was the wick recommended by the wick guide. Unfortunately they do not do work at all in my 3 in containers. The melt pool was barely 2 inches and caused a nice tunnel. Thankfully I only made 2 candles!! I LOVE Candle Science, unfortunately I do NOT like this wick in my gb 444 candles as it does not burn even, hot,has a small flame nd just didnt not work... The seach continues!
This is the best wick I've come across thus far. It burns evenly and not too 'smokey' with IGI 6006. Not sure why it leaves a black soot film on the tumblers (literally half the glass is covered) when there's about an inch or two left in the jar. Burns clean in the jelly jars. Any suggestions?
Great wick for 3 inch pillars!
I decided to start making votives and pillars for my clients. I chose Ecosoya Pillar Blend wax for my pillars with either an ECO 8 or ECO 10 wick. I tested as small as an ECO 6 for my 3 x 4.5 pillar, but it left about 3/4 inch rim on most of my test burns. The ECO 10 gave by far my best result (about 1/2 inch rim) traded out with a couple ECO 8 wicks depending on the type of fragrance oil I use. I'm going to make 3 x 9.5 pillars and noticed Candlescience doesn't currently have a longer pre-tabbed wick so I plan to buy ECO 10 in the spool, which I'll need to coat or dip in wax before using. Hoping it will be worth the effort since I don't want to have to order my ECO wicks elsewhere. I burned my pillar candles about 3-3.5 hours on each test burn always trimming the wick to 1/4 inch before lighting. They burned consistently all the way down, burning them 3-4 hours at a time. These reviews always help me...so hoping this helps with the overwhelming task of wicking candles! FYI the ECO 2 worked best with my standard Candlescience votives.
I use this wick for my 8 oz. Mason Jars and it burns really nice and clean straight across.
I use this wick with all of my candles as it is versatile and burns well in any container or pillar.
perfect size with large sticker.
one of my friend seggested to buy this one with Large sticker.
i just tried it n perfect size with large sticker!! i luv it
I use this with 464 in an 8oz jelly jar. I get a nice even burn and I've extended my burn time by switching to these. I used to use Eco 12, but it was way too big. This is perfect for my use, as I don't overload fragrance not do I use any dyes.
ECO 10/6 wick burns very good in soy 464, I have noticed sometimes it burn a little black. But for the most part its a good one