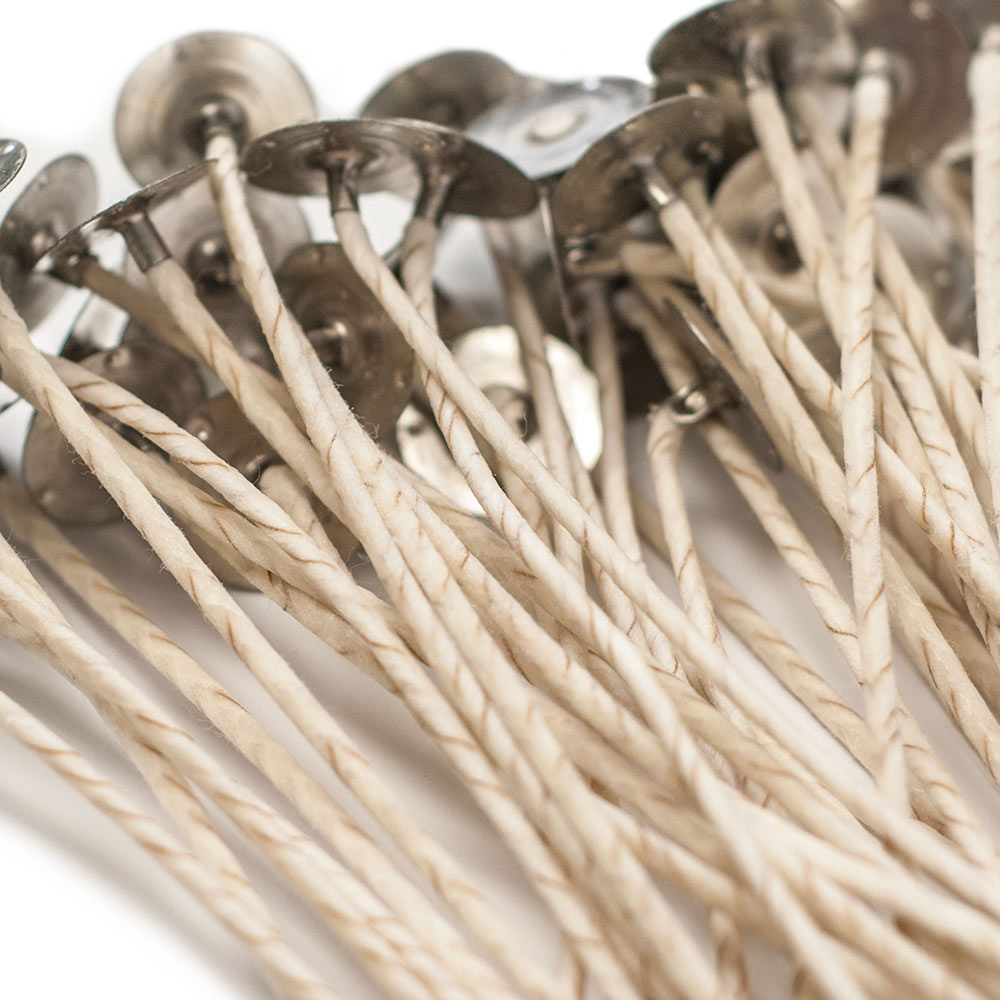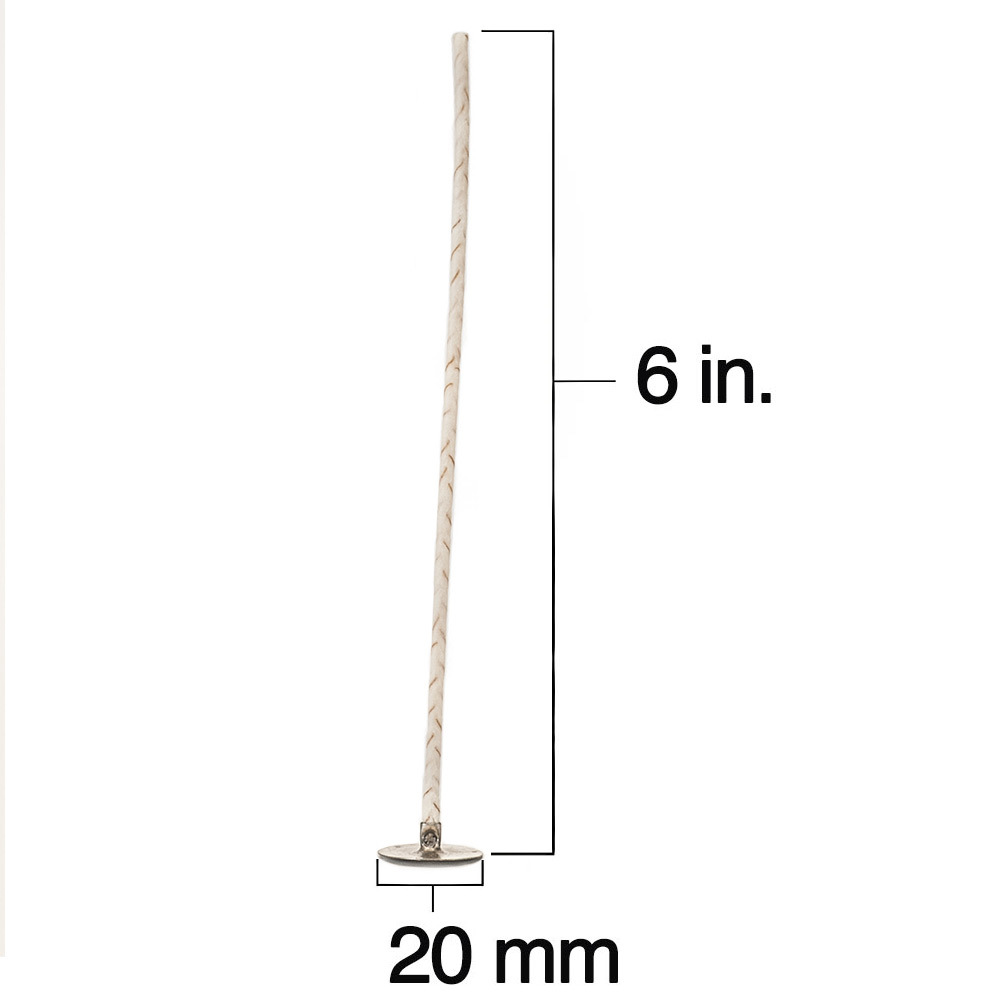 Ready to Order?
Ships from West Coast. Expected: East Coast 12/3
Out of stock. Expected: East Coast 12/8, West Coast 12/21
Out of stock. Expected: East Coast 12/10, West Coast 12/9
Details
About the ECO Series
ECO wick is constructed from natural flat cotton threads interwoven with paper threads that produce a rigid structure for easy pouring. The consistent flame and slight curl of ECO wicks work well with natural waxes and ensures an even burn. ECO wicks are lead and zinc free. For help choosing the right wick for your candle, visit our wick guide.
Reviews
Perfect wicks for 4oz jelly jars
Amazing and slow burn giving the perfect candle for a 4oz jar
I use an 8oz straight sided jar, just under 3 in diameter, with a custom mix of soy and coconut with an eco 8 wick. They work great for me. The coconut wax can be sticky to the wall however, as others have said, by the time it has burned halfway it melts all the wax off the side of the jar. I burn for a minimum of 2 hours 3 is preferable.
They work just fine.. I think
I see a lot of bad reviews for these wicks. I am using them for the straight sided tumbler jars. I have a soy wax blend. I have not experienced any tunneling. It takes a while to get a full melt pool but i find that in 3 hours it's fine. My only issue is that I do get black soot sometimes. I'm very intentional with where I'm placing my candles. (Away from drafts, windows, etc) so I'm not sure why the black soot happens. Another thing I'm noticing is that if I trim the wick to about 1/8 inch instead of 1/4 it burns better. Idk. I think it's working. I'm willing to keep giving them a chance.
I see a lot of comments giving these wicks bad reviews, and I wanted to give some advice that I saw which I found helpful. If a little bit of wax is left on the sides after a test burn, like if it doesn't melt all the way to the edges, it doesn't necessarily mean it's the wrong size or 'tunneling.' It's better to judge a wick when the candle gets to about the middle point. Usually at this point, the wax that was left on the sides will begin to melt, giving the candle a more even appearance. Some people do wick testing by filling up the jar only half way, so as to not waste as much wax and FO. Hope this helps! The candlemaking thread on reddit.com is a great place to ask questions from other candle makers and get advice.
Why is this wick recommended for the Straight Sided Tumbler (Libbey)? 0 stars, do not recommend
My candles are tunneling. These were the candles I was looking to start my own business with, what a waste. Very upsetting.
I tried to use all the wicks as suggested and I also have issues with them. I find that if I use 2 wicks in each candle then they burn a little better, but I don't want to use 2 wicks in each candle. I have 4oz Tin's, 8oz, 12oz frosted and un frosted!! I have used so much wax on trying to get the wicks correct!! The wick guide is not very useful...
I bought these to use with the straight sided tumbler jars and almost every single candle has experienced tunneling. I'm a little disappointed that these are recommended for these jars. I am going to try to wick up. I would highly recommend that you do a test candle before using these.
Wud u recommend this type of wick in a pint size Mason jar(16 oz)?? Thank u!!
Hi! Wicks depend greatly on the specific type of wax being used. Be sure to check out our wick guide to get a recommendation for the best wick to start your testing with for your containers and wax combination! https://www.candlescience.com/learning/wick-guide
Not happy with these for the libbey straight sided jar
I poured 8 pounds of wax using these wicks for the libbey straight sided jars just as reccomend for the jars. I decided today to test one since I have a few first time orders coming in and the wicks are definitely not the size for the jar I'm using. I did use 9% scent load so I'm not sure if this is the reason or what, but now I'm have to go back and clean my jars to redo, and hopefully since they were labeled I can reuse them. I also did not like the black smoke no matter what I tried. This is a major setback as I'm pushing for time to fit this in with my fulltime job. Other than this issue, I love all other products by CandleScience so far.
I recently ordered the Eco 8 wick because it was suggested to go along with the straight sided tumbler, however when I tried it I experienced tunneling. I am rather disappointed. This is the second wick that was suggested that I've experienced this issue with.
I use these wicks with a blended soy wax combination and 8.5% scent load! They burn perfect for me! Its a nice clean wick!
I have been using these wicks on my 8, 12, and 16 oz mason jar candles with 464 wax and they burn so perfectly I'm in nirvana. I had used other wicks in the past from the woman that was exiting her wholesale soy candle business, but I found they were nasty and mushroomed a lot. This is not the case with the Eco 8, it's a perfect clean burn for many sized mason jars.
I am so sadly disappointed in these wicks. I used to buy this exact wick from another company, and they worked perfectly! Since I buy many lovely scents from CS, I thought I'd just buy them through them. Unfortunately, the wicks, like others have said, do not burn correctly. The wax pool overwhelms them and the pool does not get all the way across. Alas, I'm hoping I haven't lost too many customers. I didn't realize there was a problem until one of my customers spoke up. Now, I'm devastated and hope others will speak up and give me another chance to fix this blunder. Am going back to my old company. Still love your scents, CS, but these wicks are not up to snuff.
Hello! Thank you for reaching out to us. Burn issues will often appear to be wick-related, even though they may stem from other factors. Variations in wax and/or fragrance oil, as well as environmental factors and burning practices, can have a large impact on the way that a candle burns. Wicks tend to be a consistent component, but we'd be happy to discuss it further and make sure they are up to standard. Feel free to reach out to our support team and we'll help in any way that we can!
I purchased these wicks because they were supposed to be the ones that would work in apothecary jars and I double wicked them, but the wicks burn out before the candle does. I am glad I tested them before I made a bunch of unsellable candles. I use EcoSoya Advanced wax and I'm not sure what I am going to do about the wicks now!
Hello, and thank you for sending in your feedback. While our wick guide is a great way to get a jump on testing, the wick size may need to be adjusted depending on your exact formula and environmental conditions. We always encourage thorough testing to ensure the best fit for your candles, but we'd be happy to offer feedback on your testing. Feel free to reach out to our support team and we'll do our best to help you find the perfect wick!
CHANGED MY REVIEW- NOT HAPPY
Ok... I originally gave 5 stars prior to me testing several candles. The wick burned out faster than the candle itself.
Maybe because of the low tureen glass jars (3oz), not sure, but I am sure I am stuck with 20 candles that are not sellable. Not happy.
First I'd like to say I understand some of the mixed reviews about these wicks. Barely any flame, etc.
After my testing the wick I found yes, it's a very low flame, and a slow burn. I'm still getting a beautiful hot throw, but more importantly .....the candle is lasting longer because of this. I have been burning a 3oz glass Tureen jar purchased here at Candle Science for 2 days , about 4 hours each day and the wax is barely at a 1/4 of the candle melted. My customers are going to love how long the candle lasts along with additional burning time. And you know what this means everyone? You can charge more $ cause you know you have made a lasting candle! YIPPEE!
Thank you Candle Science!
Hi! I want to order these 8 eco wicks for my 8oz mason jars using a para soy wax. Is this recommended? The 10 eco didn't work too well.Thank you in advance!
Works great with GB 464 in 4oz ball mason jar containers.
Im new to all of this and honestly I have watched video after video and for my needs I feel that these wicks go perfectly for my candles. Thank you!