BEHIND THE SCENTS:
2021 FALL AND HOLIDAY FRAGRANCES
Brush back the curtain and go behind the scents for an insider look at eight new fragrances for the Fall and Holiday season of 2021.
Well, we're going into the second holiday season of our vastly changed world. The trends and consumer habits we've observed over the past year and a half reflect the societal shift we've all experienced together. In this exploration of the driving themes behind our new Fall/Holiday fragrance collection, you'll get a look at the trends we've identified and how each fragrance fits into a larger story.
But maybe these eight fragrances tell an entirely different story for you. One of the things that makes working with fragrance so exciting and special is the way a single scent can be so many different things to different people. Let our ideas and suggestions for each fragrance inspire you to create your own unique experience. Ready?
TRENDSPOTTING: reimagined classics, cozy comforts
Ginger, spice, and everything nice—that's what this new fragrance oil is made of! Comforting and warm, Ginger and Spice wraps you in a handknit blanket of cherished holiday memories. It's no wonder that the last year and a half has led to a surge of demand for scents that give comfort and allow us to reminisce about happier days.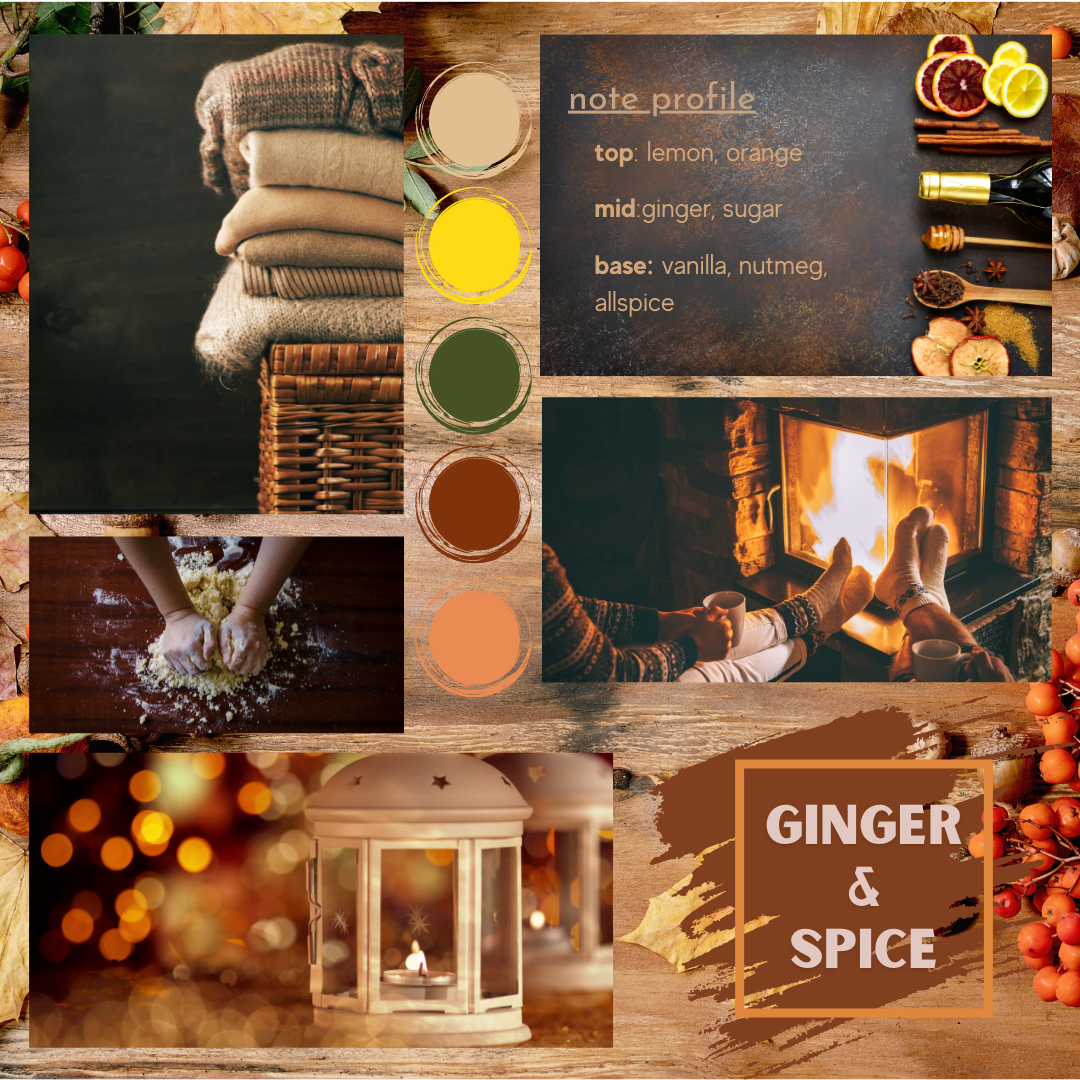 BRANDING & DESIGN INSPIRATION
Our container choice and label design for Ginger and Spice reflect its homey, yet elegant, character. The new Farmhouse Ceramic Jar is a modern interpretation of the country crock look, positioning the fragrance perfectly as both a reimagined classic and a cozy comfort. We kept our label clean and straightforward with a sleek font and minimal use of color.
When incorporating Ginger and Spice into your line, keep the name as-is or think about scent names that offer coziness and familiarity. Names like Ginger Vanilla, Lemon Ginger Cookie, or Candied Ginger are a great place to start.
Love this label? Use it to inspire your own design in 
Avery WePrint
! Pictured above: 2" x 8" on matte white.
TRENDSPOTTING: walking in nature, cozy comforts
You can never go wrong with a woodsy, pine scent when the weather starts cooling down. Something that reminds you of sitting at a fire on a chilly night, wrapped in a cozy blanket with someone you love at your side, the scent of the forest wafting in the air. Enter: Alpine Balsam.
Decidedly different from our other pine scents, Alpine Balsam is a fresh, sparkly pine that conjures images of a snow-dusted tree strung with gently twinkling lights. Anything that brings the outdoors in will be big this season and this fragrance will definitely bring the outdoors to your product line!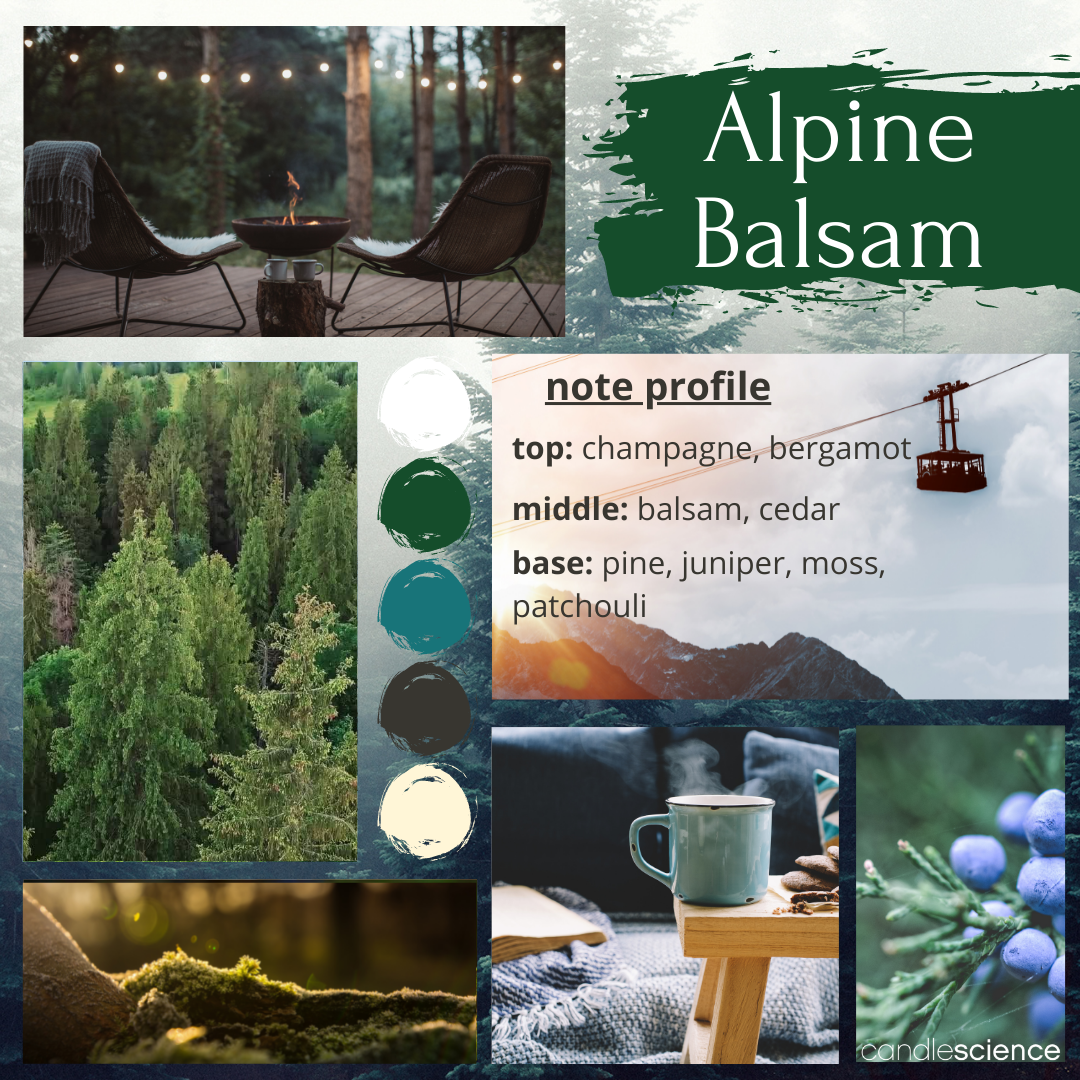 BRANDING & DESIGN INSPIRATION
For our label design, we wanted to call out the outdoorsy theme. We chose a large graphic with a hand drawn look and used a clear, easy-to-read font. To bring a little color to the party, we poured a candle into one of our new Teal Straight Sided Tumblers. Alpine Balsam would also be a great fragrance to use for a Campfire Mug Candle! Mix with a little Fireside for a smokey effect, or use as-is for that perfect foresty scent.


Love this label? Use it to inspire your own design in Avery WePrint! Pictured above: 2" square on gold foil.