citronella candles: labeling guidance and marketing tips
The way you label citronella candles matters. Learn what every maker should know about labeling citronella candles, plus marketing tips and inspiration.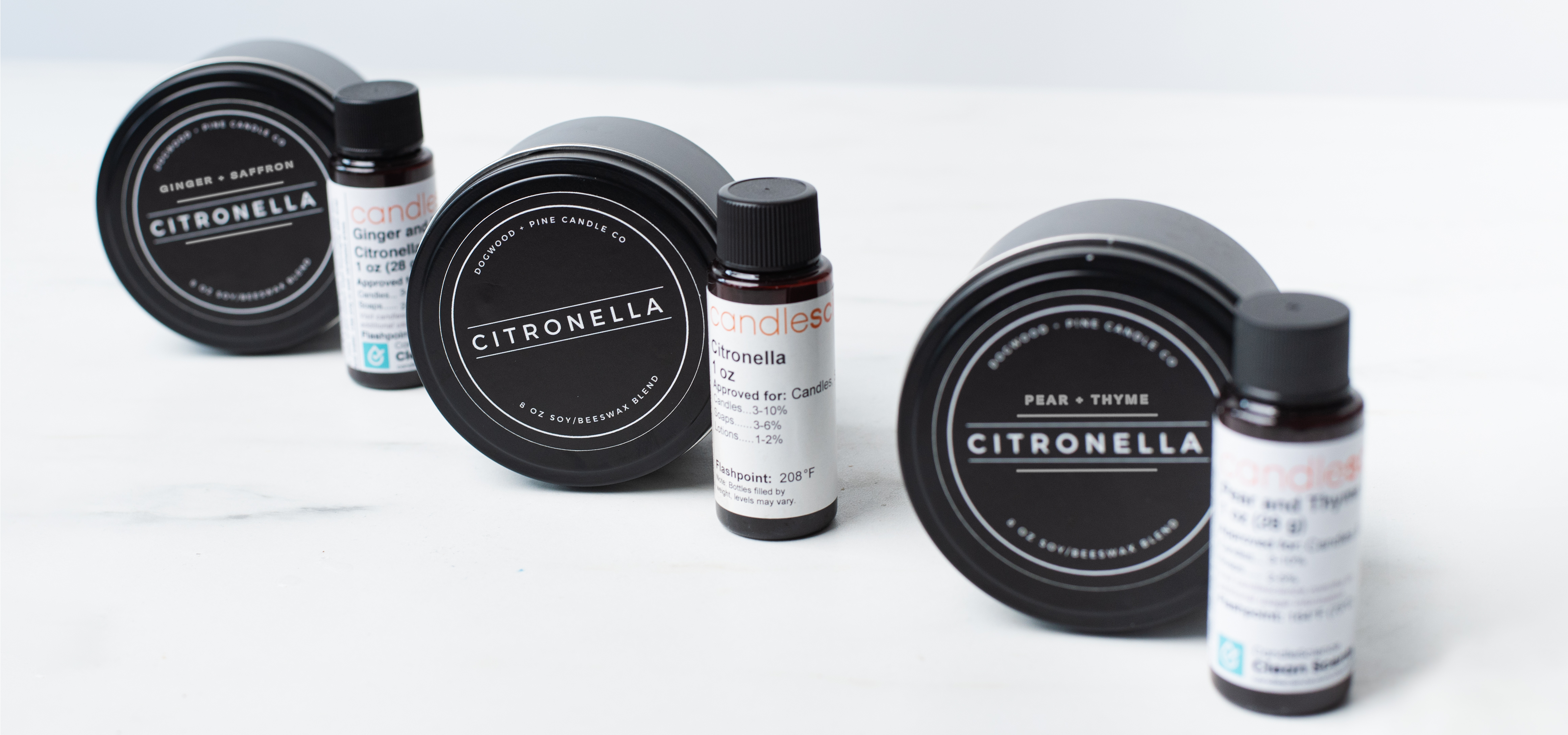 The United States government regulates some, but not all, citronella candles as pesticides. But how do they determine which are pesticides and which aren't? They let you do it for them!  
How you label and market your products impacts how the government regulates them. Regarding citronella candles, this means that makers should avoid using pesticide claims unless they've registered their products as pesticides.  
What you should know about selling citronella candles in the United States
In this section, you'll learn what U.S. candle makers should know during citronella season and beyond.
How are citronella candles regulated?
In the United States, pesticides are regulated by the Environmental Protection Agency (EPA).
The EPA defines a pesticide as "any substance or mixture of substances intended for preventing, destroying, repelling, or mitigating any pest." This includes insect repellent candles, bug sprays, and insect incense.
Citronella candles are only regulated by the EPA if they're sold using pesticide claims. If you suggest that your citronella candles repel insects, the EPA will consider them pesticide products.
With thoughtful labeling and marketing, you can control if your citronella candles will be regulated as pesticides.
What counts as a pesticide claim? To the EPA, a pesticide claim includes any language that implies your product can prevent, destroy, repel, or mitigate pests. So more suggestive language like "bug off, fly away, or mosquito finito" in your labeling or marketing means the EPA classifies your product as a pesticide. They even consider images of a pest or pest habitat as implying pesticide purposes. Basically, if you can think of a way around it, the EPA has already thought of it...and still considers it a pesticide.
Can I market my citronella candles as insect repellents?
We don't recommend that makers use pesticide language when promoting their products unless they have gone through the EPA's registration process and received approval. We can't advise on this process, other than confirming that it tends to be arduous! To find more information on pesticide registration in the U.S., check out the EPA's resource here.
The consequences of selling unregistered pesticides can be detrimental to small businesses. Class action lawsuits for misleading claims—including successful settlements—have been filed against larger companies.
In addition to class action lawsuits, the EPA says: "There can be serious consequences for selling and distributing an unregistered pesticide. The Agency (EPA) has the authority to take appropriate enforcement action where unregistered products make pesticidal claims. These could include, but not be limited to, issuing Notices of Warning; Stop Sale, Use, or Removal Orders (SSURO); and Civil Penalties." 
In plain terms, the potential consequences aren't worth it. If you believe that you need to market your citronella candles as a pesticide, we encourage you to go through the proper process.
Can I use the Minimum Risk Pesticides exemption to bypass registration?
There are very specific conditions that must be met to market a pesticide under the Minimum Risk Pesticides exemption in the Federal Insecticide, Fungicide, and Rodenticide Act (FIFRA). If a product meets all of them, then the pesticide does not need to be registered with the EPA. 
To err on the side of caution, we don't recommend using the Minimum Risk Pesticides exemption to bypass EPA registration. It can be difficult to confirm that all exemption conditions are met, which could create a scenario where someone believes their pesticide product doesn't need to be registered with the EPA when it actually does. Additionally, states are not required to honor Minimum Risk Pesticide exemptions.
It's up to you to decide if you'd like to explore this route. However, we cannot advise on whether a product qualifies under the exemption and you are fully responsible for ensuring all conditions are met. 
You can learn more about Conditions for Minimum Risk Pesticides here.
Do these regulations apply to all states? What about tribal land, military installations, and U.S. territories?
When state regulations are more strict, they overrule federal regulations. You should always ensure compliance on both federal and state levels. 
You can learn more about the pesticide regulatory agency governing your area here.
Marketing tips and inspiration
While the guidelines on pesticide claims can feel limiting, many people instantly associate citronella with insect-repellent properties. That association still exists, even when the label omits insect-repellent claims!
Make it easy for shoppers to find your citronella candles
Many customers who are searching for citronella candles are seeking them out by name, so one of the most effective ways to market them is to make them easily recognizable. 
Clearly label your candles. At markets and other in-person outlets, customers should be able to easily read "citronella" on the label.
Optimize your product page description so your citronella candles are easy to find for online shoppers. Shopify has a fantastic resource with actionable tips here. 
Highlight other attributes
Need ideas for social media posts or product descriptions? Wondering what you can feature without making pesticide claims? Start here: 
Talk about the setting in which people typically use citronella candles. Specific locations could include words like backyard, camping, patio, poolside, or garden. General descriptions might stick to terms like outside or outdoors.
What's the vibe? Talk about the ambiance that your citronella candles help create. Citronella candles are often used during summertime gatherings, where the mood tends to be lighthearted, fun, and uplifting.
Share personal stories or anecdotes about memories you've made alongside citronella candles. Did you meet a new friend at a pool party that was peppered with citronella candles? Maybe you remember staying up late to talk with friends after sunset, the only light left being fireflies and the glow from the citronella candles around you. Use this as an opportunity to connect with your audience and customers.
How does CandleScience approach marketing citronella fragrance oils?
When marketing our citronella fragrance oils, we rely on the tips listed above.
The citronella products we sell are intended to be components in a finished product. Our citronella fragrance oils aren't registered as pesticides by the EPA, so we don't use pesticide claims in their labeling, marketing, or promotion. 
In our experience, omitting pesticide language hasn't been a huge issue for us. Citronella has long been a classic summer scent and consistently performs well, even without mention of potential insect repellent properties.
Market your citronella candles with confidence
Don't let pesticide regulations discourage you from making or selling citronella candles! With a bit of creative writing and clear labeling, you can safely and effectively market citronella products.
Citronella candles are still hugely popular in the summertime. If you or your customers enjoy burning citronella candles during outdoor gatherings, then they'll likely be successful additions to your product line. 
Information in this article is intended for United States makers. Makers outside of the U.S. should review local laws and regulations pertaining to pesticide sales.
Citronella fragrances to explore
From classic citronella to upscale blends, these scents are just as deserving of an indoor burn as any other fragrance.
Pear and Thyme Citronella
This citronella scent is pleasing and fruity. The combination of juicy pear, aromatic thyme, and herbaceous citrus has a place on both your patio during your next barbeque and the shelves of your local boutique.

Fragrance Info
This product is Candle Safe
usage: 3-10%
This product is Soap Safe
usage: 2-5%
This product is Lotion Safe
usage: 1-2%
This product is Phthalate Free
This product is Diffuser Base Approved
up to: 25%
This product is not Prop 65 Warning Required
No
Ginger and Saffron Citronella
Earthy saffron and bright ginger meld in this citronella fragrance. The zing of ginger is a perfect complement to the citrus aromas of citronella, while the saffron lends depth.
Name ideas: Spiced Citronella, Ginger Lemongrass, Citronella Zinger

Fragrance Info
This product is Candle Safe
usage: 3-10%
This product is Soap Safe
usage: 2-5%
This product is Lotion Safe
usage: 1-2%
This product is Phthalate Free
This product is not Diffuser Base Approved
This product is not Prop 65 Warning Required
No
Lemongrass and Verbena Citronella
This is a strong citronella, but still blends pleasantly with the complementary aromas of lemongrass and verbena. Each note bolsters the other beautifully for a result you'll love as much for the luxurious citrus character as the summertime staple of citronella.

Lemongrass and Verbena Citronella
Shop Now
Fragrance Info
This product is Candle Safe
usage: 3-10%
This product is Soap Safe
usage: 2-5%
This product is not Lotion Safe
This product is Phthalate Free
This product is not Diffuser Base Approved
This product is not Prop 65 Warning Required
No
Classic Citronella
A top note of lemon peel adds a boost of citrus to the lemongrass heart of this classic citronella scent.

Fragrance Info
This product is Candle Safe
usage: 3-10%
This product is Soap Safe
usage: 3-6%
This product is Lotion Safe
usage: 1-2%
This product is Phthalate Free
This product is not Diffuser Base Approved
This product is not Prop 65 Warning Required
No
Show us your citronella candles!
CandleScience customers are so creative. We want to see how you label and market your citronella candles! Share your candles with the CandleScience community by tagging us @CandleScience and using the #CandleScientist hashtag on Facebook, Twitter, and Instagram. We may feature you in our Stories or on our website!