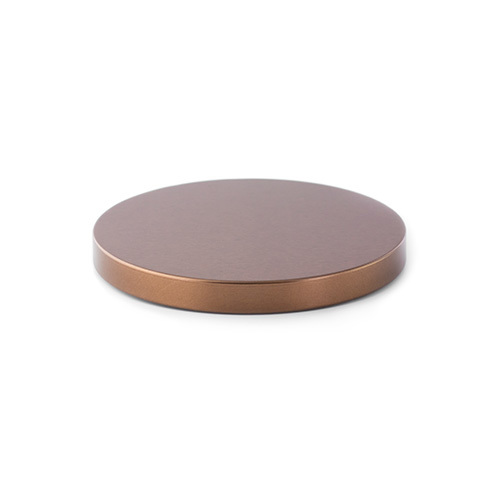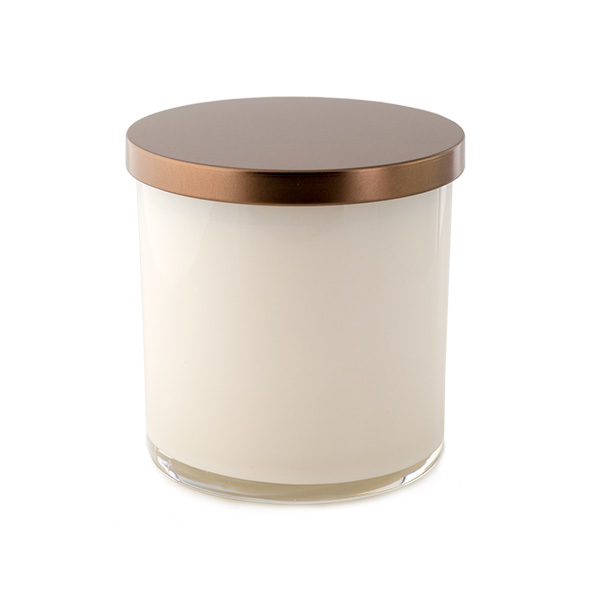 Ready to Order?
Out of stock. Expected: West Coast 5/14
Out of stock. Expected: West Coast 5/14
Details
Give your containers a modern, sleek look with our bronze flat lids. These lids have an elegant brushed metal finish that gives the lid a distinct polished look. Includes an inner silicone fitment to help secure the lid to the jar. Also available in silver and black.
This flat lid fits our:
Note: Do not pick up jar by the lid.
Additional Details:
Width of inner silicone fitment: 6.7 mm
Inside diameter of silicone fitment: 68.8 mm
Imported
Properties
| | |
| --- | --- |
| Diameter | 3.375" |
| Height | 0.3125" |
| Max Labeling Area | 3.25" x 3.25" |
| Prop 65 Warning Required | No |
Reviews
I absolutely love this lid it fits perfect ...
I absolutely love this lid it fits perfect ...
These bronze lids fit my jars perfectly... wondering when and IF they will be coming back, gonna need to order again soon!!
These lids did not fit my apothecary jars I'm very disappointing 😡
Thanks so much for reaching out to our Support team so we could better assist you!
These lids DO NOT fit the apothecary jars at all. I don't understand why it says it does but they're nice I wish they fit my vessels.
Great product and a nice way to add depth in color on the tables at the market. Our signature is the black lid but this goes well with the amber, black, and clear tumbler. Fingers crossed on getting the black ones back in soon :)
I use these for my status jar candle containers. I love the sleek, polished look. They make a plain jar, classy. My family and customers rave about how nice they look. These are my "go to's " for our brand.
excellent service, fast delivery
Never had a problem with my orders nor delivery. Thank you guys!
I bought these because they were recommended for the WHITE STRAIGHT SIDED TUMBLER JAR. They fit really loose on the jars. IDK if that's how it's supposed to fit or if I just got a defective batch. Such is life, I'll still be purchasing from Candle Science because this is the first miss since I started shopping with them.
These do not fit the apothecary jars. I guess I'll be returning and re thinking vessels.
A member of our Support team has reached out to you via email to assist!
I love these! But unfortunately they did not fit the ceramic tumblers i got on here, if you guys can help
Me out.. please thank you
Hi! A member of our team will be reaching out shortly!
These lids do not fit my 8 and 16oz apothecary jars. Now I need to switch these for the glass flat lids in hopes that those fit.
I love these but my last shipment were all bended up! Please advise!
Thank you for taking the time to leave a review. We are so sorry to hear that you received damaged lids. A member of our support team has reached out to you to provide further assistance.
I am supper happy with my purchase. The lids look very classy.
I've been using these lids for 2 years and seriously they are out of stock every other month with re stock dates always changing. I had to buy more expensive wooden lids from another company so I could have a back up. Now I'm thinking I'll just go with the back up lid. Can't run a business with these lids.
Tranquility Soy Candles by Patti
I absolutely love these lids and I need a lot more. Could you please let me know when they will be back in stock......thanks you
I LOVE these lids, I pair them with the white tumbler and the finished look is gorgeous. Buuuuuuuuut they're out of stock a LOT, and that's a bummer.
Love the color and shine of these lids. It gives my candle a very sleek and modern feel to them.
Love these lids... why are they always out of stock?? I think I'm gonna order the 360pcs next. Can't afford for them to be sold out again.
I absolutely love these. But they are always out of stock. I based my whole candle line off these lids. Super disappointed that they are alway out.
Love these lids but so disappointed they are out of stock. Will be buying a larger order next time.
My customers love the look of these bronze lids, as do I! I ordered extra last time because I had a feeling they'd be out of stock. CandleScience always gets me supplies quickly when they are in stock. A lot of us run on thin margins being small businesses. As a result, it doesn't make sense for us to have a plethora of lids on hand as it impacts our cash flow. Is there any way for CandleScience to have more in stock?
I'd rate this product a 5 if it was consistently available.
I absolutely love these, but why out of stock so much????? I'm branding our company and these stay out of stock
Hi! Thank you so much for the feedback. Our support team will be in touch via email to assist you further!
Love love love these lids. Customers love them too...but why out of stock so much?? So hard when I'm branding my candles with a lid that I can't get...
I bought these lids as a replacement for the large domed lids for the 21 ounce status jars because CS stopped carrying them. They do not hold securely to the jar and I won't buy them again. They look nice on the jar but I warn everyone NOT to pick up the candle by the lid. Please bring back the large domed lids for the status jars.
I'd love to see some wood or cork lids! 🙏🏼🙏🏼
I finally found lids that are beautiful and fit my containers! Please don't ever stop carrying these!
Would have given a 5-star rating if only the availability was consistent. I'm stuck here and cannot sell my candles 'coz of the unavailability of these lids. Initially, they had a note saying they would be available on a certain date but since I chatted with them about it they took off the note. I had some other items I needed and was planning on waiting to put them all in one cart, together with the lids, to check out to have one shipping and handling fee...which is EXORBITANT in any case, but I really don't know now that they have no specific date as to the availability of these bronze flat lids.
Thank you for taking the time to leave a review. We apologize for the fluctuations in the arrival date of the flat lids. We know that is frustrating. Unfortunately, we were waiting for our shipment to be released from customs so that they could arrive at our warehouse and the customs process did take longer than normal. The lids are back in stock though at this time and we are taking steps to help ensure that there are not continued stock issues with this product. Please let us know if you ever need anything.
Would love to know where Kandi found the lids! I love these lids and it is holding up production!
I love these kids, but this is the 3rd year in a row you've ran out of these kids. Restock date always changes. Last year it began in November and they weren't restocked until march. I was told you ran into shipment and manufacturing problems. It seems that is the same response again this year. Unfortunately I have taken my business elsewhere and ordered my own lids, wholesale, just like these! You're a business and should definitely understand people who buy from you are trying to have a successful business of their own. But when you're constantly out of stock, same time every year maybe a new manufacturer should be in order
Thank you for leaving a review, we appreciate the feedback! We apologize for the delays experienced this year in restocking the flat lids. These lids are imported and we do take into account for the production and transit times, however, at times unexpected delays do arise. We are taking these delays into account as we plan for future shipments and hope to avoid any additional stocking issues moving forward.
Whoever does your stocking needs to up their game. These are constantly out of stock making it very difficult to use these lids.
Thank you for your feedback! We apologize for the delays that were experienced with getting these lids back in stock. Due to several unexpected delays in production and transit, the date for the lids did get pushed back later than anticipated. We are accounting for these delays as we plan for future shipments in efforts to prevent issues of this item being out of stock.
This lid is constantly out of stock when you need it most.
It's a great lid but if you can find a supplier that doesn't constantly run dry you'll have better luck running a smooth business.
Thank you for your feedback! We understand your frustration and we apologize for the delay in getting these lids re-stocked. Due to multiple delays, both in manufacturing and in transit to our warehouse, it did take longer than anticipated to receive our shipment. We do have the lids back in stock now and will be adjusting our ordering schedule for these lids as we move forward to help ensure that we maintain a steady supply throughout the year.
Please bring them back! We introduced a collection that was very well received, sold out in fact, and as Ive been back to reorder over an over it seems they are not coming back into stock. Losing sales including wholesale orders no matter how much we love these!@#?
I love these lids, but they are out of stock and holding up my production. Has anyone got a response on when they might have them back in?
Great lids but are slowing down my business. Out of stock way too often.
Hello! We completely understand your concern. We are doing everything in our power to get the Flat Metal Lids back in stock as soon as possible. Unfortunately, our resupply encountered delays in manufacturing and transit that have pushed back the arrival date. We apologize for the inconvenience and will continue to post information to this page as we receive it.
Great lid. Does wonder for the overall appearance of the candle.
But, never in stock. If you know of a similar alternative please email me! Info@SimpleNature.net
These lids are great !
But, they are never in stock. Currently have over a dozen orders to fulfill and can't . Now have to find alternatives, since I can't relay on them . So disappointing, and makes me regret rebranding with these lids.
Thank you for your feedback! We understand your frustration and wish we could get our resupply of lids here faster. We are anxiously awaiting a shipment of Flat Metal Lids that have been affected by multiple delays, both in manufacturing and in transit to our warehouse. As we receive additional information, we will update the estimated arrival date on this page.
I have a bunch of Christmas orders to fulfill and I can't get any of these bronze lids I use! I've been checking back every week they say will be in stock on ______ date and then you come back and it's still not in stock.
I just rebranded using these lids and that's what people are expecting to get!!!😩😩😩
We're so sorry for the continued delays! We are awaiting for our resupply to arrive, which has been pushed back due to manufacturing delays and transit issues. The date listed above is our current estimated arrival date, but we will update it if we received any additional information from the manufacturer.
Great lid - never in stock
This is a great lid. But if you have a decent supply chain, don't bother with this lid. They almost never have it in stock. This is putting me back insanely during the holiday season.
Great lid that's hard to get
Boy....This lid looks great. Suction is great. Color is great. Quality it great.....
...So why can't CandleScience seem to keep it in stock? Seems to me that a big seller like this, someone in the supply chain world would make it a priority to have....especially during Christmas season...
Great lid though. Use on all my candles and customers love them! See them at bluelakescandle.etsy.com
These really are much prettier on the jar then just by the picture. I recommend for those looking for a high-end Spa looking type candle.
I love these copper lids so much. I have them on some of my candles listed on my website. Unfortunately, they are hard to get. They are out of stock whenever I want to order more. First the white jars and now these. Candle science has always been so good at keeping things in stock, but lately, it seems it's one thing after the other. Still my favorite supply company, I hope they get it together.
I am so happy that I chose the bronze flat lid, they really give my homemade candles an upscale look!
Fits snug on the apothecary jars and were package beautifully with paper in between each lid to avoid scratching during delivery.
The tops fit well on the 8oz apothecary/packaged with thin paper between each one to prevent scratching. Give an expensive look to jars.
If you want to take your candle line to the next level this is it. I just received them today. Even though they were a bit pricey, it was money well spent. I used these lids for my fall/winter candles. They go wonderful with the straight sided tumblers. I was very impressed with the quality, shine and sleekness, they are light weight and fit snugly on the jars. These will be a staple in my candle line.
I absolutely love love love these copper/bronzer candle lids. The go perfect with the Apothecary jars as suggested. I will continue to purchase!!!
I received these lids today and I love them! They are beautiful with enough shine and sleekness. More in price then the silver flat lids, however, I will be ordering these continuously. I paired this lid with the 22 oz. Libbey Ludica Jar, they are not on this site (unfortunately) but they work perfectly together!
I really love these high quality lids! They look terrific on my candle jars! Nice brushed copper color with a shiny coating on them so they are smooth and fit perfectly on the straight sided jars.
A little pricey but worth it.
So gorgeous and on-trend right now!
These lids are stunning. I paired them with the white straight tumbler and they are so sleek and sexy looking! They fit like a dream with the inner-rubber lining. Perfect!!