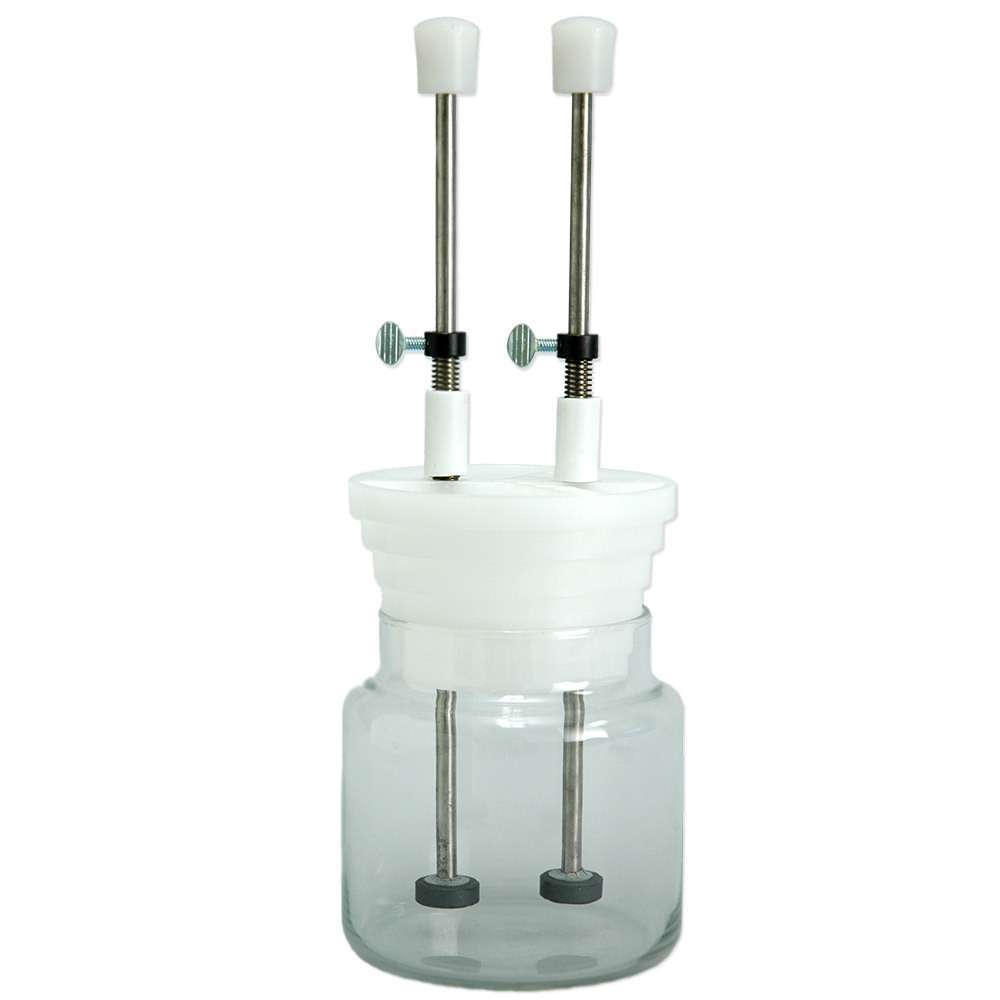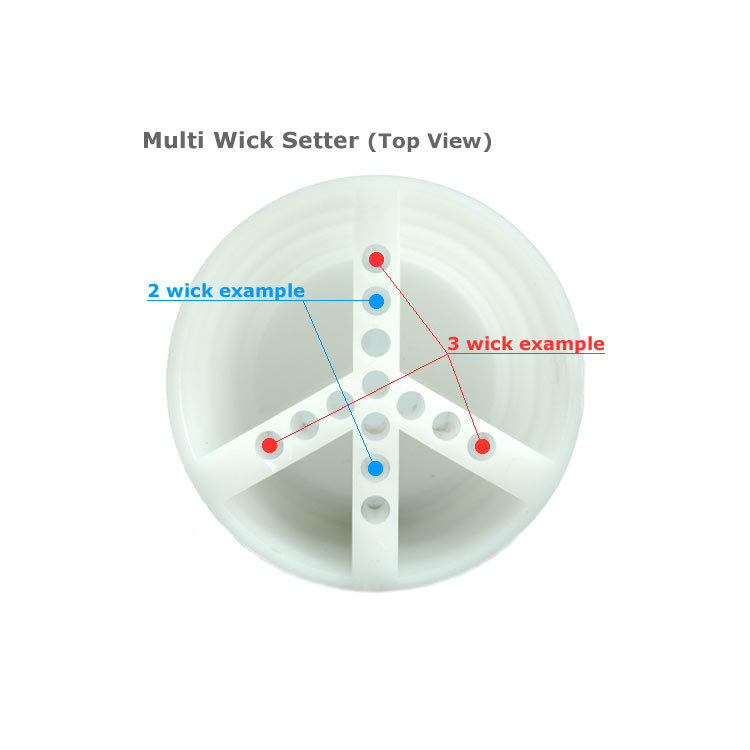 Details
The EZ multi wick tool is the best way to quickly and precisely wick double or triple wicked candles. Use one plunger in the center, two in a line, or three in a triangular configuration for precise control of wick placement. A single candle maker using the EZ wick setter along with our Wick Stickers can easily wick dozens of containers a minute. If you're making double or triple wicked container candles, you definitely need this tool on your bench. Pairs well with our 8 oz. and 16 oz. Apothecary Jars.
Fits containers with an inside neck diameter of 2.75 to 3.75 inches.
Note: This does not fit our 3-wick tumbler, which has a 4" diameter and is too wide for this tool.
Can also be used to set a single wick.
Assembly Required.
In the box:
- Tool Body
- 3 Plunger assemblies with springs, stops, collars, and knobs
- Instruction sheet

Made in the USA
Properties
| | |
| --- | --- |
| For Container with Inside Diameters Range: | 2.75" to 3.75" |
| Prop 65 Warning Required | No |
Reviews
This cuts so much time wicking my jars!!!
Invaluable tool to add to your arsenal
I'm not sure why there are so many negative reviews...unless the people leaving them just didn't check their jar's dimensions prior to ordering. This tool is absolutely amazing. I do mainly three wick jars which are about 3.75 inches in diameter and this works like a charm. No more struggling to line wicks up and marking the bottom of the jar to try to make everything even. Just load the wicks up, take off the backing to expose the adhesive and press down into the jar. Voila, perfect wick placement everytime. I have a few small gripes, which are nothing in the grand scheme of everything, which is why I'm still giving this item 5 stars. One - it really should come assembled...it seems like a no brainer, they could save a lot of hassle with people putting the tool together incorrectly. Two - needing to tape the knobs down on top is a bit ridiculous. Like, can you not just get knobs that stay on? Lol. Anyways, minor complaints, the product is still absolutely amazing, invaluable, etc. Highly recommend - do not make candles without it!
Great concept. Poor execution.
I purchased the multi-wick to double wick my 16 oz. vessel. It fits my vessel but doesn't sit firmly in place. I can't properly space my wicks for this vessel because the shortest distance is too narrow and the wick bases catch on each other. The wider setting is too wide and therefore the wicks are too close to the edge of the vessel. I need a custom solution if available. The manufacturer offers a modification and I am willing to pay the additional $$ for a solution that works. I have reached out to the manufacturer twice and have not heard back from them. Unfortunately, my only option at this point is to return it to CandleScience and look for another double-wicking solution.
I wanted to love this so badly unfortunately it didn't happen. Of course it doesn't fit my jar so you have to balance it on the very edge of the step. Then I was quite aggravated with the knobs constantly falling off. So I gave up and ended up using one of the rods by itself since the magnet is handy for holding the wick.
I really appreciate the service from candle science. I like the idea behind the tool but cant seem to get adjust properly to jar and the thought of send it back and paying additional money is insane I already paid for shipping and product why spend more money when the company already no there is issue.
I ignored the reviews because I had such high hopes for a easier way to wick my vessels. I use the CS straight sided tumbler, and like many of the reviews says, it does it not fit. The size range is supposed to be between 3-3.75 or so. As soon as it's placed in the vessel, immediately, you noticed it's neither leveled or evenly placed. You find yourself positioning the device over and over, and attempting to center it to get the wicks placed in the middle & at that point, is it worth it? From what I received, it's poorly made. The product doesn't reflect the dollar amount. The white handles continued to fall off & that's the least of this device's issues. The instructions given are terrible. Usually with any type of device or equipment that you have to put together, it shows drawn pictures illustrating the names for the items they're telling you to use. The instructions which are shown above in the template just give you a step 1-3 type of model with no indication on what is what. I was able to put it together from looking ahead the photo. Overall, I should've listened to the reviews. Will be returning.
Hi there! Thank you for letting us help you with this!
Does Not Place Wick in Center
The wick setter fit the container, but it didn't center the wick. Tried several times. I did better just doing it myself. The instructions say if you're having problems you can send them one of your containers, along with the wick setter, and they'll adjust it for you. But they want $15 and some change to do it. Not to mention the shipping fees to send it to them. I just want my money back.
Thanks for leaving a review! We're sorry to hear you're having issues with the EZ Wick Setter! A member of our support team has reached out to you to better assist you!"
It works well, with a few tweaks
Once I sanded the parts down I needed to get it to fit my jar exactly, I can't live without it! So, I'll just say don't expect this to be perfect right out of the box. But once you get it to where you need it to be, you'll love it!
I purchased this 3 wick and it did not fit my candles at all. And it scrapped the sides of my glass just to be able to place it in there. Really was not worth the price
Thank you for your review. A member of our support team will reach out via email.
Just got my EZ Wick and whether it's woobly or not it beats doing the wicking by hand. 🙌🙌
should have read the reviews
I bought this for my 3 wick tumblers, did not fit, falls right into the jar.. has the option to return to have it resized for an extra fee. Its already not a cheap tool and to have to pay more... no thank you.
Hi! We are so sorry that the EZ wick setter is not working for you. It is designed to fit only containers with an inside neck diameter of 2.75 to 3.75 inches. The multi wick setter works well with our 8 oz. and 16 oz. Apothecary Jars but sadly it will not fit larger containers such as the 3-wick tumbler.
Doesn't fit the jars, but the rods are great
I bought this for the 3 wick tumbler and the straight sided tumblers, but it didn't fit any of the jars. I had assumed it'd fit since it was advertised as useful for a 3 wick setting. The wick setter fits completely inside the 3 wick tumbler which is a problem. There's an option to send in the jars with the wick setter and have it adjusted but you have to pay for it and it's inconvenient. So, I just removed the rods from the setter and use those to freehand wick all my jars. It's not as easy, but it's nice that the rods can get down to the bottom without my hand having to go into the jar.
Love the ease and efficiency!
This fits perfectly with my Libby jar. The construction is solid and the price is reasonable. It saves me so much time and aggravation. Just check the specs of the jar diameter before you purchase.
Looks like a nice tool, doesn't fit any of their jars
I bought this tool hoping to use it on the 3 wick tumbles but the base of the tool is too small. Went to try it on 3 different size mason jars and the tool is too big. You can still make it work but what's the point of buying a tool for precision if it can't be precise?
Good idea, poorly executed
For something like this to work there needs to be tension and a tight fit. This doesn't have either. It flops around inside any jar and the bar that's supposed to set the wicks flops around inside the groves that are supposed to help guide it. The end result ends up being the wick is rarely centered. I get a better result by eyeballing it. I'll continue to use the rods as those are at least useful for holding the tab straight as long as my hand is straight. At least this gave me some ideas. I'll probably fashion something that does this as intended rather than how this one does not.
Theres huge room for improvement on this. For the few jars I've had that it fits perfectly, it's absolutely awesome. But sadly alot of my jars dont fit this at all. Hope you guys can upgrade it soon
Good idea...but not a great product
I purchased this and in theory, it should work perfectly. However, if you plan to use it to wick the straight sided tumblers, it will fit nicely into some of them but not all of them. It's just a fraction of an inch too large to work properly with the tumblers.
For some reason these won't set the wicks straight for me. I've wasted a lot of resources trying to use them. Going to return mine. Not sure if it's the device or the vessel because in theory they should work great!
Just purchased the "EZ Wick Setter" and this saves time which is money and I get a perfect center wick every time. I can now do a dozen candles in minutes.(Spring for the Multi Wick Setter)
Also like the wick tabs to stick to the bottom.
Works on many types of glassware. Wish there was an adapter to fit the 16 oz and 8 oz Mason Jars but it still works perfect just have to hold it in place.
I have wicked thousands of jars "my own way" thinking I had a great system. This wick setting tool has changed my life!! If your wicking jars you absolutly cannot do without this!! Fast and easy.. everytime!!
Worth it's weight in gold...