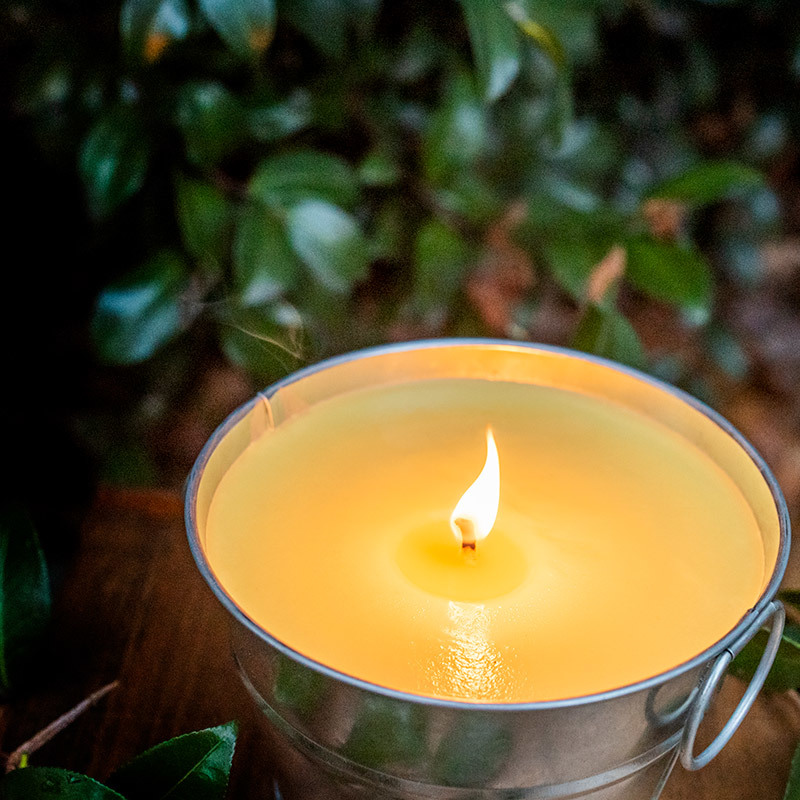 Ready to Order?
6+ 5lb Jugs
$79.94
$1.00 /oz
12+ 5lb Jugs
$71.94
$0.90 /oz
Safer Scents For The Home
CandleScience Clean Scents™ are free from carcinogens, reproductive toxins, and other potentially hazardous chemicals often found in fragrance. Choose Clean Scents and create safer home fragrance products you and your customers can enjoy with confidence.
Read More >
Details
Keep those pesky mosquitoes at bay with our Citronella fragrance oil. A top note of lemon peel adds a boost of citrus to the lemongrass heart. This camphoraceous scent performs well in soy wax, resulting in strong citronella candles that don't just smell great, but help deter mosquitoes, too. Citronella candles are great for picnics, campsites, and backyard barbecues. This green and herbal scent is both refreshing and functional.
This fragrance is infused with natural essential oils, including citronella, eucalyptus, and geranium.
Blends well with: Lavender, Citron and Mandarin
Alternative branding ideas: Bug Be Gone, Bug Off
Note Profile:
Top: Lemon Peel
Middle: Lemongrass, Camphor
Base: Powder

Suggested Colors: Yellow, Golden Honey
See our complete list of candle making dyes and soap colorants.
Note: Bottles filled by weight, levels may vary.
Properties
Candle Safe

Yes

Usage: 3-10%
Soap Safe

Yes

Usage: 3-6%
Vanillin Content
0.01% - 2%
Soy Performance
Flashpoint
208 °F
Phthalate Free
Yes
Prop 65 Warning Required
No
Diffuser Base Compatible
No
*Usage amounts are recommendations only. Individual usage amounts can vary based on your desired fragrance strength, wax type, soap base, or lotion base. See IFRA certificate for max usage levels.
Documents


Cold Process Soap Performance
| Acceleration | Discoloration | Separation |
| --- | --- | --- |
| None | None | None |
Lye Water Temperature 100ºF
Oil temperature 100ºF
We did not experience any acceleration or separation. This was very slow to come to a light trace and was very easy to work with. After 24 hours, there was no sign of discoloration or of the soap going through a gel phase. The scent was very strong. After 30 days, there is no discoloration and the scent remains very strong. This would be an ideal fragrance to do more complex swirls or design techniques that require a slow trace.
Reviews
Love this oil. These candles work better than citronella candles I've ever purchased.
This citronella is spot on. Incredibly strong. I usually use a lot of oil in my candles. This particular oil required a lot less! Everyone that has bought and burned them thus far, has put out their torches to use my candles alone.....
VERY NICE JOB CANDLE SCIENCE!!!

I can't believe there are bad reviews on this for the way it smells. That's the point. This isn't for your smelly goods line, this is to make outdoor bug candles. That's what citronella is. It works great and I sell plenty of these in the summer.
This is the perfect mosquito repellant scent!
I cant stand this scent. Ootb is horrible and I thought it would get better in a candle. Tried mixing it with Strawberry guava, which is amazing, and the candle still smells terrible. Heavily disappointed and don't know what I'm going to do with the 2 oz I still have left. Unless you specifically want mosquito repellent, stay away from this FO.
Does what it's supposed to
Bought this for mosquito season and it repels better than any store sold mosquito repellent I have ever bought.
this citronella is spot on as fast as we can make them they are flying off the self ordered 5lb think I should have got more
Love this scent! This is exactly what I was looking for.
Made a large batch of citronella candles (w a small amount of eucalyptus & peppermint scent I got as a free sample!) for mosquito repellent to sell this summer, and it smells amazing! Will be lighting one tomorrow to see how well it works:)
This is totally spot on! Can't wait to make a few candles with this scent this summer. Its perfect for repelling mosquitos!
Definitely smells like citronella! Amazing cold throw! I haven't burned it yet waiting for the summer when the mosquitoes come out lol!
Just made a batch of citronella candles for outside summer use. I used harmony blend paraffin wax and liquid dye. They look great! The smell is exactly right for repelling bugs and mosquitos.
Smells like mosquito repellent because that's what it is! Excited about a healthier option for repelling those pesky bugs.
Smells like mosquito repellent 🤢