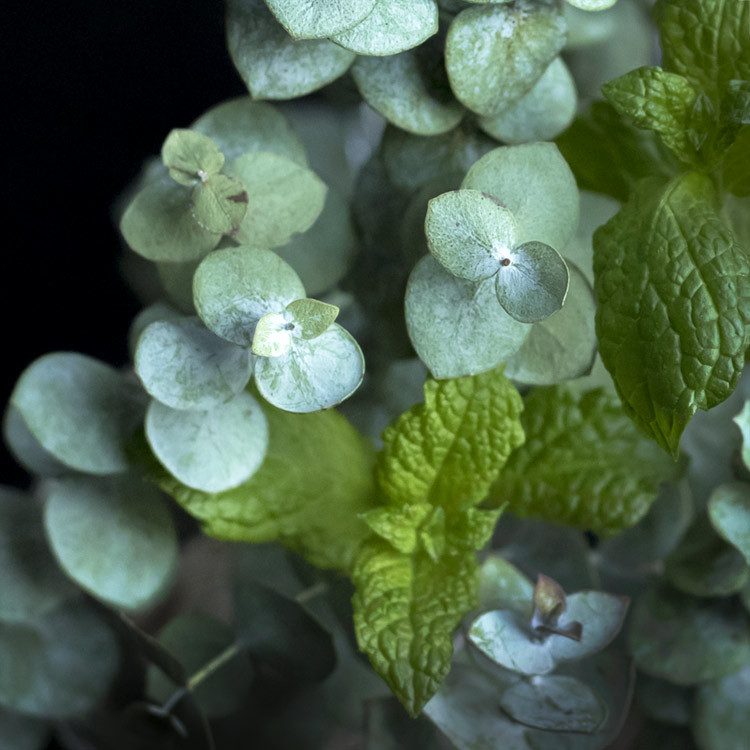 Ready to Order?
6+ 5lb Jugs
$84.84
$1.06 /oz
Safer Scents For The Home
CandleScience Clean Scents™ are free from carcinogens, reproductive toxins, and other potentially hazardous chemicals often found in fragrance. Choose Clean Scents and create safer home fragrance products you and your customers can enjoy with confidence.
Read More >
Details
Now Phthalate-Free!
WHOLESALE PRICING NOTICE:
The 12+ 5lb jugs wholesale discount for Peppermint and Eucalyptus is temporarily unavailable due to raw material sourcing issues. We are monitoring the situation and will reinstate wholesale pricing as soon as we can. Please contact us at support@candlescience.com with any concerns.
REVISION NOTICE:
It is our policy to notify customers if any part of a fragrance was changed for any reason. As of
January 23, 2018
our Peppermint and Eucalyptus was revised to meet our stringent safety standards of being Phthalate-free. The original strength and fragrance characteristics have been preserved. To see details of the previous version,
click here
.
Our Peppermint and Eucalyptus fragrance blends sweet peppermint with tingly, earthy eucalyptus for a refreshing spa-like scent. Hints of cedarwood add depth that make this a perfect year-round fragrance. Peppermint and Eucalyptus candles bring an upscale scent into any space. The fragrance is wonderful for entryways, hallways, and living rooms since it beckons people in and invites them to stay. This fragrance is beautiful in bath and body products such as soap, foaming bath scrubs, and lotions. Create an instant spa atmosphere with candles, body care products or reed diffusers made with Peppermint and Eucalyptus.
This fragrance oil is infused with natural essential oils, including eucalyptus oil, cornmint oil, cedarwood oil, and patchouli oil.
Note Profile:
Top: Eucalyptus, Peppermint
Middle: Cedar, Clove
Base: Patchouli, Vanilla, Powder

Suggested Colors: Any shade of green
See our complete list of candle making dyes and soap colorants.
Note: Bottles filled by weight, levels may vary.
Properties
Candle Safe

Yes

Usage: 3-10%
Soap Safe

Yes

Usage: 3-6%
Vanillin Content
0.01% - 2%
Soy Performance
Flashpoint
198 °F
Phthalate Free
Yes
Prop 65 Warning Required
No
Diffuser Base Compatible
Yes; Up to 25%
*Usage amounts are recommendations only. Individual usage amounts can vary based on your desired fragrance strength, wax type, soap base, or lotion base. See IFRA certificate for max usage levels.
Documents


Cold Process Soap Performance
| Acceleration | Discoloration | Separation |
| --- | --- | --- |
| None | Dark Tan | None |
Lye Water temperature 118ºF
Oil temperature 114ºF
We did not experience acceleration or separation. The batter was very slow to come to a light trace and was easy to work with. After 24 hours there was no discoloration, and the scent was strong. We did observe a partial gel, and there were signs of overheating through the center. After the cure, the soap turned a dark tan shade with a strong scent remaining.
Reviews
The after smell with this candle strongly reminds me of some kind of aftershave.
I love this combination! Can I suggest a eucalyptus and tea tree blend !!!!
Great for candles, soaps, lotions, and steam bombs.
So funny story about this fragrance. When I got it I did NOT like it. I actually gave all the candles away. One day I walked into my sisters house and said your house smells amazing what are you burning.
She's like that candle you don't like, then laughed at me.
It is now a favorite of mine as well as my top selling candle! ❤️❤️❤️
more peppermint than anything
I do love this scent, although i got no other scents but mint from it. Very grateful it is a peppermint rather than straight up mint. It has a sweetness to it, but no eucalyptus. The CT is great but I didn't get too much of HT at all.
Really don't like this scent wish candle science had a better eucalyptus blend like Spearmint Eucalyptus cuz this one is funky
Used this in a candle and once it cured it literally smelled like a nursing home
I love both Peppermint and Eucalyptus scents so was partial to this before I even opened, however, it was a HUGE seller for me over Christmas holidays and eve into January. Can be both a festive holiday scent or a clean crisp scent for the new year. I love it and so do my customers.
I took one of my sample candles to work, and most of the nurses were not fans of the scent. One doctor stated that the scent reminded her of medicine....
The peppermint scent is pleasing when you open the bottle. However, I don't feel this is a great scent for soy candles. The HT is very dull and smells weird. Not a hit with my customers.
I keep this blend year round and it's always a customer favorite. I don't pickup on any patchouli notes but the rest is very accurate to me. Just be careful when pouring this oil into your wax as the peppermint can really tend to tingle your eyes and nose!
Wonderful Peppermint, Eucalyptus Scent. JUST WONDERFUL!
I bought an 8 oz. bottle of this fragrance, and I have to say, it is exceptional! I've used it in foaming soap scrub, soap, and foaming body lotion and it has such a clean minty smell that my fussy husband loves!!!! LOVE IT!
, i would suggest adding up to 50-60 drops because the scent can be underwhelming, great for relaxing.
very distinct peppermint scent
This scent smells just like peppermint which is perfect for those who are looking for a great peppermint scent. It is a very strong scent and has a good cold and hot throw. It fills up the room when I am making candles. I've asked people to guess the scent and everyone knew it was peppermint. Overall, this is a amazing scent for those who love peppermint! I used it in my winter collection!
I love Peppermint and Eucalyptus smells so relaxing will definitely be a permanent option.
This scent is amazing and so refreshing. I don't know what the haters have against this. I get this scent special requested in my candle collection. Maybe try renaming it? Psychology has a lot to do with selling anything. I LOVE this scent. Please don't ever change it
AMAZING!! Perfect for the weather!! The ht is so strong and it clears you right up!!!
AMAZING!! Perfect for the weather!! The ht is so strong and it clears you right up!!!
I'm a huge fan of Candle Science and purchased this fragrance upon a customer request. Nobody, including the customer who made the request, likes this particular scent. The peppermint is excellent, but the eucalyptus is off-putting. I'm writing in hopes that someone would recommend a fragrance oil with which to mix this one to tone down the eucalyptus. Thanks in advance for any good advice!
Thank you for leaving a product review. A member of our support team has reached out to you to better assist you!
The hot throw on this candle is phenomenal! The cold throw is quite impressive as well. I definitely intend on purchasing again.
This scent is amazing. It's so relaxing. It definitely gives off a spa like feeling. I highly recommend it.
Very strong scent, wonderful fragrance. I would think that anyone who appreciates a good pepermint fragrance would love Peppermint and Eucalypyus from CS.
This scent is so crisp and refreshing in candles. Great as a wake me up type scent to brighten your day.
This fragrance is AMAZING in deodorants. I will keep coming back for this one!
Oh my..... I said this scent is an awesome candle scent.... I instantly made this apart of my fall candle line. I call it GOODMORNING GORGEOUS.... it's definitely a reorder.
I bought this fragrance in the 4 oz size because I was making a lot of candles and I want more of it! Smells wonderful OOB but even better in wax! It's slightly sweet, but in a nice, subtle sweetness and not a sickly sweet. I think it smells almost like a winter or holiday fragrance oil and is a way to have a little bit of the holidays all year round.
I absolutely love this FO, smell is calming and delightful! Will be purchasing again.
My experience with this FO is that regardless of the temperature at the time I pour into the wax (soy 464), after setting for a day, I notice that the FO leaks. I have added the FO to the soy wax at 185 degrees and also at 170 degrees and the results have been the same. Has anyone else experienced this? This is the second batch, totaling about 6 candles and they have each done the same thing. Open to any feedback/suggestions one can offer. Aside from this problem, I think it smells great and it's actually one that people inquire the most about but I'm 98% close to removing it from my menu.
This is a Best Seller! I think it's because it's a "year-round" fragrance and people are craving calm and soothing right now...
I wasn't expecting much because this isn't usually my kind of fragrance. But I've been so pleasantly surprised! My go-to fragrance after a stressful day. Not medicinal at all. Pleasant and calming and slightly earthy. Solid performance as far as sales. We've seen an uptick in sales of this and lavender. Stressful times maybe?
The hot throw is decent as is the cold throw. Falls in the middle, comparatively speaking. All in all a solid fragrance that we're keeping year round.
One of my best sellers especially during allergy and cold seasons! Love how strong it is in HT & CT.
I absolutely love this fragrance!!!
Great job!!
I bought the 4oz the smell is very light so I'm afraid it might not smell like anything once my candle is completed. Will update!! Probably won't purchase again...
I thought this fragrance was just EH but I have SO MANY clients who are obsessed over it! SO MANY. I'm not complaining!
I am getting into candle making specifically because if this scent!! It's soft and does not she'll like vix vapor rub!! It's amazing 😍
This doesn't smell like peppermint at all. I don't know what I expected, but 'pimp cologne' wasn't it. It's very strong and it reminds me of some guy who wears too much cologne to try to mask the fact that he hasn't taken a bath in weeks. It's the scent you smell in passing and it lingers in your nose long after you've left the room. I would avoid this fragrance.
Needs more eucalyptus....
Was hoping that this would be a "cleaner", "crisper", scent. Instead, to me, it smells like Pine Sol. And not in a good way. I'll use it on some candles and give them away as gifts, but I am really glad I bought a small bottle of this.....
It would be a much better scent if it had more eucalyptus.
90% Peppermint 10% Eucalyptus. Wish they would create a simple Eucalyptus scent maybe with a hint of sweet.
Surprisingly a great scemt
I'm personally not a fan of mint, but people really love this scent. It smells clean! It's funny because I've had customers tell me they've lit their candles with this scent and feel like it's cleared up their sinuses.
We sell soy based bark wax melts and the P & E melts have sold well and continue to even after Christmas. We plan on carrying year around, it has a spa quality to the smell and has great HT.
This has an amazing hot and cold throw. I use it in 464 soy and put it in tarts as well as candles. As you burn it the scent seems to change a bit to a soothing cooling sensation.
People love it and so do I!
Do not be afraid to try this one out.
I also made some fragrance spray out of it and we have used it at work in our lobby and the customers always ask what that amazing smell is.:)
Beautful aromatherapy scent. Strong powerful scent
I love this scent. Nice indeed.
It's earthy, pepperminty goodness!!!
I did not think this would be a top seller; but it sell out so fast! Thumbs up!
This is one of my personal favorite fragrance. It throws so well in container and melts. I had a customer base year after year especially during Christmas that orders dozens of my container candles.
The scent is perfect! I love peppermint candles and this is the perfect scent! It is strong but I love that!
I used this in cold process soap and it behaved perfectly! The scent retention is very good ! A lot of mints fade in cold process soap. I find this also to smell really realistic which I love. It has a little bit of an earthiness to it and strong sweet mint smell.
I have tried several peppermint and peppermint blends for my soy candles. This scent is the ONE! A nice fresh peppermint with a slight sweetness. I don't smell much Eucalyptus, but I don't really care about that. I get a nice strong minty throw in my candles!
This FO is extremely strong! And it makes me sick. I didn't think it would be so overpowering. You can smell more peppermint than eucalyptus which was a little disappointing. And when I received the package a lot of the FO leaked!
What you like comes down to personal taste, I know. To me, this one smells like a cinna-mint toothpaste mixed with grandpa. Not a clean peppermint/herb mixture that I was expecting. It'll be good to test mixing with other stuff, but I really don't like it on its own.
My customers are obsessed with this scent!!!
Yes, you do smell the peppermint more but so what. The customers are loving it and so do we. We sold out at our last craft show. It's a very complex scent it's not like you only smell peppermint and eucalyptus. I tested so many others that were just so weak before I found this one. We charge $26 for a 16 ounce so they MUST be strong. This scent is up lifting energizing and it may even help you breath a little bit better! LOL! I'm very impressed with this scent and I hope CS will continue to carry it. Be careful when you are making it because it will be extremely strong and may make your eyes water. We do ours at 12% so when we make them it's intense. But as the is lit in the room it's just perfect. PS Other fragrances I tried never got a fmp, this one did without us having to change the wick. It just takes awhile which is great because then the candle lasts longer.
Like the title of my review says, it's nothing more than another peppermint fragrance. I gave it four stars because it's an intense peppermint. I'll find a use for it.
Not too bad of a smell - I've been calling these the headache candle since it smells of mostly peppermint. I was hoping for some stronger Eucalyptus smells!
I absolutely LOVE the smell of this fragrance! I know that I will be using it for soy candles for the holidays. I used it in CP and I found that it accelerated in batter at about 115 degrees. My loaf went from drop swirl to plop swirl, lol. The bars still look and smell amazing. I am going to do another batch soaping cooler (at room temperature) and see how we fare. I will update after the next batch. :)
The peppermint is definitely stronger than the eucalyptus but oh my! I cannot stop smelling this one! Clears up my sinuses immediately ha ha! Love it!
Used this sent for the second candle I ever made and I loved it! Both the cold and hot throw are wonderful- a nice crisp sent. More heavier peppermint notes than eucalyptus.
Light, clean, and fresh smelling. Definitely a favorite.
not sure why I didn't get much scent
Love Candlescience and always feel their products are top notch. However when I recently made candles with this scent I feel it fell flat and has not much scent at all despite putting the highest allowed amount in....disappointed
I cannot keep this scent in stock! Great scent throw with my soy wax blend, great with wooden wicks. Great in bath bombs also, and gives you a fresh tingle in your soaps
I love this FO because I have been able to streamline to just this one instead of blending several like I did the past few years. I use it for soy candles, cold process soap, bath salts, and bath bombs. Very good Seller year round. Customers think it is tea tree and it is similar I think. The tea tree/peppermint fans LOVE it and both prefer this FO over individual tea tree/peppermint fragrances. Thanks CS and keep up the great fragrance oils.