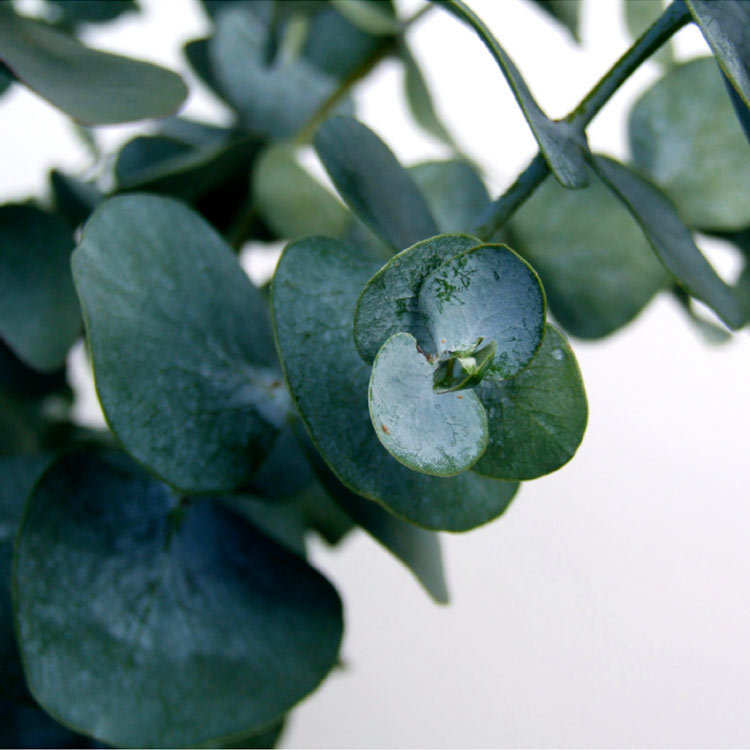 As of 01/10/2018:
This version of Peppermint and Eucalyptus has been discontinued and replaced with the new Peppermint and Eucalyptus. Click here to check it out!
Details
REVISION NOTICE: It is CandleScience policy to notify customers if any part of a fragrance was changed for any reason.
As of January 23, 2018 our Peppermint and Eucalyptus was revised to meet our new stringent safety standards of being Phthalate-free.
Invigorating blend with peppermint, patchouli, cedar wood and eucalyptus. This fragrance oil is infused with natural essential oils, including cedarwood, eucalyptus, patchouli and peppermint. Note Profile:
Top: Peppermint
Middle: Eucalyptus
Base: Woody


Suggested Colors: Any shade of green
See our complete list of candle making dyes and soap colorants.
Note: Bottles filled by weight, levels may vary.
Properties
Candle Safe

Yes

Usage: 3-10%
Soap Safe

Yes

Usage: 3-6%
Vanillin Content
0.01% - 2%
Soy Performance
Flashpoint
189 °F
Phthalate Free
No
Prop 65 Warning Required
No
Diffuser Base Compatible
Yes; Up to 25%
*Usage amounts are recommendations only. Individual usage amounts can vary based on your desired fragrance strength, wax type, soap base, or lotion base. See IFRA certificate for max usage levels.
Documents

Reviews
This smells just like old man cologne. Not at all what I was hoping for.
The most amazing scent but not phthalate free so I won't be purchasing.
Anyone who hates this scent is cray
This scent is the best scent CandleScience has to offer. I've been using it in candles for 2+ years now and nobody I've known hasn't loved it. Even my parents who don't really care for candles ask me to make them this one once there's has run out. It's a beautiful scent that smells up your place with its heavenly aromas. Relax. Rejuve. Revive.
I was really excited about ordering this since I love eucalyptus. I was incredibly disappointed with this scent. It reeks of peppermint and nothing but peppermint. There's not even a light note of eucalyptus at all. Note, I used this to make my soap. I don't know how well it will work in candles or lotion. It might work better in something other than soap. From the bottle it reeks of peppermint and nothing but peppermint. There's not even a light note of eucalyptus at all. I don't think I'll ever order this again.
When I first made this candle I couldn't stand it. The cold throw wasn't there at all. After a few weeks you could really smell it. Still it wasn't my favorite so I gave them away as Christmas presents. One day I walked into my sisters house and told her it smelled amazing. She said it's that candle you didn't like. haha.. Needless to say I had to try and make another batch and lit a few in my salon. My clients loved it. I must say I like the smell of it burning better. It was a pleasant surprise.
Awesome throw, top seller!!!!!
I love love LOVE this FO. It's been my favorite for awhile now. Unfortunately I just noticed that it isn't phthalate free so I will no longer carry it in my store. Such a bummer!
Peppermint and Eucalyptus
I bought this scent because I saw a lot of people raving about how good it smells and their clients loving it. This scent to me smells like pine sol .. I will not be purchasing this again. This is not what I was expecting.
Performed well in GB 464. It smells really good, but seemed to fade, but I could have just gotten used to the smell in the air.
LOVE IT, but it's not phthalate free
This scent is amazing! Great hot and cold throw, but contains the toxic phthalate. It may not matter to some, but to a lot of folks it does. I made a large batch of candles with this oil for a festival and every single one sold out. However, I missed that it is not phthalate free. SUCH a bummer because I chase my tail around the candle/oil distributors world so I can create my own phthalate free version. PLEASE consider revising the formula!
I absolutely love this scent! The scent is so fresh and clean. It's perfectly balanced with the eucalyptus and mint! It's become my #1 seller!
This is one of my favorite scents - I could burn this year round - and sometimes do. I've been very happy with it in candles and looking forward to trying it in soap next.
The fragrance combo of eucalyptus and mint is my absolute favorite and I want to totally wallow in it. I want to order your entire stock! Unfortunately, your version is not phthalate free. Sorry, that's a deal-breaker. Disappointing.
This is a sweet mint, reminds me of chewing gum and also sort of masculine, maybe from the patchouli and cedar? I can sense the peppermint EO in the tingle you feel in the nose with mints. Unfortunately, I noticed after purchasing that it contains phthalates, so therefor I will not be using in my candles. Looking forward to trying the reformulation in the future.
This fragrance transports me right into a spa/massage day. Love! this stuff. 5 starts with me. Strong when you first mix it and then it's heavenly!
Not sure why this is rated 2, it has a very strong hot and cold throw!! I put it in the bathroom and within the hour my whole apparment smells like eucalyptus and peppermint. You can definitely smell both. It is a really good smell and is true to its name. Next time I might try using a little less for a lighter smell. I like a strong scent but might be better just a tad lighter. I used 1 oz to 1 lb of GB464 soy wax.
AWESOME clean - fresh scent
I had a 1 oz free sample of this scent and love it. I made a double molded pillar candle using this scent in the center and put eucalyptus leaves and stems on the outside mold. It came out beautiful, I am kind of proud of myself LOL. My family loves this scent and I will be buying a bigger bottle.
Wow... Excellent In Soy !
Love this scent! The cold and hot throw are AMAZING in soy wax. Not sure why this has a 2 star rating in soy because it is strong, IMHO. I agree that the peppermint is the strong note, but I definitely smell the other notes of cedarwood and eucalyptus with very light hints of the Patchouli. Great scent!
Very strong peppermint with but very weak eucalyptus still smells very nice though
Why pay top dollar for a trip to a spa with a eucalptus room? Put this one in the bathroom and steam up the shower! So relaxing! Great for the bedroom too! Love it!
I purchased this scent, because it was requested by a few customers. It is very relaxing and man it is great for those allergies or stuffy noses. My nose was stuffed up when I made this scent for the first time and by the time I was done, I had a runny nose.
It has a decent throw in soy, but I hardly smell the eucalyptus at all. I can smell the peppermint, which is nice, but I wanted to smell both notes.
This scent is WOW! I always sell out of this scent first whether in candles or soap. The combo is just right with neither Peppermint or Eucalyptus taking over. I used it in Feather Wax Votives and they got rave reviews!
I just got done testing this in soy wax and the throw is fabulous. I put it in the upstairs bathroom and could smell in all the way downstairs. Very strong.
I love this scent! The smell is so fresh and clean. I'm not a huge fan of flowery/bakery scents, so I'm constantly trying to find scents that I enjoy. I find this scent soothing and peaceful. The throw isn't killer, but it's enough to scent my city apartment. I have yet to start selling my candles, but if I do, this scent is definitely going to be included in my line. (Used in CB 135)