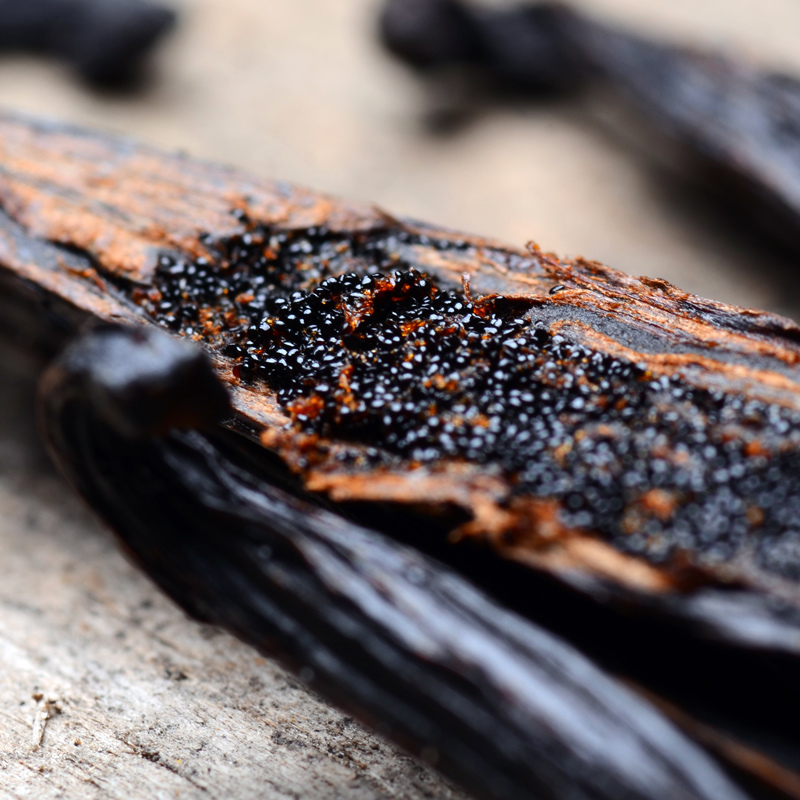 Ready to Order?
3+ 25 lb Pails
$342.92
$0.86 /oz
Safer Scents For The Home
CandleScience Clean Scents™ are free from carcinogens, reproductive toxins, and other potentially hazardous chemicals often found in fragrance. Choose Clean Scents and create safer home fragrance products you and your customers can enjoy with confidence.
Read More >
Details
REVISION NOTICE:
It is our policy to notify customers if any part of a fragrance was changed for any reason. As of
April 21, 2020
our Very Vanilla was revised to be approved for use in bath and body care products. The original strength and fragrance characteristics have been preserved. To see details of the previous version,
click here
.
Very Vanilla is a classic gourmand fragrance for any room, any time of year. Notes of vanilla bean, buttercream, and cake are rounded out by a hint of bourbon. Very Vanilla creates a calm and comforting atmosphere, and enhances other fragrances with its warm, sweet scent. Candles, tarts, and wax melts infuse areas with nostalgic vanilla aromas. This vanilla fragrance adds a beautiful sweetness to soaps, bath butters, and scrubs that invites you to indulge and pamper yourself. Very Vanilla is a classically lovely fragrance all on its own, and makes a great blender, too.
Note Profile:
Top: Buttercream
Middle: Vanilla, Cake
Base: Sugar, Bourbon

Suggested Colors: Ivory, Brown
See our complete list of candle making dyes and soap colorants
Note: Bottles filled by weight, levels may vary.
Properties
Candle Safe

Yes

Usage: 3-10%
Soap Safe

Yes

Usage: 3-6%
Vanillin Content
More than 5%
Soy Performance
Flashpoint
> 212 °F
Phthalate Free
Yes
Prop 65 Warning Required
No
Diffuser Base Compatible
Yes; Up to 15%
*Usage amounts are recommendations only. Individual usage amounts can vary based on your desired fragrance strength, wax type, soap base, or lotion base. See IFRA certificate for max usage levels.
Documents


Cold Process Soap Performance
| Acceleration | Discoloration | Separation |
| --- | --- | --- |
| None | Dark Brown | Excessive |
Lye Water Temperature 110ºF
Oil temperature 117ºF
We experienced complete separation with this fragrance. After approximately 2 minutes of stick blending there was no sign that an emulsion was going to form then suddenly the batter became chunky and there was a clear separation of oils and water. At this point, the oils had turned brown from the fragrance. We were able to dump the mixture into a crockpot and hot process the soap. After 24 hours the fragrance was still incredibly strong and the soap had discolored to a dark brown. After 30 days, the fragrance is very strong and has almost a bourbon vanilla character. The bars discolored to a deep chocolate brown color. We would not recommend this fragrance in a cold process application but it will still be great for all other personal care products.
Reviews
This one is very popular in my candle line!
Accelerated too fast for use in cold process soap! Scent is AMAZING, but I mixed to emulsion, turned around to get a pitcher and the soap was like gelatin.
You won't regret buying this scent is just amazing, I gave out samples to family members and friends and they are hooked!! has an amazing hot and cold throw, one of my favorites so far!!
Best Vanilla, works so well for us, Please never discontinue this!!
This vanilla is a truly yummy scent. When making the candles we used an 8% fragrance load. The air smelled great for days!
I am giving this one star because no matter what I mix this FO with it still smells like pure chemicals. Nothing sweet about it!
I have been using this scent for years. It is by far the best Vanilla scent that I have ever found. Great hot and cold throw, and everyone loves it.
I signed on here today, looked at my previous order of this product and nearly died thinking it had been discontinued! I soon realized that the old formula had, but they still had this scent in the new formula. I was worried that I was going to have to search everywhere for a new go to Vanilla Scent!
Smells like true vanilla bean. Has a lighter hot throw which is not too overwhelming
I'm so picky about my vanillas, but this is absolutely dreamy. In my opinion it's the perfect vanilla! amazing ct and ht.
True to bakery and bean type vanilla NOT sweet buttercream vanilla
I see so many mixed reviews on this one and I get it because I think it is falsely advertised as a buttercream like vanilla when it is more true to vanilla beans and more of the cake vanilla. HOWEVER... I have been looking for exactly that, a more true vanilla that is less sugar and sweet and more true and this is it for me. I have tested many and this one comes out on top. I think they should update the fragrance notes for accuracy but I do love this scent. Be sure you know what kind of vanilla type you are looking for. Much more like vanilla extract than vanilla icing.
This stuff is awesome!! Love it. Will be using more of it!
Anyone who cant get a hot throw from this fragrance must be using wooden wick wax lol the coconut oil diluted crap wax. This fragrance is so strong at 6% in REAL coconut soy wax blends. Its VERY vanilla.
No hot throw even after adding at 185+
I read all the reviews and thought "they're just not testing enough. I got this." Boy was I wrong! I have been testing this Fragrance Oil (FO) in MULTIPLE candles for weeks and still have nothing to show for it. I love the scent OOB but now have wasted almost an entire 16 oz bottle on this FO. I added at 170, 175, 180, 185 and even 190, and also tried at 8% and 10% as CS suggested when I contacted them. Still nothing whatsoever. It occasionally will have a FAINT CT but I have yet to get any HT. Also tried curing for 48 hours and even 2 weeks (even though it's definitely not necessary when using 6006, but I wanted to leave no stone unturned.) AND tried other wicks. Nothing. Worst FO I've ever gotten from them and I hope they fix it soon. For now I'm gonna order this FO elsewhere.
Good throw, not my fav scent
I get the mixed reviews on this scent... I thought it smelled ok at first, but my roommate hated it. Now I get it too. It smells really chemically and not quite like vanilla. I won't be buying this again, and have tried a bunch of vanillas from a different supplier to find a better one. Candle science is my favorite supplier and they need to get a different vanilla option!
This fragrance has made my favorite candle so far! It smells amazing. I couldn't be happier. Even my spouse is excited to use it and they don't usually go for vanilla scents. Excited to experiment with mixes in the future!
Out of the bottle this scent is SO strong! Exactly what I anticipated. I bought this to mix with other scents so that is great. I am looking forward to see how this performs in my 464 wax.
This is one of my best sellers! I love the scent of vanilla and it is true to its name....Very Vanilla!!
I'm not super into vanilla fragrance myself, but customers really love it. We did a trial batch for my partner's co-workers and they loved it - we did a poll with our IG and like 99% of the respondents wanted us to bring it on to the brand regularly. We use a lot of Very Vanilla as a blend too. We mixed it with chocolate fudge and fireside for a s'mores one for Fall!
Very sweet but goes well with other fragrances
This is one of my popular scents for candles, however did not expect it to smell so sweet. I typically mix very vanilla with other fragrances. I am shocked to see how low the ratings are.
I absolutely love this scent! I don't really understand the amount of negative reviews, but I haven't tested it in candle-making, either. The scent may present differently or less strong than how it smells out of the bottle.
The vanilla is very potent and sharp, like a rich cake batter. May not be for everyone, but I like it, and it mixes well with other sweet dessert scents.
Vanilla scented batches are not consistent
The first batch of Very Vanilla smelled wonderful and had a great hot and cold throw. My vanilla candles sold out constantly. This last batch isn't strong at all and did not bind well. The cold throw has very little of a vanilla smell and actually has an unpleasant smell to it. I can't sell these. I will have to eat the cost of these which is so disappointing. Vanilla is my client's favorite scents.
I love this Vanilla scent!!!! I personally LOVE the scent of Vanilla, and when I saw the reviews, I was a bit skeptical, but I'm so happy I tried this out! I didn't get any discoloration, and it made my room smell so sweet! Will buy again
This vanilla is so amazing. I had ordered tons of vanillas from other suppliers, but avoided CS' for a while because of the reviews. Finally I tried a sample and WOW. I have since ordered three 16 oz bottles in less than two months. It is a complex vanilla and has a great hot and cold throw. I can't keep this scent on the shelves. One client loves it so much she ordered 30! The only issue I experienced was the scent not fully binding. After some troubleshooting, I lowered my percent to 6% instead of 10%, and I poured it into my wax while the wax was still on the heat - at 185. And I stirred for a good 4-5 minutes. Works like a dream now!
The best vanilla FO I have ever tried. Calling this fragrance "nasty" is beyond ridiculous. Maybe a different choice of words would be more appropriate and professional.. I have been using this fragrance for two years or so, my customers love it. I love it. It is so delicious people are always joking they want to eat it. I will not change it for any other vanilla fragrance ever.
CandleScience has a lot of great fragrances... but this isn't one of them. In my opinion, this scent is really nasty. It reminds me of Robitussin and that gross medicine smell. I'm so happy I only got the sample and didn't invest in more. This scent is definitely getting tossed out.
I was excited to try this - but to be honest - did not smell anything at all. This fragrance is not strong enough to fill up a room.
Very Vanilla Fragrance oil smells lovely and I was so excited for my cold process soap. As soon I mix the lye water to the oils the mixture started ricing. I continued to blend in hope it would blend out. As soon as I poured the soap mixture into the mold it started separating. Oh well, lesson learned. This is the only fragrance oil from Candle Science that has not performed as expected. On to the next soap batch.
I love this scent. For me I have both beautiful hot & cold throws.
I have filled 2 oz candle tins and 12 oz jars and the consistency is well-consistent!
I am new to candle making but really happy with my selection of Candle Science fragrances for my soy candles.
I had really high hopes for this one, and unfortunately like others have had the same issue with the FO separating and sinking to the bottom. All of my other Candle Science FO's have been perfect, but this one just fell apart.
Hi there! Thank you for reaching out to us so we can help!
Smells like a sharpie in the bottom and pancake mix once lit. Do not recommend.
Very disappointed. I wanted a natural vanilla to blend with lavender and this just doesn't work. It's sweet and smells like a bakery if you like that kind of thing. It is VERY vanilla, but just not what I was looking for.
Great Scent!!! However the oil doesn't bind and sinks right to the bottom. Tried mixing at different temps. Using IGI6006
Hi! A member of our team will be reaching out shortly!
I highly recommended for candles. About cold press soap if you are looking for a brown soap you can used it. I sold them very well. My clients are very please with the scent of Very vanilla in candles and soaps.
I love vanilla scents and really like this one but when I added it into the wax it sunk at the bottom leaving an oil pool. Kind of disappointed.
If you like vanilla - this will be a fav!
This is another one… Bad reviews and I totally don't get it. This is my favorite vanilla scent ever! I get so many complements - it's a customer favorite for sure.
If I need to make my house smell fabulous in a short amount of time… This is the go to candle.
I just recently started my own business, and I love vanilla. This fragrance was amazing. It smelt like vanilla frosting. . But like others I've seen in the review. The oil dropped straight to the bottom after I poured them, however it was only when I was to the last few 8oz jars I poured. I had to add more wax to balance out the oil and it turned out "ok". . This is the only fragrence so far that I've had this problem with. More then likely I will not be using this one in the future.
Hi! A member of our team will be reaching out shortly!
Disappointed, Unpleasant stench
First, the Out of bottle smell was horrible. The same stench transferred in the CT. The first time I tested, I mixed it with lavender. It sank to the bottom of the candle leaving a pool of oil underneath the solidified wax. The second time I tested it I mixed it with Rose Petals. The stench was still there in the CT but the HT was amazing, perfect even. However, once the candle went out the whole house had that unpleasant stench. I'm not sure if I got a bad batch or what.
In all honesty, when I first opened the bottle I was disappointed. I thought it smelled horrible, but I figured, as a first time candle maker, I'd try it anyway. I am soooo happy that I did! The cold throw is incredible! I haven't burnt one yet, but I have high hopes.
This is the only scent I got that won't bind. Everything else was great
Hi! We're glad to have helped troubleshoot this for you!
Cold throw was very weak. Will not be purchasing again.
This is the best Vanilla scent!! This scent has become my best scent...It will be a permanent part of my candle line
I'm not big on Vanilla, I use this Vanilka in one of our combination of oils for our aroma Ornaments, candles & tarts & our customers love it! It's an extremely strong scent, it doesn't take much in any form.
When added to wax it sunk right to the bottom and beaded up. So sad all other scents were amazing.
Hi! A member of our team will be reaching out shortly!
The smell was faint, not a very strong scent. I smelled the wax more than anything. SO if you like light smelling vanilla than this is for you
I love this scent and use it in my soy candles, so I decided to make goat's milk soap with it. The soap looked ivory at first, but after a week it turned to an unattractive gray-brown color. I will not make anymore vanilla soap. This is my first bad experience with Candle Science oils.
I want to make this scent work because it has such a true smell to Vanilla but I can't get it to mix with my wax. I use IGI 6006 and I'm adding the fragrance oil at the correct temp. (185). It continues to sink straight to the bottom. I wish Candle Science would solve this problem. It has so much potential.
Hi! A member of our team will be reaching out shortly!
I hate the smell of vanilla
I hate the smell of vanilla. Car scents, home sprays, wax warmers, and candles. I only bought this fragrance because my customers demanded vanilla and Jeff Stanley recommend it. I am so glad I bought the 16 oz. I tested it in a container candle, 6046, and I'm in love. It doesn't stink like burnt sugar or give me headaches. No problem mixing my wax, no discoloration on my bright white wax, strong hot throw, my kitchen and living room smells so good. Gonna try wax melts next.
I'm not sure why all the negative reviews. I absolutely love this vanilla scent. Typically vanilla can smell like chemicals and very artificial, but this one does not. It's very natural rich and warm.
Very Vanilla = 5⭐️⭐️⭐️⭐️⭐️ for Black Cat Candles‼️
I'm just RE-starting out again and tried this strong scented Very Vanilla about 2 (?) months ago... hoping it would add a positive leap to what was going around several years ago (2014-ish) for vanilla. Every candle I gave out was this scent and not only was I ecstatic, every single candle tester I gave one to remarked on how much they loved this strong vanilla scent! I'm basically on my own AND only living on SSI and it's not much, so I'm struggling get just a few ready to sell. I'm going without dye right now and have changed my company's name, too. I can't even afford the company labels this month, but will manage something! Definite will be featuring this strong vanilla scent! ♥️♥️♥️
I tried to make a chocolate vanilla soap. Separated 2 batches. The chocolate FO was a win. But this Vanilla FO ruined the white vanilla batch. And did not smell even a little bit. We need another type Vanilla.
Hi! I'm so sorry to hear there had been some fragrance throw issues! I have reached out via email with some more information. Thank you for alerting us to the issue and I look forward to finding a solution for you!
Scent wouldn't mix with wax. FO sunk right to the bottom. Bummer. Every other scent we have gotten from you is amazing!
Hi there! I'm sorry to hear you're fragrance isn't binding with your wax. For the best results for binding, we recommend adding your fragrance oil at 185°F and stirring gently for 2 minutes! This is the optimal temperature for the fragrance to fully bind with wax. Exceeding the maximum fragrance load for the wax that is being used can also cause mixing issues as well, so please be sure to measure out your fragrance and that it's not higher than the maximum load! I hope this helps! For any additional questions or concerns please feel free to reach out to Customer Support at support@candlescience.com.
I miss the old very vanilla this on isn't strong at all it's very light and no vanilla scent at all. I'm so disappointed with this purchase. I need to mix with another vanilla fragrance. I still love candlescience tho!
Smells nice, but the throw wasn't as strong as I would like.
Nice vanilla scent; however, the throw wasn't as strong as I would like it to be. If the throw was stronger this would get 5 stars.
I cant lie this smells just like 100% pure vanilla extract which didn't mix well with my body butter for me. Its very light and kind of dull. You can smell the sweetness but not "vanilla" per say. Had to mix with another vanilla fragrance
I LOVE this vanilla! I personally love it for mixing, because of the bourbon (possibly) this vanilla is not incredibly sweet. It smells more like actual vanilla that you use for baking, the real stuff not imitation. I've mixed it with chocolate fudge, Macintosh Apple, coconut lime, just to name a few. It adds a nice creaminess to certain fragrances that my customers love.
Best Very Vanilla i've EVER smelled, i'm a Vanilla Person by heart ...my Ice Cream soap, etc ...this is a true Vanilla bean smell !! i've also been making candles well over 20 years now, only the best !!!!!! if your leary on this scent get a small sample, absolutely the best smell of vanilla 5 stars
This very vanilla fragrance is true to form. It's sweet but not overwhelming, warm and inviting. I am not a fan of vanilla fragrances but this is at the top of my list. Smells amazing after curing in wax and has wonderful CT and HT.
Ruined all of my candles from multiple batches and literally smelled like a cooked hotdog with only the scent of the wick burning being thrown. Discontinue this please! We had to throw SO MANY out.
One of my favorite vanillas that I've tried, especially compared to other brands. This is a true sweet vanilla, don't let other comments fool you, I detect no bitter notes at all! You can smell the buttercream and sweetness of this fragrance. Definitely recommend!
The top notes of this FO is delicious but the bourbon adds a bitter unpleasant scent to the bottom note. I made paraffin wax candles and thIS FO did not blend with the wax at all. I thought it was something tnat I did wrong but I see others had the same issue. I don't want my FO to go to waste. What can I do to get it to blend with the wax?
Thanks for leaving a review! We're sorry to hear you're having issues with getting your fragrance to blend with your wax. A member of our support team has reached out to you to better assist you!"
Very vanilla indeed! Almost overpowering, but, the name doesn't lie.
I made a small tester candle and burned it yesterday. I use soy wax from a different company. It blended well. I used 10% . Had decent HT and CT. Smelled better in candle than in the bottle. Does it smell like true vanilla? no. But almost exactly like cool whip lol! I do like it, but not true vanilla so still on the hunt, but way better than the several other vanillas I tried. I love the smell of real vanilla extract and vanilla bean. I feel like all FO I have found miss the mark and have a cloying notes that make me feel sick. I have lots of customers who love vanilla notes so maybe this one will do the trick?
also, thank you for changing your fragrance formulas CS! I live and CA and even if I didn't live here, I personally will not work with fragrances that do not meet high standards of safety. Because of this I trying out more of your oils am using mostly your fragrances to create my new fall and winter line. Cheers!
Everyone likes different scent but I did not like this scent and will be returning if possible. The smell is not pleasant and smells more like roster chemical vanilla.
I love this scent. Unfortunately, it does not mix well with my wax. I tried it once and thought I had left over water in the mold, but nope, tried it again and same thing happened.
Unfortunately with everything candle science is doing lately another once great product turned to garbage with its recent changes to it. Wont mix with wax anymore just sinks to the bottom. Used to love this scent
Hi! We're so sorry to hear this happened and we'd be happy to help. Our support team has reached out to you via email!
Smells Great but it does not bind with 4627 wax..
Hi there! I'm sorry to hear you're fragrance isn't binding with your wax. For the best results for binding, we recommend adding your fragrance oil at 185°F and stirring gently for 2 minutes! This is the optimal temperature for the fragrance to fully bind with wax. Exceeding the maximum fragrance load for the wax that is being used can also cause mixing issues as well, so please be sure to measure out your fragrance and that it's not higher than the maximum load! If you have any additional questions or concerns, please feel free to reach out to Customer Support at support@candlescience.com. We're happy to help!
No luck getting it to bind to paraffin wax
I love the smell of this FO and after much trial and error, I decided to only use it as a mixer with other FO. I use IGI 4627 wax and the first candles I made with this, the FO went right to the bottom of one, and the other had very little scent throw. I did some research and tried using less FO and adding it in at a higher temperature AND stirring it a lot. I could still see some oil not mixing with the wax but it wasn't as bad as the first batch. So maybe it is the wax I was using but I was just not having luck making container candles with this FO, which makes me sad because it smells sooooo good.
This scent is too sweet and rich for me personally. I find people either love it or hate. Not many people kind of like it. I'd like to see a vanilla bean oil that's less creamy and rich and more true to a vanilla bean smell.
I LOVE this scent and my tester. It's a string throw but not too strong I love it definitely sticking up
Tranquility Soy Candles by Patti
I love this Vanilla...its great by it's self and also with a mix of any fragrance you would like to use. Personally I mix my Vanilla with High tide and also Orange Blossom....My Customers love it. although for some reason others love the scent of Vanilla and some not so much...I love it. one more hint mix with Sandle wood...it's amazing.
I love this scent and so do my customers. Very creamy and not too sweet.
It's been a challenge to find a vanilla FO that I like for candles. Some do well in melts, but morph into something else in a candle. I ordered this vanilla because Jeff Stanley said it has a good strong hot throw. But that was before the revision. I wasn't sure what to expect since the revision so I ordered a
4 oz for testing candles and melts. OOB it's very boozy (that bourbon said Hello). But in the wax, it mellowed to a creamy, yummy vanilla. An 8 oz soy blend candle w/ 8% FO and one day cure, filled my home with an AMAZING HT. At 8 % the HT in melts is off the chart. I will test melts @6-7 % next time. This vanilla is a keeper. So happy to finally find a vanilla that smells like vanilla when lit in a candle. Adding this one to my collection.
I'm very disappointed, I don't know what I am doing wrong with this FO.. I LOVE this smell! but for some reason it just NEVER comes out right in my Candles! I have tried 3/4 difference batches with this FO. I am using 2 lbs of the comfort 4627 paraffin wax at first I did 4oz of this FO.. I had complete separation I mean completely, the FO just sat at the bottom.. Then I tried a 3oz to 2 lbs of wax, same thing... Then finally I tried a 2.5oz .. it looked like finally it was going to work, but nope at the end of the 2 lbs pour there it happened again.. but now the candles that came out good had little to no smell at all!! This is soooooooooo frustrating... I never had any problem like this with Any other FO ever... I am doing everything the same as I do all the other candles I made. I never saw anything like this before..
Hi! I'm so sorry to hear there had been some fragrance binding issues! I have reached out via email with some more information. Thank you for alerting us to the issue and I look forward to finding a solution for you!
I want to try when it's lit...
I'm curious how this smells lit in my soy wax because it just smells like cheap, plastic vanilla to me. Anyone else think this?
I really love this scent ! It's not weak not too strong but just right
Please don't change this
Way better than original version. Strong ht! 10% with 464. The best vanilla ice found.
Not really a fan! Scent it definitely over powering I wouldn't purchase again maybe another vanilla that's more settling
To be fair, I ordered the version before the 4/1/20 change over to the new version. probably the most disappointing. I mixed candles at 10% in GW 646 and can barely smell anything from these FO. I bought an 16 ounce bottle so feel like I've wasted my money. I won't buy anything without sampling going forward.
1oz into one pound of 444 made a sickenly sweet smelling candle. Wouldn't even give this to someone as a joke.
This is the perfect scent for us vanilla lovers
I'm not sure what the old Vanilla smelled like, but it's back to the drawing board with this one. In the bottle it smells okay, but once in wax and cooled it smells like burnt Vanilla.
I've tried different vanillas from all over but this is my fav and the fav of my vanilla loving customers too!
Very Vanilla... almost too vanilla
This almost smells exactly like Vanilla Extract. I love vanilla scents but this was a bit much for me. Testing it in some wax melts, I mixed the scent adding just a dash of this to the Strawberry Shortcake so it's not a complete waste. Hopefully it smells better when heated with the wax. My children ran away saying it smelled like medicine. Lol.
If you love the smell of vanilla extract this may work for you. It is a very powerful fragrance.
Fragrance Disappeared is 6006 from CS completely there is little to no smell. so glad I only bought 1oz.
I had tried probably 7-10 different vanilla oils from different companies and THIS ONE is the BEST I have ever found! Exactly what I was looking for, absolutely obsessed!
I was a big fan of the old very vanilla, so I was skeptical when the new version was released. It definitely has a different smell. More heavy and masculine in my opinion, but I love it. I started using it in my batches yesterday and it is less yellow than the previous version. Happy so far!
I usually don't care for sweet scents, I like citric ones better. But this vanilla scent is SO good. It's not too sweet, like those scents that will give you a headache just for being too sweet. It's rich, and flavorful. Just perfect.
I used this scent to make whipped soap and I couldn't stop smelling it.
Now I am going to order a big bottle so I always have some in stock.
Sweet, creamy & buttery = delicious! OOB it smells true to vanilla and poured into a candle using IGI 6006 wax it smells like the heart of a pastry shop. Hot & cold throws are awesome! I do mix this into my wax at a slightly higher temperature, around 195-200F. I find this helps the FO go into solution better and increases the performance of my candles. Try blending the CS FOs White Birch + Very Vanilla = Vanilla Birch (it is literally identical to the White Barn version).
Love Very Vanilla one of my most popular fragrances
I used the Previous version for my Wedding Cake and Lavender Vanilla scent so when this version came out I figured I would hate it. I actually love this version better, its more of a creamy vanilla that you can't stop smelling.
LOVE this one! I've renamed it Vanilla Cream for its smooth creamy Vanilla Scent!