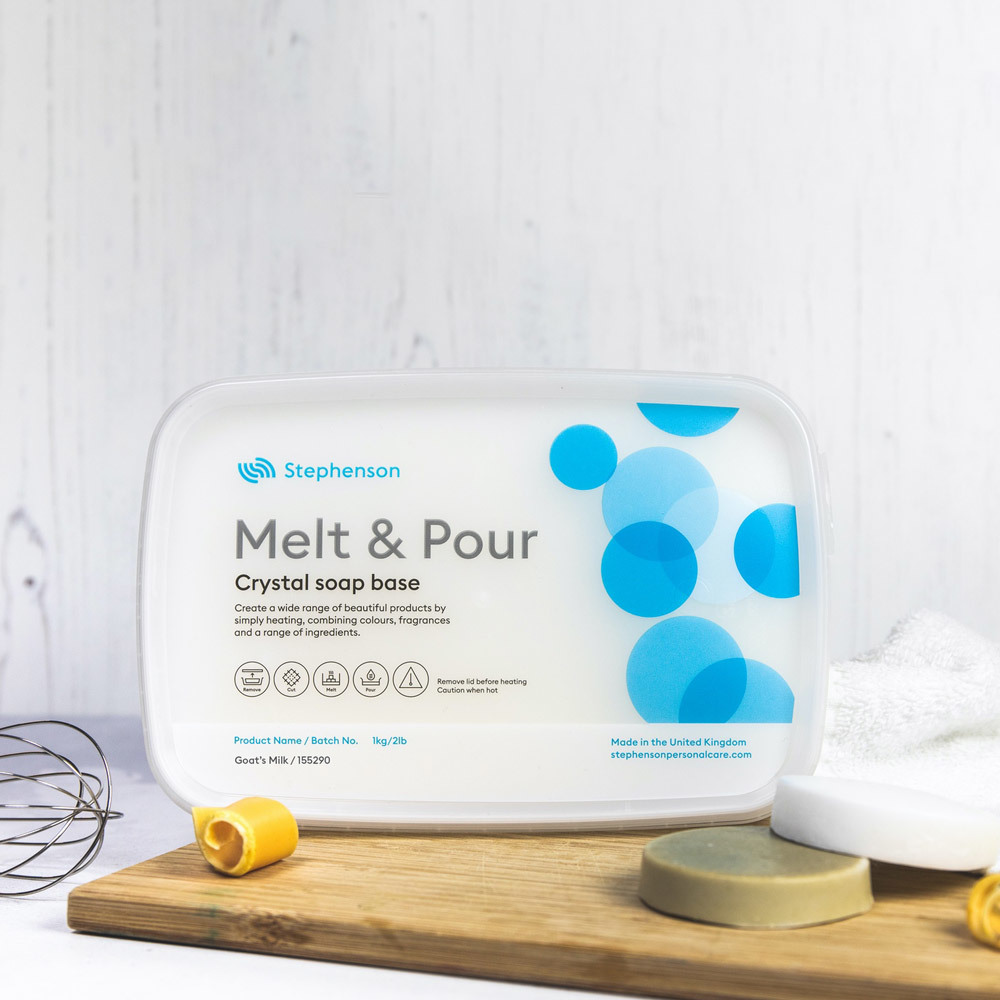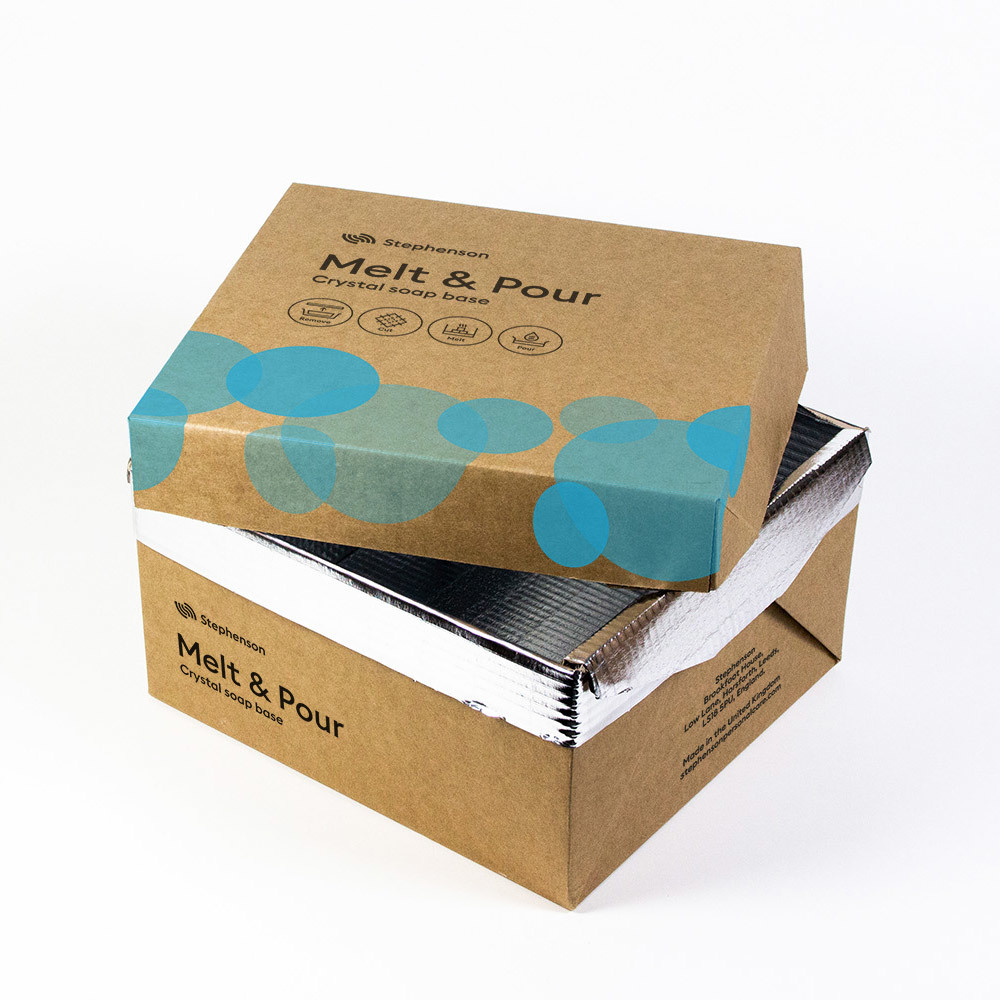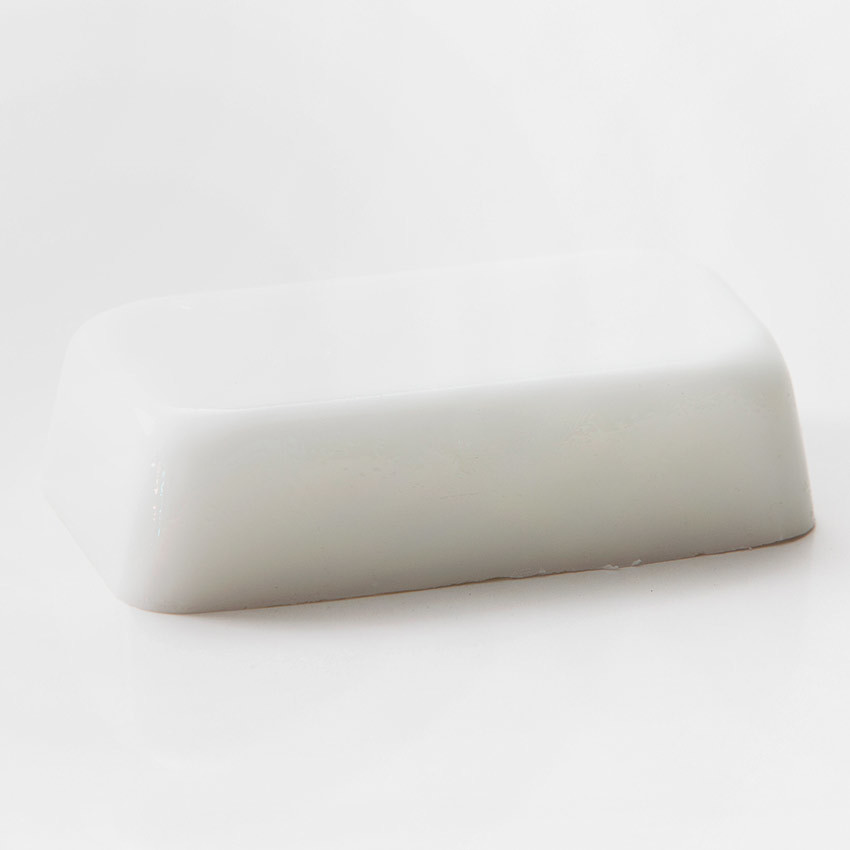 Ready to Order?
Out of stock. Expected: East Coast 5/28
Details
25 lb CASES NOW ON SALE!
25 lb cases of Stephenson Goat's Milk Melt and Pour Soap Base are now 15% off their original price of $49.22.
Product Update: July 22, 2020
Titanium dioxide is the ingredient that makes the Stephenson Goat's Milk Melt and Pour Soap Base appear opaque and white in color. Occasionally the titanium dioxide appears separated from the soap base, but this is easily rectified once the soap base is melted and stirred. Your finished bars of Goat's Milk soap will still be opaque white.
---
Naturally high in vitamins (including nourishing vitamin E), minerals, and healthy fats, goat's milk is the preferred beverage of many around the world. But this substance also has numerous skin benefits, including exceptional moisturizing properties, absorption capacity, and exfoliating power through alpha-hydroxy acids. This quality product from Stephenson takes the best properties of goat's milk and offers them in a prime melt-and-pour soap base. We're confident you'll love it!
Here's a step-by-step guide on How to Make Melt and Pour Soap.
For an additional fun, at-home project with goat's milk soap try our tutorial on How to Make Novelty Beer Soap!
Ingredients: Aqua, Glycerin, Sodium Stearate, Sorbitol, Sodium Laurate, Goats Milk, Propylene Glycol, Sodium Laureth Sulfate, Sodium Chloride, Sodium Lauryl Sulfate, Titanium Dioxide, Stearic Acid, Lauric Acid, Pentasodium Pentetate, Tetrasodium Etidronate.
Stephenson Goat's Milk Melt and Pour Soap Base Highlights:
Vegetable based
Good foaming action
Neutral odor
Excellent moisturizing properties
Creamy, smooth texture
Perfect for slicing or molding
See our complete list of soap colorants.
IMPORTANT - Any time products are used on the skin, it is essential to test for safety. It is your responsibility to test any and all of our products to ensure satisfactory and safe results in your finished product. When adding ingredients to any soap base, do not use candle dye or fragrance oils that are not approved for bath and body use. Please see the individual fragrance page for recommended product usages, and review the IFRA sheets for usage maximums. You can also view soap-safe fragrance changes that have been affected by the IFRA 49 amendment.

Labeling
Interested in selling your products? Check out a brief overview of labeling guidelines for cosmetics, which includes melt and pour soap, scrubs, whipped bath soaps, and more.
Wholesale Ordering
Check out our wholesale page for more information on ordering soap supplies in bulk or by the pallet.

Made in the UK
Reviews
I bought two 25 pound boxes of this and it doesn't lather. How do I make it lather????
Hi there! I'm sorry you're having difficulties with the lather of your soap. Someone from our team will be reaching out via email to assist!
You guys are my new GO TO for my bases!
Wonderful base they behaved perfectly and can I just say WOW that was some fast shipping! I ordered you guys a week after my other (popular) supplier and you guys beat them here before they ever even shipped and a whole day before schedule! With great bases like this, you guys have become my new GO-TO store for all my bases!
Made a few batches and have had varying results. I love how my skin feels after using it and it holds scent well! I made a batch for my husband and the finished product is bendable and almost rubbery. My batch hardened up nicely. Both batches are turning brown, almost like they are oxidizing. I only used the soap base and fragrance, no other ingredients. I wrapped one brick in plastic wrap to see if it would help, but it is now the darkest brown of all of them. When I cut a bar off the center is still white. I am getting ready to make a batch with dye in it. We'll see how this one goes. Aside from that, it's a very nice soap to use.
I tried their triple butter and it was awesome. I was excited to try goats milk. But after 4 hours (and I even waited until the next day) the soaps was very mushy and it would dent from grabbing it that's how soft it was. I never put more than 1-2 teaspoons of fragrance oil as it is. I was assuming maybe it's a bad batch? I'll stick to triple butter.
Hi there! There can be slight variations between batches of Stephenson Goat's Milk Melt and Pour Soap Base. Occasionally, the titanium dioxide used as an ingredient in the base for its white and opaque color appears separated from the soap base, but this is easily rectified once the soap base is melted and stirred. During our own in-house testing, we found that once melted and stirred together, the soap looks and performs exactly as previous batches of soap!
As always, please feel free to reach out to us at support@candlescience.com if you have any additional questions or concerns! We're always happy to help.
This base is wonderful, great lather, easy to work with. I saw some complaints in other reviews that its too soft, put it in the refridgerator before pulling from molds and that problem is solved. Keeps its shape even when outside in high heat at outdoor summer events, I even left one sitting in the sun to see what would happen on a 100 degree day and it held its shape. Does not retain oil scent very well, that is my only complaint. After about 3 months stored the scent is mostly gone.
This soap is terrible. It's so soft. The soap mushes up when I pull it from the mold. It leaves finger imprints in it. I don't even want to give it to anyone. I was very hopeful due to the reviews and low price but I won't purchase this again.
I love love love this soap base!!! Does anyone know the maximum fragrance load for this soap?
Wow this base! Wow Candlescience!
About my orders: Have purchased two 2.2lb trays of GM base twice, and others from CS, by now. Shipping was !! under !! 2 full business days, which means CandleScience is the fastest shipper of soap related supplies lately. And the shipping price is reasonable (to my locale especially when it comes from the non-NV warehouse/site), considering free ground promo shipping from other (two) retailers means a 2-3 week (did I pay fr someone to sit in a warehouse dillydallying sort of) wait rn. And CS packs these carefully so that the plastic trays don't crack in transit. CS for the win!!!!!!!!!!!!
About the soap:
— I am a wimp and the thought of a 25lb. box scares the poop out of me, so I buy 2.2lb trays despite the volume of soap I have been making lately. Very easy to visually estimate how many ounces I'm cutting from the block; and the visual estimation is always close, if not the right, amount.
— The 127d melting point is accurate with a double boiler set up (really who needs a microwave wasting space in their home). As 127d hits, there is still a mound of soap in the melted portion. I poke it around slowly using an ultra slow side to side motion (to prevent bubbles) until the mound melts, which happens without hitting high temps.
— Easy to work with and consistent—like that I don't have to waste a whole dump of soap to try different ideas.
— This retains eo scents well enough. It'll hold top notes, but they won't hold like the middle notes weeks after the pour. Also works well enough for all sorts of different scent ratios.
— This will sweat (I've been working with this in July 71.5% av. humidity) and should be wrapped or dropped in a sealed container quickly post de-mold.
— No out of box soap smell (unlike the grossness of Stephenson Shea).
— Lather is a soft creamy one.
I have been buying melt and pour soap bases for a few years. I love the Stephenson's products - consistent quality. I have purchased the same soap bases from other wholesalers from time-to-time. I must say, CandleScience has the best prices and the faster shipping of any wholesaler I have bought from. There is one wholesaler who promotes "Free Shipping with Orders Over $25". Well, their much higher prices on the soap bases MORE than covers the shipping. It's like a built-in profit center. I would suggest to anyone who makes soaps and candles to do your homework. Check around... check prices AND shipping charges. I have. CandleScience always comes out on top for me.
I absolutely love this soap base , my soap come's out amazing and it's really easy to work with 🥰.
I do love this product, but I do have a question. Do you know if the base looses anything if heated over 127?
Hi! The base will not lose anything if heated over 127*F and often will need to be heated over that temperature to fully melt. However, keep the base under 165*F for the best performance as overheating it can make it rubbery.
Sudsy and Easy to work with
I love this soap! It's easy to use, creates a lot of suds, great fragrance load and everyone loves it. I end up giving it to friends and family. I add dried botanicals, mica glitter, color, and fragrance. Just don't overheat, it will kill the suds.
My customers love this soap!
Owner Olive & Branch Soap Co.
Does the 25# cases come individually packaged like the 2# ones doe or is it one big slab ?
Hi! The 25 lb case is a single block of the base that is packaged in a box that easily folds down so that you can cut it.
How many bars will 25lb make
How many bars will 25lb make with a 6 bar mold
Hi! It would depend on how much soap your particular mold holds. Our 6 Bar Large soap mold holds 3.6 oz of soy for each bar so you would be able to make about 111 bars with 25 lbs of wax. I hope this helps but please let me know if we can answer any questions or concerns!
I love this Goat's Milk Soap Base and have used it for years to make my melt and pour soap. One of the biggest challenges was to cut the 25 pound of base. My husband and I have found that the cleanest and easiest way to cut the block is to drop it onto a wooden board that has nails hammered into the bottom side protruding about 2 inches. The nails hold the block in place while you cut it. We use a large 16 inch two handled cheese slicer (Mundial 5628-16) purchased from Amazon. It works wonderfully. I would be interested if there are other ways to cut it.
Goats Milk Melt and Pour Base
I bought your beginner's soap kit and this base was the one you sent. I made my very first batch of soap and withstanding the length of time it took to melt the base, it was really easy to color, scent and pour into the mold that was in the kit. I had so much fun and I will update this review after I unmold them tomorrow.
Not the best that Stephenson makes!
The Goat's Milk is hard to work with because it has a higher melting point. Once you get it to melt, it quickly hardens back up. This soap works good for just pouring in a mold. However, it is impossible to swirl with and difficult to layer. I guess it would work great for embeds because it wouldn't easily melt when surrounded by hot soap base...
Has anyone else had this soap beading with sweat in humid or hot weather? I packed it with tissue paper and sent it to a shop and oops it sweat so much that the tissue paper stuck to all the soaps and was completely wet. Other than that for personal use I loved it just not confident to sell it...
Hi! If you plan to sell your soap you'll want to package it appropriately to keep it from sweating. Soap contains glycerin which pulls moisture out of the air and can cause water droplets to form on the surface. Wrapping the soap right away helps prevent this from occurring.
To package, you can use plastic wrap or shrink wrap. Fold plastic tightly around the soap on all four sides (similar to wrapping a present). Use a heat gun to shrink the plastic tightly around the soap to keep it protected. This will keep the soap from sweating!
I absolutely adore this base. This more so than the others. It lathers and holds scents very well. The oatmeal is a fantastic exfoliate. It works extremely well on my customers with plaque psoriasis and eczema. In fact, one of my customers informed me that this soap was the ONLY product that works for his plaque psoriasis and he purchases almost a hundred dollars of soap from me a month. I highly recommend this M&P!
This is one of our most popular bases. Makes some truly amazing Soap
Very nice base and good value
I made soap loaves for Christmas gifts and I have only had great feedback. Everyone loves it. Easy to work with and sets up pretty quick, Will buy again.
I love thus soap base, it is moisturizing and last a long time, holds scents very well and is very easy to work with.
I've been a candle maker for 3 years. I'm always looking for new creative ideas to add to my candle line. This was the first time I ever tried soap making. Wow! My first experience was awesome! I love the Goat's Milk Base. It's smooth, creamy and held my fragrance very well. It was so easy and safe to make. I now have a new product to add to my candle line! Thank you CandleScience.
Hi, my name is Kevin... wanted to praise this company first and foremost for their awesome service and products!!!!! This soap is awesome and i have made hundreds of dollars on selling 4oz. soap bars!!! Truly blessed!!!!!!!!!!!!!!!!!!!!! I also have mastered the candle business as well.. and blessed to say i am on my 350lb of soy 464!! Thank you Candlescience!!!!!!!!!!!!!!!!!!!!!!!!!! Well enough of that, on to the review. I sell the bars at 7$ each and everyone loves them.. i have also blessed many people with free soap for customer feedback, and this is also what i believe is good business practice. Customers with sensitive skin and beyond all love the soap. My family also uses it, and we also sell the Organic Olive oil Soap with same feedback. Well i hope this helps, its very easy to do, and it's a supplement to any persons income, if you wish to invest in the time!!!!!!!!!!!! I really also need to get up here and review many more of Candlescience's products! I have made thousands of dollars profit in the last 1.5 years that my son and i have been doing this!! Cheers, and God Bless you all!!!!!!!!!!!!!!!! As always, if i can help anyone out, please email me @ KevinTaylor272@Hotmail.com
Pros:
-Melts easily
-holds fragrance well
-No Pre-existing odor (Nothing to "cover up" with fragrance)
-Moisturizes skin very well.
Cons:
I honestly can't think of any cons however I do wish the soaps we're sold in 10lb batches also rather than the huge jump from 2 lbs to 25 lbs.
This is a wonderful goat's milk soap base! My only complaint with the 25lb box is that it's incredibly HARD to chisel out the soap for individual batches. I'm not sure if there's a better method for this, but I dug a hole with a heavy duty spoon and use a butter knife to cut chunks out of it. The soap feels wonderful, has a great lather and I'm very pleased with all that I've made with it so far.