How to make novelty beer soaps
result:
2 10 oz. (283 g) beer soaps
Here's a fun twist for your next project—soaps that look like a tasty glass of beer! Simple and easy to make, these soaps make wonderful favors or gifts for the beer lover in your life. Let's get started!
EO Notes: You can also use soap-safe essential oils for this project. When using essential oils, be sure to check your essential oil's recommended usage percentage and IFRA Certificate. How to Make Melt and Pour Soap with Essential Oils.
Additional Items:
10 oz Clear Plastic Cups
Cutting Board
Microwave Safe Bowl
Small Glass Containers - Not to be reused for food
Hand Mixer
Glycerin
Rubbing Alcohol
---
Step 1: Prepare your supplies and work space
Wash cups, spatula, and plastic/glass containers with warm soapy water and allow them to fully dry. To avoid cross-contamination, it's a good idea to sanitize your work area before getting started, especially if you're working in your kitchen. You can spray the area with rubbing alcohol or a 5% bleach solution and then wipe dry with a clean paper towel.
Step 2: Prepare fragrance oil
Place a small glass container on the scale and tare the weight. Weigh 0.3 oz (8.5 g) of fragrance. You want to have your fragrance prepared ahead of time so the soap doesn't start to harden as you work. It's important to only use glass for this step. The fragrance can damage certain types of plastic and paper if it sits for long periods of time.
Step 3: Prepare soap base
For easy cleanup, you can cover your cutting board with plastic wrap or parchment paper. Remove the HCVS clear soap base from the packaging and place on cutting board. Cut the soap base into small, even-sized cubes (roughly 1" or 2.5 cm cubes). Place the pitcher on the scale and tare the weight. Add the soap cubes to the pitcher until you have 13 oz (369 g) in the pitcher.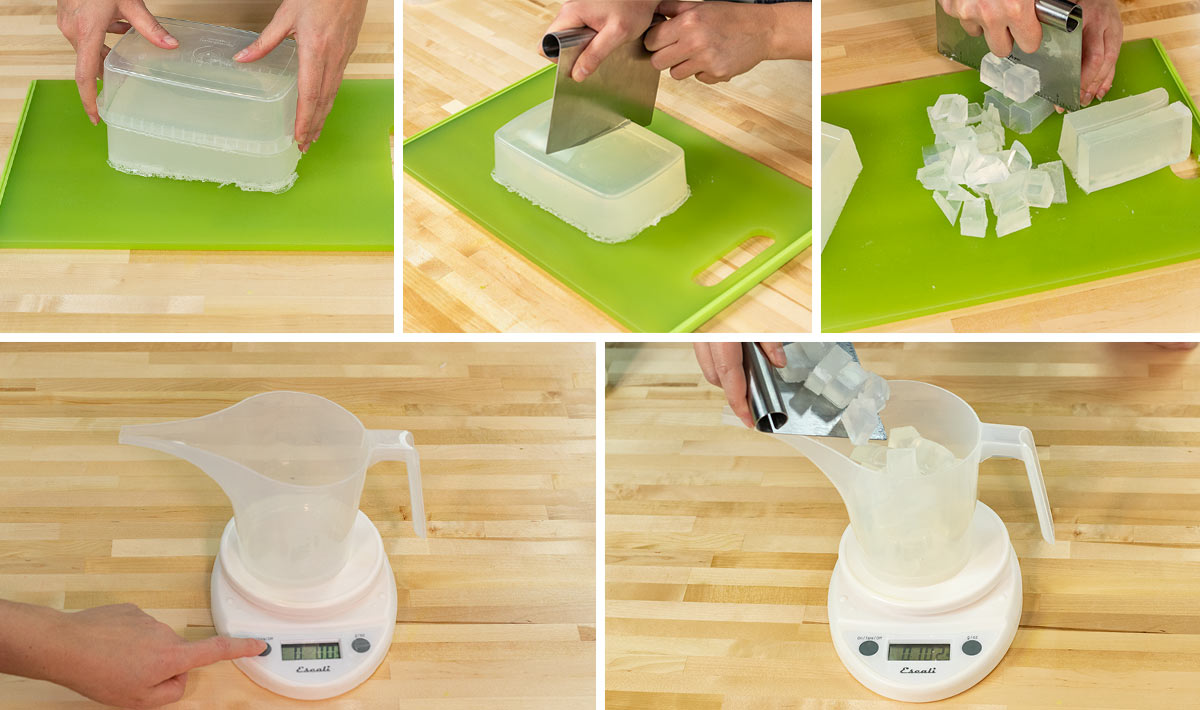 Place container with soap base in the microwave and heat for 1 minute. Stir gently to help break up any clumps and help the soap melt more easily. If necessary, heat in 20-second intervals until most of the soap is completely liquid. It is fine if a few small pieces remain—just keep stirring until they are completely melted. Melted soap will be extremely hot, so use caution when handling. The soap should not exceed 160ºF (71.1°C) to avoid a rubbery feel to the finished soap.
Pro Tip!
If the soap base starts to foam while in the microwave, it's too hot. Stop the microwave and do not continue to heat. Stir gently to continue the melting process.

Step 5: Add dye and fragrance
Once all the pieces have melted and the soap is completely liquid, add dye and fragrance and stir thoroughly. Start with two drops of dye and add more until the desired color is achieved You may notice a thin skin form on the surface of the soap. This is normal, so just stir it back into the liquid soap. If the soap has started to thicken at this point, it's fine to microwave again in 5-10 second intervals until it's thinner. Add your premeasured fragrance to the soap base and stir well.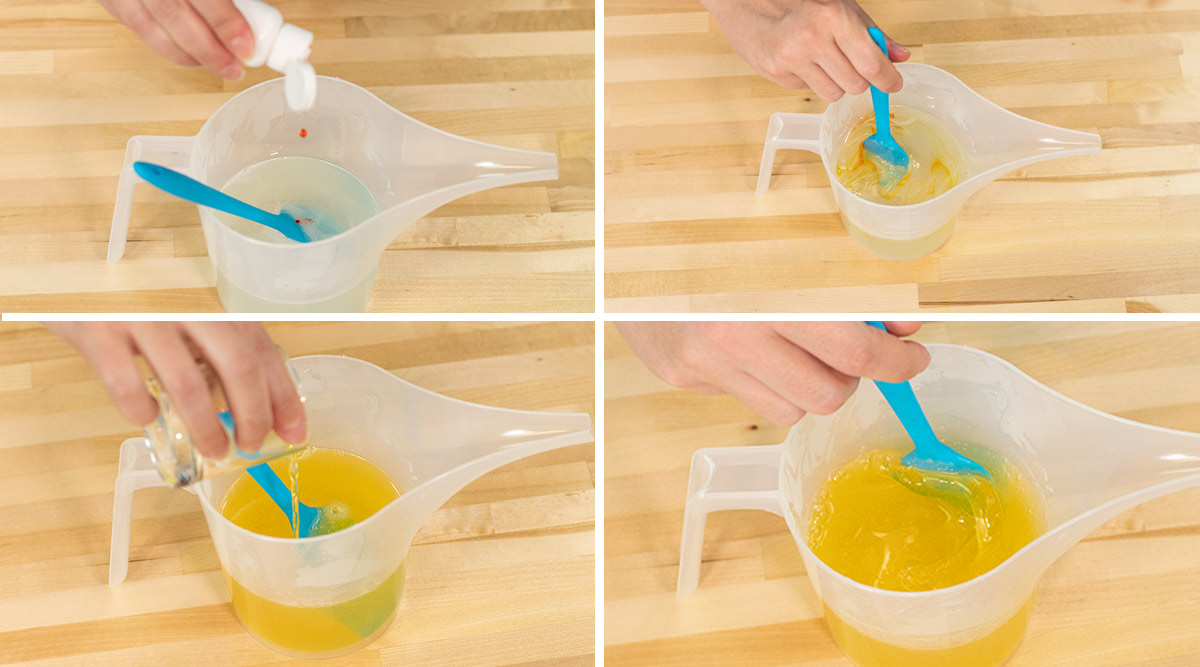 Once you have added your fragrance, it's time to pour the soap into the cups. Pour quickly to help create bubbles. Split equally between two 10 oz plastic cups. Do not spray the surface with alcohol. Let base sit at least 10 minutes then prepare the topping.

Step 7: Prepare topping soap base
Remove donkey's milk soap base from packaging and place on a cutting board. (Remember, you can cover the cutting board with plastic wrap or parchment paper for easy cleanup.) Cut the soap base into small, even-sized cubes (roughly 1" or 2.5 cm cubes). Place a microwave-safe bowl on the scale and tare the weight. Add the soap cubes to the pitcher until you have 6 oz (170 g) in the bowl. 
Place bowl in the microwave for 30 seconds. Stir until completely liquid.
*Note: Do not add dye or fragrance to the topping.

Add 1 tsp (5 mL) of glycerin to the liquid base.

Step 9: Whip base topping for beer foam
Whip soap with a hand mixer on a medium setting just until the topping starts to froth and slightly firm. If you mix too long and the base becomes firm, reheat in the microwave and mix again.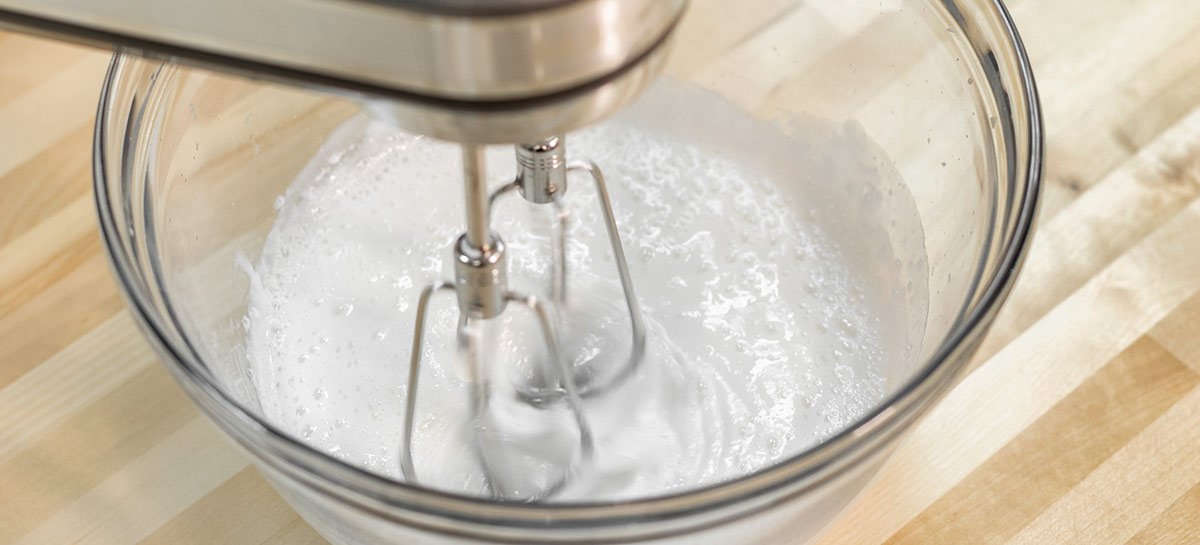 Step 10: Add foam topping
Spray top of the clear base liberally with alcohol then pour topping immediately. Do not skip this step. It ensures that your topping will stick. You will need to work quickly so the topping does not firm up too much. Let cups set for 15 minutes before moving. Let set for 2 hours before attempting to remove from cups.
Make sure the finished beer soaps are completely cool before removing them from plastic cups. If you have trouble removing the soap from the cup, place it in the freezer for up to 20 minutes and try again. It is also a good idea to have extra cups for packaging in case it cracks or breaks during the initial removal.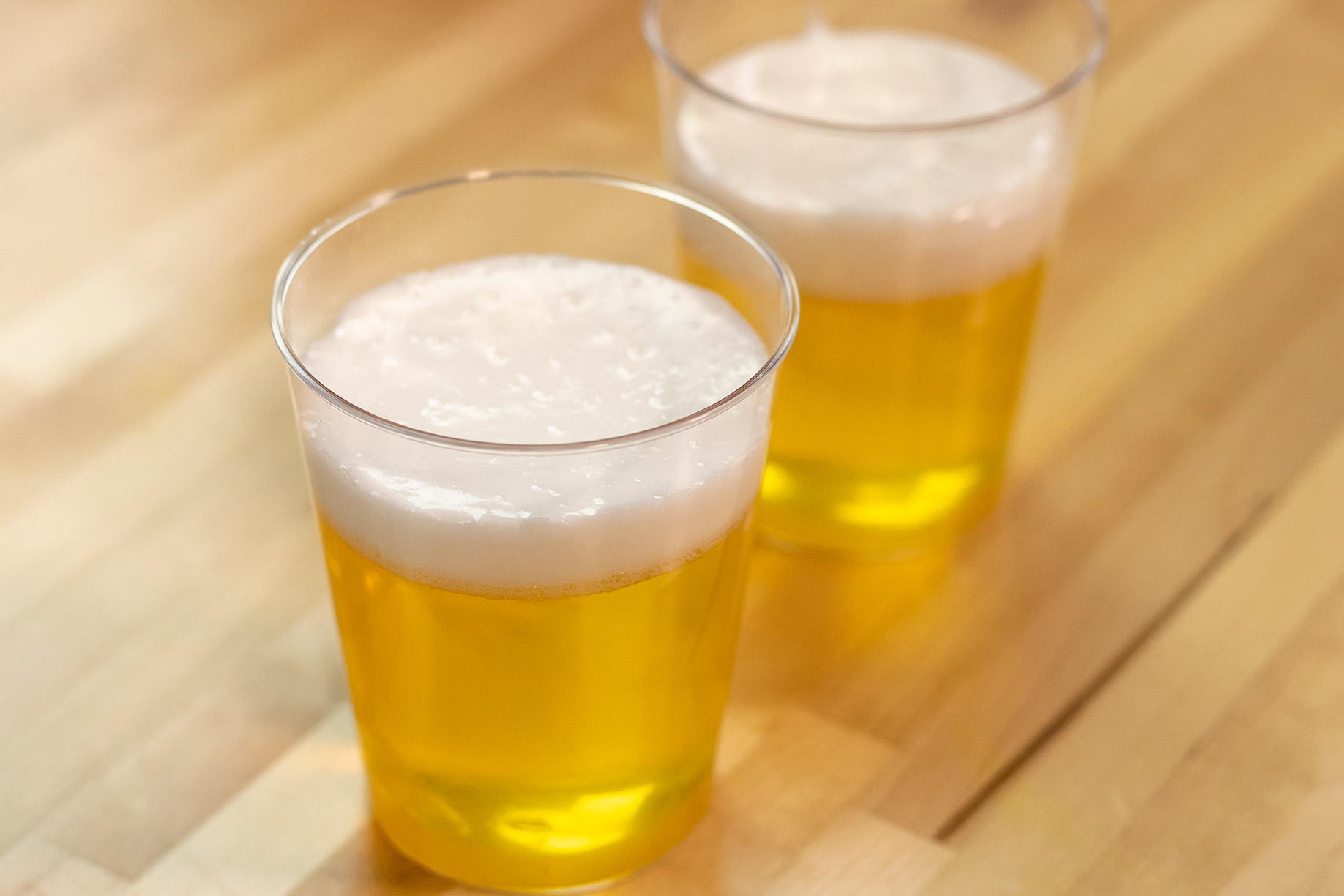 That's it! Congrats on making your very own beer soaps. If you want to get even more creative, try coming up with theme-based packaging and labels. They'll make a great fit for your next soap line or as favors for Father's Day, a bachelor party, or St. Patrick's Day.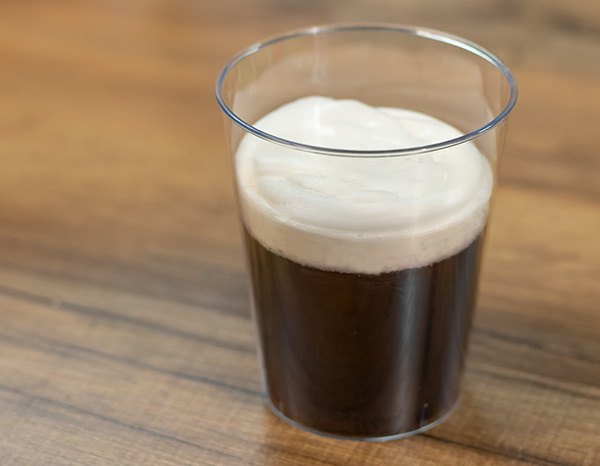 Stout style novelty soap
If you or someone you know are more into stouts or porters, you can tweak the recipe to make a dark beer with our brown liquid soap dye. Perfect for making Guinness themed soaps for St. Patrick's Day.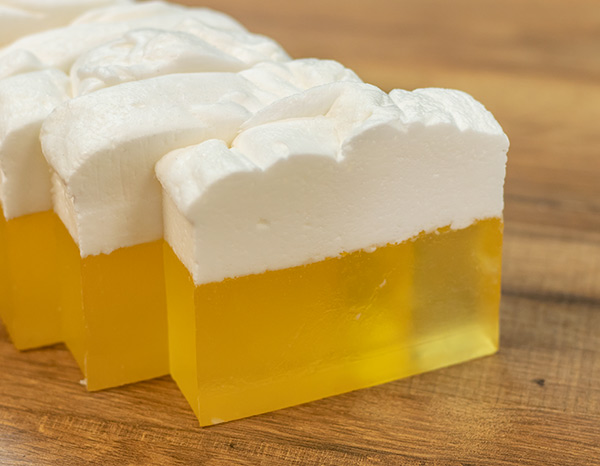 Beer themed loaf bars
This recipe can easily be adapted for use with our Silicone loaf mold—allowing you to easily make a large batch of soaps to give away as gifts or to sell.
---