summer season inspiration: bath and body, candles, and more
Lean into leisure this summer with Cabanacore, the trend that celebrates the most opulent energy summertime has to offer. Discover how to translate this trend into your seasonal candle, soap, or bath and body collection—the cabana is calling your name.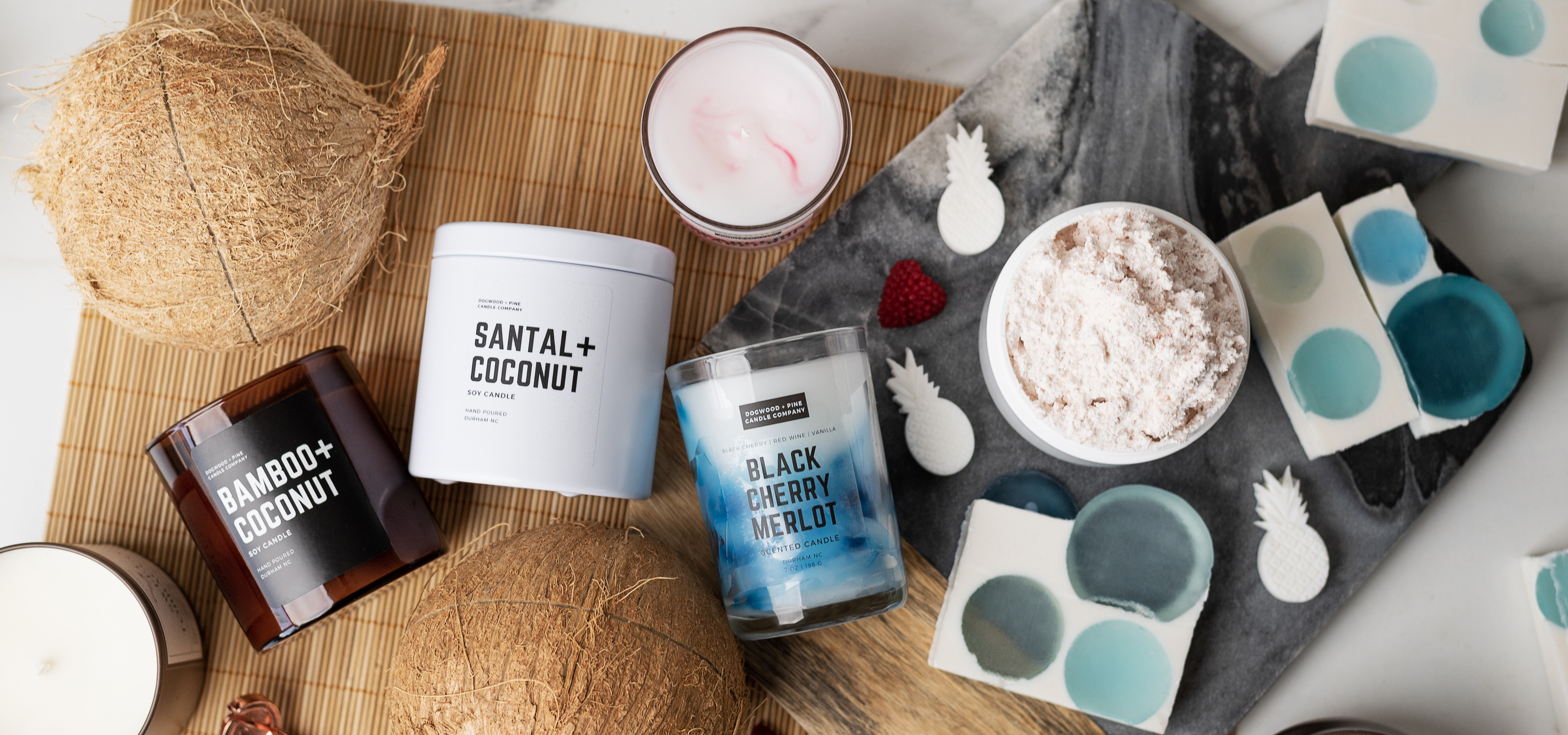 Aesthetic trends like Cabanacore allow us to indulge in the feelings, senses, and emotions that accompany distinct places.
Pairing specific imagery with the power of scent—one of the most effective ways to evoke emotion—creates a memorable, mood-shifting experience that makes it easier to get to your happy place, no matter your current location.
Candle and soap makers turn a product into an experience when they combine scents and stories.
Creating your summer collection
Cabanacore is inspired by the abundance of overdue vacations. With the post-pandemic all-clear to travel, many are ready to travel, but not everyone is travel-ready. Jetting off toward holiday happiness is easier said than done!
Whether you're actually going on vacation or closing your eyes to travel to your private cabana bliss, Cabanacore is a trend that helps channel the feeling of warm, luxurious, get-away vibes.
So, set your status to out-of-office, and let's explore Cabanacore!
Resort spa bath and body care
A visit, or four, to the spa is an essential part of summertime vacation living. Throw on your caftan as a coverup and journey down the resort halls for beachy, skin-loving spa treatments and relaxing aromatic experiences.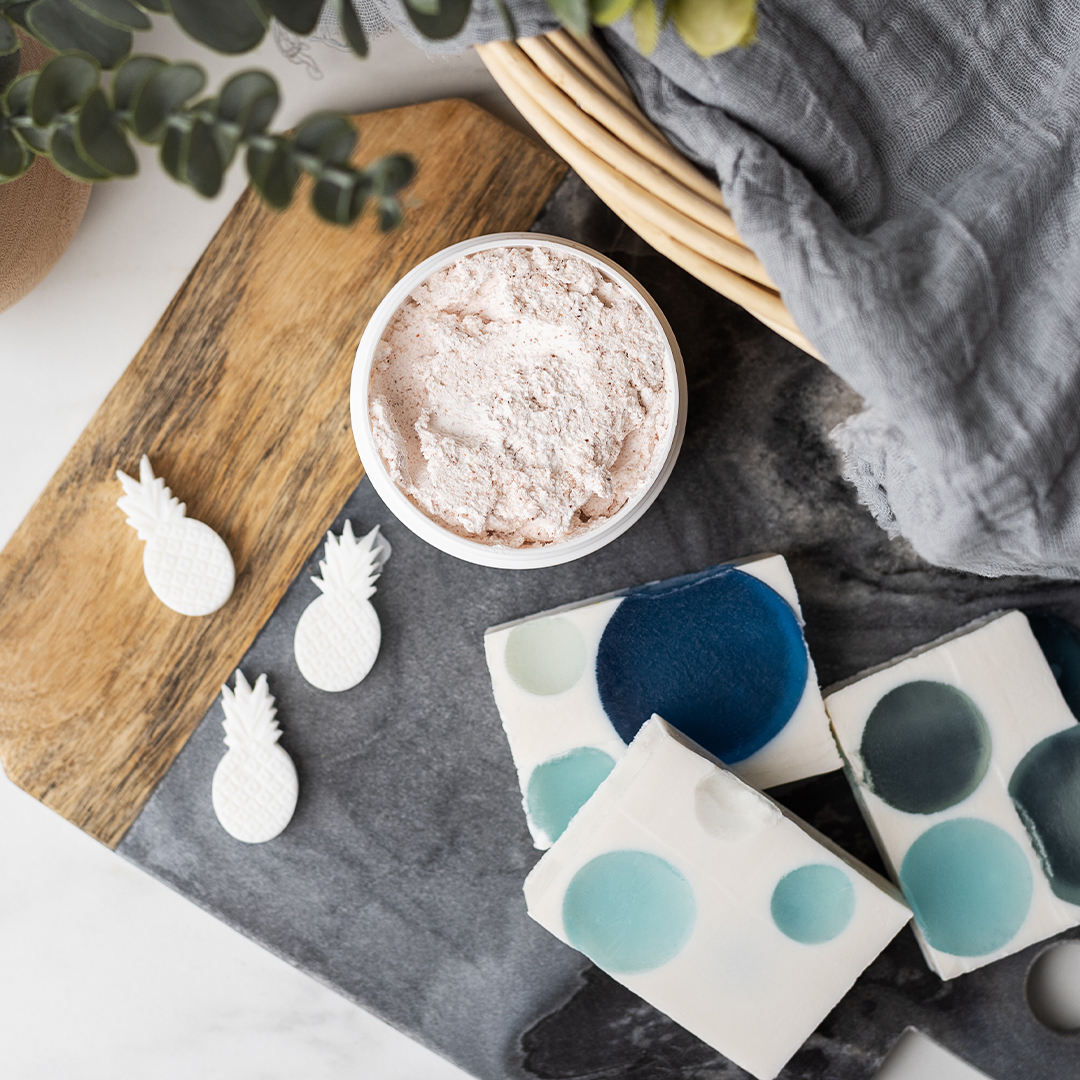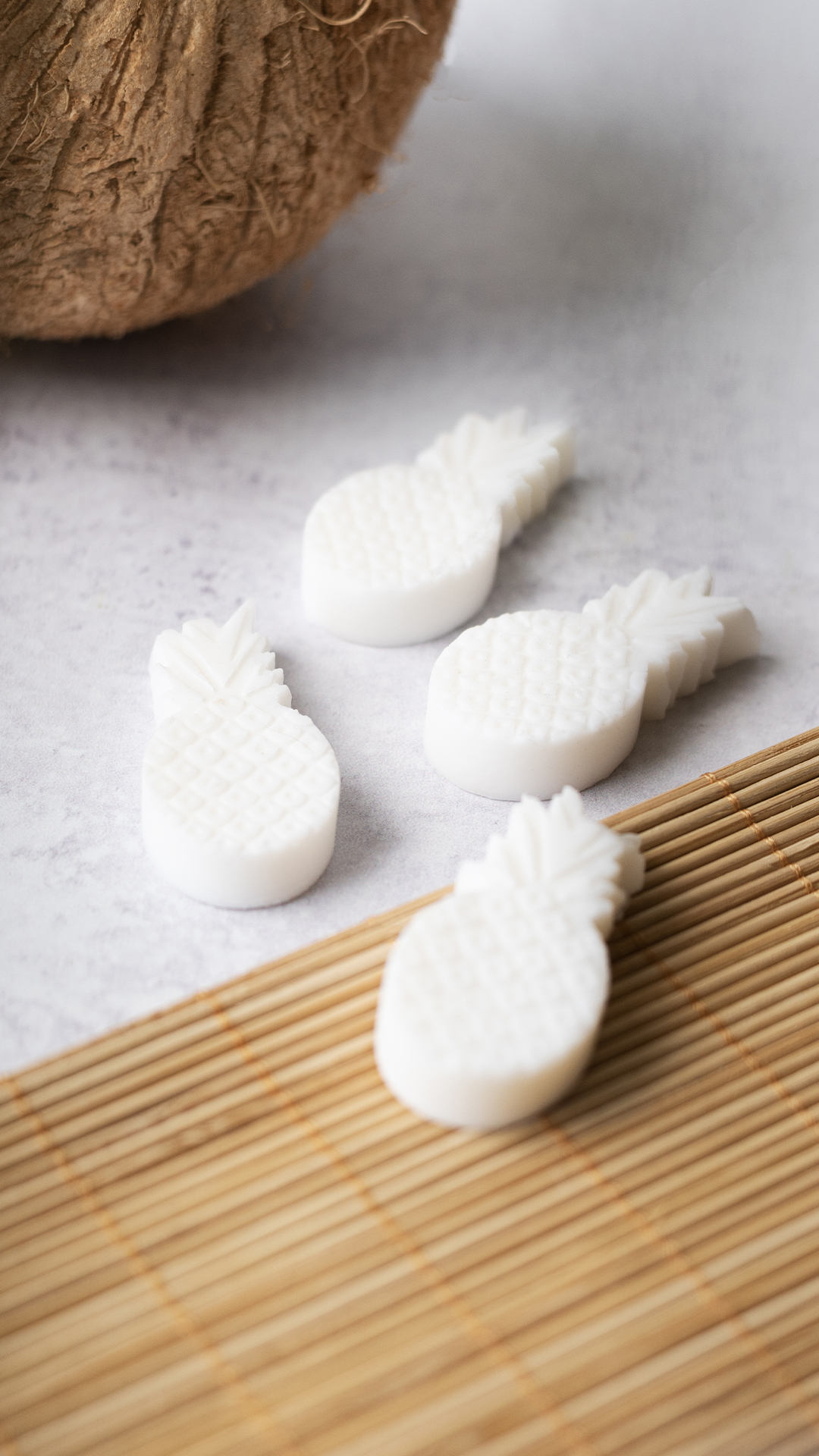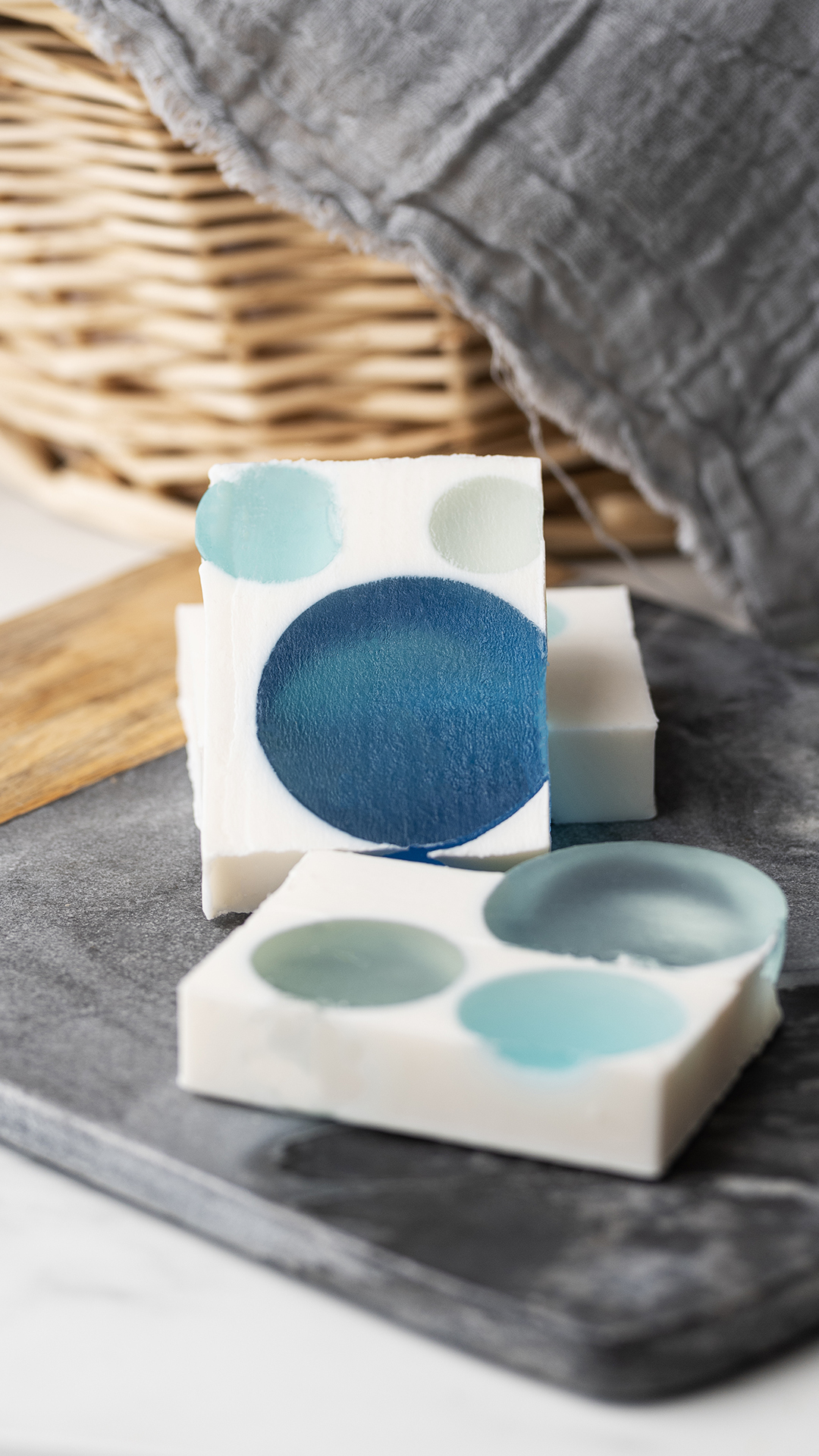 Travel-size body and shampoo bars
Cute, tiny, and travel-friendly, our pineapple-shaped all-in-one syndet bars have a lather so luxurious that you might be tempted to skip the journey to the spa altogether. These travel-friendly bars are perfect for shampoo, body wash, shave soap, hand soap, and more.
We used pineapple-shaped silicone molds for our bars. To find your own unique molds, don't skip the bakery section! Silicone molds are often used for making chocolate or other baked goods. Look for silicone molds online or in the bakery section of local stores. 
Make your own all-in-one bars with our simple tutorial here. 
Sphere soap
Bright and fun, this beginner-friendly soap is an easy way to customize soap without much fuss. Mirror the lighthearted, playful mood of this cheerful, bubbly soap. As a bonus, this is a great kid-friendly project for summer staycations. 
Learn how to make your own sphere soap bars here.
Salt scrub
A salt scrub is the best way to achieve radiant, soft skin that's ready to be slathered with sunscreen. Pre- or post-beach, this salt scrub will remind you of swanky spa days and leave you feeling pampered.
Get started with your salt scrub here. 
These projects are great gift options, alone or grouped together as a Summer Spa Gift Set. For bonus points, offer both staycation and travel-friendly versions!
For more projects, visit our inspiration page.
Coconuts may not be the most avant-garde idea for summer, but that doesn't make them any less deserving of a spot in a summertime collection.
Whether they remind you of sunscreen, tropical beverages, or getting caught in the rain, coconut scents often evoke feelings of happy, sun-drenched repose.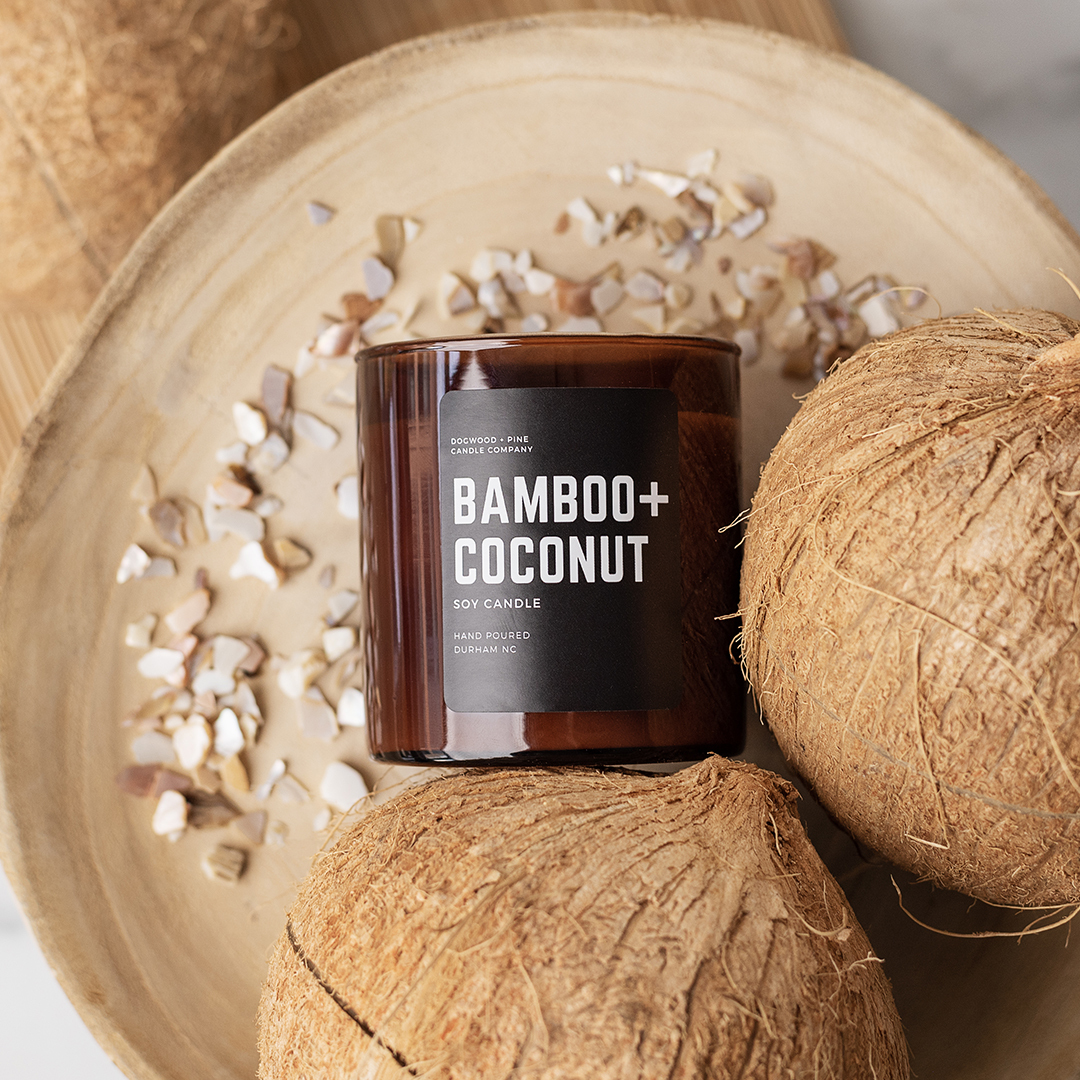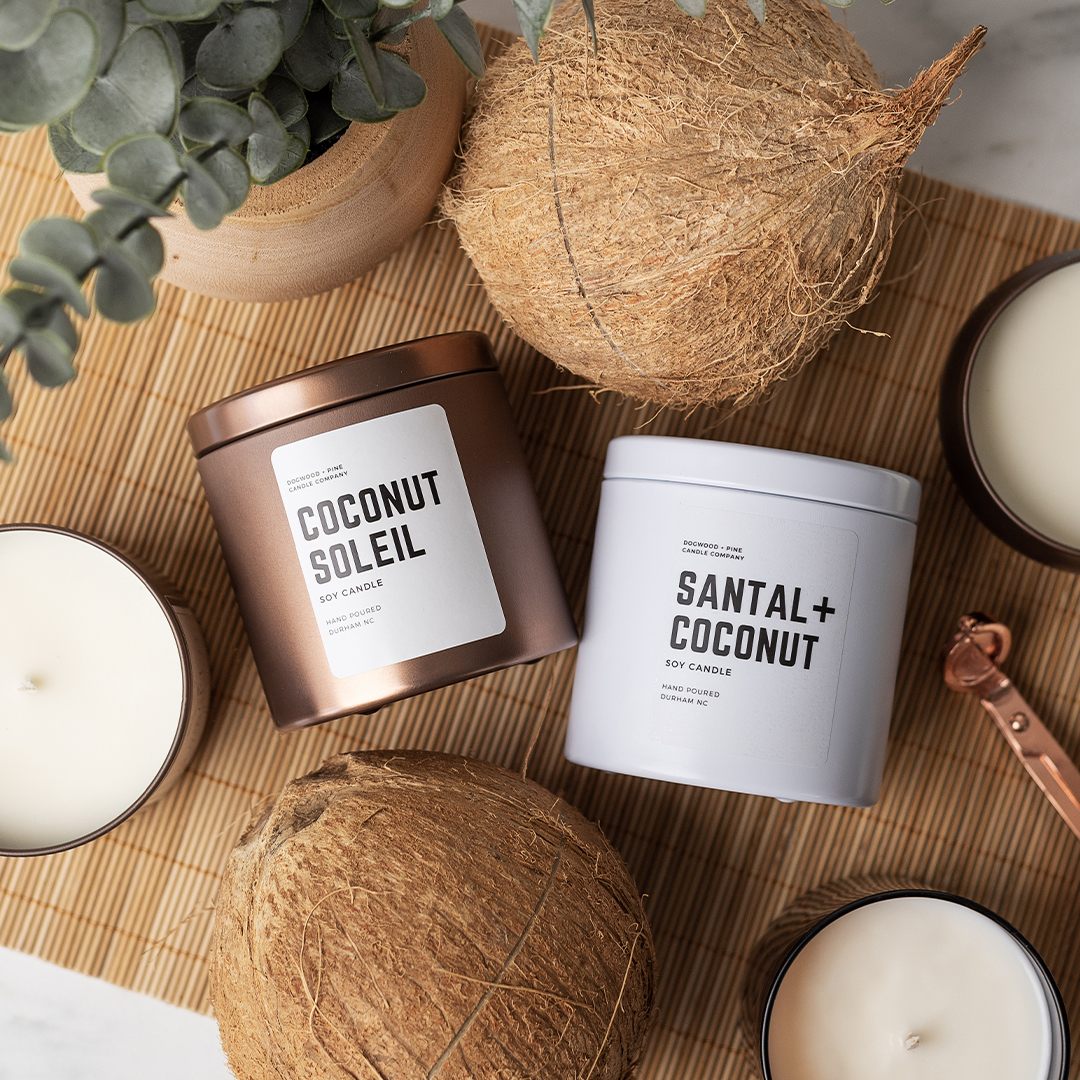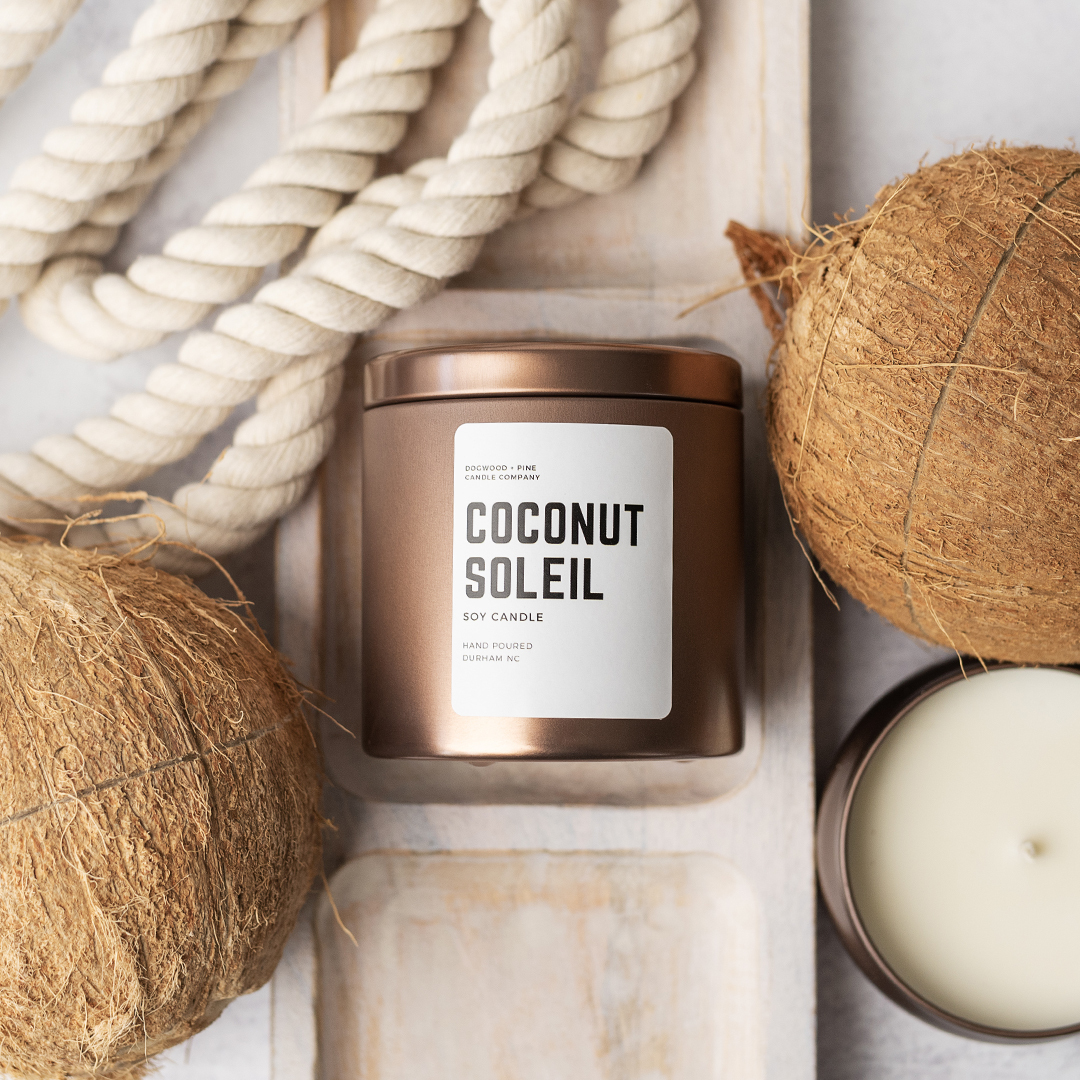 We custom-designed our labels with a graphic design tool, then uploaded and printed them with Avery WePrint™.  Head to avery.com to browse designs, create your own, and take 10% off all label orders!
Comparing coconut fragrances
An extremely versatile aroma, coconut scents are a great fit for most candle lines.
Your coconut candles might be reminiscent of your go-to sunscreen for beach days, or they could remind you of your favorite coconut cocktail, drink, or dessert. Or maybe they provide transportation alongside nostalgia, teleporting you to a tropical paradise with a closed-eye inhale.
Coconut fragrances are a powerful tool for recollection, and you get to decide what specific emotion, location, or experience you want to convey. 
Cocktails are the answer for any creative rut. How? Combine a season or theme with "cocktail" and a new candle idea is born. 
We found ourselves experiencing a creative block when brainstorming our summer inspiration concepts. Meanwhile, a few marble candles from a recent tutorial were the star of the show at our office. They're perfect for summer, but we needed to figure out how to fit them in. 
Then, there it was: Cabanacore cocktails. Beach drinks, resort refreshments, cocktail hour, room service brunch mimosas, swim-up bar beverages, and the list goes on! See? When in doubt, throw a cocktail on it.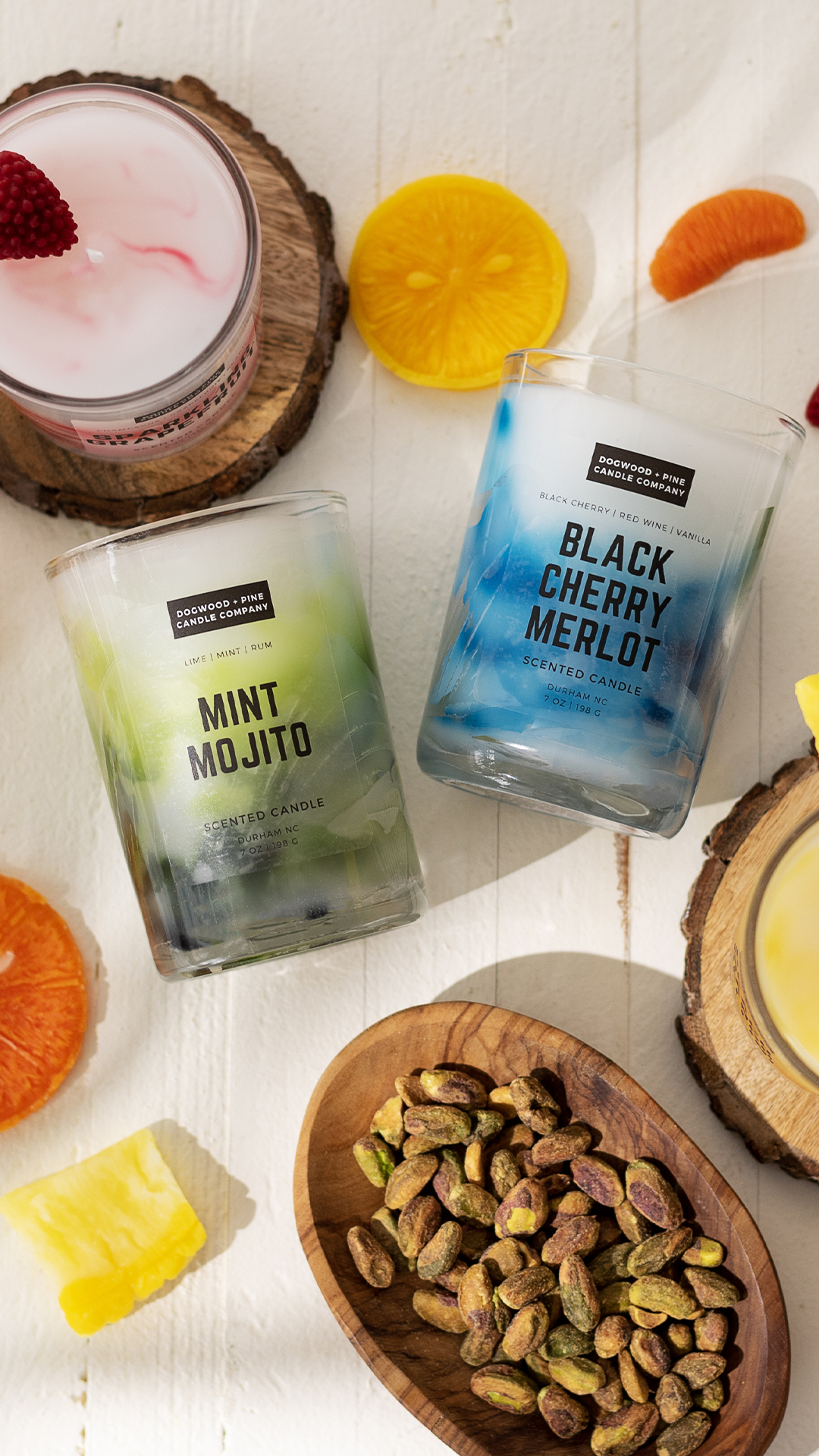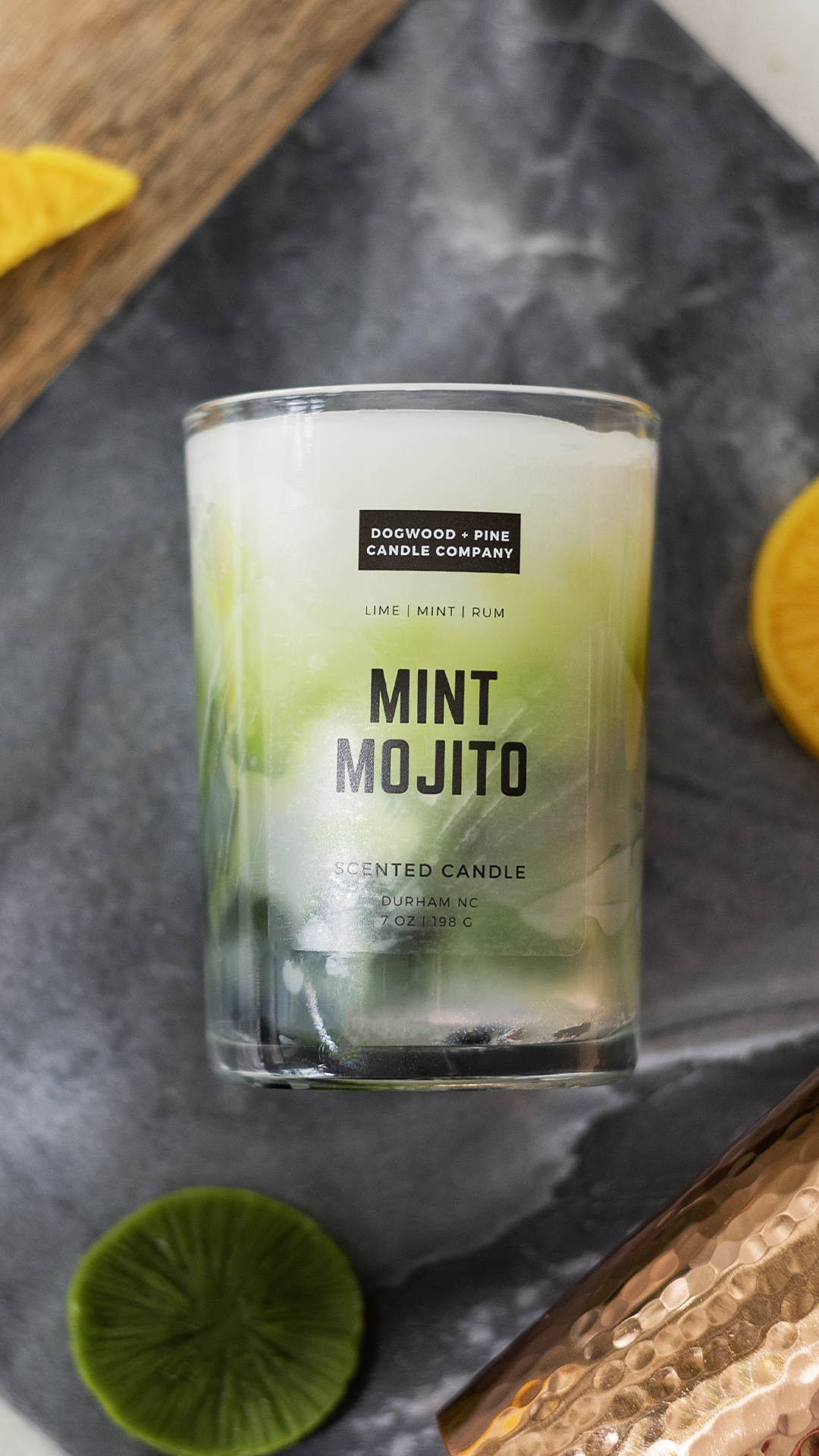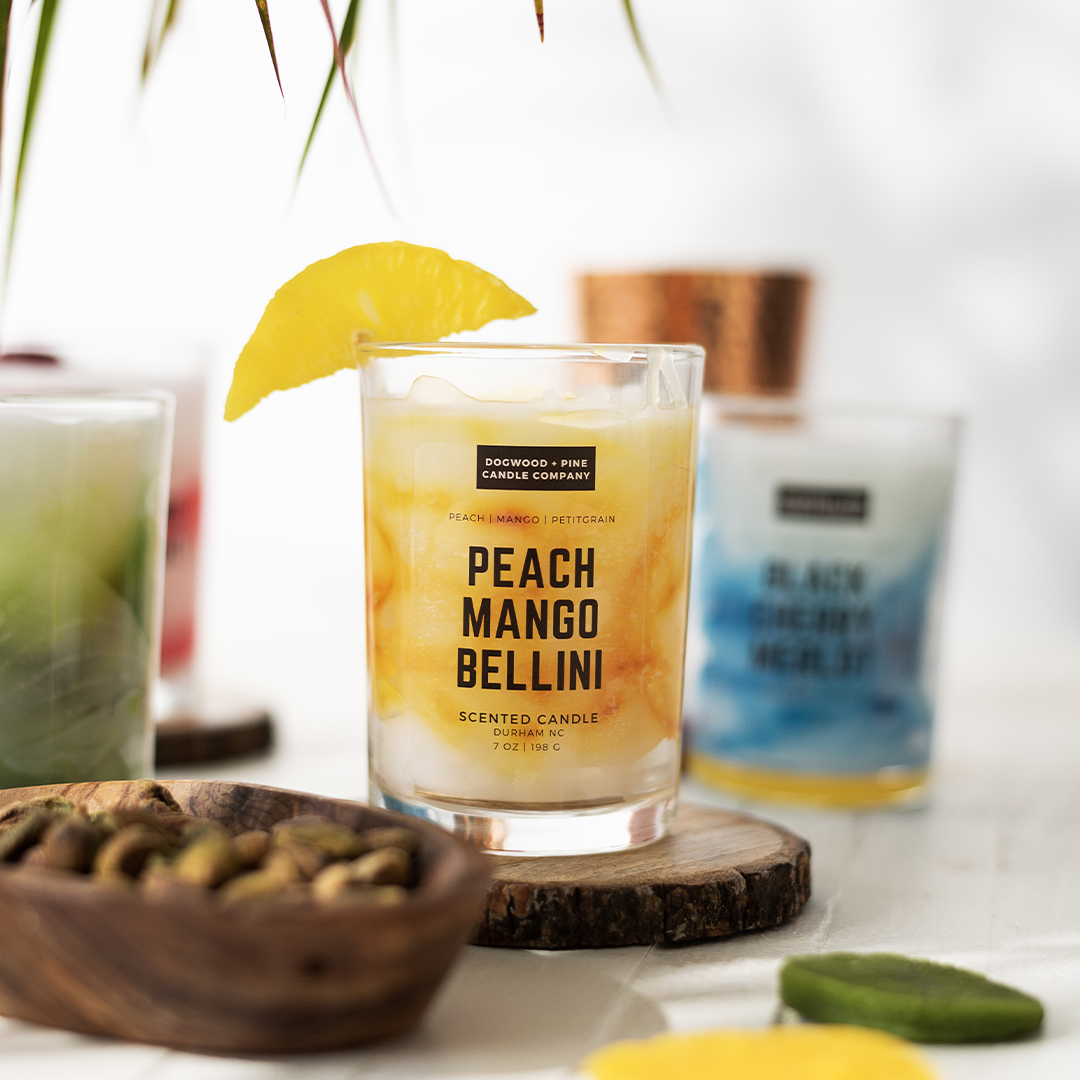 Frilly, ornate beverages are vacation requisites, whether you prefer yours blended or shaken, virgin or doubled.
Steal the look: We kept the names straightforward for our cocktail candles, naming them after drinks you'd find at a swanky resort bar. The marbling technique emulates the feel of an involved, artful cocktail while the Puebla Tumbler Jars remind us of high-quality glassware.
Realistic embeds complete the look of our summertime cocktail candles.
Cabanacore scent stories
Fragrances that set the mood for spa days, offer nostalgic coconut comfort, and turn cocktail hour into any hour.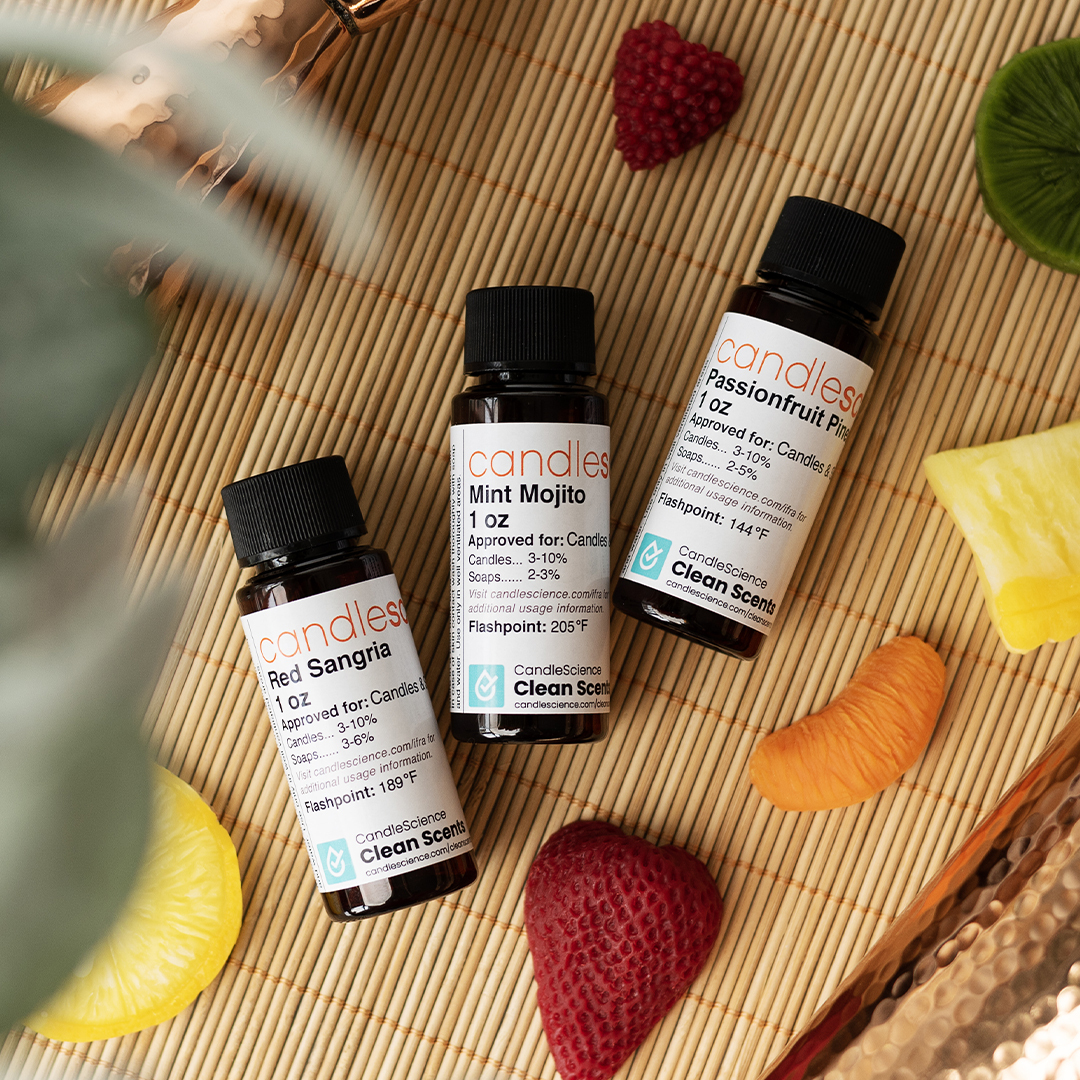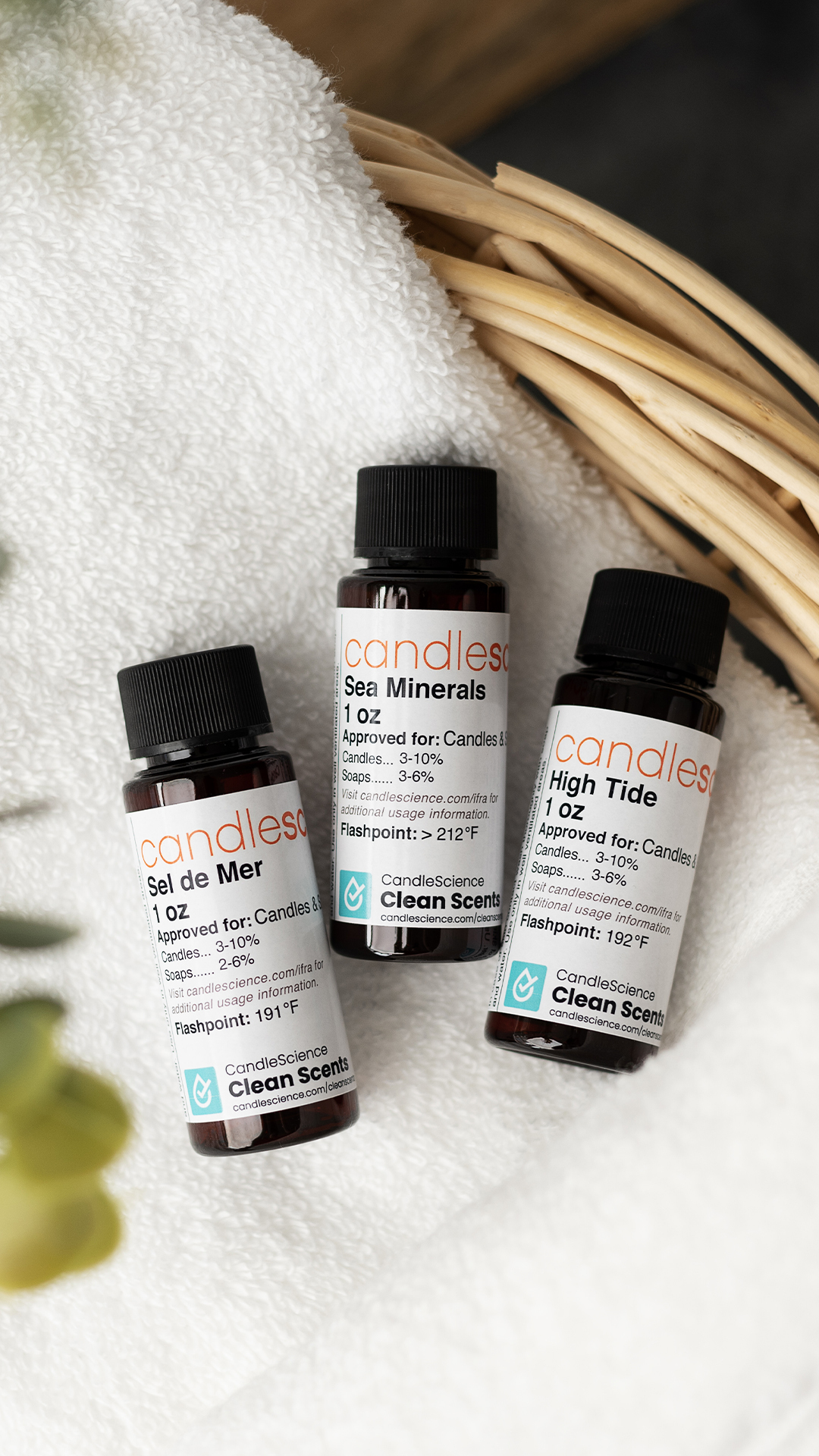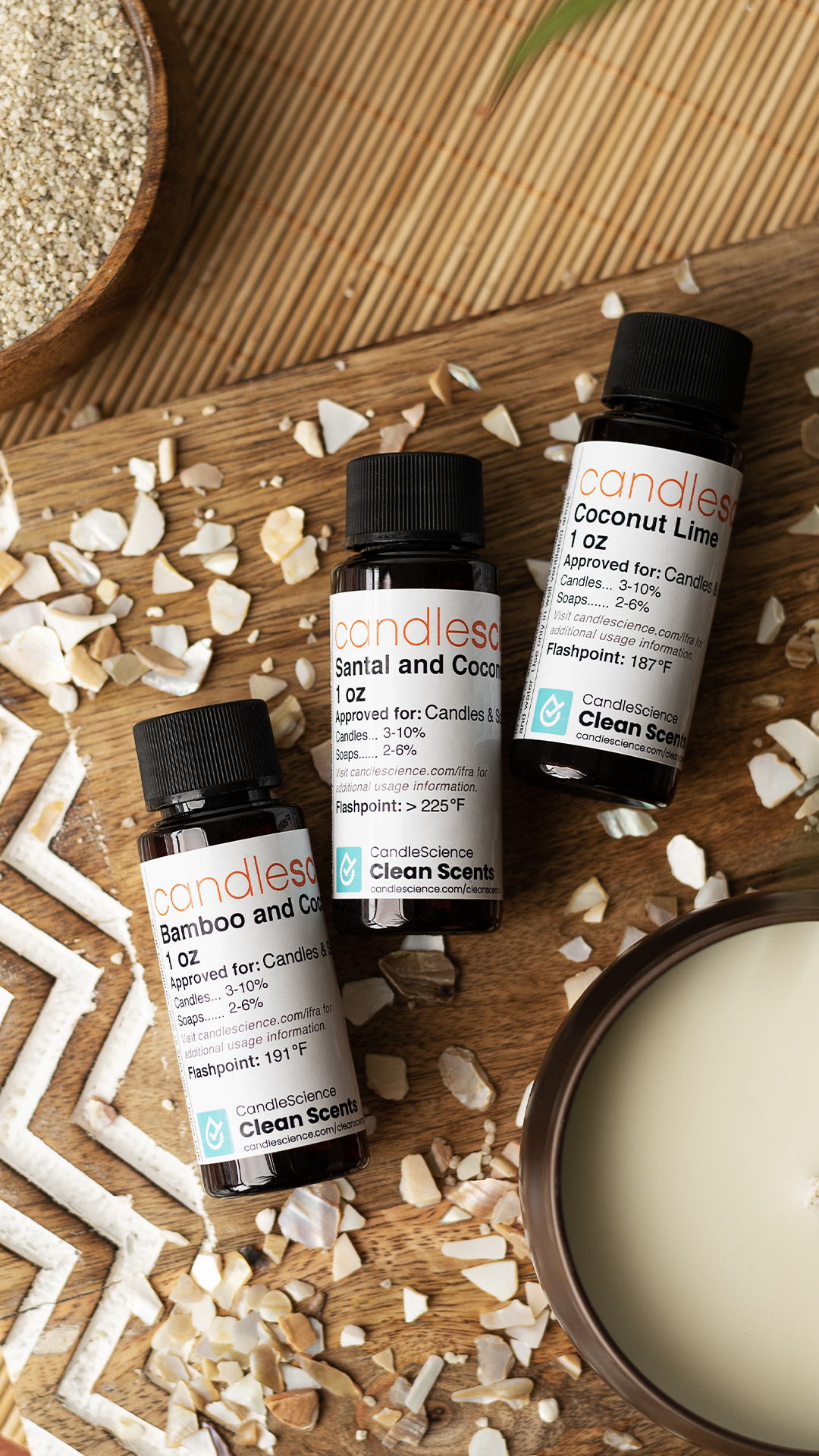 Carousel with 4 Products shown at the same time. Use the Previous and Next Button to Navigate.
Carousel with 4 Products shown at the same time. Use the Previous and Next Button to Navigate.
Carousel with 4 Products shown at the same time. Use the Previous and Next Button to Navigate.
What are you creating this summer?
Share your summertime product lines, and all your handmade creations, with the CandleScience community. Tag us @CandleScience or use the #CandleScientist hashtag on Facebook, Twitter, and Instagram. We may feature you in our Stories or on our website!