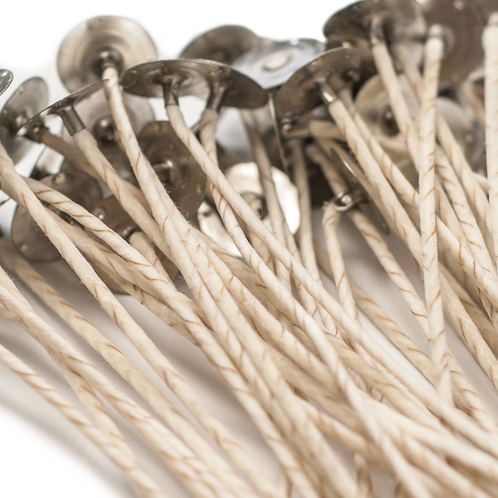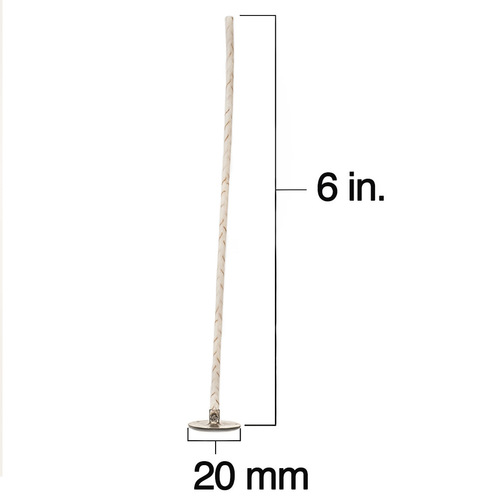 Details
About the ECO Series
ECO wick is constructed from natural flat cotton threads interwoven with paper threads that produce a rigid structure for easy pouring. The consistent flame and slight curl of ECO wicks work well with natural waxes and ensures an even burn.
ECO wicks are lead and zinc free.
For help choosing the right wick for your candle, visit our
wick guide
.
Reviews
Works perfect for my mason jar, soy candles!
These wick works well with my pure soy wax candles. I have used it with both colored soy wax and uncolored soy wax, and it still works well for me. I always love to order from Candle Science. Their products are great quality.
Love these wicks! I use the tumbler jars, and they're awesome.
Friendly reminder for those saying this wick was too big or too small when they followed candle science reccomendations, your wick size will vary depending on how heavy your fragrance load is, and if you're using dye.
People who use my jar have found great results with eco 14 but I have to wick up to 16 because of my dye.
I used 12 oz status jars and 464 wax to make my candles. These are the only wicks I use and they burn evenly, would recommend! Not sure what other reviewers did wrong, but I use these only and love them!
I tested eco 16 wick in an 8 oz. tin container and it had a good melt pool after 2 hrs. CS recommended wick eco 14 but it tunneled in my tins and that is why I chose to try this wick. Works very well.
After doing many candle burn test, discover that this wick works great with soy wax. The key is to test, test, and test. I love to use 464 wax and 444 wax (another great product).
We've used them for years. Always consistent. Use thousands of em every year.
NOTHING WRONG WITH THESE WICKS!
I posted a review on the 13th and gave these wicks a less than favorable review. Operator error. I had read somewhere that it was ok to use crayons as coloring... NOT SO. Not in soy wax anyway and if so, use very little. I know crayons have a higher melting point which the wick was not designed to melt. I am burning a candle I poured yesterday using GW 415 and these ECO 16 wicks with no coloring and has fragrance. It is burning beautifully! Wanted to make things right here. Sorry for posting the negative review.
What is wrong with these wicks? Tunneling badly. It's like they're burning too quickly and then going out altogether. Very poor quality I guess.
ECO 16 is Not burned correctly
Recently purchased ECO 16 for 3 1/4" diameter glass jar of Golden Soy Wax 464.
I constantly use ECO wicks for all my soy candles , but this order of ECO 16 has poor quality.
A flame on ECO 16 wick turned off itself every time I tested and caused "Tunnel Effect" . Quality on ECO 16 is uncertain, but other sized of ECO wicks are OK.
The wick was recommended by their Wick Chart and it worked great on my 8 oz. The burn was perfect, but to my taste I think a double wick would be cute! I am hoping to double wick my 16 oz (to use these on 8 oz) and the chart recommends ECO 10 6" Pretabbed Wick so I am looking forward to a great burn by those too!