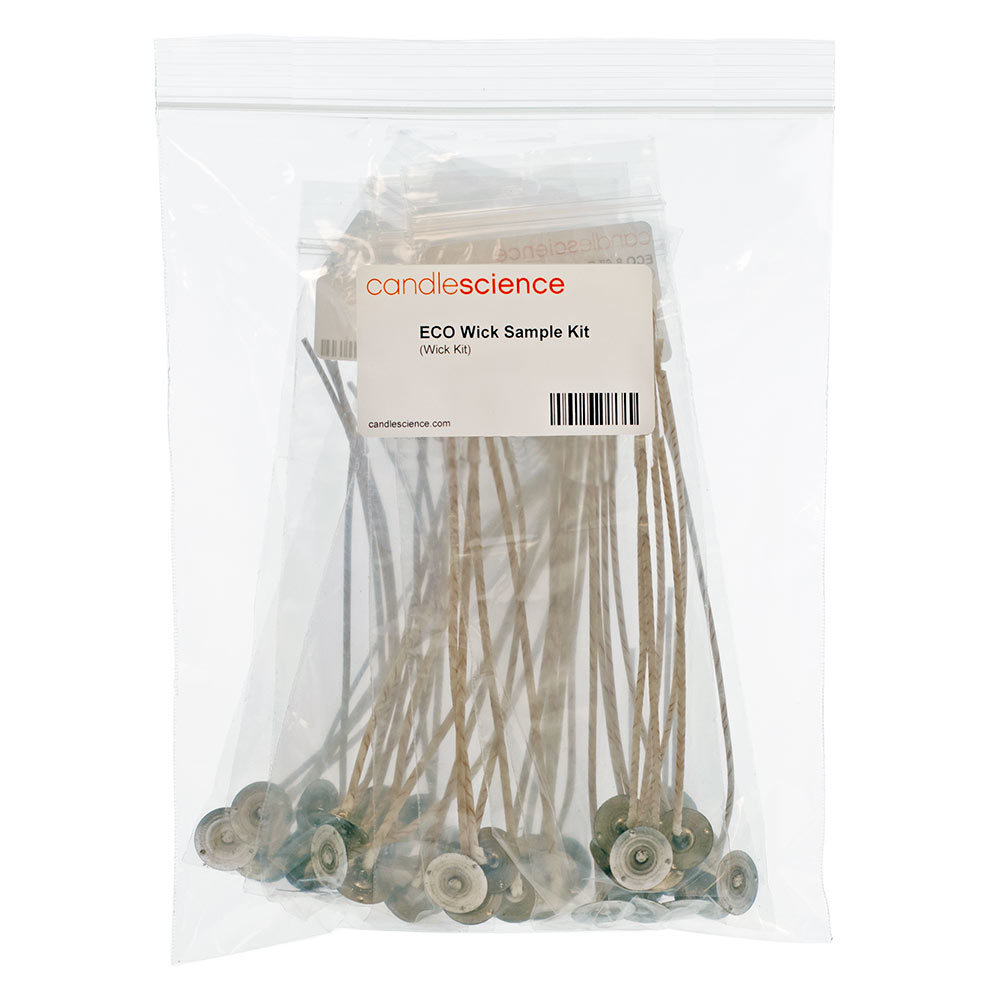 As of 08/18/2018:
This product is discontinued and no longer available.
Details
Product Update: May 21, 2018
Due to customer feedback, we will launch a new smaller sized 12 piece bag for each of the ECO wicks that were included in this sample kit. The new 12 piece bags will be available on each of the 3" and 6" ECO wick pages by the end of June.
Need wick for soy wax candles? Try our ECO Wick Sample Kit.
Perfect for deciding which wick will work best for you, the ECO wick sample kit contains 5 pretabbed wicks of each size in the ECO wick series and is designed to be used with soy wax and soy wax blends.
The consistent flame and slight curl of ECO wicks work well with natural waxes and ensures an even burn. The rigid structure also makes it an easy wick to use when making soy tea lights, votives, containers or pillars.
ECO wick is made from natural flat cotton threads interwoven with paper threads that produce a rigid structure for easy pouring. They do not contain zinc or any other metals.
The range of wick sizes in the sample kit can be used to create tea light, votive, container and pillar candles.
Sample kit includes 5 wicks of the following sizes: (Total of 45 wicks) - ECO 1 3" - ECO 2 6" - ECO 4 6" - ECO 6 6" - ECO 8 6" - ECO 10 6" - ECO 12 6" - ECO 14 6" - ECO 16 6"
For help choosing the right wick for your candle, visit our
wick guide
.
Documents

Reviews
great way to try out the Eco wicks
I used this sample set when I was first starting my business. It was a great way to test the way different size wicks would burn in my jars, which allowed my to find the exact burn I was looking for. I've bought many wicks from Candlescience and have never had a quality issue. Use the wick stickers to stand the up in the jars.
I bought the Eco Wicks sample kit half of them was broken wooden stand up when I try to use them wasn't happy with themat all arrived on time I don't know if I would buy from this company again I believe in receiving good quality products it will be the same thing if I was selling something wasn't happy with the Wicks at all I think the person is packing the wick should be more careful and make sure they giving people what you paying for specially when you I paid $16.99 for the product and shipping