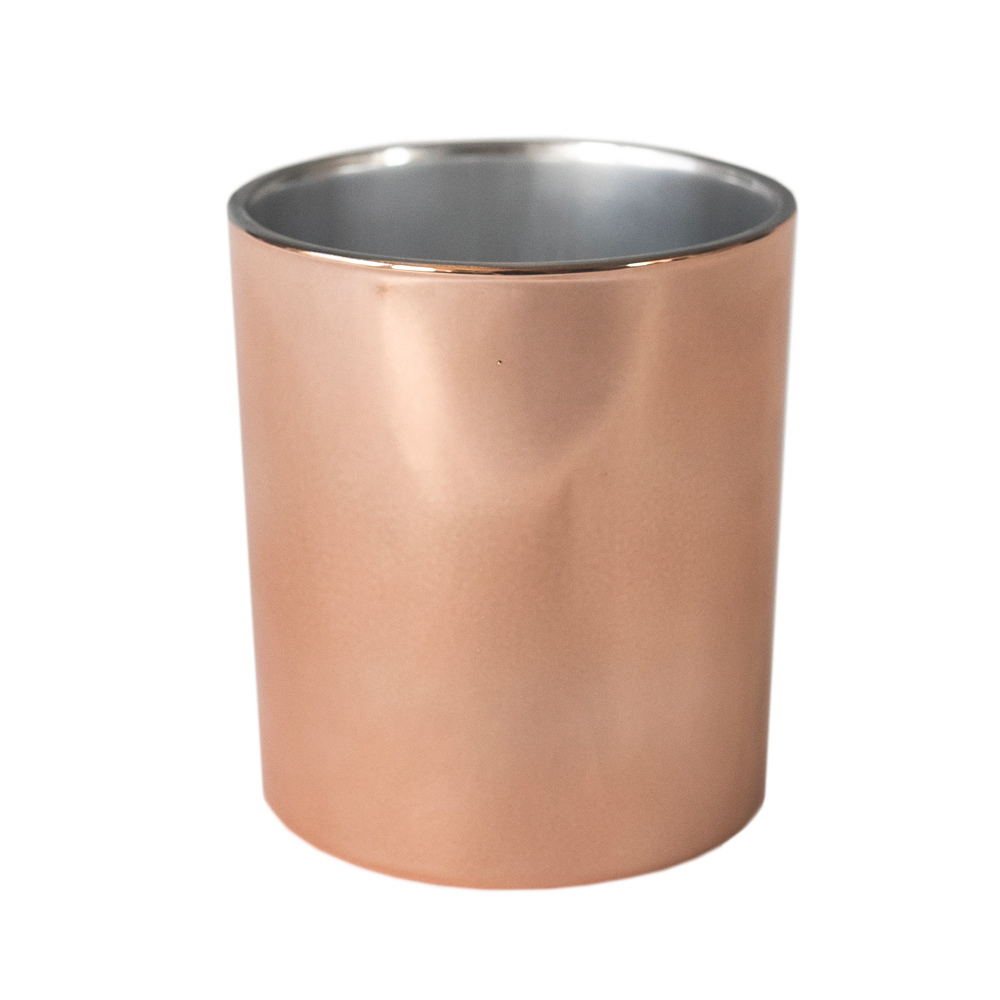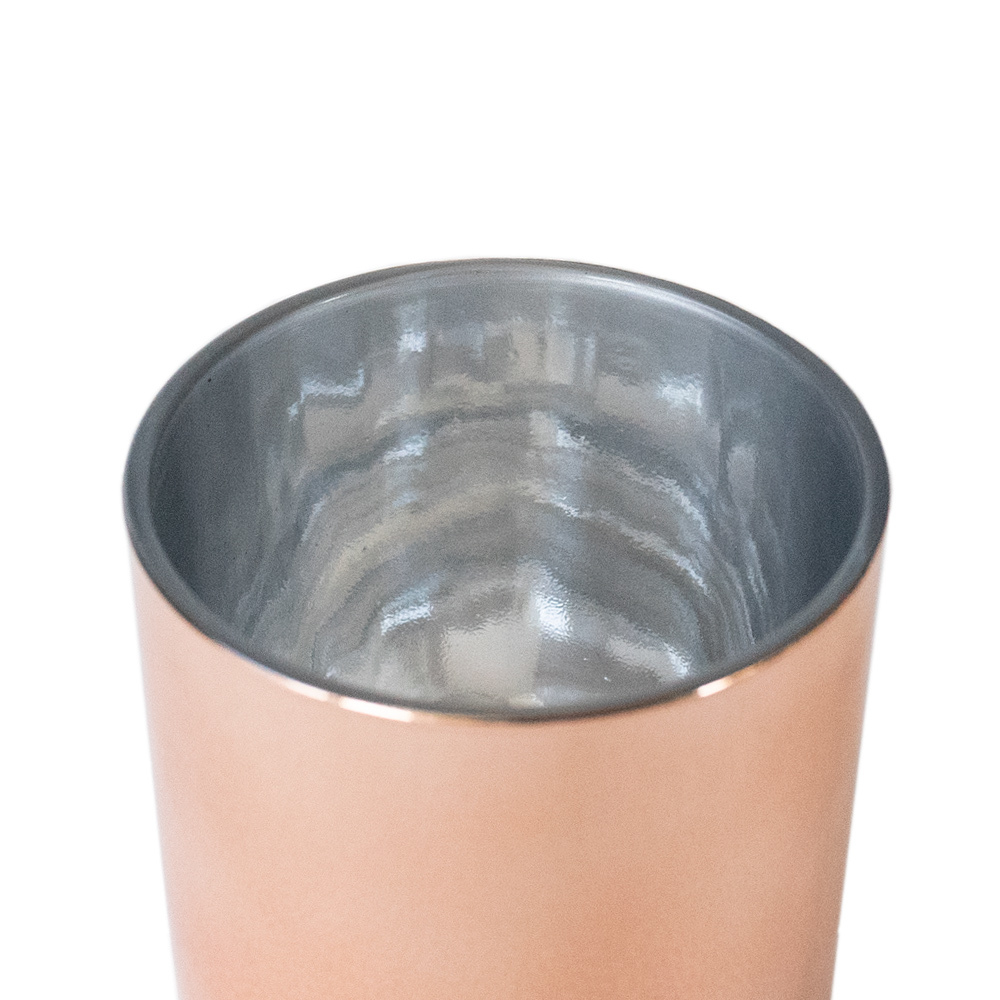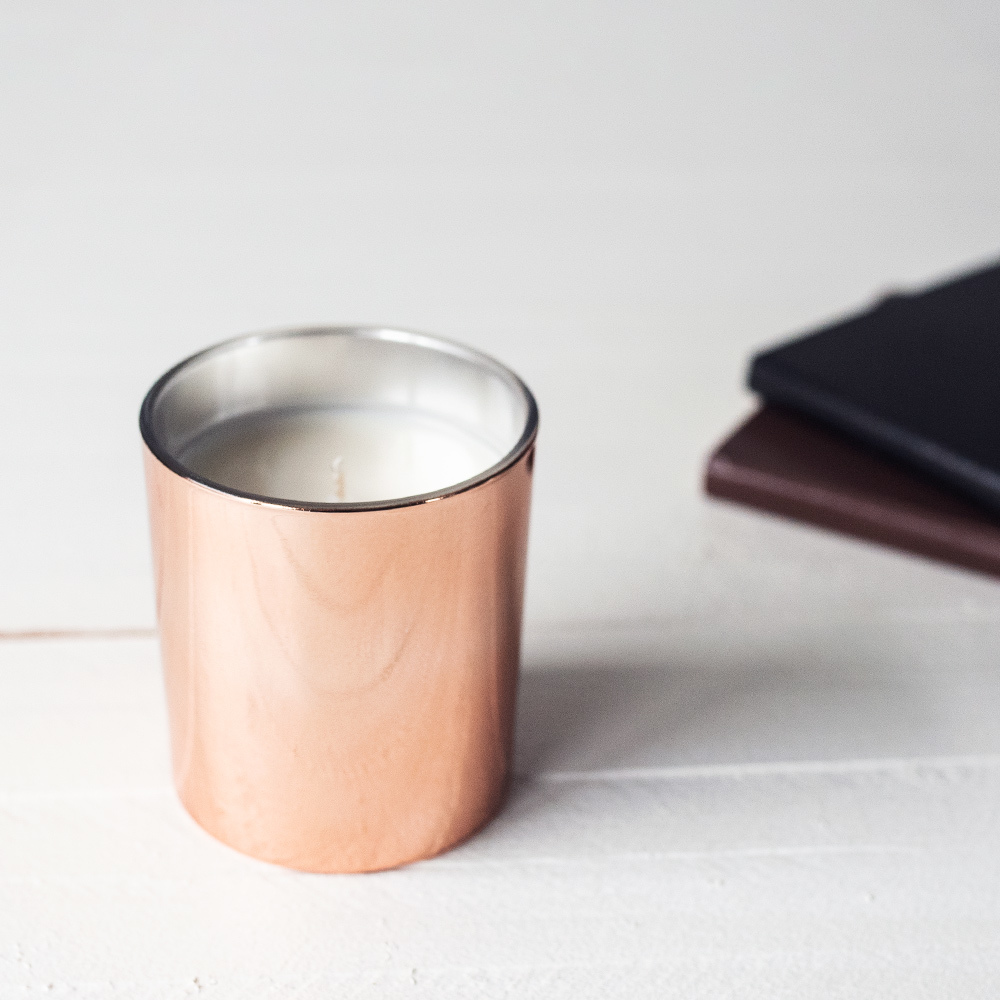 Ready to Order?
Out of stock. Estimated: East Coast 12/10, West Coast 12/17
5 - 69 Cases
$26.28
$2.19 /pc
70 - 139 Cases
$25.80
$2.15 /pc
140 + [pallet]
$25.32
$2.11 /pc
Details
Our Copper Tumbler Jars are a unique, attention-grabbing addition to any candle line. The electroplated copper finish on the outside of the glass gives the tumblers their shiny, metallic copper color. The metallic silver on the inside of the tumbler adds a beautiful contrast and depth to the copper finish on the outside, and reflects a soft, entrancing glow once the candle is lit.
We also carry this tumbler jar in silver, silver mercury, and copper mercury.
Candle Maker's Note:
If you typically wick our Straight Sided Tumbler or similar tumblers by sight alone, note that the reflective inside can make eyeballing the center of these tumblers difficult. A wick setter is recommended.
Looking for a lid? Try our silver, bronze, gold and black metal flat lids.

How much wax will it hold?
Wax Weight (to fill line) - 8.5 oz.
Volume (to overflow) - 11.9 fl. oz.

Looking for a wick suggestion?
GB 464 - CD 18
IGI 4630 - LX 22
IGI 6006 - ECO 8
Check out our wick guide to see recommendations for other waxes! Our recommendations are estimates and should be used as a starting point for your own burn testing.

Looking for labels? Put the finishing touch on your candles with the perfect product label from Avery WePrint. Browse designs, create your own, and take 10% off all label orders! Head to avery.com to get started.

Need packaging for this jar? We have options!
Try our Kraft or White Straight Sided Tumbler Boxes! We recommend using either a lid, OR a tumbler box, not both.
OR
Try our Black, White, or Kraft Paper Candle Tubes. These recyclable tubes allow space for metal flat lids in addition to the packaging.
Wholesale Ordering View our wholesale page for more information on ordering in bulk.
Imported
Properties
| | |
| --- | --- |
| Height | 3.46" (+/- 0.06") |
| Diameter | 3" |
| Max Labeling Area | 10" x 3" |
| Prop 65 Warning Required | No |
Reviews
Love these Jars! But why are they never in stock?
Hi! We're happy to hear you're loving these jars. A member of our Support Team has reached out via email to assist.
I love the look of these jars. But can someone please confirm what oz tumbler this is.
Hi! Glad to hear you like the look of the Copper Tumblers. They hold 8.5 oz of wax. Hope this helps!
The new solid copper tumblers are not of good quality like the previous copper tumblers were. I noticed on some of the new tumblers there are drips of copper color on the silver. I also notice dents in the glass. I hope Candle Science finds a better product.
Aside from 2 out of 24 having arrived broken, these are gorgeous. Very prone to fingerprints, but used some gloves and they look fantastic.
My customers love these tumblers. I use them with the bronze lids and they are a hit. Love! Love! Love!
The jars are beautiful and work well for our seasonal limited edition candles. *Note: fingerprints really stand out on the jars. Because of this, we wont use them for our regular line. We also did not have luck with our standard clear label and had to make adjustments.
Wow! I have been looking for an electroplated glass tumbler for the last year. Amazing! The reflective inside is so mesmerizing! I would love to find white or grey matte on glass as well!
It's very beautiful and I love the shine to it, you won't regret getting it
I love these! But will you guys ever get gold tumblers?