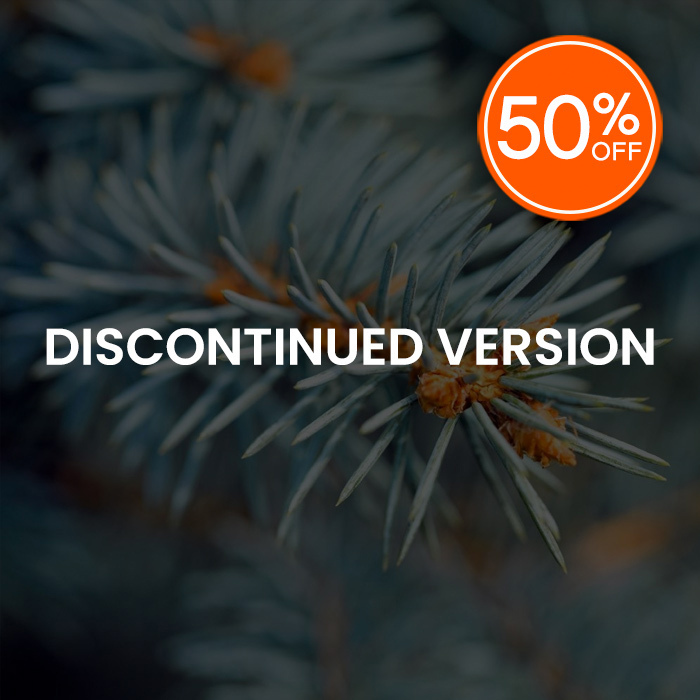 As of 08/12/2021:
This version of Blue Spruce (Discontinued) has been discontinued and replaced with the new Blue Spruce. Click here to check it out!
Details
Ever hike out and cut your own Christmas Tree? With our Blue Spruce, you'll feel like you did just that. More complex than a typical Frasier or Douglas Fir, it has a punchy, brightness that is really pleasing. Capture the spirit of the holidays with this strong, true, and enchanting scent. We love this fragrance and think you will too.
This fragrance is infused with with natural essential oils, including cedarwood and pine.
Note Profile:
Top: Cinnamon
Middle: Cypress, Moss
Base: Spruce, Pine, Cedar


Suggested Colors: Blue, Green
See our complete list of candle making dyes and soap colorants.

Looking for the right pine fragrance oil? Consult our Pine Fragrance Oil Guide!
Note: Bottles filled by weight, levels may vary.
Properties
Candle Safe

Yes

Usage: 3-10%
Soap Safe

Yes

Usage: 3-6%
Vanillin Content
0%
Soy Performance
Flashpoint
179 °F
Phthalate Free
Yes
Prop 65 Warning Required

Yes

Diffuser Base Compatible
Yes; Up to 25%
*Usage amounts are recommendations only. Individual usage amounts can vary based on your desired fragrance strength, wax type, soap base, or lotion base. See IFRA certificate for max usage levels.
**Warning: This product can expose you to myrcene, which is known to the State of California to cause cancer. For more information go to www.P65Warnings.ca.gov.
Documents


Reviews
This smelled amazing out of the bottle, during the candle making process, and had great cold throw. But almost imperceptible hot throw! Used 10% fragrance load and poured at lower at 145, cured for a week. So sad because I absolutely loved this scent. Hope the new version performs better!
Thank you for leaving your review! A member of our support team has reached out to you via email to provide further assistance.
For a Christmas tree blend, I recommend this or Fraser Fir. The difference imo is that blue spruce has a warm cozy feel (think of a Christmas tree inside the home on a cozy Christmas morning) whereas Fraser Fir is a bright Christmas Tree blend (think standing in the midst of a Christmas tree farm on a chilly winter night).
Love This Guess its being Revised
One of my favorite holiday fragrances. Yes, I was going to reorder. I guess they are reformulating to make it safer for us and our clients. Therefore let's be patient and not blame Candlescience for pulling this during the holiday season. Fraser Fir is also a wonderful Christmas Tree scent.
Another discontinued CS product. Cannot shop here anymore
This being discontinued in winter season, is quite unbelievable. What is Candle Science doing?!
I cannot shop here anymore, certainly not any fragrance oils or waxes. This is not good business to do this to customers who have been shopping with Candle Science for years.
Love this FO!! Use it every Christmas please don't discontinue!!
Oh my gosh, this is my favorite pine scent! I blend it with fir needle and it makes an amazing soap, wax melt and bath bomb! I'm actually going to cry 😭😭
I used Blue Spruce for the first time to make candles from our bees wax. Better than the other scents and seems to be a good blend with bees wax. Rather difficult to determine the correct % but I have been estimating and making only 3 large candles at a time to experiment. So far about 1.5 ounces for 1# of wax or possibly up to 1.75. I do not measure but estimate.
I really like this scent way more than I had expected. I purchased because of reviews and I'm glad I did!
I'm sooo disappointed with this FO. I purchased a 1 oz bottle and it had such an amazing scent just like a Christmas tree. I loved it so much I bought another bottle 16 oz (before testing it) to include it in my Christmas line. I made my tester candle using 464, 11 percent fragrance load, heating to 185 and pouring FO at 135. Again, the scent was strong during the process. I let it cure for a week and when I lit the candle 0 hot throw.
- Mellisa
Before reading this I did exactly the same thing and I got the same result! :(
any advice?
Hi there! A member of our support team has reached out via email to offer further assistance.
Personally, I love this scent. It's hard to review because enjoying a scent or not is obviously very subjective, but I will do my best to describe this scent. It smells exactly like a real Christmas tree, but like the description says, it's an enhanced Christmas tree smell. I am not usually a fan of cinnamon, but I think the cinnamon in this fragrance compliments the pine smell nicely without being overwhelming like a lot of cinnamon fragrances tend to be. I purchased a few different pine themed fragrances from Candle Science, and while I like all of them, I would describe Blue Spruce as the warmest.
So this fragrance oil smells incredible, but it turns out I am incredibly allergic to it.
I have a mild allergy to pine, but didn't notice this had real essential oil in it and thought it was purely synthetic.
Wanting to offer something seasonal for customers, I bought this fragrance and broke out in hives all over my body. Lol.
I'm fine now, and it's my own fault.
But it's a real shame because honestly, this scent is simply incredible.
I am giving this fragrance five stars because so many people in my family and customers really enjoy it. It does smell really good straight out of the bottle and before the candle is lit. Once the candle is lit the hot throw is great but I notice a slight burning chemical scent that I just can't get past.
I love these scents ! Throw is amazing and leaves my house smelling divine. Literally my only problem is that there are no droppers in sight !!! It's so hard to buy them because there's no information about what size I should be looking for. Very off putting tbh. You lot should either start selling them or disclose the sizing so we can buy them separately. Does anyone know what sizes are good?
Hi There! Thank you for leaving a product review. A member of our support team has reached out to further assist you!
Awesome but sadly harmful. 🤦🏻‍♂️
This is a great fragrance for the winter season. One of my favorites. However, is there any update on the revised "clean" version.
•••
Love the CT/HT, really disappointed about the warning.
Hi! A member of our team will be reaching out shortly!
holy wow!! I've used other oils these surpass anything I've tried. Super strong and amazing! Received first order placed another very next day
This scent is Christmas tree mixed with something else, I'm not quite sure. But it smells like the Grand Floridian hotel around Christmas time and I love it!
love this one. It is perfect for the Holidays. I think it is perfect for my own line.
Once a favorite, this has changed.
I am so disappointed that this scent has changed. Many fabulous fragrances from Candle Science has been changed or discontinued.
Waxes have been discontinued and recently wicks. I don't think I can buy anymore fragrances here due to the constant changes.
Out of the bottle, it smells soapy. Not sure I will like it as a candle. There are other tree scents that I prefer more- even from the bottle!
I cannot express enough how much I absolutely love this smell!!!!
It literally smells like if you spray a Christmas tree with light man cologne.
I have been using this fragrance for the past 5 years. It has an excellent cold and hot throw. This is a top winter fragrance for me it sales very well. I use it in 646 soy wax
I'm sooo disappointed with this FO. I purchased a 1 oz bottle and it had such an amazing scent just like a Christmas tree. I loved it so much I bought another bottle 16 oz (before testing it) to include it in my Christmas line. I made my tester candle using 464, 11 percent fragrance load, heating to 185 and pouring FO at 135. Again, the scent was strong during the process. I let it cure for a week and when I lit the candle 0 hot throw.
Owner of Natures Own Candles
I order this every year for my Christmas candles. The description is exactly how it smells. It is not an overwhelming fragrance so if you like it stronger you may want to add a little more but I like the subtle fragrance of this very Christmas scent.
This scent smells pretty good. Smells like spruce. It isn't super strong so on my next batch I will probably add a little more scent to my soy wax. Over all I like it and customers seem to like it too!
I sold out within 5 minutes! I LOVE THIS SCENT!
Another great pine forest scent. I sometimes blend it with Fraser Fir. Very Nice.
I wanted to love this so much. It has a wonderful cold throw, but in soy candles its pretty much non existant unless I'm right next to the candle. I have a whole batch of blue candles with mediocre throw, so I will be trying the other half of this batch without the dye to see if the scent throw is a little better. I won't give up just yet, but this one is a challenge to get "just right".
Great scent, not the best behavior in CP soap.
I would give this 5 stars for scent if it had behaved a little better. The scent is great. Definitely smells like spruce, but mellow, not too sharp like some pine scents are, very pleasant. I got my soap to a thin trace and added the scent. It riced a little, not too badly. I was able to stick blend it back together, but it went to a thick trace pretty quickly. My recipe can usually take a LOT of stick blending before it thickens, but this scent definitely accelerated that. I was still able to color a portion and tried glopping it into the Christmas tree pattern I was going for. We'll see how it turns out. I'm sure it will be fine, not nice and thin like I wanted, but still pretty, but I would definitely not recommend this scent for the project I attempted or any kind of design really, just maybe two colors and plan on spooning them into the mold, nothing fancy.
GREAT scent! BEWARE soap makers, Hot Process this one!!!
I am really wanting to offer this in my Winter Line, but it has the Prop 65 Warning. Is there any chance that this fragrance will be changed to take it off of the so called "bad list?" I want to offer soy candles to my customers that are not possibly harmful to them. Thanks!
Hi! Yes, we are working on revising all fragrances that have Prop 65 warnings so that our product line will be 100% Prop 65 warning free. We will update the product page as soon as this fragrance is under revision!
I got this scent in my first order, which was the fall/holiday pro kit, and it was definitely one of my favorites! It's not overpowering, but spreads through a room so perfectly. It definitely gives you cooler weather vibes! I think using 6% in a pound of 464 wax is the perfect ratio!
I'm new at this candle-making thing (I'm only doing it for myself and not to sell) but love this scent! It smells exactly like I'd hoped it would and I would definitely buy it again. I found that the candles I made have good cold, but not hot, throw so maybe I need to add more oil in next time.
I purchased this for a holiday scent, but I enjoy the foresty FOs year round. It's perfect to freshen up any room.
The best holiday pine smell, hands down. You can fool guests into thinking your tree is real.
This scent was my best seller amongst men AND women. Such a refreshing holiday scent. Slightly masculine but not over powering.
I've made this fragrance for the last 2 years during the holidays to sell and it is snatched up quickly by happy customers.
Men love it because it smells masculine.
Great cold & hot throw, too!
My top seller is still Fraser Fir, but Blue Spruce is also a very nice realistic option. Although still strong, it's a little lighter on the nose than the F. Fir, and with the expected slight fruity note that true Blue Spruce should have. They hit the nail on the head with this one.
This has been my favorite pine smell so far. My partner HATES pine scented candles but this (mixed with Christmas Hearth) has become a favorite!
I was so looking forward to having the fragrance of a freshly cut Christmas tree but my hot throw with this candle is non-existent unless I stick my nose close to the flame. I used 2 greens and a blue dye chip and got a delightful color so in spite of not getting the fragrance I hoped for I do have a lovely candle.
I love this oil. it is strong and smells very good. a nice Christmas scent
We use Spruce in cold process soap. Spruce is the best scent Candle Science sells. I've tried many and Spruce is the real deal. It works in any season or occasion. Its very concentrated.
Smells very good, kind of masculine. I Had to use quite a bit to get the smell I wanted though
Blue Spruce Fragrance Oil
I'm more of an essential oil soapmaker, but I really like the fragrance of this oil, whether used alone or in a blend of woods-type essential oils. Slightly sweet, it brings out the aroma of the trees when used with essential oils, but not so sweet that it smells like a typical Christmas fragrance. I've purchased this twice from CandleScience, and will continue. This is my favorite fragrance from this company.
This is a GREAT true blue spruce scent. Not artificial smelling at all, I really dig it. I'm still waiting for it to cure but so far so good. I'm def going to be buying more soon.
This is one of my best sellers since introducing it 2 winters ago - I now keep it year-round because it's so well loved. The perfect hot and cold throw in my soy wax and candles. Yum, yum, yum.
Added this to a combo and it was amazing !! must have to for my collection
Great spruce fragrance without being overpowering or smelling too much like a Christmas Tree pine. Very crisp, green and fresh.
This One has good reviews! But I didn't care for it! I prefer CS Fraser Fir over this. HT was little light which is ok for certain scents. Seemed like a light fraser fir with some eculyptus notes. 464 at 12%. I will not carry this scent
This is a perfect balance of trees and outdoors. The spruce and pine can definitely be noted.
If you have Bath and Body Works candles in your mind. I don't think the throw is not as strong as that line, but definitely close.
If you like the smell of a spruce then this oil is for you. Very strong H/C Throw in Soy.
transformed into a spruce forest
Blue Spruce smells like the holidays in the midwest and a winter wonderland, great job!
I hope this is going to be a WINNER!
OOB this smells amazing. I am getting ready to try it in Soy Wax 464.
I love this scent. It is strong in soy and a bit different from other conifer scents. It is just slightly sweeter, yet still evokes the feel of a walk in the woods.
Nice for the Holiday Season
The fragrance was very strong while making it but when burning the candle it was very nice. Made with GB464, Eco#10 wick. Nice scent.
This Blue Spruce is a beautiful fragrance with a great hot scent throw. It has been a very good selling fragrance for me and I have tested it in my home. A must have for fall through winter - maybe all year long! Used with EcoSoya CB-Xcel and EcoSoya Pillar Blend. You will not be disappointed with this one!
Very strong out of the bottle, but perfectly balanced fragrance in cured soy candles. A definite winner!
This scent is very straightforward and does evoke Christmas. Works well with Comfort Blend paraffin.
While I like the heavy pine fragrance not everyone does. I blended this with cinnamon stick in equal parts and the candle result was an amazing Christmas blend! I received several hundred dollars worth of pre-orders just based off my tester. If you have ordered this fragrance and felt it too heavy on the line, try the cinnamon stick with it.
I use both eco soya advanced cont. and eco soya pillar blend with LX Wicks. 1oz fragrance per lb
I was extremely pleased with both the hot and cold throw! I have been disappointed in other pine fragrances, but this one is great! I use it in C3 and GB 464 soy waxes. I did feel it had a slightly stronger hot throw using the C3 soy at a 9% load than in the GB 464.
It is like waking up on a cold winter morning and stepping out to a fresh, clean, crisp snowfall!!! I love it...I actually wanted to move to Aspen after smelling this!!
Great, true to life scent
I got this, Christmas Tree and Pine Cone. This is the best, most evocative Christmas-y scent. Has great scent throw.
This is really great. If you love the smell of a real Christmas tree than this is the smell for you. This FO is clean and uncomplicated. Very true to life. Will be buying again for sure. Smelled wonderful, strong but not overpowering, in GB 464 at 1oz/lb.
This fragrance oil is OUTSTANDING! It is so true-to-life and strong in every product I have created using soy 464 and IGI 4627 waxes.
This is a very strong scent! One it's been poured, I smelled it for a couple of hours later still in the room, have yet thou to test burn one to see how the scent smells, but will possibly buy more than a one ounce sample next time.
Smells too much like Lysol
I do not make candles, but I use fragrance oils for a bunch of other stuff. I tried using this fragrance in an oil burner and just cold. It does not smell like spruce to me, but more like Lysol products. If I ever have a real bad smell, I guess I could use it. Or maybe mix it with others, which I haven't tried yet. But on it's own, I did not like this fragrance.
A Little Strong Out of the Bottle...
The scent was a little, ok very strong out of the bottle. It almost reminded me of pine-sol but after the candles cured the scent really mellowed out. We're using this as one of our holiday collection scents.
Love This!!! Just poured it and it reminds me exactly of a live Christmas Tree. Since live Christmas Trees bother my sons allergies - this will definitely be burning in my home this Christmas Season:))
I LOVE this! Until I tried this, I hadn't found a "tree" fragrance I really liked. This definitely smells like a Christmas tree, which is great, but I'm going to use it year-round, since it has such a clean, fresh, outdoorsy scent. I've used it in GB 464, as well as Ecosoya PB, with great results.
This scent is awesome, smells just like a real tree. We have an artificial tree and I really miss the scent of the real tree. I made tarts with this scent and my tart warmer is on the entire time my tree is lit, so my house smells like I have a real tree. Someone mentioned in the reviews that it smells like Lysol - I don't think it does, not even close. I went by the positive feedback and I am glad I did.
This one reminds me of Bath and Body Works Stress Relief candle which they describe as eucalyptus and spearmint. I would say this smells like pine and eucalyptus, and it has a spa or stress-relieving quality to it which is nice. However, based on other reviews, I was expecting and hoping for more of a live Christmas tree scent.
We will keep trying with this...
We love this scent. Cold throw is good but when lit it doesn't really fill up a room with scent as anticipated. We will have to experiment with the other 6 Oz. Currently using 464. Currentlyou burning a 25 Oz jar with wooden wick. I think the wood wick in this jar is not burning well enough to really get a warm melt going. Maybe that's part of the problem. Maybe it's the wax. Maybe it's me haha. To the kitchen....
Not everyone has the same nose!
When I first smelled this scent, I nearly passed out! It's super strong and smelled like Pine cleaner to me...HOWEVER I still made a candle with it and brought it into work to have a coworker, who has a completely different "palate" (for lack of a better term), smell it and she said it was great. So acting on faith, I made a few more candles with it to put in the store I sell in, and they've sold out...go figure!
This definitely smells like Pinesol right out of the bottle, but after a week or so of curing the candles smell great! The hot throw is really good and fills a decent-sized room. My friends love this one!
I have been ordering this fragrance oil for quite some time and it never
disappoints. Works great with soy wax!
smells like a fresh cut tree
I was pleasantly surprised with how this did. Great hot and cold throw with one ounce of f.o to one pound of wax. I also used one Christmas green dye chip and one blue dye chip, it made a beautiful color that reminded me of a blue spruce tree. Lots of sales on this one. It smells like a fresh rain in Oregon.
I really love it! the scent is fantastic, not very sweet, it is very relaxing i used for my own wax melts and it worked perfectly i will be back for more that is for sure. And thank you for the great service
Love this scent! I use it in soy candles for the fall. Cure time is 2 weeks and the throw is fantastic!
I definitely prefer Fraser Fir to this one! Blue Spruce is a little heavier than I'd like and was a bit headache inducing. Would be nice for Christmas but I just prefer FF
This makes me remember Christmas and everyone loves it!. Beautiful. I used in 16 oz. Mason Jar with 4630.
It may just be the time of year, but I can NOT keep this candle in stock. It is just delicious, and my customers can't get enough!
I order it as a sample and since then I keep ordering the big bottle, my customer loves it.
will keep ordering, thank you candle science, this is one of your best scents.
Idoitinspanish Candles shop
I must say that this is the first FO from CS that I have no luck with. I am spoiled with fantastic results with CS FOs which is why I only buy from them. I got almost no HT with this one. I must say it smells amazing. It would have been one of my favorites but since I got no throw whatsoever I may not buy it again unless I can find out if I should change what I did and try it again. I see that almost everyone gets amazing results with it.
I really like this one and has a great scent throw; strong and true to description!
I am a cold process soap maker, and this is the best pine scent I have ever used. I soaped this to make Christmas tree cupcakes and it soaped beautifully. No AC, DC, ricing or seizing. Love this and all the Candle Science fragrances I have purchased.
I absolutely love this scent. I am a huge fan and will continue to buy this!
I love this scent and it's continuously a top seller. Give it a try!
I enjoyed this scent. Sometimes woodsy smells are just too much, but this is pretty good. Performed well in GB 464.
i dont ever comment on these sites but i must say this scent smells very good. i make candles and my customers love it
The perfect Christmas tree scent. Also great if you're looking for a scent that men will love since I would say it's close to the smell of cologne.
The best real pine tree scent I have found from any fragrance oil company
This Blue Spruce is a HUGE hit with my customers, family and myself. It smells like a real spruce tree and there is just something amazing about it. Don't hesitate, I don't know how much money I have wasted on other brands, this is it.
I must be the only one to not have good luck with this FO. I have let it cute up to 1 month using 464 soy wax and I get little to no HT.
On a better note I do love this scent a lot I just wish it worked for me. See folks that's why you have to test, test, test! Just because everyone has an amazing experience with a particular FO doesn't mean it will work for you.
Thank you Candle Science for having a great selection of unique FO that I cannot get anywhere else.
This is the first CandleScience scent I have used, and I have to say, I'm incredibly pleased! I used 1 oz/lb of fragrance in Ecosoya CB-135. It was very strong in the pot, cooled in the candles to have an excellent, if a bit strong, cold throw, and has just the right amount of room-filling hot throw. Scent is more nuanced than a lot of "Christmas tree"-type candle scents; it's not at all harsh or chemical-y, and is a bit closer to the fragrance of essential oils or even the smell of crushed fresh spruce needles. Very clean & uplifting. A great fall/winter fragrance.
This is an Autumn and Winter favorite. Literally cannot pour enough of these. We have customers asking for this fragrance all summer long. A must have Holiday fragrance for everyone.
This is my FAVORITE scent!!!! It smells like a Colorado morning in the mountains. I love it so much. It's extremely popular among customers, I'm very impressed with the throw.
The blue spruce is so nice! It's my favorite after meadow.
This one is always a sell-out!! I have used it alone and mixed it with other FOs to make a wintery mix - either way the candles sell very well! This FO has an excellent hot and cold throw when I mix 1oz with 1lb of GB464.
This really does smell just like a spruce tree. Can't wait to make diffusers and candles out of it!
I love this scent. It is one of my favorite to use in blends. When I first started to experiment with this fragrance, I used GW 464 and Eco wicks. I had very little scent throw. Later I tried EcoSoya Advanced with Eco wicks, and that worked great. Definitely a keeper!
I love this scent for the winter! It's my husband's favorite too.
The scent is excellent, and smelled exactly as described. I l can enjoy this fragrance year round but I love that is still carries that winter/holiday memory to it. I used mine in soy wax and combined it with Rosemary and it came out beautifully. I sold out within a week. Smells wonderful but the only thing that I wish is that my mixture didn't remind me of mens body wash as much. Cold and hot throw were strong but not overpowering. I would purchase again.