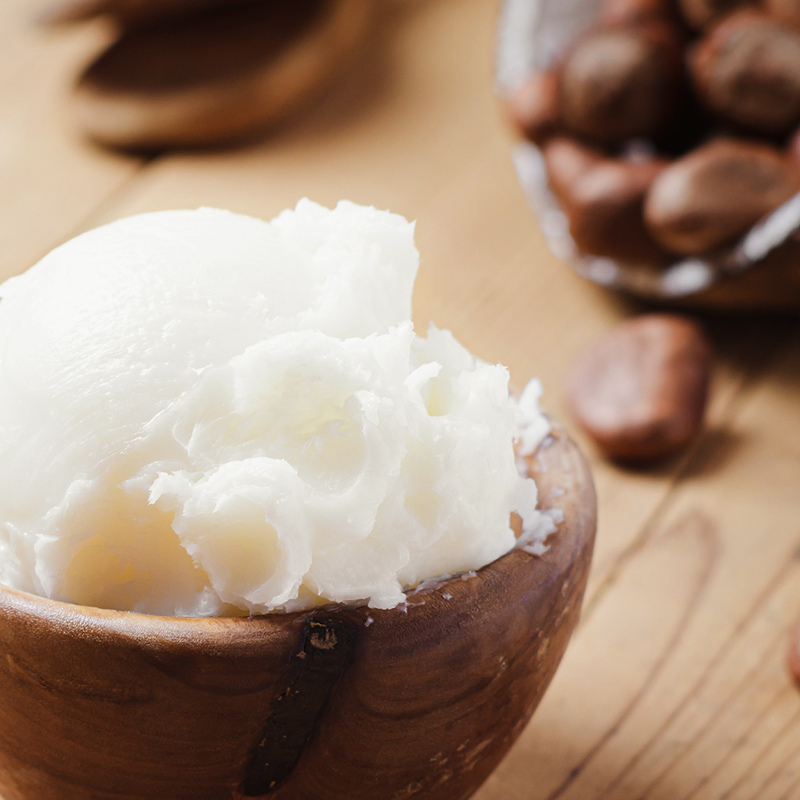 Ready to Order?
Ships from East Coast. Expected: West Coast 6/9
Ships from East Coast. Expected: West Coast 6/9
6+ 5lb Jugs
$84.84
$1.06 /oz
12+ 5lb Jugs
$76.36
$0.95 /oz
Safer Scents For The Home
CandleScience Clean Scents™ are free from carcinogens, reproductive toxins, and other potentially hazardous chemicals often found in fragrance. Choose Clean Scents and create safer home fragrance products you and your customers can enjoy with confidence.
Read More >
Details
Mahogany Shea wraps you in a warm blanket of earthy woods and creamy shea. A top note of sweet almond gives way to the slight nutty aromas of shea and coconut. Natural woody notes of sandalwood and cedar are smoothed out with light musk and tonka bean base notes. The final result is a fragrance that's warm, cozy, and beautiful all year round.
Create soft, inviting candles and reed diffusers for any space with this scent. Mahogany Shea is also an exceptionally soothing fragrance in soaps, lotions, and body care creations.
This fragrance is infused with natural essential oils, including cedarwood, cedar leaf, patchouli, and olibanum.
Alternative branding ideas: Oatmeal Shea, Sandalwood + Shea, White Musk and Cedar
Note Profile:
Top: Almond
Middle: Shea, Coconut, Amber
Base: Sandalwood, Cedar, Light Musk, Tonka, Wood

Suggested Colors: Ivory
See our complete list of candle making dyes and soap colorants.
Note: Bottles filled by weight, levels may vary.
Properties
Candle Safe

Yes

Usage: 3-10%
Soap Safe

Yes

Usage: 2-5%
Vanillin Content
0%
Soy Performance
Flashpoint
> 212 °F
Phthalate Free
Yes
Prop 65 Warning Required
No
Diffuser Base Compatible
No
*Usage amounts are recommendations only. Individual usage amounts can vary based on your desired fragrance strength, wax type, soap base, or lotion base. See IFRA certificate for max usage levels.
Documents


Cold Process Soap Performance
| Acceleration | Discoloration | Separation |
| --- | --- | --- |
| Slight | Light Yellow | None |
Lye Water Temperature 111ºF
Oil temperature 113ºF
We experienced a very slight acceleration but no separation. Once we added the lye water to the fragranced oils and hand stirred a few times, a light emulsion was created. Based on this we expected more acceleration with the stick blender but it very slowly came to a light trace; we continued to stick blend to a medium trace. The batter stayed nice and fluid and did not start to thicken as we poured into the mold. Overall the fragrance was easy to work with, but we would recommend bringing your batter to a very light trace before adding fragrance to avoid a possible false trace. After 24 hours the soap had discolored a light tan shade and almost reached a full gel. We observed a large amount of glycerin rivers throughout the bars which gave them a very unique look. The scent was nice and strong with a slightly nutty character. After 30 days the soap had discolored to a pale yellow shade and the scent was subtle but had a sweet nutty character that is very pleasant.
Reviews
I love this scent. I haven't tried it in candles but my customers love it in body butter!
Made soy candles with 464 and did a burn test because I'm switching wicks. Seemed to have hardly any hot throw. And while I like the scent, I am disappointed with the throw, however some people will like the mellowness of this. But only 3 stars on the overall.
I really liked the scent out of bottle, only needed a small amount for wax tarts; once this got hotter it reminded me of raid insect spray. Sorry but this is a no for me! I will see what my customers report.
I love this scent, I can not get enough of it. Its one of my favorite scents, good ht and ct.
I really love anything Shea, but this was a little bit of a miss for me I think. I hope it'll smell better mixed into a candle.
I was super impressed with how this smelled straight out of the bottle, but it also works really well in the application I wanted to use this in! I'll definitely be back for a bigger bottle soon! :)
This scent is very woody but also warm. I LOVE the smell of fresh Shea butter and this does have some of the nutty smell of Shea. That being said, I mix it with a small amount of a sweeter, warm scent and it is so good
Weak and what I can smell is yuck.. 1 star.
5 stars for Candle Science as a whole. You guys rock in the service area, top notch! And your products are very good as a rule.
Smells like hair spray right out of the bottle. Customers says it was ok but was very faint when burning. Wouldnt recommend
I jumped the gun and started looking into summer scents and I made a mahogany shea candle because to me, it smells like sunscreen and tanning oil. I've always loved those scents.... LOVE it so I was really excited to try it. My candle still needs a few more days to cure but I'm already so excited to try it out because the cold throw is intense! This FO in my opinion doesn't scream holidays, though.
I really enjoy this FO. I tend to not like many "warmer" fragrances that contain amber, but this is an exception. It's not sweet, it's not sharp, it's not overpowering. It's an even blend of mahogany and shea. This is a scent that I will definitely be ordering more of.
I had high hopes for this one, but was not impressed. I was betting I would like it, so I got a bigger bottle. I think this would be a good scent for soap or lotion, but I don't like it for candles.
LOVE. Love this scent so much. Slight discoloration in light on my wax melts, but everyone who smells it agrees that its just lovely.
Ever have a scent, that if you are having a rough day and need to smell something nice to smile for a while? Yup, its this one. Its doing wonderful in my soy wax melts using 464, I am looking forward to trying it in soap and lotions.
I love this scent because it is definitely a soft fall smell, but it's not a strong scent. It would work better in smaller spaces as a candle or wax melt. Several of my customers love this scent, it's not one of my top 10 sellers though.
Coconut Shea smells just as imagined. I like and coconut lovers love it.
kinda relaxing to me.
First time trying this fragrance and it's smells wonderful! Was trying to find something similar to my body wash and this nailed it. Very pleased 😀
This is a confusing scent to me. With all the wood notes I was expecting more of an earthy scent but it's more spa like. Not strong in candles, hardly any hot throw after 10 days cure time.
I ordered a sample of this scent and out of the bottle is smells lovely without it being an overpowering manly scent. It's a mixture of soft and manly. I tried this in a candle with coconut brew and virgin coconut soy wax, couldn't smell a thing. Its way too light on its own as previous others had also mentioned. I absolutely love it but it's missing that punch to make it a stand out scent that lingers on people's mind. I might play around and try blending it something else.
I quite like this scent. OOTB, I mostly smell the mahogany and sandalwood in it, and it's not too overpowering to me. Will be testing in soy soon.
It smells like a relaxing spa. This is a great year round candle I'll be using in my bathroom or bedroom for spa days or whenever I need to relax. It's a subtle scent, but has good cold throw. I highly recommend this one and will definitely be making more of this scent.
I was excited to get this fragrance! I mixed this with another fragrance and made a beautiful scent for my Melanin candle line. I'll be keeping this in my rotation. I'm excited to mix it with other fragrances!
I don't like this scent. It is too perfumey and it gives me a headache. I was expecting it to smell kind of woodsy and smell like shea butter, but it doesn't.
Love itttttt..an elegant scent.
Stand alone in a candle not strong enough. Mix with sea salt and orchid And made wax melts omg love it. Ordering more . Please keep this scents.
Out of the bottle may smell a little strange or "only good for bath & body products", but when blended in a candle it's SO sophisticated! I blended with my fav floral FO and smells amazing, I'll be definitely adding to my candle line.
Very light. Don't use it on its own. Very good when blended correctly.
Not at all what I expected. Just gross!
I was really sold when I saw Shea and almond oil. Was looking for a softer scent like how marvelous Shea butter and coconut smells but not the case. Mahogany is pretty strong in this one. Its almost a masculine scent.
I was hoping this would be more soft, kind of like in the cocoa butter, shea butter family. It's hard to describe the scent but definitely not what I was expecting. Would probably be great for body care products, but as a candle, I don't think so.
Good for bath/body products
This scent would be good for a lotion or soap, even a homemade shampoo or conditioner. I don't know that I like it as a stand-alone candle fragrance. Would be a good blender too
Lovely scent, good for mixing in candles
I was going to give this four stars at first because while I think it is a beautiful scent, it didn't work for me as a stand-alone candle scent. However, I found that this scent mixes beautifully with others giving an added layer of complexity that I really appreciate! As a stand-alone scent, I think this would be better suited to bath/body products but of course that's just my opinion. It's a perfect year round scent and I hope that candle science keeps it because I have some candles that I can't wait to try with it!!