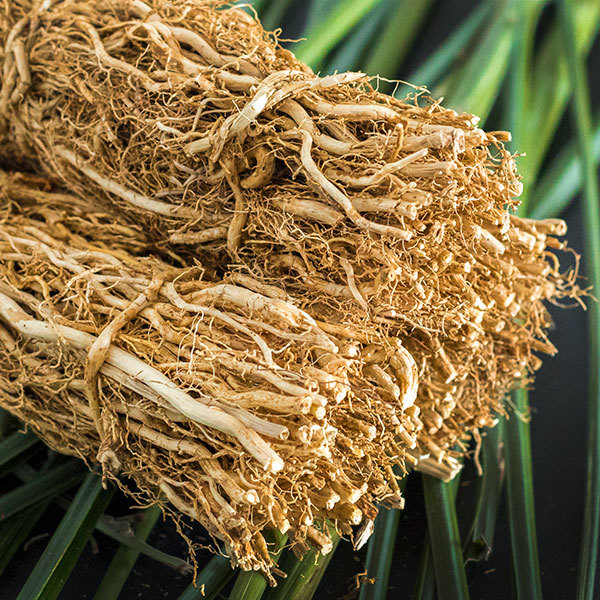 Ready to Order?
6+ 5lb Jugs
$97.97
$1.22 /oz
12+ 5lb Jugs
$88.17
$1.10 /oz
Safer Scents For The Home
CandleScience Clean Scents™ are free from carcinogens, reproductive toxins, and other potentially hazardous chemicals often found in fragrance. Choose Clean Scents and create safer home fragrance products you and your customers can enjoy with confidence.
Read More >
Details
Native to India but grown throughout the tropics, Vetiver has been been used for centuries to naturally enhance perfumes, foods, and medicines. Our Vetiver fragrance oil is a sophisticated mix of citrus, musk, and earthiness that creates an uplifting, soothing, and calming aroma. A year-round classic, this traditionally masculine scent has broad appeal.
This fragrance is infused with natural essential oils, including elemi, fir balsam, geranium, orange, patchouli, and vetiver.
Note Profile:
Top: Bergamot, Lemon Peel
Middle: Hemp, Cedar
Base: Vetiver, Dark Musk, Amber

Suggested Colors: Green, Yellow, Brown
See our complete list of candle making dyes and soap colorants.
Note: Bottles filled by weight, levels may vary.
Properties
Candle Safe

Yes

Usage: 3-10%
Soap Safe

Yes

Usage: 3-5%
Vanillin Content
0%
Soy Performance
Flashpoint
169 °F
Phthalate Free
Yes
Prop 65 Warning Required
No
Diffuser Base Compatible
Yes; Up to 25%
*Usage amounts are recommendations only. Individual usage amounts can vary based on your desired fragrance strength, wax type, soap base, or lotion base. See IFRA certificate for max usage levels.
Documents


Cold Process Soap Performance
| Acceleration | Discoloration | Separation |
| --- | --- | --- |
| None | Light Tan | None |
Lye Water temperature 110ºF
Oil temperature 110ºF
We did not experience acceleration or separation. Once the batter came to trace it turned very goopy but still easy to work with. After 24 hours there was no discoloration, and the scent was strong. After curing the soap was a light tan shade and the scent was strong. Due to the texture of the batter, a layered soap pattern would be ideal.
Reviews
In a candle, it is GORGEOUS!!! I close my eyes and want to live where it takes me :)
I just received this scent and it smells absolutely horrible in the bottle. I am hoping...please somebody tell me that it smells different in the candle. If not then it's going down as one of the bad scents along with lavender.
I can see where a lot of candle makers would go past Vetiver in the list of fragrance oils, purely because it is not a common scent that people talk about but if you are in the process of ordering your first samples to see what you like, YES YOU, do yourself a favor and order a 1 oz. of Vetiver. Its very earthy and hard to describe. The cold throw + hot throw are excellent as well!
Great Cold And Hot Throw!
All I have to say was this fragrance was an instant hit for my candles both the hot and cold throw were excellent! Considering using it in a beard oil. Oh, and after my sample bottle I ordered an 8 oz hope it arrives today.😉
I wasn't sure after reading the reviews as it seemed either it was loved or not so much. So I got a 1 oz sample on an order. I love this and everyone I have exposed to this fragrance thought is was great. I will be ordering more!
This is one of the few scents I've tried where it doesn't change too much from out of the bottle to in the wax. I love grabbing the bottle and taking a quick whiff of this! It smells so earthy and divine. I just wish the hot throw was a bit stronger. I find that after curing, I still have to get a bit closer to the candle to really get the full throw. Despite that shortcoming, I still love this one. I might try this out in wax melts to see how this performs because I would love to incorporate this into a future collection!
Love this! One of my best sellers!
I started my line with this scent a year and a half ago and it is one of my top sellers!
I absolutely love this scent. It's the best fragrance CS has to offer if you want the smell of wood, and it's stronger than you'd think.
Unique, Amazing and BEHAVES!
This scent is brilliant! I love single note scents that I can mix or use directly. I'm on the hunt for FO that do NOT discolor CP soap, and that DO NOT accelerate and bonus if they smell amazing. This has all my goals reached.
My guy loves it, I love it and my customers love it! Everyone wins. Also, after using branded FO's and having my customers fall in love with the scent, only to return and have the supplier (not CANDLE SCIENCE) discontinue the name brand, I'm stuck.
Candle Science has a history of having a true fragrance oil line, improved and new FO's.
This is a review of things I look for in a FO.
OMG I had no idea how much I would love this scent. I ordered a one ounce bottle to give it a try and immediately fell in love. Everything I've blended it with has become far more complex and interesting. LOVE LOVE LOVE... I really can't say it enough.
It smells awful in the container, but once it's in the candles it's...okay. Folks are always requesting Vetiver, but I'm not sure this is what they're looking for - I can't imagine anyone wanting their home to smell quite like this.
I was really impressed with this scent. Vetiver has a natural earthiness to it (it almost kind of has a celery scent), and I find that it pairs well with masculine scents that are a little too strong or too sweet. Highly recommend to anyone who is looking to tone some scents down and make them smell a little more natural!
I understand vetiver isn't for everyone. However, this is a great vetiver fragrance. A deep earthy scent and has an expensive quality to it. Strong OOB and excellent HT.
I made lotion with this 4 hours ago and it still smells amazing on my arms. I love vetiver and I really love this one!!!
This was strong in the bottle but when I made a candle, it wasn't strong at all. I burned my sample candle for about 3-4 hrs and that's when I could finally smell it. I don't recommend
I like real Vetiver, but this smells like B.O. mixed with pot & something tangy. I don't recommend it.
Business Owner - A Tale of Fire and Soap
Definitely one of my personal favorites. Very complex and unique, in the spectrum of men's cologne, but can be passed off as unisex. Upscale, exotic smell with a slight hemp undertone. Just enough of a clean and earthy mix that makes it stand out among others. Never get rid of this scent please!!!
Moody, earthy, and slightly funky
Real vetiver is STANKY, y'all. This FO has the perfect amount of stank by taking that earthy, root-y vetiver base and adding much more lovely and complex layers to it. It does smell a bit masculine, but I'm all about the unisex fragrance, so I market this to everyone. I think the average customer who likes fragrances but doesn't make them WANTS vetiver but find that it gets way too real when confronted by the actual stuff. They want Le Labo, high-end interpretations of vetiver, which is just a small percentage of stank buried under sophisticated frills. This FO is exactly that. As soon as I took a whiff, I knew this was my next great secret ingredient. Maybe a bit strong on its own (though I like it that way) but blends beautifully with other earthy notes.
Not everyone is a fan of this but it definitely has its niche fans. I find it subtle but a constant when burning. Soft, fresh & unique.
First off, this fragrance smells nothing like actual vetiver essential oil. It actually smells like cologne. But a very nice, masculine, sexy cologne. It comes through nice and strong on hot process soap. I'll be buying more when I launch my shaving soap products.
Love this Vetiver. Excellent hot and cold throw in 464 soy wax at 3%. I blend vetiver and other garden/earthy fragrances at 3:7 of vetiver and other fragrance. You don't need much to add a beautiful base note to a fragrance.
I was very unsure about this when I opened the bottle, but I made a batch of soap with it and it's been a best-seller. It's so earthy, clean, and crisp.
I really wanted to like this one as I am a big fan of patchouli, nag champa, and sandalwood type scents. But it is extremely strong! Maybe I just don't know what to pair it with. Smells old-lady-perfumish and is headache-inducingly strong.
Always loved this earthy woodsy scent. Mixes well with other scents.
I was looking for a nice woodsy, masculine scent, instead it smells like old pot. I don't like it and it made me gag.
This is a very calming and fresh scent. I use it to blend into many other scents.
Wow such mixed reviews! I am SO in love with this FO! One of the reviewers below likened it to a sophisticated, older gentleman and I absolutely have to agree. It is so beautiful and masculine and I am SHOCKED at the hot throw of this one in soy (464). Really good. I typically blend my FO's. This one I use 5% to a blend of 5% Teakwood, Leather, and Egyptian Amber. It reminds me of one of my husband's go-to fragrances, so I appropriately named it "Sleeping in Ian's Shirt". Our friends get a big kick out of it.
first i loved the man who said wright out that it smelled like weed. 16oz bottle bought loved it . 3 months later 8oz it dose not come close to.....more like 3 ladies standing around vat 2x2 boil and trouble . too much of some thing too little of another.
Great scent, lasting throw.
Beautiful, earthy fragrance that blended well in both paraffin and soy waxes. Hot throw in wax melts was a definite 10 out of 10 and performed for up to two days in basic wax warmers.
I've always been one for woodsy scents, and this does not disappoint. The excellent reviewers below really nailed the description better than I ever could. (And hey, what's wrong with an old Jewish guy walking down the street smoking a J?) I'm going to try the suggestion of blending with blood orange, and I'm also stealing Grizzly's description.
Please know what to expect, (a woodsy, rough, cannabis-Esque scent) before ordering, being disappointed, and writing a negative review on an amazing product.
Thanks CS!
I had mixed feelings while picking this fragrance because the reviews were not the most encouraging, got a sample size.
I must say that this is one of my favorite fragrances. It is so rich and intense and just sophisticated. I believe it's unisex. Im purchasing a bigger bottle!
Try mixing it with a bit of Blood Orange. Amazing.
Bought this fragrance hoping to introduce a masculine scent to my candle collection and the smell of the is was just awful. I thought that maybe I just didn't like it, but when asking another employee, he said that it reminded him of the scent of Nair Hair removal. Will not be purchasing again.
Read Sarah's review, she nailed it!
You are sophisticated, and captured the man wearing Vetiver!
Loving this manly, rich fragrance
I reorder larger bottle after I received my sample. Very masculine and everyone in my house loves it. Rich, warm. One of my favorites. I think men will really appreciate this, as well as women for an acquired taste.
Creator of perfumes, candles, etc
This smells great. Not sure the problems with the other reviews. So, first things first, this really smells nothing like vetiver essential oil. Vetiver essential oil is pungent and has an almost chocolate, wood earthen grass,musk characteristic. Most people are very turned off by it, even more so than patchouli. However, I LOVE vetiver. This fragrance, is Vetiver tamed and smoothed out. They've taken the rough edges out, and added an old fashioned feel to it. This is probably the most comforting masculine scent I have smelled. Not necessarily sexy, but, refined, grounded, a sophisticated man walking down the street, in suspenders, and slacks, wearing a white long sleeved shirt, in a top hat, well groomed, smoking a cigar. That's the vibe I personally get from it.
Research Vetiver before buying
Not sure what all the other reviewers are crying about below. It's Vetiver and it smells just like vetiver, which has a cannabis musk aroma to it naturally. Think smoked patchouli mixed with a woodsy marijuana. But that's the natural state of the aroma. Personally, I think it's great. It has a deep masculinity about it all its own and works wonderfully as a mixer with another masculine oil. Is it perfect? No, of course not. It's very sharp OOTB but mellows down after it's mixed with wax. If you enjoy natural and woodsy scents then try this on, however I implore you to do a little research on the scent you're buying before taking a whiff and writing a negative review.
Oh, my. This was a nightmare. I cannot get past the sharpness.
It reminds me of an old Jewish man doused in far too much cologne smoking a joint.
No. no. No. 😭😭😭
Think Twice Before Buying
I was excited to try some new scents that this supplier had, and I wish I would have skipped this one. I bought a 4 ounce bottle to try and I have sold ZERO candles with this scent. I thought this would be one of my masculine, woodsy scents that would attract some of my male customers... It did not. If you are looking for something that would fit that description try out Sandalwood on this website.
Think twice before trying this scent out. I didn't and wish I would have saved some money. (The only reason why I am giving this scent two stars is because I think this scent reminds me of my grandpa and I would hate to give him one star lmao)
This reads great in the description. It was bad smelling out of the bottle but I made a candle up to give it a fair test. It was better made up but I don't see myself even selling one of these. It is a very unique scent and maybe it will grow on me but we don't plan to use this one.
Even Better Than Expected - LOVE!!!
I've been seeing this fragrance note in high-end candles for awhile and was thrilled to see CS finally carry it. Our sample came in and my husband and I both fell absolutely in love with it. Hard to describe, but sophisticated and very addicting. It will work amazing as a mixer in our candle line - can't wait to get the large bottle I ordered!!!
Interesting scent, for sure. I own vetiver essential oil, so that is what I was hoping for. Something a bit less smokey and heavy than the real stuff. This fragrance hits me immediately as musky cannabis. It has a clean, cologne aspect about it. I have only sniffed out of the bottle, but the more I sniff, the more I like. Will be testing in soy.