BEHIND THE SCENTS:
2021 SPRING AND SUMMER FRAGRANCES
Brush back the curtain and go behind the scents for an insider look at eight new fragrances for Spring/Summer 2021.
The world has changed in the past year, and consumer habits certainly reflect the societal shift we're all experiencing together. In this exploration of the driving themes behind this fragrance collection, you'll pick up on a few common threads. Our connection to the natural world and the healing power of nature. The longing for adventure and escape. The comfort of indulging in the simplest luxuries.
But maybe these eight fragrances tell an entirely different story for you. One of the things that makes working with fragrance so exciting and special is the way a single scent can be so many different things to different people. Let our ideas and suggestions for each fragrance inspire you to create your own unique experience. Ready?
AT A GLANCE
Coconut is a classic scent for summer, but as you probably know if you've sampled a lot of coconut fragrances, it can be a difficult note to work with. It has a tendency to rely heavily on vanilla or can get a little chalky, particularly in soy wax.
Santal is a fragrance note with a bit of a cult following, thanks to the hugely popular Santal 33 from Le Labo. It's derived from sandalwood and has a very similar character. We like to think of it as a luxury sandalwood scent--it definitely has a very high end vibe.
Combining these two notes, one a well-known classic and one a trendy go-getter, resulted in a gorgeous fragrance oil that was well worth the three modifications it took to get it just right.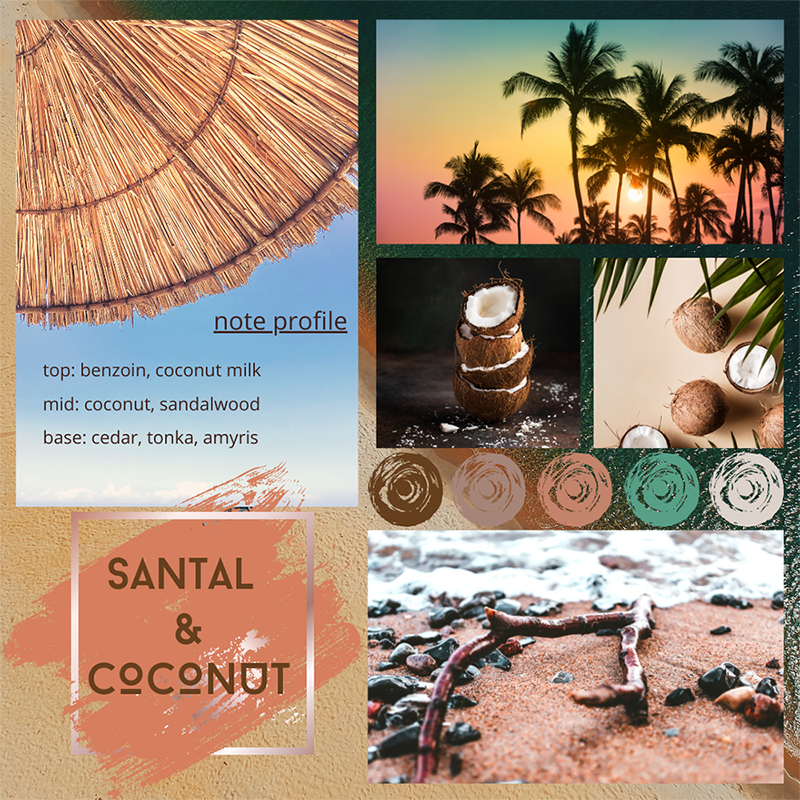 BRANDING INSPIRATION
Our container choice and label design for Santal and Coconut takes inspiration from its summery yet luxurious character. We chose a clean, straightforward font on a white background to highlight the fragrance name, and love how the border of tropical foliage complements the design without taking over. If you're considering other names for this fragrance, consider how your target market may react to the "Santal" part of the name. If it's something they're likely to recognize, you may want to carry it over to the new name in something like Beach Santal or Santal Sunset. 
Alternative scent name ideas: Beach Santal, Sweet Amber and Coconut, Coconut and Blonde Woods
AT A GLANCE
Combining florals and earthy, woodsy notes is a fragrance trend that's not going anywhere anytime soon. Lavender Driftwood captures the very best of this loved combination with a fresh, clean character. No one note takes over in this fragrance, rather, they blend together beautifully for a luxurious result. While some may put Lavender Driftwood in the "masculine" category, we think it has a truly universal appeal. More and more, it's becoming less typical for fragrances to be identified as masculine or feminine and this is a great example of a scent that crosses over those boundaries.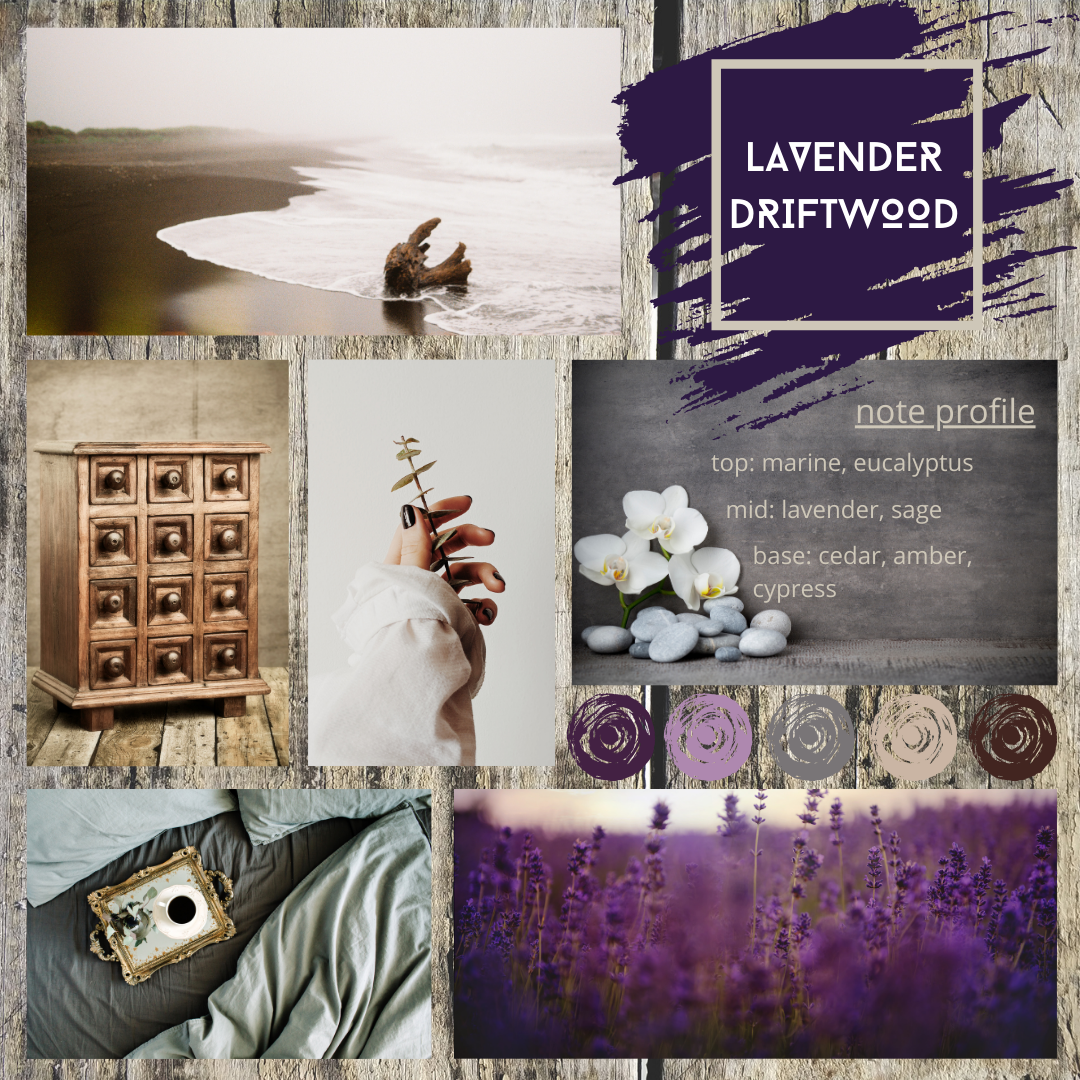 BRANDING INSPIRATION
Again, we kept it simple for this label design. (Sensing a theme here?) Tins are a wonderful container option--they travel well and come with lids, making them perfect for sets and scent samplers.
When considering alternate names for Lavender Driftwood, don't be afraid to get creative and go all out. It's a very conceptual scent that could fit with any number of different brandings and aesthetics. Think Midnight Lavender, Under the Moonlight, and Silent Shore as ideas to get you started.
Alternative scent name ideas: Midnight Lavender, Lavender Oasis, Ocean Driftwood
Love this label?
Snag the design here
. Make it your own, or use as-is! Pictured above: 1 1/4" x 2 3/8" on matte white.