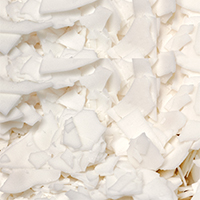 The advantages of Soy Candles are clear - no black soot, a longer burn, and a natural product produced by American farmers. From our experience, soy candles are the fastest growing part of the candle industry. So you're ready to get started in the world of soy, but with so many different kinds, which soy wax do you choose?
What type of candle?
The main thing to consider is the type of candle you'd like to make...
Pillars
Pillar candles need to be hard since they don't go into a container. They need to stand on their own in the heat and while burning. We recommend trying EcoSoya Q230 soy wax, which has a higher melting point of 120ºF for making soy pillar candles.
Containers and Tealights
Container wax should be softer than pillar wax, since it is poured into a container. The softness helps the wax bind to the side of the container & hold lots of scent. Candlescience carries 6 different types of container soy waxes. In order to choose among them, you need to consider which of the following is most important to you:
Fragrance Throw
Many people are concerned about soy candles throwing fragrance as well as paraffin, and rightly so. It is quite a bit tougher to get great fragrance throw in soy. These waxes do the best job with fragrance:
Appearance
Some people find that the appearance of a soy candle is the most important characteristic. These folks are willing to give up just a bit on fragrance throw to get the best looking candles with the least frosting. The best looking, least frosting wax you can buy is the EcoSoya Q210.
Marketing
If you spend the time to make a top quality soy candle, you should take the time to market it to customers in a persuasive way. As we've mentioned, soy has lots of advantages, and you should use your packaging and literature to show your customer why your soy candle is worth buying. No matter which soy you choose from this article, you can say "All natural soy wax". While this is great, some customers like to be able to say

"100% pure Soy wax"

. In order to do so, these folks use the

Golden Brands 415

. Wait just a minute I hear you say, what is in the others that is not soy?!? Don't worry, it is a small percentage of natural botanical oils that are used to improve some qualities of the wax.
Votives
Votives are a bit of a hybrid between pillars & containers. They are sold on their own, so they need to be hard, but are typically burned in a container and therefore can be a little softer like a container wax. We recommend starting out using the EcoSoya Q230 soy wax. The container waxes are too soft and sticky to use for a votive, since the wax will not release out of the mold.