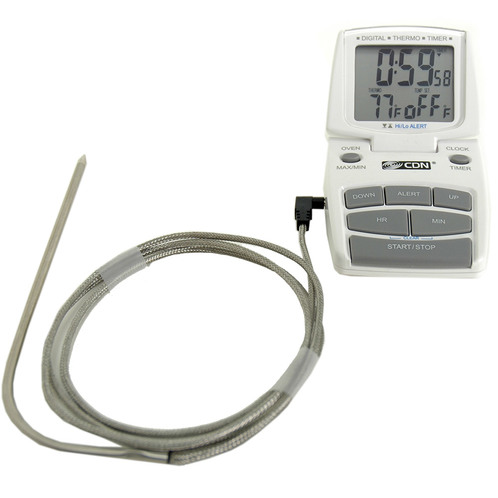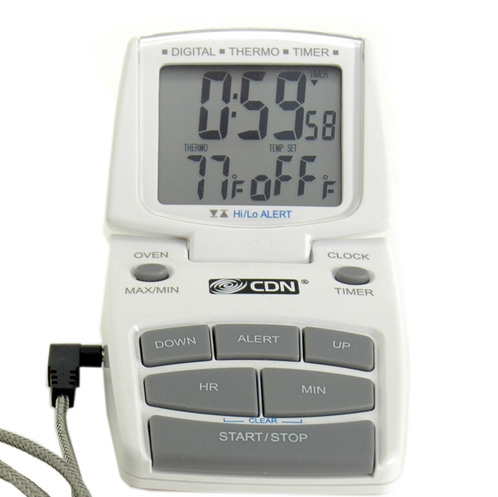 As of 11/03/2016:
This product is discontinued and no longer available.
Details
This product is discontinued.
A stainless steel probe on the end of the heavy duty 3' sensor wire allows this thermometer to sit on your worktable instead of in your pouring pot. The large, easy to read display allows you to monitor temperatures from a distance. The tabletop thermometer also features programmable alarms for both time and temperature monitoring. You're going to love this thermometer!
AAA Battery Included.
Properties
| | |
| --- | --- |
| Range | 14° to 392°F / -10° to 200°C |
Reviews
love this thermometer. Able to track temperature accurately and also sounds an alarm when a certain temperature is reached.
I had the smaller digital thermometers, which worked OK in small pour pots, but always fell over in large pots. This thermometer is well worth the money. I set the alarm, and when it beeps, I'm good! I can easily have 5 separate pots going and don't need to run around checking temperatures. The only down side, in a larger 4lb melt pot the thermometer shaft doesn't get close to the bottom, maybe 2" away. On a small melting pot, it's perfect. It would be nice if it was a little longer, but overall, my favorite thermometer thus far. I'll be getting a few more.