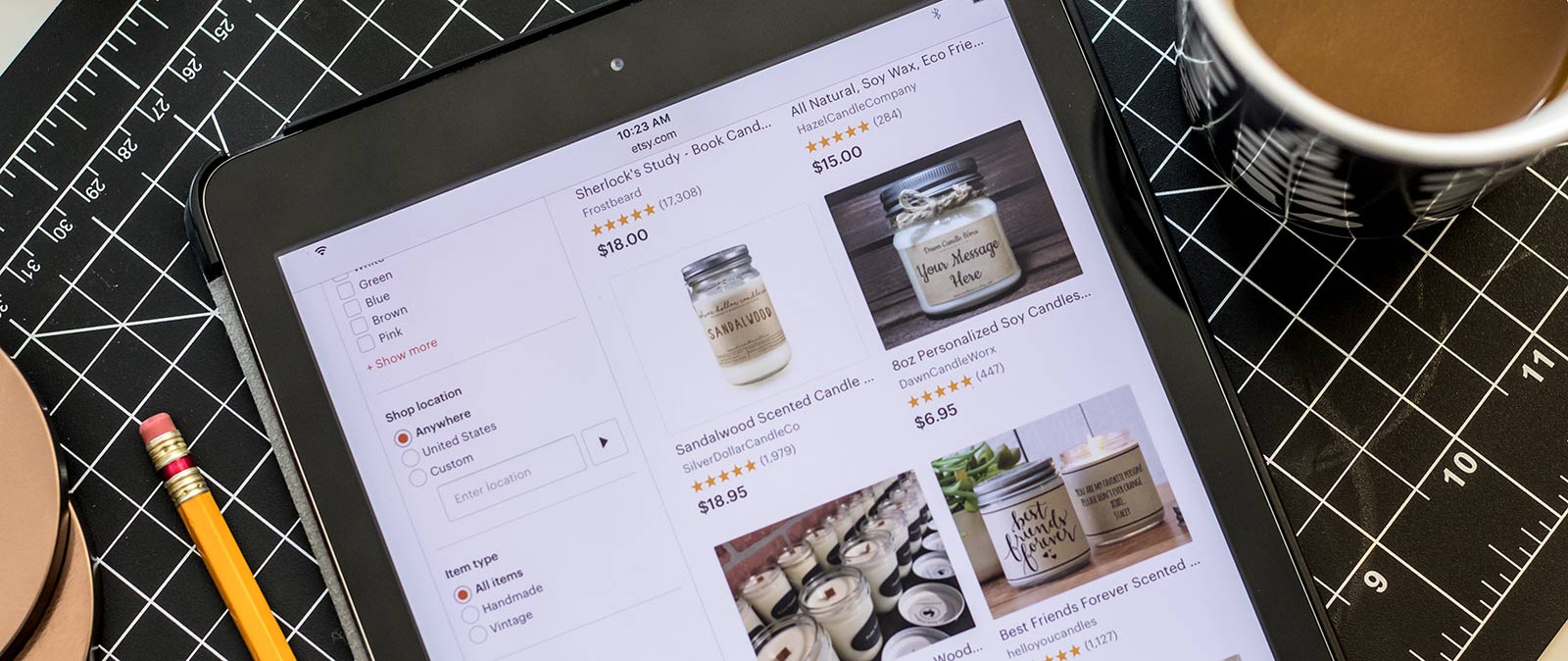 You've probably thought a lot about where or how to sell your candles, but with all the different sales channels out there it can be hard to know where to start. Each has benefits and potential challenges. So let's find the right channel, or combination of channels, that fits your goals.
There are three main channels to consider:
Your website or an online marketplace like Etsy
Farmers markets, craft fairs, festivals, or other local events
Wholesaling to gift shops and boutiques (locally or beyond)
Many successful businesses begin with one channel and then switch to a multi-channel approach to grow their profitability.
Selling Online
Online retail has some big advantages, including low startup costs, good geographic reach, and flexibility. A growing number of customers want the convenience of online shopping. And with so many new platforms and tools available, online stores and websites are easier than ever to launch and manage
Here are a few options to explore:
1. Etsy
As the top marketplace for creative entrepreneurs, Etsy gets your candles in front of lots of people fast. You can post your candles, or any other product, for a $0.20 listing fee and 3.5% commission. Etsy sellers reach a worldwide market of over 26 million active buyers, sales routinely reach into the billions of dollars each year, and homemade candles are a popular seller.
Suggested Target Market: Mid-market to high-end
2. Social Media
Social media can help you market your business, but you can also use it to directly sell to customers. Here are two options to get started:
Suggested Target Market: Mid-market to high-end
3. Your Own Website
Creating a website isn't as scary as it sounds. It gives you control over your own platform and can increase your profitability. Even if you aren't a tech guru, you can design a site easily and inexpensively with one of these platforms:
Shopify: You can create a custom online store, take credit card orders, process shipping, add social media channels, and integrate plug-ins to grow your business. Another bonus, Shopify has lots of learning tools.
Squarespace: Great for creative entrepreneurs who want to emphasize photos and beautiful website aesthetics. You can also integrate an online store.
Suggested Target Market: Mass-market, mid-market, or high-end
Selling Locally
Are you more of a people person? Selling through local events has one huge advantage over selling online: personal rapport. You can interact with customers and allow them to see, touch, and smell your candles before making a purchase. Most likely, you can find great options nearby through a farmers market, craft fair, or festival.
Here are a few places to consider:
1. Farmers Markets
Farmers markets are a casual way to step into the world of local selling, and there's probably one near you. Check out the National Farmers Market Directory, or learn more about selling at farmers markets from Shopify.
Suggested Target Market: Mass-market to lower-mid-market
2. Craft Fairs and Festivals
Like farmer's markets, craft fairs and festivals let you make direct sales and get valuable feedback. Search for nearby events through Festival Net, CrafterLister, or at your local chamber of commerce's website. Social media platforms like Facebook can be a great resource for local craft fairs, too. Learn more about selling at craft fairs from Etsy.
Suggested Target Market: Mass-market, mid-market, or high-end
Wholesaling
Wholesaling is when you sell your candles in bulk to retailers for resale at a markup. You can diversify your income streams and conveniently sell in volume to one client, reach an existing customer base, and get valuable feedback on what sells best.
Successful wholesaling takes "shelf ready" products and a professional brand. To convince retailers to stock your products, it helps to create a buyer's pack with samples, a line sheet or product catalogue, order forms, and marketing displays and materials. It's also time to get comfortable with large-scale production, correct wholesale pricing, and minimum order amounts (i.e., selling two dozen candles or more at a time).
Try these options to get started:
1. Shops
Local shops are a good introduction to the world of wholesaling. Get to know store owners and their product lines, share your brand and products, and keep in touch. Don't limit yourself to local channels, because lots of candle makers successfully target shops in other states.
Suggested Target Market: Mid-market to high-end
2. Boutiques
Boutiques are another fantastic way to wholesale your candles and are a better fit for a high-end target market. A professional, luxurious presentation for your candles is crucial.
Suggested Target Market: Upper mid-market to high-end
Etsy Wholesale
Already have an Etsy shop? You can apply to Etsy Wholesale and reach more than 25,000 stores. To qualify, you'll need to have a consistent track record as an Etsy seller, competitive wholesale prices, and professional branding. To see if you're ready, check out Etsy's wholesale guide, worksheet, and glossary or listen to this case study on how to attract wholesale clients.
Suggested Target Market: Upper mid-market to high-end
Wherever you choose to begin selling your candles, remember to focus on your brand story, stay enthusiastic, and remain committed to the journey.