Build Your Own Candle Making Kit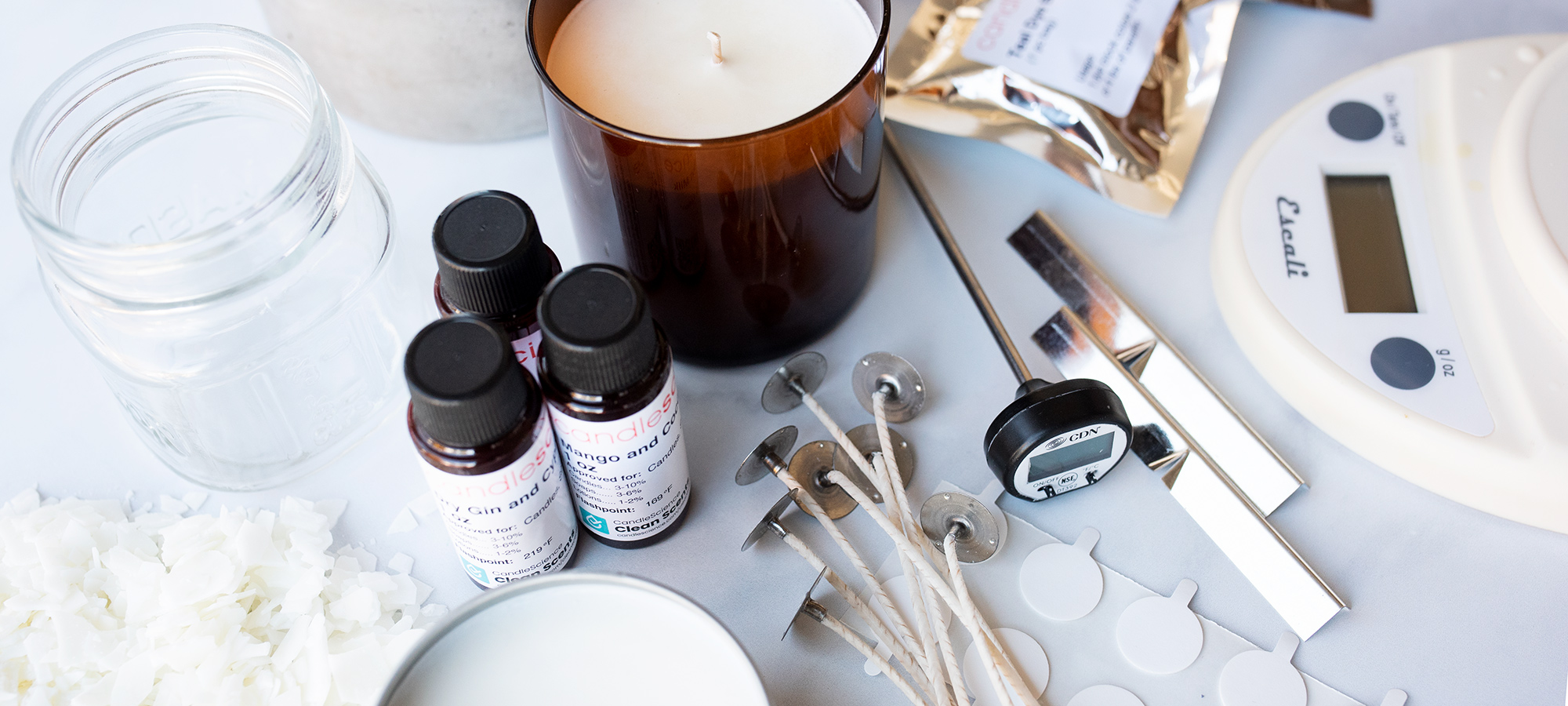 Along with sourdough bread baking and DIY canning and pickling, candle making has become a popular at-home activity during the pandemic. If you're thinking about trying your hand at this fun and creative hobby, candle making kits offer an easy, all-in-one way to get started making your own candles. 
Our soy candle making kits have been in extremely high demand throughout 2020—and we'll be honest, it's been tough to keep up. Assembling our kits is no small task, and with the necessary COVID-19 precautions in place, it's become even more difficult. But that doesn't mean you have to forgo the convenience of a kit! We've curated four supply bundles that contain exactly what you need to get started. Each bundle is fully customizable, so you can add and remove supplies as you see fit.
The best part? No experience necessary! Every bundle includes 1lb bags of wax to pair with 1oz fragrance oil bottles to make measuring simple. They also include:
Wicks
Wick stickers
Glass thermometer
Large pouring pitcher
Wick bars
Warning labels
We pre-select fragrance oils for you in our kits, but with a bundle you can choose your own! Check out some suggestions towards the bottom of this page. The Mason Jar Bundle and Amber Tumbler Bundle do not include lids; if desired, browse our threaded lids lids for mason jars (any #70G threaded lid will fit) and metal flat lids for tumblers.
Once your supplies arrive, check out the tutorial videos and other learning resources below with all the how-to info and pro tips you need to get started creating beautiful, aromatic candles.
Top Learning Guides: 
1.) The Essential Kit Bundle
The Essential Bundle is the closest equivalent to our starter kit, but this one has more wax and more tins, which means more candles! Candle tins are one of our top picks for starting out; they're easy to use, hide minor imperfections, and are label-ready. Even better, they come with lids, making them perfect for your home, gift-giving, or travel. Makes 12 8oz candle tins.
2.) 8 oz. Mason Jar (Label Ready) Bundle
Mason jars are a classic favorite and one of our most popular containers. Add a rustic, farmhouse feel and make chic home decor and trendy candles to gift to friends and family. Add any #70 G threaded lid to your candle to complete the look. Makes 12 8oz mason jar candles.
Our straight sided tumblers are a sleek, classic container choice for candles. The amber finish adds a modern touch that looks great in any space and diffuses candlelight beautifully. Makes 12 8.5oz tumblers.
Give your candle a complete look with a metal flat lid. 
Tealights are a simple candle making project and are a good way to test out different scents before making larger candles. This kit gives you plenty to get started! Tealights make a lovely addition to your bath night, giving you the ultimate spa experience at home. Makes 100 tealights.
Choose your own fragrance oils by selecting from our curated sets, mix and match, or head to our Fragrance Finder to discover more scents.
These fragrances have an earthy, rich, sultry character featuring notes like cedarwood, musk, moss, patchouli, and amber. Browse more masculine scents with the Fragrance Finder.
Try these masculine scents:
Airy and elegant, these fragrances have a clean, spa-like quality that positions them perfectly for relaxation. You'll experience notes like ozone, sea salt, citrus, and jasmine. Browse more fresh scents with the Fragrance Finder.
Sample across the scent spectrum with this set of best-selling fragrance oils. There's something for everyone! Discover more fragrances with the Fragrance Finder. 
Try these scent varieties:
Upgrade your kit with some extra equipment you'll be able to use again and again, or some fun colors to make your candles pop.