the fragrance wheel: notes, families, and how to use it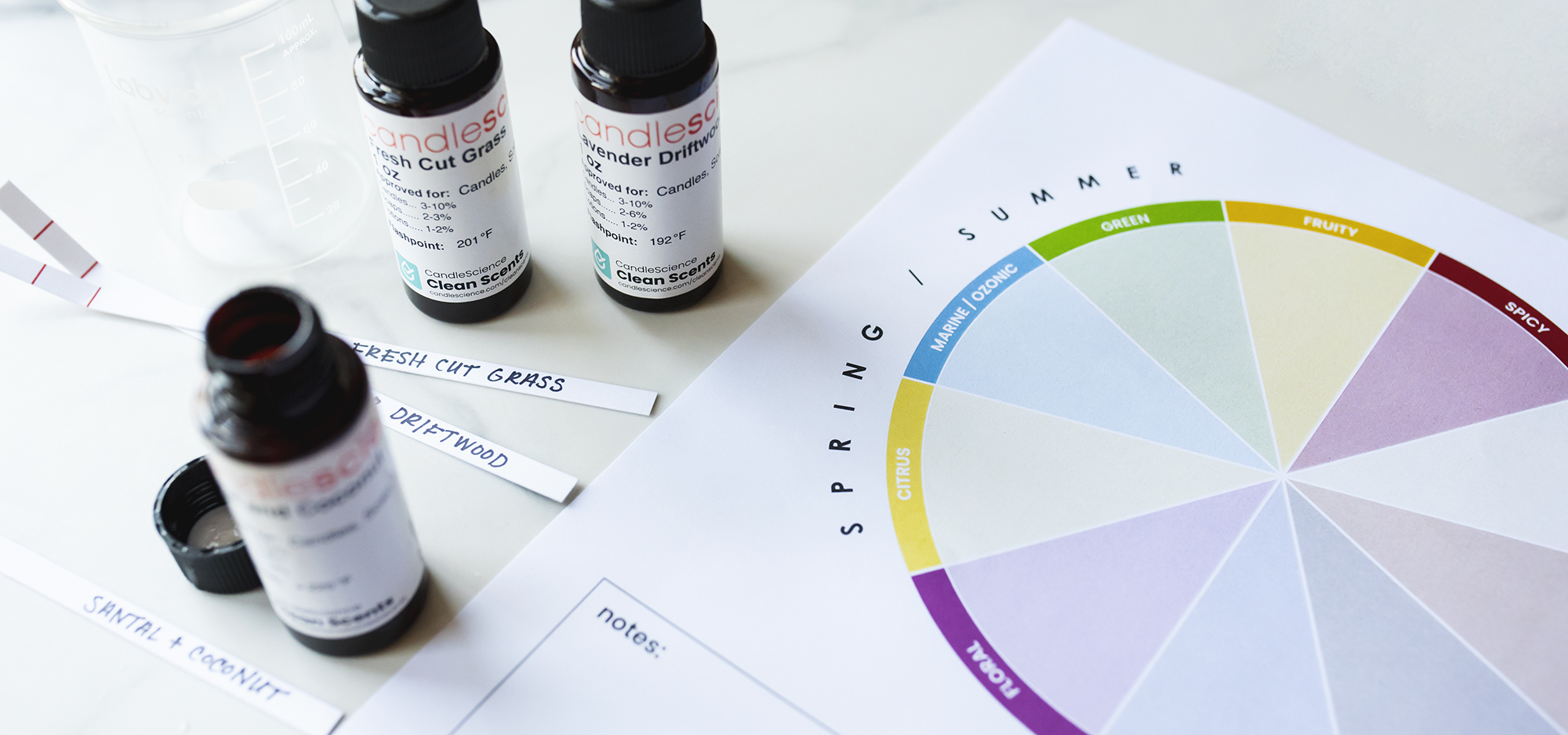 A fragrance wheel is a tool for understanding the relationships between different olfactory categories. Remember the color wheel from art class? It's a similar concept.
Olfactory: of, or relating to, the sense of smell
The fragrance wheel applies to both fragrances as a whole, as well as individual fragrance notes. Fragrance oils generally contain several, or more, notes that make up the complete fragrance. We'll talk more about fragrance notes a little further down.
For the purposes of this article, when we refer to "scents" we're talking about a fragrance oil as a whole; when we refer to "notes," we're talking about individual fragrance notes that make up a complete fragrance.
We refer to scent families that are next to each other on the fragrance wheel as "kindred."
Kindred notes have characteristics in common and blend together harmoniously. For example, look at the Amber and Woody categories. These notes are frequently found together in fragrance because they create a balanced, familiar aroma.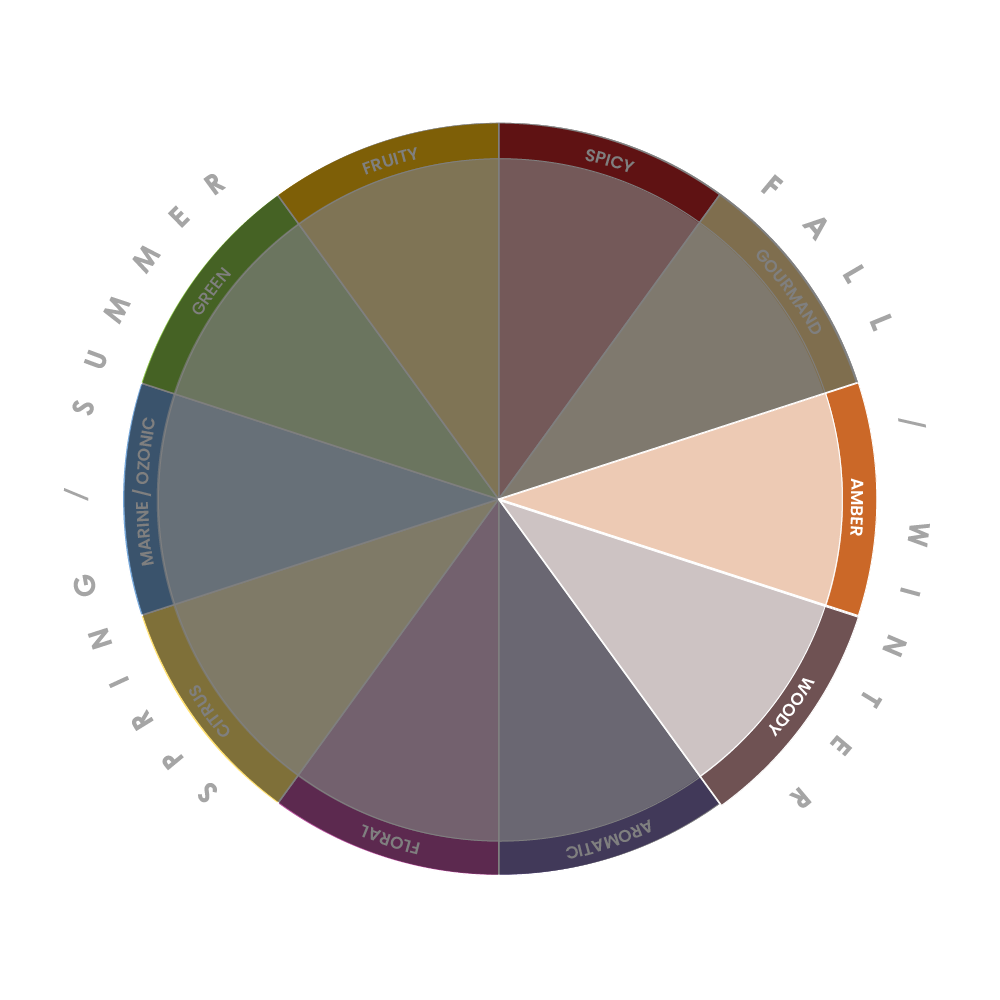 Scent families that are across from each other on the fragrance wheel are "complementary."
Complementary notes have a distinctly different olfactive character, and create complex, intriguing blends. For example, the Amber and Ozonic categories. You will commonly see these notes paired in fragrance, as their contrasting natures create a sophisticated and luxurious aroma.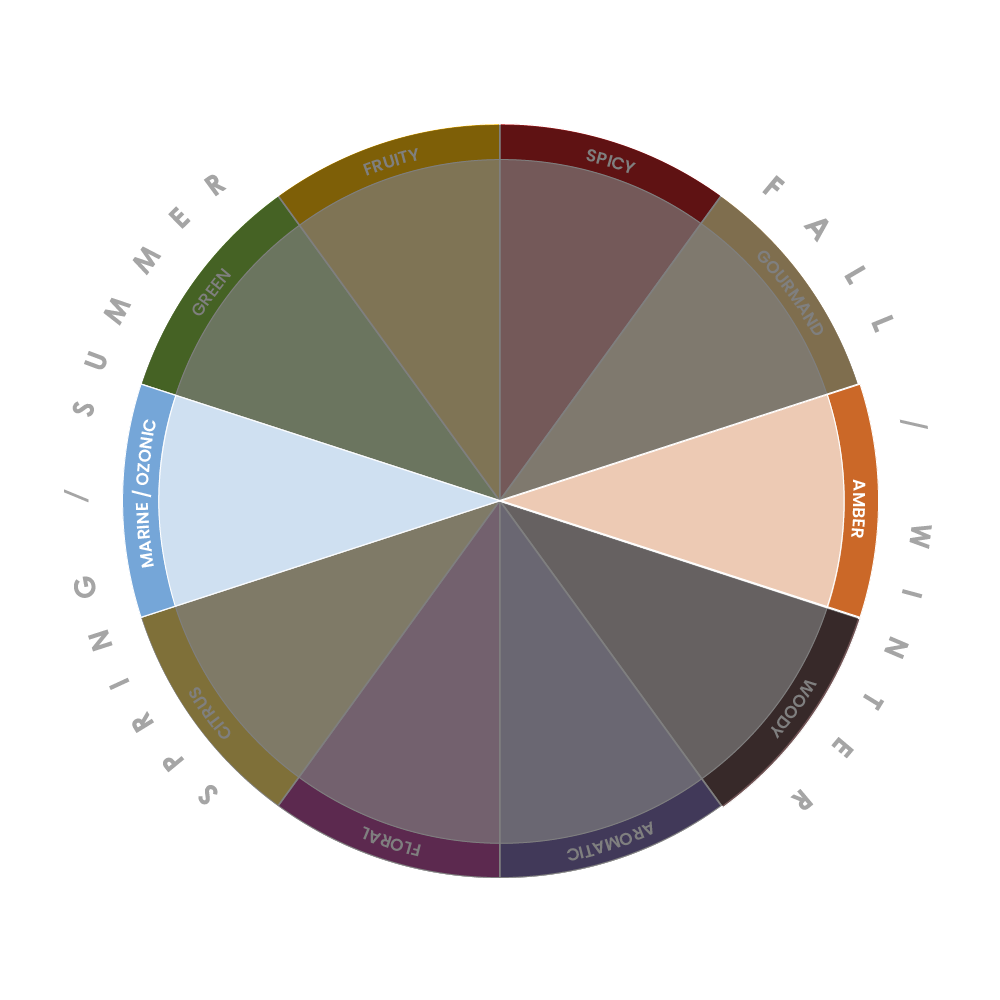 Before we get any further, let's talk about fragrance notes. Fragrance notes are the different layers and aromas that make up a complete fragrance. The way the fragrance notes combine is what gives every scent its own unique profile.
The top notes of a fragrance are what you smell first, the aromas that give you an initial impression and draw you in. Top notes are usually lighter in smell and tend to be citrusy or soft florals. These are the most volatile notes, meaning that they tend to fade more quickly than the others. 

The middle notes, also referred to as the "heart," provide a balance between the top and base notes. These are often bright florals, gourmands, fruits, or lighter woods. The middle notes are usually the most prominent aromas you will smell when a candle is burning.  

Base notes are the anchor of every fragrance, lending depth and longevity to the aroma. Typically these notes will be things like vanilla, spices, musks, woods, or amber. These are the notes that tend to linger in a room after a candle is extinguished and leave a lasting impression of the scent.

The fragrance families are how we categorize different groups of scents with comparable qualities. If you look at different fragrance wheels, you might see some slight variations but they will generally be the same.
The fragrance families we identify are: Spicy, Gourmand, Amber, Woody, Aromatic, Floral, Citrus, Marine/Ozonic, Green, and Fruity.
Spicy fragrances are exciting and electrifying, full of intensity and vibrancy. Spices have an ability to bring a contrast of cooling notes like pink pepper, cardamom, and ginger as well as warm notes like cinnamon, clove, and nutmeg, giving the power to create an undeniable signature.
Spicy fragrances are often described with words like:
Warm
Effervescent
Intense
Vibrant
Spicy
Hot
Sensual
Dry
Rich
Deep
Heady
Sharp
They include notes like: Allspice, Cardamom, Peppercorn, Ginger, Chili Pepper, Nutmeg, and Coriander.
Try these spicy fragrance oils:
Gourmand fragrances are sweet and addictively delicious. They add a touch of caramelized charm with notes like caramel and butterscotch; creaminess from vanilla, chocolate, and marshmallow; a nutty character from praline or hazelnut; or even a decadent kick from rum, amaretto, or whiskey. It's the perfect combination of taste and smell, adding sensuality and pleasure to the olfactory experience.
Gourmand scents are often described with words like:
Sweet
Addictive
Mouth-watering
Creamy
Milky
Caramelized
Nutty
Powdery
Roasted
Toasted
Baked
Edible
Playful
Sensual
Succulent
Euphoric
Pleasant
Comforting
Rich
They include notes like: Bourbon, Brown Sugar, Buttercream, Caramel, Coconut, Pecan, Maple
Try these gourmand fragrance oils:
Amber is an infusion of intoxicating musks, exotic resins, and woody inflections, providing warmth, sensuality, and sophistication to a fragrance. Ambers can smell musky and sweet or powdery and soft.
Amber scents are often described with words like:
Sweet
Resinous
Cozy
Warm
Powdery
Musky
Soft
Intoxicating
Elegant
Powerful
Sensual
They include notes like: Benzoin, Dark Musk, Embers, Olibanum, Incense, Light Musk, Myrrh, Powder
Try these amber fragrance oils:
Woody fragrances have a rich, timeless character that is rooted in nature. From warm and creamy woods like sandalwood to dry smoky notes like patchouli, woody notes give a deep sense of comfort and a rich long-lastingness with earthy textures and leathery nuances that adds a unique quality.
Woody scents are often described with words like:
Sensual
Warm
Earthy
Leathery
Creamy
Dry
Rich
Smoky
Soft
Elegant
Smoldering
Captivating
Intense
Smooth
Grounding
Dark
Deep
Humid
Timeless
They include notes like: Amyris, Balsam, Cedar, Oak, Oakmoss, Oud, Palo Santo
Try these woody fragrance oils:
Aromatic encompasses the heady and natural feel of evergreen ingredients such as pine, juniper, and eucalyptus as well as herbal facets from sage, mints, and rosemary. These notes are often found in masculine fragrances, adding a sense of freshness and robustness.
Aromatic scents are often described with words like:
Herbaceous
Camphoric
Clean
Dry
Fresh
Minty
Tonic
Energizing
Masculine
Fougere
Natural
Heady
They include notes like: Basil, Black Tea, Camphor, Chamomile, Cypress, Gin, Hemp, Juniper, Mint, Peppermint, Rosemary, Saffron
Try these aromatic fragrance oils:
Inspired by the natural beauty around us, voluptuous florals are the backbone of perfumery, creating a textured, layered, and natural appeal. From colorful rich garden florals such as Rose, Cherry Blossom, and Lily to luminous white florals such as jasmine, gardenia, and ylang-ylang, they inspire a sense of happiness and peace.
Floral scents are often described with words like:
Delicate
Dewy
Elegant
Luminous
Petally
Powdery
Sensual
Solar
Rich
Heady
Soft
Subtle
Sweet
Flirty
Feminine
Strong
Voluptuous
Colorful
They include notes like: Carnation, Cherry Blossom, Chrysanthemum, Freesia, Gardenia, Green Floral, Jasmine, Lily of the Valley, Magnolia, Mimosa
Try these floral fragrance oils:
Citruses add both a sparkling character with notes like lemon, orange, and lime as well as zestiness from bergamot and grapefruit. Citrus scents energize the senses with an invigorating feeling of brightness and energy.
Citrus scents are often described with words like:
Bright
Sparkling
Effervescent
Fresh
Juicy
Tonic
Zesty
Tartness
Energetic
Tangy
Sharp
They include notes like: Bergamot, Grapefruit, Lemon Verbena, Lemongrass, Mandarin, Orange Peel, Tangerine
Try these citrus fragrance oils:
Marine/Ozonic scents offer the sensation of a brisk, cool breeze or the crisp aroma of the salty sea. They bring a fresh and clean character, transporting you to a beachside escape or to the top of a mountain.
Marine/Ozonic scents are often described with words like:
Aquatic
Watery
Fresh
Transparent
Mineral
Salty
Pure
Air
Invigorating
Brisk
Cool
Clean
Oceanic
They include notes like: Ozone, Sea Salt, Aquatic
Try these marine/ozonic fragrance oils:
Green fragrances are inspired by natural elements, including crisp notes from cucumber, lushness from bamboo, and leafy green goodness from grass, verbena or tomato leaf. Green notes mimic nature at its truest, adding a sense of liveliness.
Green scents are often described with words like:
Crisp
Lush
Leafy
Dewy
Fresh
Vegetal
Sharp
Cool
Light
Lively
Watery
They include notes like: Grass, Agave, Aloe, Bamboo, Cucumber, Green Leaves, Moss, Palm, Rhubarb
Try these green fragrance oils:
Delicious fruity notes add mouthwatering juiciness and vibrant sweetness to a fragrance. Fragrances come alive with orchard fruits like apple and peach or succulent red fruits like strawberry, cherry, and cassis for playfulness. Tropical fruits like mango, pineapple, and coconut invoke a sense of escapism.
Fruity scents are often described with words like:
Mouth-watering
Delicious
Exotic
Fresh
Juicy
Sparkling
Vibrant
Succulent
Playful
Light
Sweet
Bright
Colorful
Energizing
Tangy
They include notes like: Apple, Berry, Black Cherry, Cranberry, Fig, Guava, Melon, Mango, Peach, Red Currant
Try these fruity fragrance oils:
This is all good to know, but how do I actually use the fragrance wheel?
Great question! Let's look at a few practical applications. First, download the fragrance wheel printable and keep it on hand for this section.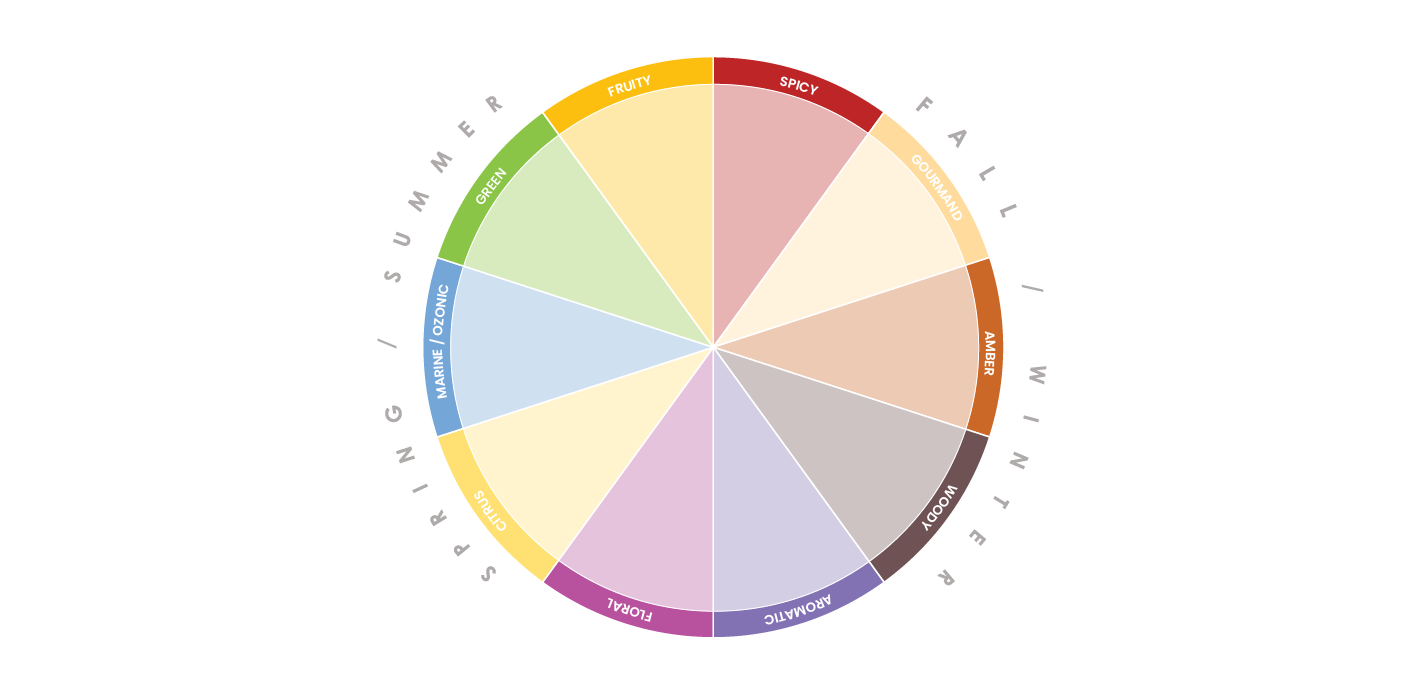 download fragrance wheel printable
1. Train your nose and deepen your understanding of fragrance.
The fragrance wheel is a great tool for "training" your sense of smell. Grab your favorite fragrance oil, put it on a blotter strip, and fan it in front of your nose to start taking in the scent. Identify where the fragrance as a whole falls on the fragrance wheel. Is it an aromatic fragrance? Is it green and herbal?
Then, see if you can identify individual notes in the fragrance. Take a look at the notes we call out on the fragrance oil's product page, and see if you can pick them out.
What do you smell most strongly?
What do you smell in the background?
What are you having trouble smelling at all?
Once you've identified a few of the notes, look at the fragrance wheel and see if you can tell whether these notes are complementary, or kindred. Think about why the fragrance works and what it is that makes you love it. Is it the contrast of fruity and aromatic notes that creates a compelling result? Is it the melding of citrus and marine notes that creates something comforting and familiar?
Practicing this skill will hone your nose and train you to identify notes and visualize where they fall on the fragrance wheel–and as a result, deepen your understanding and experience of fragrance as a whole.
Pro tip!
If your nose feels like it's getting overwhelmed, or that everything is beginning to smell the same, you can give it a reset by taking a few minutes away from the fragrance and smelling the neutral aroma of your own skin. When we're evaluating fragrance, we often will smell the inside of our arms or the "elbow pit" to give our noses a reset.
2. Help you develop your marketing around each scent, like the description on your website, the notes you want to include, imagery, etc.
Your intimate knowledge about your fragrances can help inform how you choose to market your products to your customers. It could be something as simple as categorizing your fragrances on your website, the words you use in your fragrance descriptions, or a new name for the scent. It could even help you decide on the general vibe of your brand! Maybe the majority of your fragrances include complementary notes that convey a sense of complexity and luxury, so you opt for high end containers and clean, minimalistic label designs. 
3. Fragrance blending
If you like to create your own custom fragrances through blending, the fragrance wheel is one of the best tools in your kit. Use it as a guide when you're working through blend ideas and deciding what to blend together. Lean on your knowledge of kindred and complementary notes and where different fragrances fall on the wheel to come up with some exciting new blends. 
Let's work through a couple examples. 
First, let's try out a complementary blend. Remember that complementary blends are opposites or near-opposites on the fragrance wheel.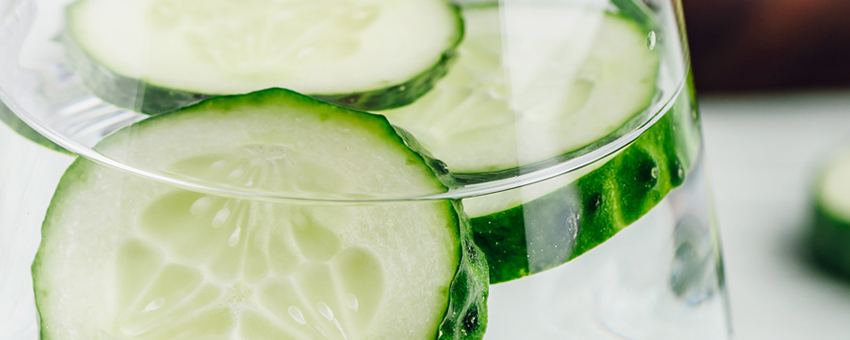 Top: Ozone, Lime
Middle: Cucumber, Honeydew Melon, Cantaloupe
Base: Bamboo, Powder, Aloe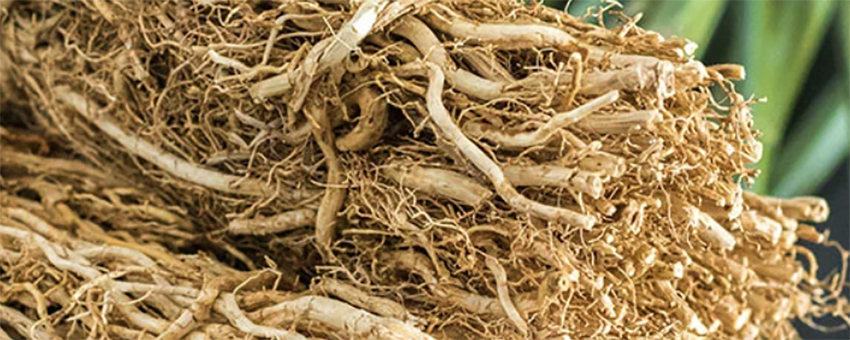 Top: Bergamot, Lemon Peel
Middle: Cedar, Hemp
Base: Amber, Dark Musk, Vetiver
This blend is fresh and clean, and reminds several of us of different mid-high end skincare products we've tried. The green, watery, and slightly ozonic notes of Cucumber Water and Melon are grounded by the woody, earthy notes of Vetiver. It has a luxurious vibe reminiscent of a spa at a boutique resort, or the skincare products used by an aesthetician. 
Both fragrances also have notes that, while less prominent in the individual fragrances, are in the same family–the Lime note in Cucumber Water and Melon and the Bergamot and Lemon Peel notes in Vetiver are both in the Citrus family. While neither of these fragrances would be described as a Citrus scent, the presence of these common notes allows the two to meld without butting heads–and letting the complementary green/woody notes take the starring role. 
Now, let's analyze a kindred fragrance blend.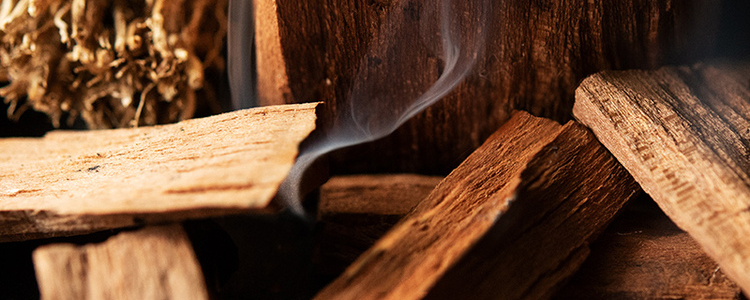 Top: Incense, Spearmint
Middle: Smoke
Base: Oud, Frankincense/Olibanum, Myrrh, Amber, Musk, Leather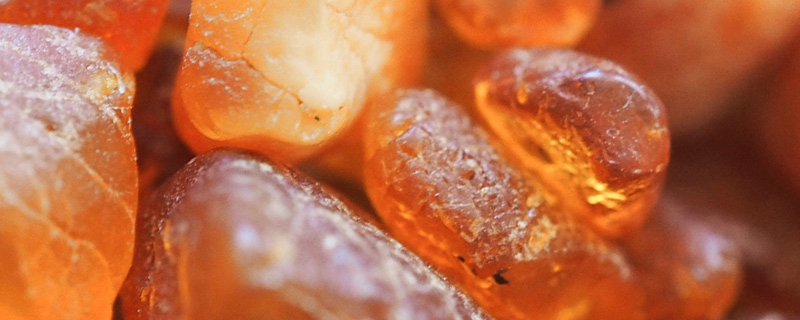 Top: Jasmine, Ozone
Middle: Tonka Bean, Leather, Sandalwood, Patchouli
Base: Light Musk, Amber, Dark Musk, Powder
 
This blend is warm and mysterious, full of rich depth. It's sweet and resinous, with a kiss of smoke that keeps you coming back for more. Notes of amber, musk, and powder in Egyptian Amber are joined by notes of oud, smoke, and leather in Smoked Oud–it's a marriage that just makes sense! 
Both fragrances have multiple notes in common, like amber, musk, and leather, while the prominent notes of each are kindred on the fragrance wheel. This is the type of blend you create when you smell a fragrance and think to yourself, "I love this, but it just needs a little something extra." 
We hope this exploration of the fragrance wheel proved useful, and deepened your understanding of the complexities and nuances of fragrance. It's a lot of information to digest, but it will prove useful for anyone involved in the creation of home fragrance. 
What else do you want to know about fragrance? Drop your comments below!