Lab Notes: Cargill NatureWax C-3 Soy Wax
Product Update: April 8, 2020
Due to sustainability concerns about Cargill's sourcing practices, we have made the difficult decision to discontinue Cargill waxes from our product line. The Cargill NatureWax C-3 Soy/Coconut Wax will be discontinued once current stock is sold out. For more information click here.
OUR PROCESS
We divided our testing into three parts:
Aesthetics: We test for adhesion, frosting, and color retention.
Fragrance Performance: We look at solubility, retention, and cold and hot throw performance.
Burn Performance: We test several wick series to find the best burn.
For our C-3 fragrance tests, we used White Tea, Fruit Slices, and Very Vanilla fragrance oils. Each has very different densities, viscosities, and ingredients; the variation helps to reveal potential solubility and burn issues.
GENERAL OVERVIEW
Application: Container candles and tealights
Recommended Fragrance Load: 6-10%
Nature Wax C-3 is a natural blend of soy wax and soy-based additives to help with glass adhesion, fragrance throw, and to minimize frosting. This wax is packaged in flakes, making it easy to work with, measure, and handle. To get the best finish our of this wax, we recommend pouring at 160ºF +/-5ºF (71.1°C +/-2.8°C). However, you may need to do additional testing to find the best pour temp for your conditions.
AESTHETICS
Surface and Glass Adhesion
We found that pouring at 160ºF +/-5ºF (71.1°C +/-2.8°C) resulted in the smoothest tops. Higher fragrance loads, with certain fragrances, led to more surface cracking and cratering. Some of the candles we made had cracks or sinkholes, so we used a heat gun to remelt the surface. The heat gun worked well in most cases, though the candles with a higher fragrance load (above 8%) tended to develop some frosting from this process.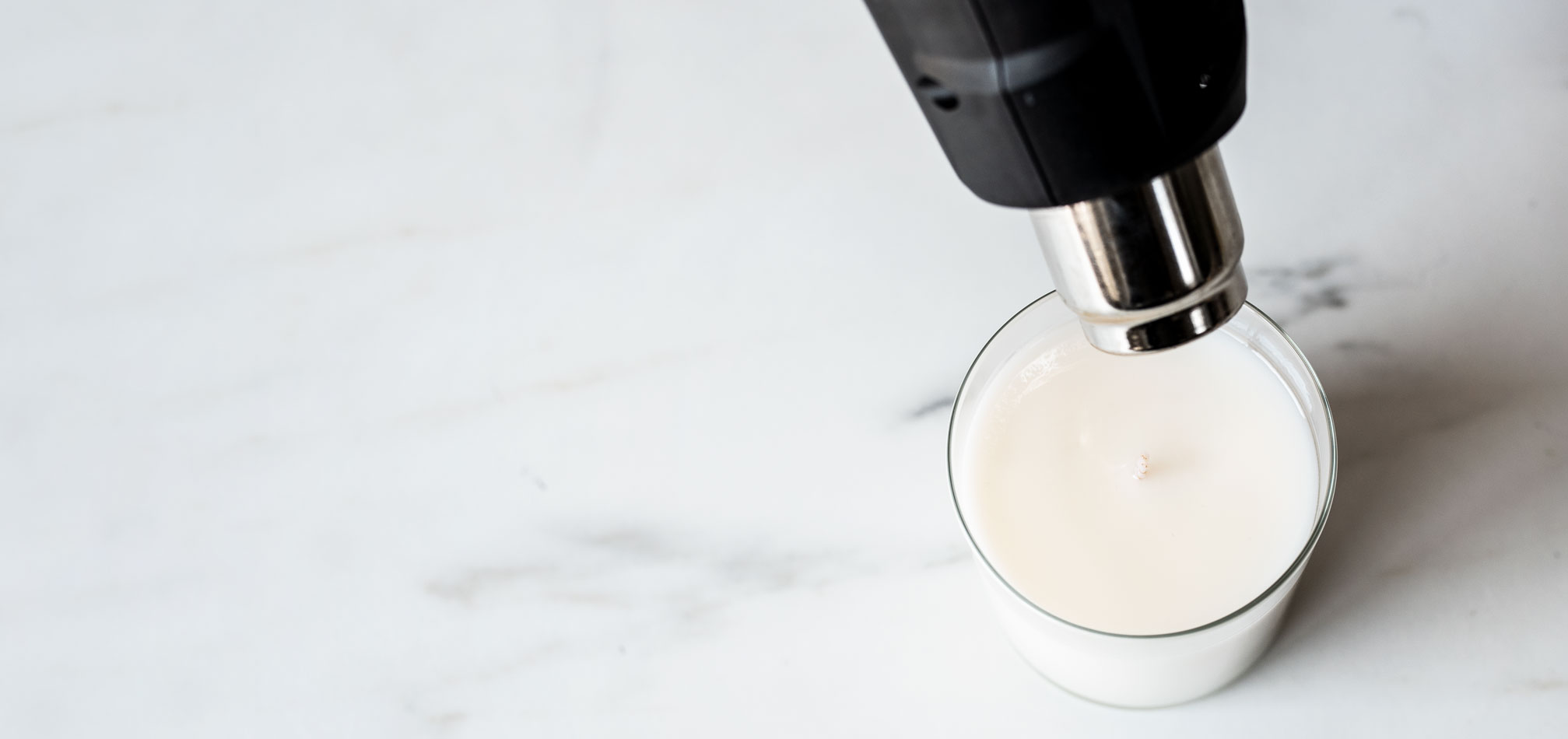 The majority of our test candles had great glass adhesion. We poured in 5ºF (2.8°C) increments from 135ºF (57.2°C) up to 180ºF (82.2°C). Those poured below 150ºF (65.6°C) and above 175ºF (79.4°C) did show signs of pull away in large areas of the container. If you work in a cooler space, below 72ºF (22.2°C), you may find preheating your jars necessary for better glass adhesion.
Frosting
Like with any natural wax blend, frosting is a possibility, but we found that adjusting the pour temperature reduced the likeliness of it appearing. Candles poured at 160ºF (71.1°C) had almost no frosting; those that did frost were limited to inconspicuous areas like the bottom of the container where it could easily be covered by a label. We found the higher the fragrance load, the worse the frosting became. Candles with more than 8% fragrance had frosting covering large patches on the sides of the candle. This wax is slightly whiter than most natural waxes, so leaving the wax uncolored will help hide the frosting if this is a major concern for your candle line.
Coloring
This wax takes color well, especially for natural wax. We tested our Key West and Purple liquid dyes at a rate of 6 drops per pound (454 g). The color was much brighter than the same amount in the AAK 464 soy wax. Higher amounts of dye and darker shades did tend to produce more frosting regardless of pour temperature.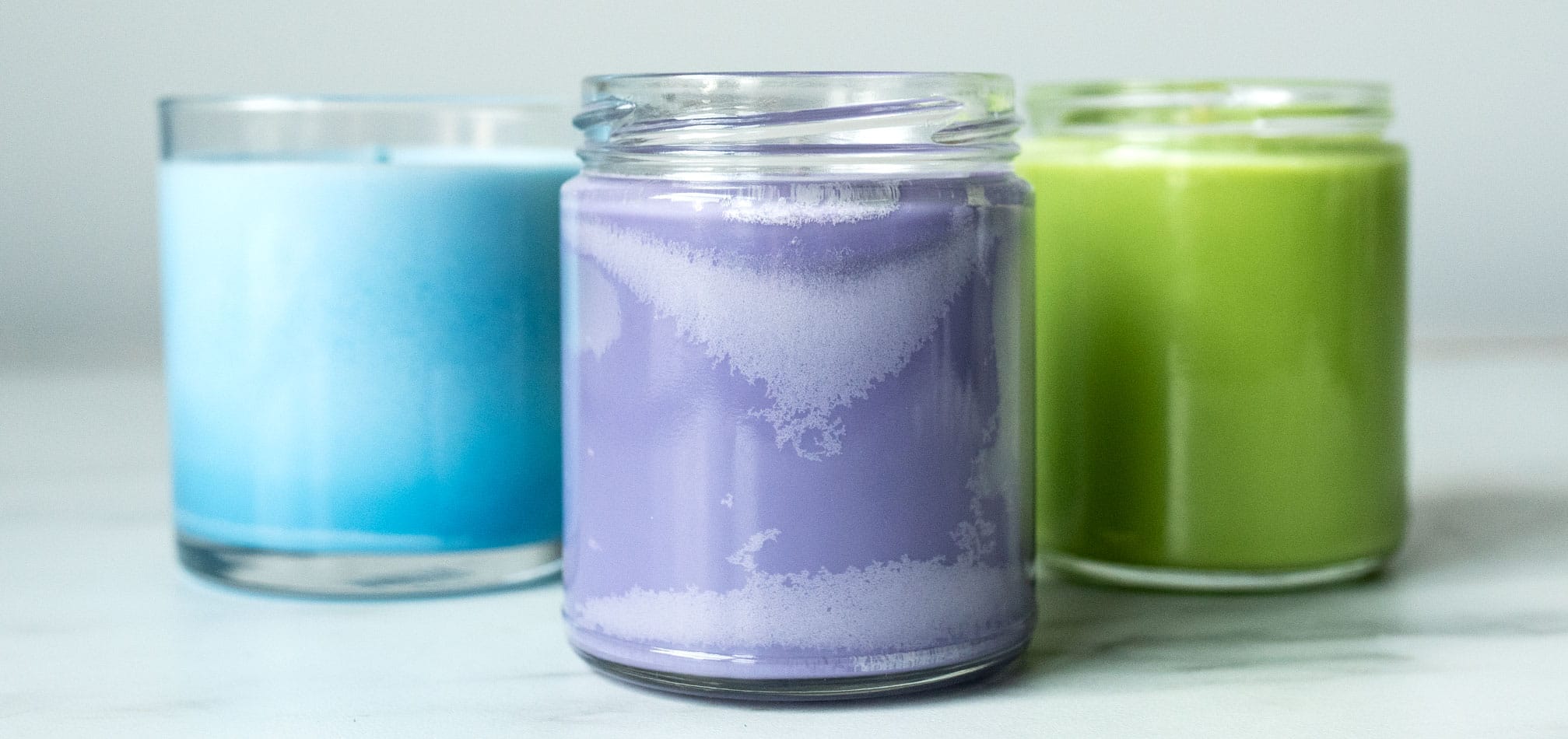 FRAGRANCE PERFORMANCE
Solubility
This wax will hold up to 10% (1 ⅔ oz fragrance to 1 lb of wax or 47 g per 454 g) fragrance oil, and we found that 6 - 8% fragrance was acceptable for a good hot throw. We always like to see how much we can add to the wax before it starts to cause a problem, like separation or sweating. We decided to add 12% of one of our densest fragrances, Very Vanilla, and one of our lightest fragrances, Fruit Slices, to see the outcome. After 24 hours, the candles fragranced with Very Vanilla had a large sinkhole and had frosted quite a bit around the sides of the container. The candles fragranced with Fruit Slices had a similar outcome, but with a smaller sinkhole. We noted some fragrance sweating in the Very Vanilla candle, indicating that the fragrance was not able to fully incorporate into the wax.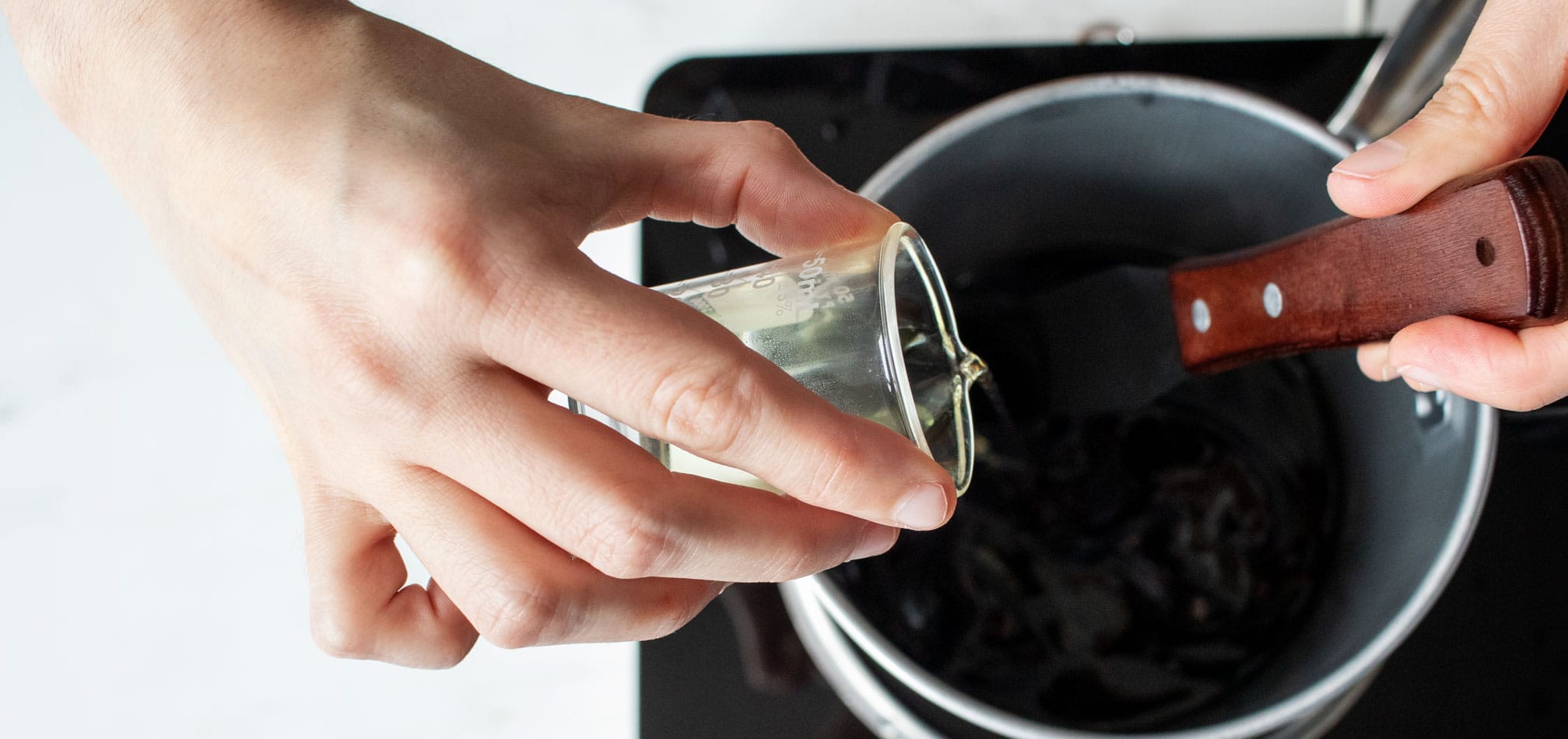 Solubility
We made test candles with 6% White Tea, Fruit Slices and Very Vanilla fragrances. We checked for cold throw performance after 24 hours and the scents were very strong. For comparison, the test candles fragranced at 12% were not any stronger than those made at 6%. These are some of our stronger fragrances in soy so you many find that lighter fragrances can benefit from using up to 8%, but the strength did not seem to get any better after 8%. After 48 hours we did notice a subtle difference in the strength between the 6% and 12% candles.
After 7 days, we tested for hot throw and these definitely ranked a 3/3 on our scale! We also tested a White Tea scented candle with 7.5% fragrance and it was incredibly strong. Even though the wax can easily hold 10% fragrance, you may find you get excellent hot throw with lower percentages.
BURN PERFORMANCE
Wicking
Nature Wax C-3 is a wax that has been on the market for many years, so we are familiar with the wax and its burn characteristics. We historically preferred the ECO wick series for most soy waxes and it was our recommended choice for many years in our wick guide. We added the CD wick series to our line in October 2018, so when we chose to bring C-3 back to our wax line we wanted to compare the performance of these two series.
Overall, this wax performed really well with both wick series, but we prefer the CD for the variety of sizes the series offers. We found that most containers over 3.5" (8.9 cm) in diameter need to be double wicked to get a good melt pool and hot throw. The ECO wicks did tend to produce a taller flame than the CD wicks while the CD wicks produced more mushrooming. We were able to obtain good melt pools and fragrance throw with both series.
Similar to what we experience after burning other soy candles, the surface of the candle will be bumpy. Unfortunately, this is not something that can be prevented in natural waxes. This may be good information to share with your customers, especially if they are not familiar with burning natural wax candles.