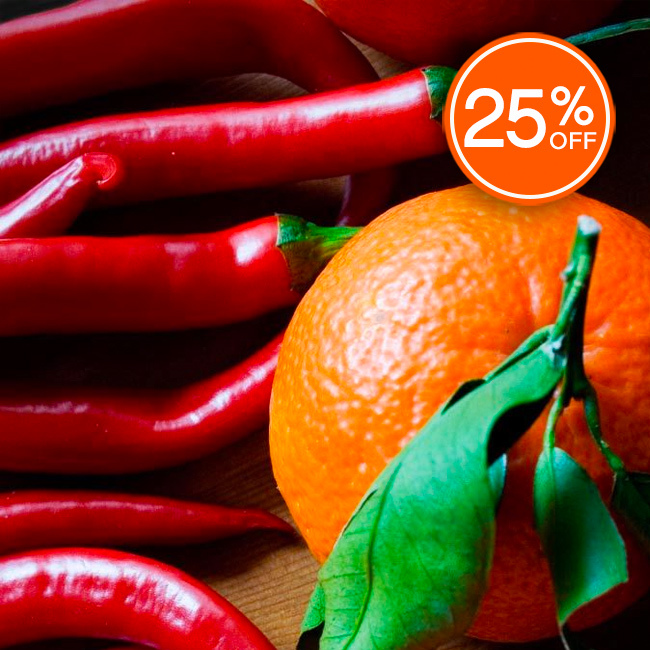 As of 03/12/2020:
This product is discontinued and no longer available.
Details
For a similar fragrance, we recommend trying our Sweet Orange and Sriracha.

Sassy, strong, and bold, our Orange and Chili Pepper fragrance is a fusion of true orange with a spicy kick of chili pepper.
This fragrance oil is infused with natural essential oils, including orange.
Note Profile:
Top:
Chili
Middle:
Orange
Base:
Green Leaves
Suggested Colors
: Red, Orange
See our complete list of
candle making dyes
and
soap colorants
.
Note: Bottles filled by weight, levels may vary.
Properties
Candle Safe

Yes

Usage: 3-10%
Soap Safe

Yes

Usage: 2-3%
Lotion Safe

Yes

Usage: 1-2%
Vanillin Content
0%
Soy Performance
Flashpoint
143 °F
Phthalate Free
Yes
Prop 65 Warning Required
No
Diffuser Base Compatible
Yes; Up to 25%
*Usage amounts are recommendations only. Individual usage amounts can vary based on your desired fragrance strength, wax type, soap base, or lotion base. See IFRA certificate for max usage levels.
Documents

Reviews
WOW SO DISAPPOINTED WITH CANDLE SCIENCE
Another best seller gone! Thanks no
No way can you all discontinue this fragrance!!! This is our most popular fragrance! PLEASE reconsider- the replacement one you suggested is NO WHERE CLOSE!!!
NOOOOO! This is one of my best sellers. Why is it discontinued?
Please, Please bring this back!!
I ordered the Sweet Orange and Sriracha that you suggested as a replacement for this (one of my most popular scents!!) and, while not a bad scent, it does not come close to the elements and depth and the "wait, I have to smell that again" factor of the Orange and Chili Pepper. Please, please, please consider bringing it back!!!
Out of curiosity, do you base your decisions to discontinue a scent solely on volume of sales or are there other factors involved? Thanks much!
Please bring this product back
I have seen a lot of reviews for this product and I noticed that it had a lot of high reviews. Please consider bringing this product back. It might be beneficial to your production.
Please Bring This Baby Back!!!! She was a WINNER!
So disappointing that this is discontinued. It is a true favorite of many of my customers (and one that I burn all the time in my own home!). Crisp and clean, just that bright orange and kick of chili pepper! Customers ask for this one quite often, it is a very high-end scent, in my opinion. Especially in soy candles, where it's hard to get that strong hot throw sometimes, this one performs SO WELL! Pleas consider bringing this one back. Your loyal customers will thank you!
PS, Sweet Orange and Sriracha does not compare. Orange and Sriracha reminds me of Tomato Leaf somehow, I smell a leafy/earthiness there. Not terrible, but doesn't hold a "candle" to Orange and Chili Pepper!!
Please don't discontinue this! There goes 1/2 my customers 😣
This is one of our signature scents and my very favorite!! Please please consider bringing this back!!!!
I wish there was a petition that went around before scents got discontinued, because it truly broke my heart to see that this was on its way out! It's an irreplaceable, unique scent that Sweet Orange and Sriracha, in my opinion, doesn't hold a candle to ;) I just had a wholesale client request to add this to their line as well who will be equally disappointed. I'd rather pay more for it than see it go!
So sad this is being discontinued
I was so sorry to hear that Candle Science is discontinuing this fragrance. I first starting using it when a customer requested the fragrance. Much to my surprise, it was a HUGE hit with many customers and is one of my best sellers among almost 200 fragrances. This is one that I thought for certain would never be discontinued because everyone who buys it loves it and comes back for more. Guess I'll be stocking up!
As a fragrance, I'm not completely sure how I feel about this. In no way does it smell natural - it has a definite chemical smell and could never be aped by essential oils etc. That doesn't necessarily rule it out for me though because it smells like candy - bizarrely spicy candy. Like sweet-tarts and cayenne pepper. The pepper itself isn't super distinctive, but there is an underlying element of "hot" that's hard to describe. Out of the bottle I was immediately turned off, but decided to soap with it for the sake of curiosity, and I like it far better IN soap. As to performance, it behaved rather nicely for me. I saw ZERO acceleration (which turned my planned spoon-plop into a drop-swirl, but c'est la vie). When I cut the soap this morning, there was a bit of oily sweat on the bar that I have never had before, but it wasn't much, and I suspect it will absorb back in. So far, I have not seen any discoloration.
One warning though - this fragrance is STRONG. I fragranced with 3% of oil weight and it's just overwhelming - curing in the garage because after 20 minutes that underlying chili spice starts to give me a headache - hopefully that will mellow in the cure. Over all... Not sure whether I will be investing in more of this fragrance and I won't know until I run it by a few other noses - I like it, but probably not enough to make more unless it's well-received elsewhere.
I was unsure about ordering this scent at first, but I'm so happy I did! My customers love it! It is a very potent scent so I didn't have to use as much fragrance as I normally do. I was worried about the chili pepper overpowering the orange, but it doesn't! I love it so much!
Def. not great. To me, this is a rather "cheap" smelling version of this scent.
Great to burn during spring cleaning! Open up all your windows and light the candle. It cleanses pet & food odors. Its unique and my customers love it! NOTE: I use 1/4 less oil per ounce than all my other candle oils. It is VERY potent and I warn clients not to put their noses too close to the candle when sniffing!
Owner of Love For All Things Wax
This fragrance is very strong and lasts and lasts on its own but is also a terrific blender for savory blends! I make a cornbread muffin blend for my melts that is so realistic and wonderful! You can add just a little of it to other fruits besides orange for a savory sweet twist! Also works well with other kitchen spices. A little goes a looooong way with this one though! Thanks so much for this scent and please don't change a thing!
I think that you either love or hate this scent, there is no in between. I LOVE it, as do my customers. It's not too overpowering in 464 soy wax at all.
I loved every scent by candlescience I've tried so far except this one. I don't know if it's the pepper parter just me but it smelled like a chemical instead of fruit and pepper. I even mixed it with another scent so I didn't waste it but I doesn't work for me. Sorry.
This is a very interesting scent. I liked it for a little while when I burned it, but it became overwhelming. Not my cup of tea, though my husband really likes it!
This is by far my best selling fragrance. In both candles and diffusers! Men and women alike love it!
It is very strong, but...
I purchased 16 oz of this scent and used it with the 464 soy wax. It is very strong, which I like, but many people say it smells like a cleaning product so in candles it doesn't sell well.
Vibrant Orange with Touch of Heat!
I adore this scent! It's the perfect year-round orange/citrus scent. The chili pepper is just the right amount of kick, and makes the orange more zesty, less sweet. The chili pepper helps bring out the boldness of the orange scent and complements it oh so well. I used 9.5% fragrance load. Perfection.
I personally love this scent, but couldn't sell it to save my life. Everyone who smelled it hated it.
I made a candle with this scent, and I showed it around to gauge interest. I also sold a couple.
I LOVE the smell of this. I've found those who like it really really like it.
It is very unique. It really gets people's attention. If a person doesn't like it, it's easy to get them to check out a few of your other scents.
I'm buying more.
Too "spicy" on the CT, kinda takes your breath away, in a bad way lol ... I would never have tried this, based on the name, but the reason I tried it was because I've heard people at a craft fair RAVING about it, but so far NO ONE I have let smell it likes it... Pretty unpleasant smell in my opinion and just all around an "odd" smell...
I love this fragrance. It is unique and strong! Highly recommended in 464.
It is the strongest of all the scents that I have tasted. I like it!
Smells like chili powder spice
It is way to strong and smells like chili powder straight out of the jar. Not sure how this isn't going to be an irritant in any product. I definitely suggest an extreme amount of testing be done before offering this in any product.
Not a fan of this fragrance oil. Just doesn't seem to have a good balance. We have yet to sell 1 tart in this particular fragrance.
I purchased this fragrance oil because the combo sounded exotic. I'm disappointed with this fragrance. I can't quite describe the notes I smelled but this fragrance is overbearing and nauseating. I ended up throwing this fragrance away. This is not a fragrance I want filling my home and I certainly don't plan on recommending it to friends/family.
Nice throw and very strong! Buying this again and again as long as it's in stock!
Please keep this scent it is amazing! My customers love my soy candles and reed diffusers I can't keep this scent in stock.
WOW this fragrance is so strong. It is very unique and did I mention STRONG? I don't need to light this for very long until it fills a room :) Sometimes I need to turn it off because it gets too intense lol
Amazing! I'm so intrigued by this scent. When I first told my friends & family about making candles in this scent, I got some pretty strange looks. But literally everyone that has smelled the candles or purchased one has absolutely loved them. This is definitely going to be a top seller for me!
I LOVE this scent! Smelled it in a candle while on vacation last year in Gatlinburg. It's a great balance of orange and chili pepper. Pretty strong.
I love oranges and citrus scents and thought that this would be an interesting twist to add some spicy notes to the house. This scent is ridiculously over powering and seems to cling to whatever room you made it in for a couple days. We Made a 1 lb wax to 1oz oil mixture and were nearly knocked off our feet by how powerful the smell is. Even after cooling the cold throw is like a 90 mph fastball to the nostrils.

Love this scent! Starts off orange, but ends in a slightly hot pepper scent. Great in my soy candles.
This is literally my Number One seller. I find myself having to restock it ALL the time. All my customers love it. Everyone in my family place so many orders and they and they refer to it as the "Family Scent" when placing an order.
Can't go wrong with this one. The cold throw is just as good as the hot throw.
Maria T.
Addicted To Wick
www.addictedtowick.com
FB: Addicted To Wick
IG & Twitter: @AddictedToWick
Oh WOW!! This is a fabulous scent. You can definitely smell the peppery scent and the splash of citrus! You are waiting to sneeze...but realize you don't have to because the orange scent stops the over powering of any pepper! A BIG HIT!
The chili scent is a nice surprise paired with the orange. I like to describe it as orange on top and chili on the bottom. I also really like Orange Goji Berry as well.
This is the best citrus and hot pepper FO out there. Most have a muddled spicy note but this one is a dead on chili pepper! If it's too strong for you then back down on the amount of oil used. This is exactly as described and my customers love it!
This scent rocks! The most unique and dead-on scent I have ever smelled! The chili peppers with the strong orange works really, really well, and my customers love it! I cannot keep this scent in stock. One of my all-time favorites! Warning: very strong! Use half of what you would normally use, and your candles will be perfect! A little goes a long way!!!
I thought this would be a great, bold, spicy scent for our candles. It is so damn strong! Everyone that smelled it, found it intriguing but was taken aback by the strong scent. The smell lingered in my kitchen and anything it touched so it immediately went in the garbage.
This is an intense scent. It was EXTREMELY overbearing at my normal 10% in GB464.
I love the idea of this combination, but I urge you to cut your normal amount in half. The orange scent to so powerful that it smells like a cleaning product. Even the cold throw gives me a headache! Phew.
Three stars for now.
I'll update after I work on my recipe. As for now, that lid is staying on!
www.halcyontorches.com
This essence smells exactly what it is, orange and chili Pepper
Out of the bottle this one makes me sick because it is so strong up close. However the finished product is really great. I sell alot of melts and candles in this fragrance.
This is a very strong fragrance. I never would have thought this combo would work but it sure does! Was asked by a customer for this specifically. HOWEVER be prepared , while it smells great it is SUPER strong. I use 12% for fragrance but am actually going to to use a lot less in the future. Only gave it 4 stars cause I haven't burned one yet.
This scent gets brownie points for being so bracingly strong... but sometimes there can just be too much of a good thing. This gives me a roaring headache after about 5 minutes. I would poured it at 1oz/lb in gbg 464. Maybe use half that? I just can't bring myself to pour it again to find out.
This scent is fantastic is soy! I use Ecosoya 135 and the hot and cold throw of this scent is fabulous! Smells like the "orange slices" candy to me!
We use this only in tarts right now. Very strong, great throw. We are all internet, many repeat buyers of this one.
This scent is NOT at all what I expected. I love CS and I love the majority of their scents, however, I SERIOUSLY cannot give a candle or a tart melt away to a customer of this scent. People cringe when they smell this. It's absolutely horrible in my book. Sorry CS, I love the majority of your scents, but this one NO WAY !!!!! I use GB464 soy wax....
The cold throw of this fragrance is amazing. The orange and the spice compliment each other very well. However, when burning, it smells more like chemicals or kerosene than it does orange and/or chili pepper. I tried waiting it out to see if maybe it was because it was the first burn but I couldn't let it burn for more than an hour because of the kerosene like smell.
I use Golden Brands 464 soy wax with a wood wick.
I LOVE all that candlescience offers. I have never had issues with any product but this oil ruins my life-lol. Seriously...I am considering burning down my home to rid this smell from existence. It not only gives me headaches but I made no sales and the faces people made when smelling this candle wasn't good. I truly wish I never bought this. However, I will continue using the other lovely scents you offer. But this one...NO WAY!
This is my favorite orange scent! Don't let the chili powder scare you off lol. It's a wonderful blend and the chili powder really brings out the sweet orange scent. The hot throw is strong in GB 464 and can fill a large room. The cold throw is just insane! I smell this candle very strongly a few feet away when it's not even burning. A Must try if you enjoy citrus scents.
As noted in my last review, this stuff absolutely stinks OOB. It also reeks while making candles. However, once in wax it is a completely different story. Most of the chili smell seems to dissapate while the candle cures. My citrus "tester" had one burning in her shop to evaluate the fragrance. Two people literally begged to buy it! That says it all. Kudos to the person who had the courage to develope this FO!
My new top seller. Customers are loving this scent. It is a wonderful, unique scent, which makes it very popular!
This is one of my top sellers. Customers love that hot and sweet scent. I love that is a strong scent and last longer.
This scent was much sweeter than I thought it would be. Not my favorite.
Was a little hesitant to order but wow, what an interesting scent! Orange with a real kick and very strong in the IGI4794 for tarts. Thanks Candle Science for such great products.
I used this fragrance in my soy candles using 464 soy wax. The smell is intoxicating and my clients love it! I will be ordering more of this real soon. Thanks Candlescience for such great products and prices.
Orange and Chili Powder was AMAZING
I smelled this sample bottle as soon as I opened the box. Smelled it again after I opened the bottle and realized I should of bought a bigger bottle but husband talked me out of it thinking it wouldn't smell very good. Last time I take his advice when it comes to scents! I will be ordering a big bottle very soon. It was great!! The chili powder brings out the orange smell.
Wow! I fig I'd use my chosen sample to be this scent due to me not really knowing if it would smell good. Boy was I amazed. It smells wonderful, a beautiful scent.
Love this scent. Some people were not too sure about the name....but once they smelled it, they loved it!
It is wonderful. you really need to try it if you haven't! you will be pleasantly surprised.
It is grean in the Ecosoya Advanced.
My candles are curing now so I dont know exactly how this will be hot but the candles are amazing right now in the kitchen. This scent is deceiving OOB because you cant differentiate between the orange and the chili, but once its poured, its both fruity and mildly spicy. I used CB advance wax at a 1 oz:1 lb ratio.
Oh, my goodness!!! This fragrance is fantastic. I LOVE it!
Its fresh, fruity, definitely orange, but a nice kick from the chili pepper!
Works beautifully in GB 464! It just emanates from the was so easily.
Give it a try! I highly recommend it!
I love this new scent, it reminds me of CA. My customers really like it too. Thanks!
I bought the oils here but previously purchased some tarts scented with this from a lady. I loved the scent then and I cant wait to make my own candles with Sweet Orange Chili Pepper. Its a nice, crisp and tangy orange with subtle yet intense chili spice. Perfect for men who like clean scents yet want a splash of masculinity.
WOW very unusual but awesome smell
When I first opened the bottle I thought Oh my! this is too much. But once I made it it grew on me more and more. I think it will be one of my favorite scents. Its really different! I used GW 464. I like my candles strong so I used 1 oz. per 1/2 lb of wax. It fills my living room and drifts into the other rooms too.