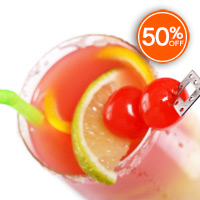 As of 09/22/2019:
This product is discontinued and no longer available.
Details
A playful rendition of the classic tropical mixed drink that blends fresh pineapple and orange with tart cranberries. Notes of vodka and peach give this fragrance its "true to life" scent.
This fragrance oil is infused with natural essential oils, including Orange.

Note Profile:
Top:
Cranberry, Guava, Vodka
Middle:
Cherry, Pineapple, Strawberry
Base:
Peach, Vanilla
Suggested Colors
: Red, Orange, Yellow
See our complete list of
candle making dyes
and
soap colorants
.
Note: Bottles filled by weight, levels may vary.
Properties
Candle Safe

Yes

Usage: 3-10%
Soap Safe

Yes

Usage: 3-6%
Lotion Safe

Yes

Usage: 1-2%
Vanillin Content
2.01% - 5%
Soy Performance
Flashpoint
118 °F
Phthalate Free
Yes
Prop 65 Warning Required
No
Diffuser Base Compatible
Yes; Up to 25%
*Usage amounts are recommendations only. Individual usage amounts can vary based on your desired fragrance strength, wax type, soap base, or lotion base. See IFRA certificate for max usage levels.
Documents


Reviews
Please bring this scent back!!!
Please bring this scent back! Literally just used the last bit of this fragrance and went to order some more and it was discontinued. Definitely a very popular smell.
What happened? We need this back. One of my top sellers.
Please bring it back. One of my most favorite scents.
I have wasted so much money buying sex on the beach from other companies....at least 10 different ones because my customers are still requesting this scent and it can't be matched. This was a best seller year round and now I have to disappoint my customers because I can't provide them with something that they love. There are several small business owners asking, begging for you to bring this back is that not enough?? If you don't think you'll sell enough to for it stay can you at least take personal orders and send them to your supplier because I'm sure you guys aren't willing to share that information so that we may be able to purchase sex in the beach on our own. Candle Science we're begging for you to PLEASE BRING SEX ON THE BEACH BACK, not a new rendition or something similar THER EXACT FRAGRANCE.
Signed a faithful customer of yours with a empty space on my shelves because there aren't any sex on the beach candles to fill it.😔😔
I second the comments below. Extremely disappointed this was discontinued. It is an extremely popular scent for me/my customers. Please bring this back!!! Please!!!!
Will this scent be returning??? I have customers requesting it and I hate to let them down. Nobody likes to see their favorite scents go away. Please bring back
This really hurt a lot of your small business customers, please bring it back😔😔. This was my best seller.
The worst thing you could have done was discontinue this scent....I'm a small business owner and this was one of my absolute best selling candles....I've ordered this scent from at least 5 different sites (wasted tons of money on shipping and fragrance oils I'm not going to use) and none of them come or even come close to this version of sex on the beach. My customers are holding out hope that I'll find this or something similar and I've had no luck. Please bring it back, signed a small business owner who loves candle science but hates to disappoint my customers.
This was my top seller and Ive tried to order it from somewhere else the smell wasn't close to it at all
This was one of my biggest sellers. My customers so love this fragrance. Will I there be another version of this fragrance? If so let me know the name please!
Why is this being discontinued? This is my number one best seller!!!! Ugh!
Smells good but it's not a fragrance that gets requested much. It's a soft fruity smell, when i was hoping for a strong fruity smell. It does not have a wow factor. The small bottle i will invest in but not the large bottle.
Not Sure What to Make of It
I really wanted to love this one, but I don't smell anything fruity about this. I am not sure what I smell in it. I find it to be very tart. Fortunately it is well received by my customers overall, and they typically think the name is fun. Not my best seller but also not a bad seller.
It is a perfect fruity scent! I gave it a cute name and it flew off the shelf.
Sex on the Beach smells great but 95% of our customers won't go near because of the name.
Love love love this scent
Thank you candle science, this scent went into my first batch of wax and when i tell you it is very powerful my family could smell it all through the house (just what i like).
Most favorite one of all! Smells so yummy! I love the fruityness of this scent. Not intense. I will be getting a bigger supply!!
This scent is very strong I used 10% in Soy 464. I made a tea light to test the scent and it filled the large area with wonderful scent. Also great seller, customers love it!
Smells similar to bubble gum. Very fruity fragrance. It was not my favorite.
I don't know about the comment below. Smells nothing like pins pole. It smells exactly like Sex on the Beach exactly like the drink! Another great best seller!
Smells mostly pineapple, too sweet for my taste
This smells amazing! I got a sample size and made some melts and candles for a market. I SOLD OUT of this scent in one day. Top seller for me! :) I already bought a big bottle.
Love it, smells like a cocktail drink.
This was an okay scent, and better than a comparable scent that I tried from another company. Performed okay in GB 464.
I just made a whipped body butter with this and it is out of this world. I love my body butters, but this is now my favorite. Will be ordering a bigger bottle soon. You can't go wrong with this scent, at this time of year.
This fragrance smells amazing one of my most requested candle!
Just made soap today with this scent and it is AMAZING!!! I have been thinking about doing a sugar scrub but couldn't decide what scent to use. Well, now I have decided :)
This scent gives a great hot and cold throw. This was actually one of the first scents I started selling and ever made for that matter!!! I have TWO people that bought one of the first candles I had ever made; buy this one and they still have not bought any other candle, any other candles from any stores, nor any other scent, just Sex on the Beach!!! About every two weeks they place another order for a couple candles! This is a huge hit and is a very strong tropical smell, its a very sweet and soothing scent. Like always, THANK YOU! :)
Great hot and cold throw. Will buy again.
I use this fragrance oil in 464 & 6006. I have had to wick up in both of these waxes while using this fragrance oil. Cold & hot throw is amazing though!
I think this is person preference, I LOVE this scent. I used 1 oz FO to 1lb of wax in GB 415 and it is super strong. Filled my living room very quickly. I couldn't get a smooth top because I didn't really know how to handle the lower flash point because I am new to candle making, but this one is wonderful!
It is very strong and very sweet. I can agree it somewhat smells artificially sweet but I will definitely be buying this again.
This fragrance has a nice cold throw and wonderful hot throw smell. I use the paraffin/soy blend to make my candles. I received this fragrance as one of my samples and needless to say I will be purchasing more.
this is a awesome sent everyone loves it.
I really had high hopes for this fragrance but it was way to sweet smelling, more like cotton candy to me.
I was really nervous about this scent. The scent is incredible and my kitchen smells wonderful. I wasn't sure how I was going to like the take on drink but believe me, it is worth it! I used 1 oz per 1 lb. of GB 464 Soy Wax with an orange dye chip and they smell wonderful. While I'm still getting the hang of candle making this round was by far my best! Give this one a try, you won't be disappointed!
Smells awful. I all smell is pineapple. Smells like some cheap pineapple candy scent or pineapple medicine scent. Gives me a headache.I can't pick out any other notes it it. I've let family and friends smell. No one likes it.
I was scared to try this scent at fist, but let me tell it is a great scent. It is not to strong but strong to smell up the living room dining room and kitchen, we have a open floor plan but are rooms are bigger then average. Try out the sample if u want , but u will love it, my costumers love it!! I use 464 golden blend in a 8 oz.
Wonderful scent I just love it very tutti fruity!
Some pineapple fragrances try to mix too many other fruit scents with it and the result is usually too sweet. This one has the strong hint of pineapple but I can't name the other scents. It smells great in the bottle, but not as strong in my oil burner.
One whiff of this and you are transported to the beach. It sells itself. Fills the whole room.
No other like Candlescience, by far my number 1 seller!!!
This sold instantly among my customers. It is a very strong and sweet fragrance oil. Almost all customers were quickly able to identify that it smelled like sex on the beach.
Such a strong hot & cold throw. I used Ecosoya PB and no need to burn them you can smell it when you walk in the room!
This is an awesome smell. This is the first scent i made into a candle and it smells great. Can fill a room and not be overpowering.
Smells identical to the drink. I love this version better than the one I usually use.
I used this scent with my very first batch of soy candles and fell in love with it. It has now become my #1 requested scent in my office, and everyone loves it!
Why Go To The Tropics - Come to Candle Science
No need to go to the tropics (LOL/JK). Just like having the drink by the pool or while on vacation. Always a HIT with my customers. Great scent throw in my feather palm wax tarts. YUMMY
Very nice scent. I used this in CB-125 Soy and it filled the whole house.
This is delicious. Perfectly done.
This one gets more attention than any...my customers love this one!
Smells just like the drink! Absolutely mouthwatering! This will be a winner this spring!!!
I am very new to candle making, I have made candles with this scent, and everyone loves it!!! People are wanting to buy my candles and this the scent they want most.It is very pleasing, you can smell it all over the house! Thanks Candle Science.
This scent is nice and fruity. I made tarts with this and it smelled the entire house.Nice and strong. I love this one !!
This is a very fruity scent!very strong,smells wonderful,it throws great in ecosoya cb advanced.