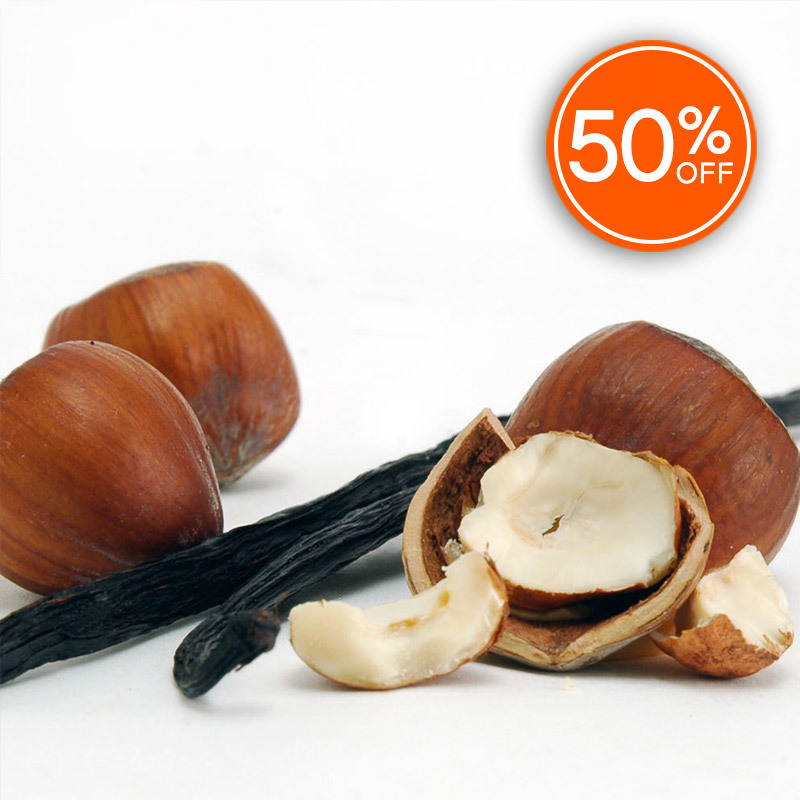 Details
REVISION NOTICE: It is CandleScience policy to notify customers if any part of a fragrance was changed for any reason.
As of May 2, 2019 our Vanilla Hazelnut was replaced to meet our new stringent safety standards of being Phthalate-free. See new Vanilla Chestnut. The new Vanilla Chestnut is a modern woodsy twist on a classic vanilla fragrance. If you're looking to recreate Vanilla Hazelnut, we recommend our Very Vanilla with a touch of Hazelnut Coffee.
A mouthwatering blend of toasted hazelnuts and creamy vanilla.

Note Profile:
Top:
Coconut
Middle:
Hazelnut, Butter
Base:
Vanilla
Suggested Colors
: Brown, Ivory
See our complete list of
candle making dyes
and
soap colorants
.
Note: Bottles filled by weight, levels may vary.
Properties
Candle Safe

Yes

Usage: 3-10%
Soap Safe

Yes

Usage: 3-6%
Lotion Safe

Yes

Usage: 1-2%
Vanillin Content
0%
Soy Performance
Flashpoint
210 °F
Phthalate Free
No
Prop 65 Warning Required
No
Diffuser Base Compatible
Yes; Up to 15%
*Usage amounts are recommendations only. Individual usage amounts can vary based on your desired fragrance strength, wax type, soap base, or lotion base. See IFRA certificate for max usage levels.
Documents

Reviews
so saddened to find out this one is discountinued. All who smelled it LOVED it!
Owner - Red Door Candle Company
I am really hating that this F.O. is discontinued. It was a staple of mine and a HUGE seller for me and my company. I have researched and searched for a replacement but have found absolutely none that are close. I received a sample of the Vanilla Chestnut that you advertise as being the "replacement" for Vanilla Hazelnut but it isn't even in the same ballpark. How can I find out how to replicate this F.O.??????????
This was one of my best seller's on ETSY. Never had a complaint about it. It reminded me of Vanilla Hazelnut Coffee...or something.
It was a nice cozy fragrance. I am sad it has disappeared. Will have to try the Chai scents and see if I like them!
I made the Vanilla Hazelnut for a dear friend and truly don't want to give it away. This scent is AMAZING and I will order more.
One of my least favorite scents at CS. Smells like artificial hazelnut. So happy I didn't buy more than 4oz
Owner of Red Door Candles
One of my personal favorites. This gives one of the best cold and hot throws of any fragrance oil I've used in my candles. Customers have claimed that they don't even have to light the candle to get a good scent in the room.
A nice scent and strong. I like it because it is a nice variety to offer customers than the tradition Vanilla
and you can really tell that slight difference in the hazelnut.
I wanted so badly for this to do well, but I couldn't smell it when it was burning. BUT I really like the smell, so I think I'll try it in IGI 6006 (that I use for my products) rather than the GB 464 (that I normally test in).
needs to be phthalate free
This is one of my best sellers but now that I realize it is not free of this - I cannot sell it.
Please reformulate.
Even though this isn't a coffee scent, it makes everyone who smells it crave coffee...it's like hazelnut creamer I guess! It's a great scent and throws well in EcoSoya, but I had to deduct a star due to phthalates. I'm so used to CS selling phthalate-free that I over looked it and can't carry it in my line, so I handed them out as gifts to family. My mistake, but it is a con.
Love this scent but disappointed it contains phthalates. Will not be reordering until you offer phthalate free option.
I am having a difficult time not chugging this right out of the bottle. Don't worry...I don't *think* I will, but it really makes me want to get a hazelnut coffee drink. (I am going to have to steal the idea of making this in coffee mugs for gifts! Thanks!)
Smells so good. Burns great in golden wax 444. Reminds me of coffee but without smelling like coffee. Everyone loves the smell. Will be ordering more.
I absolutely love the Hazelnut Coffee fragrance, so I tried this one. Unfortunately, I really disliked it. I can't smell any hazelnut, and really can't smell much of the vanilla. It's that "burnt" smell that completely overpowers everything else. I have tried to mix it with other scents, but it just ends up making the others smell more like burnt toast. Of course I seem to be the only one who dislikes this scent, so take my opinion with a grain of salt. :)
Not my fav - BUT SOLD out
ive always been a fan of vanilla candles, but this scent was not my favorite. in fact, it was my LEAST favorite out of all the scents i ordered. BUT it was the first scent i sold out of - so i reordered for that fact
I am always a bit skeptical about getting vanilla scented things, because generally they end up being synthetic smelling with an overpowering sweetness. Thus, i was increadibly pleasantly suprised when this came in the mail and it smelled delicious straight out of the bottle! An authentic smelling fragrance with perfect proportions of vanilla and hazlenut. GREAT throw. I just had to buy this again!
This is another GREAT scent. My husband had a hard time choosing between this scent and the Honeysuckle & Jasmine for candle samples to give to some of his friends wives.
I have always been a big fan of Vanilla Hazelnut, this is first time I have tried CS and was very pleased with it. Neither the vanilla nor the hazelnut is over powering, they both balance each other just right.
Great Holiday or Everyday Scent
I used this scent in Ecosoya 135 poured into Christmas Mugs and have gotten rave reviews and more orders! The aroma is strong but true with toasted hazelnuts. Very relaxing.
I use this in Golden Wax 464 and my customers rave about it! VERY strong cold throw, also.
One of the BEST!!!!!!!!!!!
CS, you do not disappoint.
This is a strong, wonderful smell. I gave my tester to a customer who was looking for a hazelnut and got rave reviews.
Used in soy wax.
THIS IS THE #1 SELLING SCENTED CANDLE I SELL.I USE THE PARAFFIN 4627 AND THE THROW OF THE FRAGRANCE IS WONDERFUL.MY CUSTOMERS LOVE THIS SCENT
I TRUELY LOVE THIS SCENT IT IS GREAT IF YOU LIKE HAZLENUT THIS IS GREAT
A true Hazelnut fragrance!
This fragrance is a true Hazelnut fragrance, this fragrance reminds me of Coffeemates 'Hazelnut' creamer.... Only for the true Hazelnut lovers out there! very YUMMY!